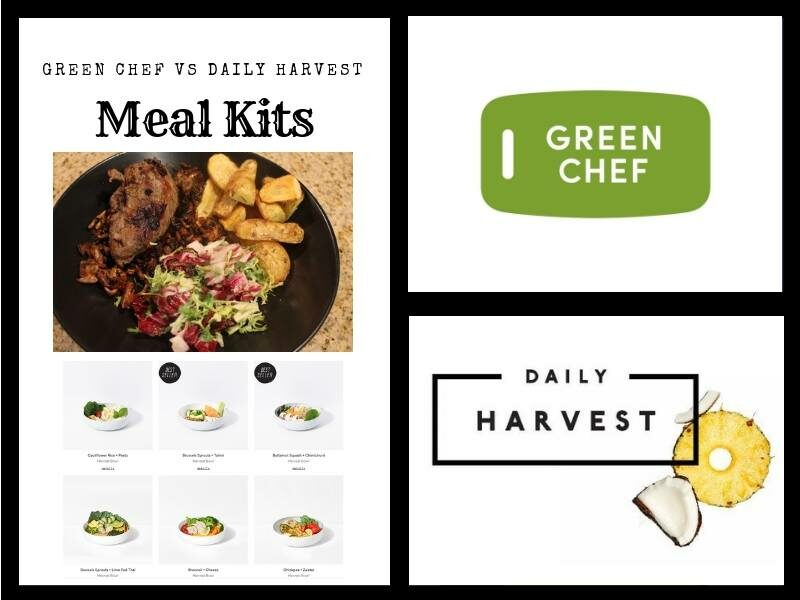 When it comes to dinnertime, finding food that's both nutritious and delicious can stretch imaginations thin. Some people end up eating the same things repeatedly because they're good to fall back on, but even the best meals can get boring.

One way that people are shaking up their mealtime routines is by using meal kit delivery services. These companies bring dinners and sometimes other meal options to your doorstep. Besides being packed with nutrition that your body needs, they're convenient and imaginative.

In this Green Chef vs. Daily Harvest comparison, you'll learn about two of these meal kit services. While they both focus on providing great nutrition and delicious, adventurous foods, the way they go about it is completely different.

Types Of Food

Green Chef is focused on providing meals made from USDA certified organic ingredients. All ingredients come in a box pre-prepped and pre-measured for cooking. Subscribers can order food for two people or for a four-person family.

The two-person plan has a lot of food choices available. You can choose plans that cover a variety of eating styles, including keto, paleo, omnivore, vegan, vegetarian, and gluten-free. With the two-person plan, you get three meals a week no matter which eating style you choose, for a total of six meal servings per week.

The Green Chef family plan comes with two meals per week for four people, for a total of eight meal servings per week. Those on the family plan can choose either the carnivore option, which provides meat at both meals, or the omnivore option, which comes with one vegetarian and one meat-based meal per week.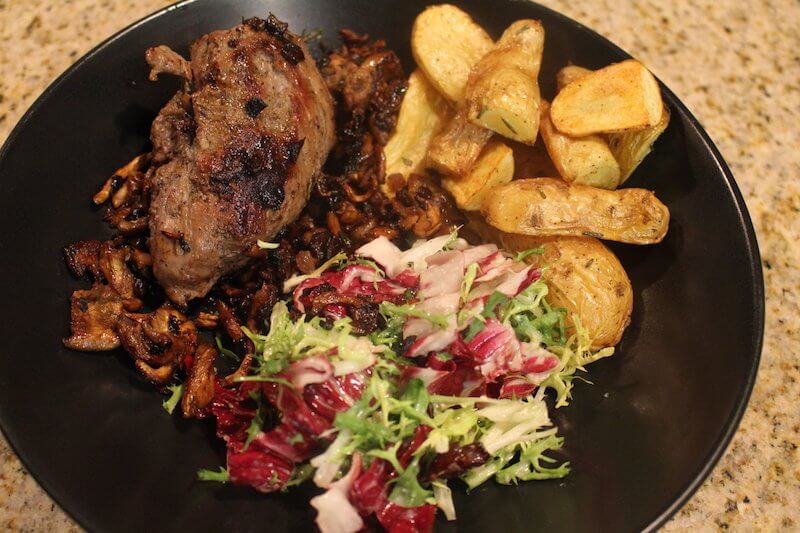 The menus change weekly, but once you've chosen an eating style such as keto or paleo, you can't mix or match recipes for the week from menus outside your chosen plan. You can change plans between weeks, though. Menu choices might include Roasted Chicken with Gremolata or Spiced Honey Salmon with Homemade Corn Cakes and Sautéed Chard.

Daily Harvest currently uses organic ingredients 98 percent of the time, and the company is working on becoming USDA certified organic. Its meals are completely vegan.

Daily Harvest is different from most meal kit services because rather than sending raw ingredients, it sends cups of cryogenically frozen fruits and veggies in meal mixtures that are co-developed by a nutritionist and a chef.
These meal kits are designed to provide super-fast meals for on-the-go people, so many of them can be simply blended or blended and heated.

Meal kits include harvest bowls, smoothies, blended soups, and lattes. There are also overnight oats, chia parfaits, and sundaes. Rather than a weekly menu, Daily Harvest relies on a full menu of favorites that include items like the Tomato and Bell Pepper blended soup, the Broccoli and Cheese harvest bowl, or the Ginger and Greens smoothie.

Daily Harvest subscribers build their own box by choosing the combination of frozen meal cups they want to get. They can set up their deliveries to arrive weekly or monthly.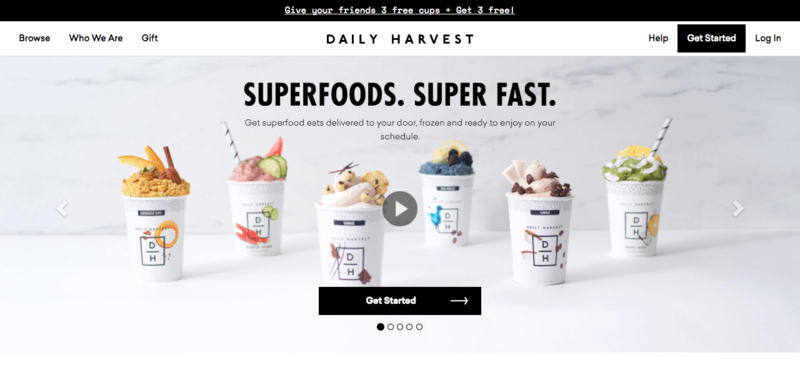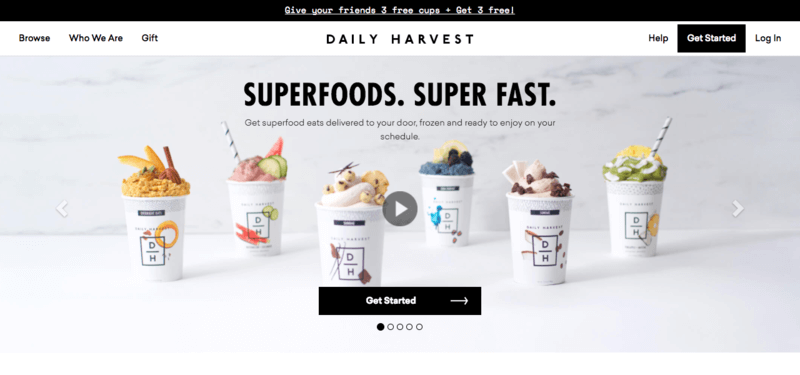 There are nutritional labels on each individual cup and on the online product pages, but you have to look through the Frequently Asked Questions and then under the 'Ingredients and Nutrition' section to find information on allergens. It might be simpler to look at the ingredients for each meal to decide for yourself whether it would meet your eating requirements or restrictions.

As far as preparing a Daily Harvest meal goes, it's usually just adding liquid, then blending, soaking or heating the cups. Cups can be stored in the freezer for up to a month.

Signing Up And Cancelling

To sign up with Green Chef, you first decide whether you'll be feeding two people or four people, pick a subscription plan, and pick a delivery day.

With Daily Harvest, you begin by entering your zip code to make sure the company delivers in your area. Then you pick your plan, build your box, and enter your shipping and billing information when it comes time to check out.

For both companies, it was a little bit hard to figure out how to cancel the subscription. With Green Chef, you need to send an email to cancel@greenchef.com to start the process and then follow the instructions that you're given.
With Daily Harvest, you have to navigate to the help button online, then to your account management to find out how to skip or cancel orders. Cancelling your orders completely deletes your Daily Harvest account.
Packaging And Delivery

Daily Harvest delivers to 95 percent of the United States, and Green Chef delivers across the continental United States with the exception of parts of Louisiana. With Daily Harvest, delivery days depend on the region, but you can sometimes customize your weekly delivery day with Green Chef.
This includes setting up your deliveries for weekly, bi-weekly or monthly. Daily Harvest also allows you to choose whether you want to get meal kits weekly or monthly.

Ingredients for Green Chef meals come in eco-friendly packaging. Ingredients for each meal are packaged in recyclable plastic bags with color-coded labels to make it easy to find the ingredients you need when it comes time to cook the meals.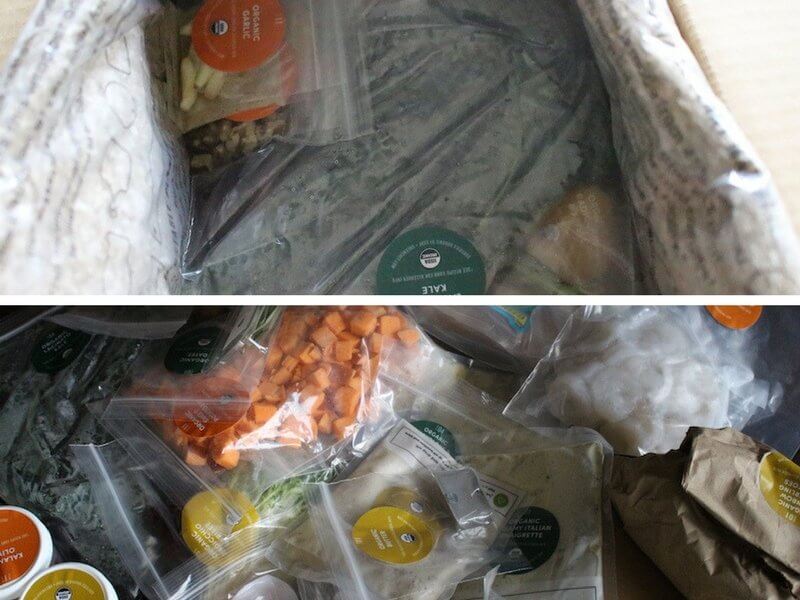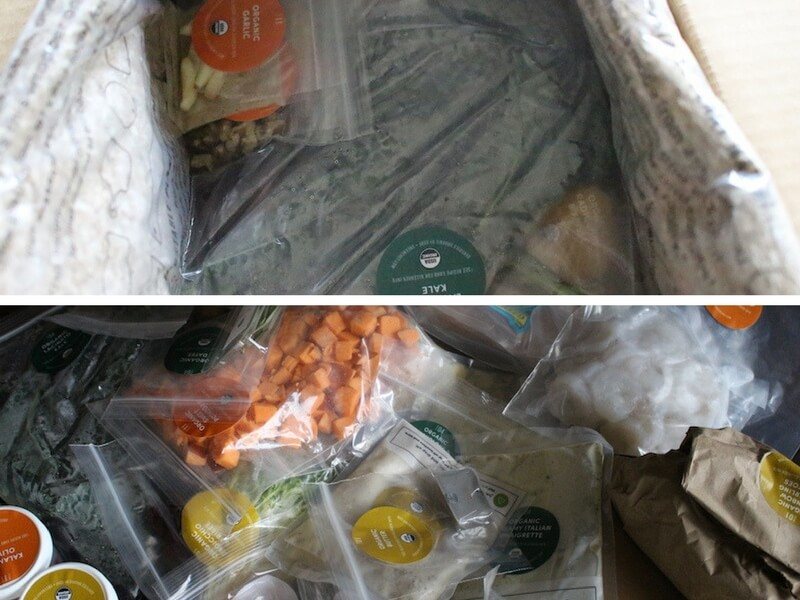 With Daily Harvest, everything comes in pre-portioned cups. Some cups have more than one serving size in them. For example, the lattes come with three individually packaged portions in each cup.

Because Daily Harvest foods are frozen, the cups come packed in a box with dry ice. You have to let the dry ice dissipate, but once it's gone you can recycle the box and the cardboard inserts. The cups can also be recycled in some cities, but not all because of their PE lining. Your local recycling program should be able to let you know whether they're recyclable in your area or not.

Green Chef has a shipping fee of $6.99 per box.

Pricing

Green Chef's meal kits are priced differently depending on the plan that you subscribe to. The two-person plan is $11.99 per serving for the omnivore, vegetarian, gluten-free, and vegan options and $12.99 for the paleo and keto options. The family plans cost $10.99 per serving for both plans.

Daily Harvest meals vary in a similar way. If you order weekly, a six-cup order costs $7.99 per cup. A nine-cup order costs $7.75 per cup, and 12 cups costs $7.49 per cup. Orders of 24 cups can be received either weekly or monthly, and they cost $6.99 per cup.

Customizable Options

One really great feature of Green Chef is that you can change the number of boxes you order at a time. It's also nice to be able to opt for bi-weekly or monthly deliveries. However, you can't swap recipes around with recipe options from menus outside your chosen plan.

Daily Harvest customizable options include the ability to choose the cups you want from the full menu, how many you want at a time and whether you want your shipments to come weekly or monthly.

Daily Harvest also has some filters to help you browse the menu and find foods that meet your dietary preferences more easily. If you don't want to customize your box, you can also choose the smoothie edit, the breakfast edit, the all-day edit or the seasonal edit to get boxes of meal cups that are chosen by the company.

What Makes Each Meal Kit Stand Out

While both Green Chef and Daily Harvest focus on bringing nutritious, organic foods to your table, they do so very differently. Green Chef focuses on dinners that are cooked in the kitchen. Daily Harvest covers a variety of meal types that are mostly blend-able, on-the go items. There are things I like and dislike about both.

Green Chef

Pros:

As a whole, Green Chef's portion sizes are larger than portion sizes for many other meal kit services I've tried. This includes meat portions.
Green Chef uses sustainable programs to offset all of its carbon emissions.
The up-front ability to choose specific eating styles such as paleo and keto is nice.
Cons:

It would be nice to be able to mix and match meals more easily across the entire weekly menu.
Daily Harvest

Pros:

These meal kits are great if you're an on-the-go person who rarely has time for a sit-down meal.
The frozen cups maintain the nutritional value of your meals.
You can order weekly or monthly.
You can choose more items than simply dinners.
Cons:

The cups can't be recycled in every area.
You need a larger freezer and a powerful blender.
Alternatives

Green Chef and Daily Harvest are not the only meal kit services to try. There are several health-conscious meal kit services that can make your mealtimes more convenient.

If you like cooking but also like the vegan style of Daily Harvest meals, you might also want to try Hungryroot or Purple Carrot. Terra's Kitchen is one of the most customizable options out there, and it's built on principles of the Mediterranean diet plan.

Some of my personal favorites are specific to dinners, like Green Chef. They include Plated, Sun Basket and Blue Apron.

Conclusion

When it comes to deciding whether I like Green Chef or Daily Harvest best, I have to go with Green Chef hands down. The large portion sizes, the ability to choose plans according to your eating restrictions, and the reasonable amount of time in the kitchen makes it so that I can really enjoy cooking as well as eating Green Chef dinners.