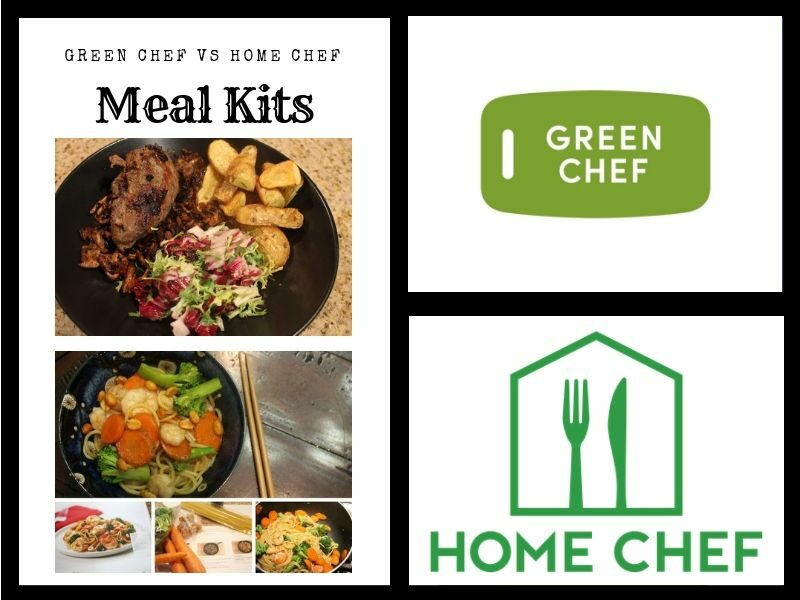 If you've never tried a meal kit delivery service before, it might be time to dive in. There are a lot of different types of services out there now, and the industry is growing. You can find basic companies geared toward providing just dinners and niche market companies catering to specific dietary requirements.
Since I've tried a lot of these meal kit services, I figured I'd compare Green Chef and Home Chef to help you decide which one would be for you. In this review, I'll share my experiences with both of these companies, including pics from the meals!
You'll also learn about the types of foods they offer, what their subscriptions are like, and the pros and cons for both companies. Personally, my favorite of the two was Green Chef. I do the keto diet, and liked that they sent generous portions of meat and other healthy proteins.
Green Chef VS Home Chef
Types Of Meals
Green Chef meals are based on completely organic ingredients that are pre-measured and pre-prepped. Meals take 30-45 minutes to cook. Boxes are built for feeding two people or four people, and within those types, you can choose an eating plan that fits your lifestyle.
For the two-person plan, you can subscribe to keto, paleo, vegan, vegetarian, gluten-free and omnivore menus. You get three meals a week, for a total of six servings.
With the four-person family plan, you get two meals a week, for a total of eight servings. You can choose either the carnivore plan, which includes two meat-based meals, or the omnivore plan, which includes one meat-based meal and one vegetarian meal.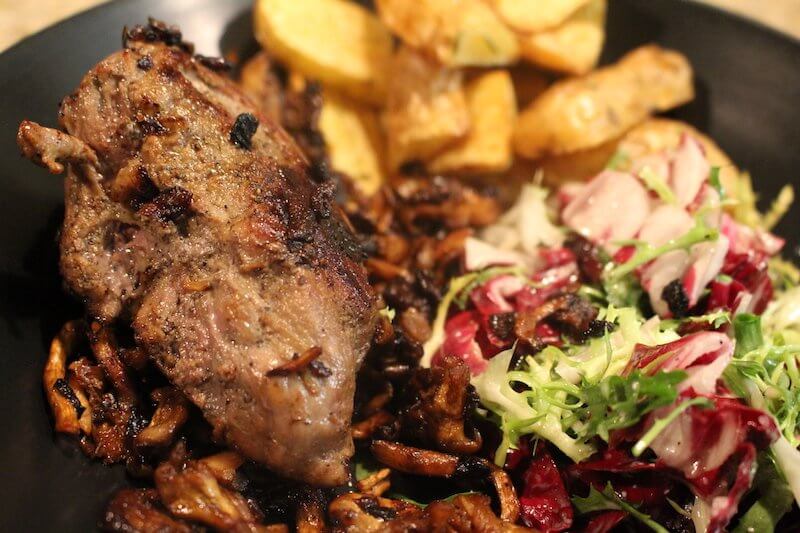 There are new menus every week. Although you can't swap recipes around between plans, there are generally around five meals to choose from per menu. Some meals can fit into more than one menu plan.
Home Chef was a fun service to try because some of its meals had some unique and interesting combinations of flavors. As with Green Chef, there is a new menu every week, but in this case, you can mix and match meals across the full weekly menu.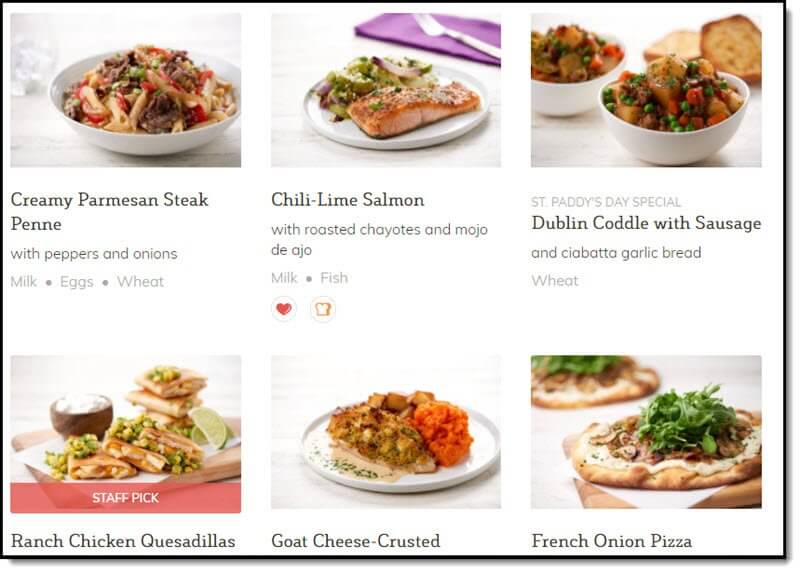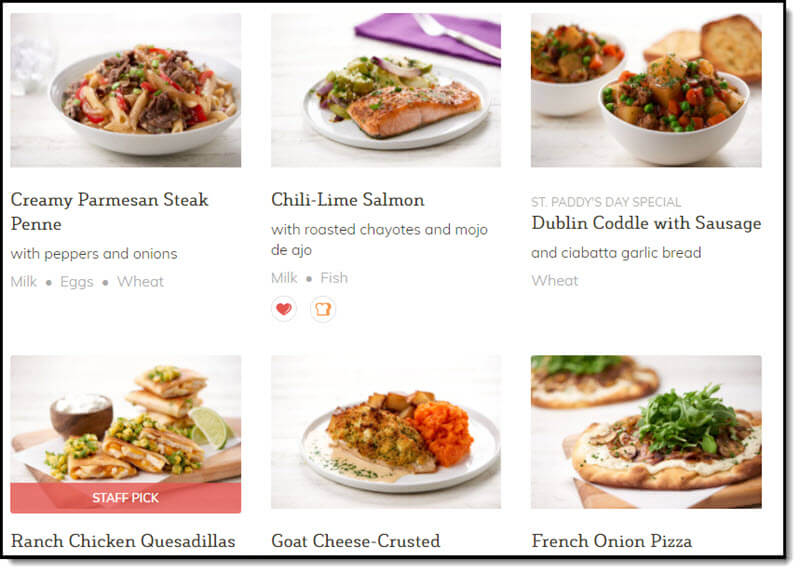 There are generally around fifteen menu options. Around three of those are lunches. There are also two add-ons, such as a fruit basket or a smoothie. Occasionally there will be specialty recipes for breakfasts, desserts, or holidays, as well.
When you're looking at the menus online, you'll see markers for low-calorie options, carb-conscious options, and markers for allergens.
Home Chef tracks milk, soy, wheat, tree nuts, peanuts, fish and shellfish so that you know whether that particular meal will fit with your eating restrictions. There are also vegetarian options but not guarantees that those will be vegan.
Like Green Chef's plans, you can order food for two people or four people with Home Chef, and the ingredients are pre-portioned. The recipes are easy to follow, and most meals take about half an hour to cook.
Signing Up And Cancelling
To sign up with Green Chef, the first thing you do is decide whether you want to feed two people or four people. Then you choose your subscription plan and pick which weekday you'd like your ingredients to be delivered.
Cancelling with Green Chef starts with an email to cancel@greenchef.com. You'll be sent some instructions to complete the process.
With Home Chef, you sign up before you start ordering by entering your email address to create your account. You also fill out a taste preference that you can edit later on. You can cancel your Home Chef service under the "Account Information" portion of your online account.
Packaging And Delivery
Green Chef delivers to most of the continental United States, excluding parts of Louisiana, and Home Chef deliver across 98 percent of the continental United States.
Both also feature recyclable packaging. Green Chef allows you to receive orders weekly, bi-weekly or monthly, while Home Chef deliveries only come weekly.
Green Chef color-codes its packaged ingredients to make it easy to gather them when it comes time to cook. With Home Chef, ingredients come pre-sorted by recipe.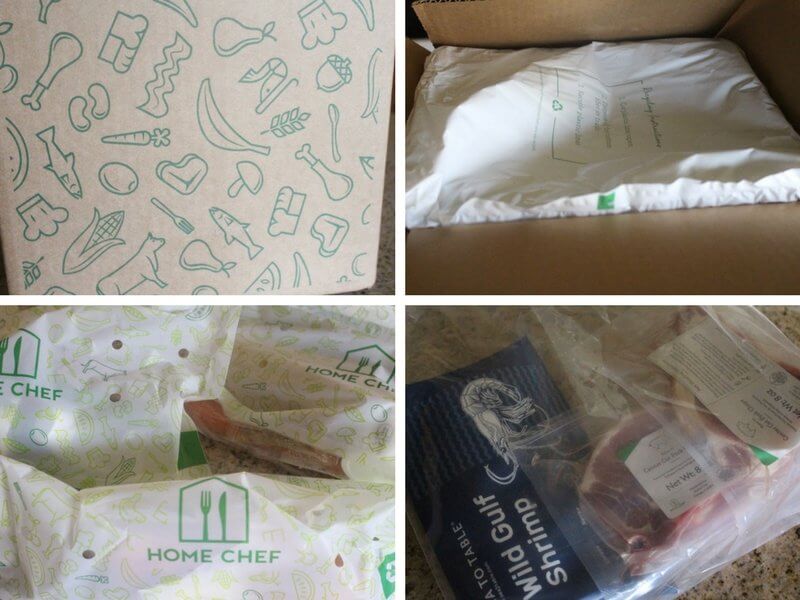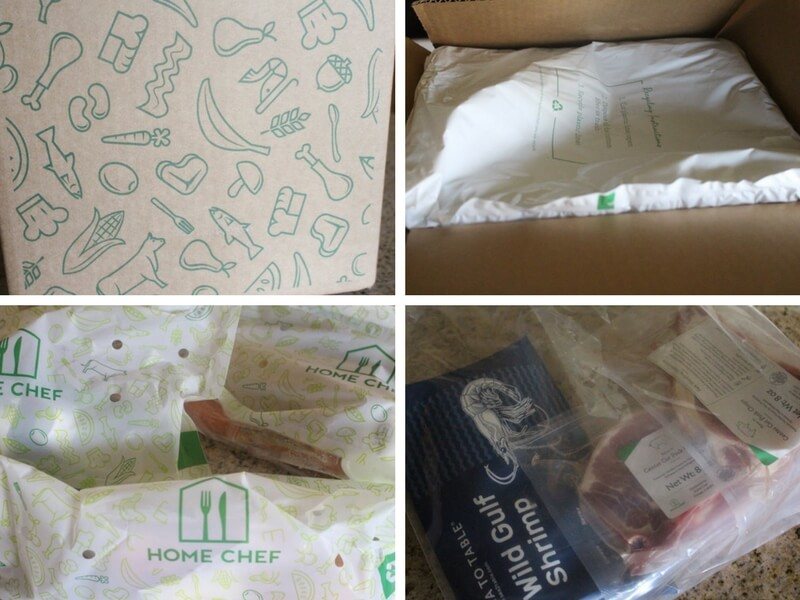 Shipping fees are another area where these companies differed a little bit. Green Chef has a flat $6.99 fee per box. Home Chef has free delivery for orders for over $45 and a flat rate of $10 per box for orders less than $45.
Pricing
With Home Chef, pricing depends on how much you order and the type of foods you purchase. For example, five-minute lunches cost $7.99 each, but most meals cost $9.95 each. The price per serving doesn't change by the number of servings or meals you buy, although premium meals can be higher depending on what ingredients they contain.
The price per box for Home Chef depends on how much food you order. There is a minimum order of two meals per week for two people.
Green Chef prices are also based on the servings. With the two-person plan, the omnivore, vegan, vegetarian, gluten-free and omnivore meals cost $11.99 each and the keto and paleo options cost $12.99 per meal. With the four-person family plan, meals cost $10.99 each no matter which plan you subscribe to. The prices don't include the $6.99 shipping fee.
Customizable Options
Although you can't mix and match meals between plans with Green Chef, you can choose which meals you want from the menu option you subscribed to. You can also switch plans between deliveries and order more than one box if you need more food one week.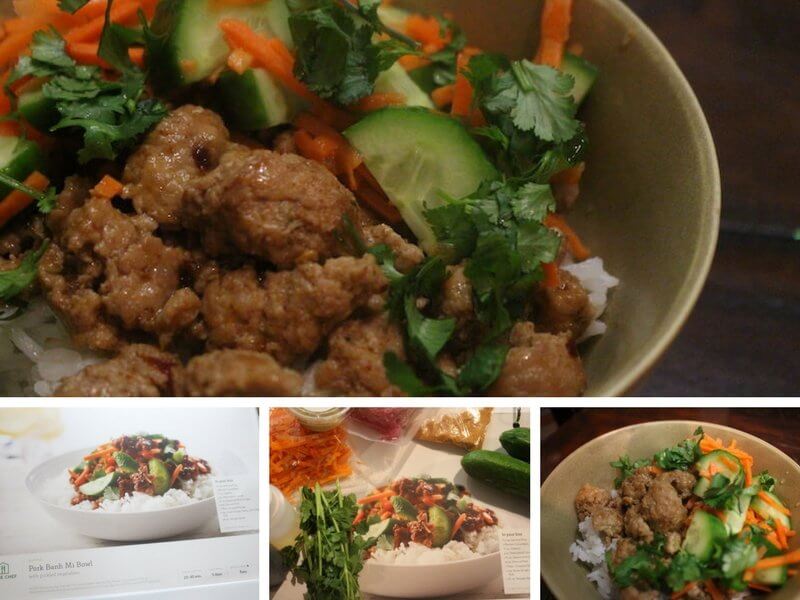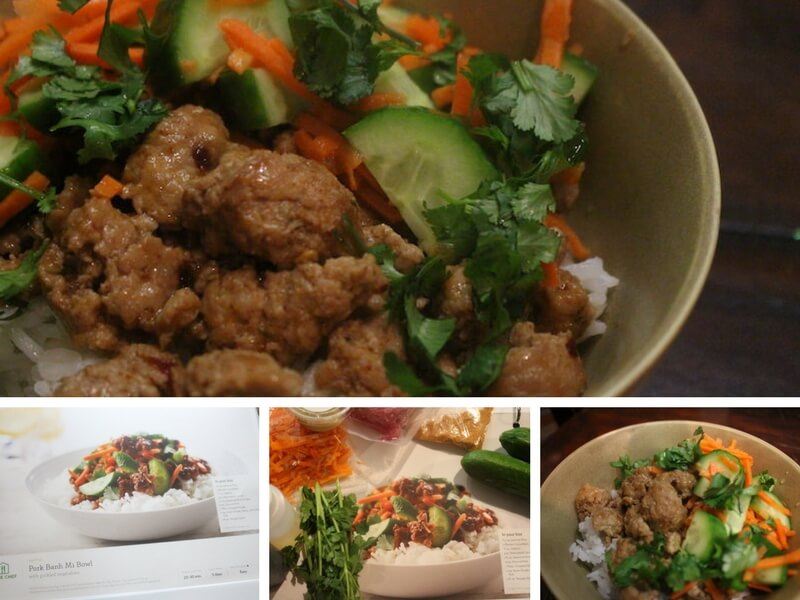 Home Chef allows you to mix and match across the entire weekly menu, as long as you meet the minimum order. Since it offers more than just dinners, you also have the option to customize the types of meals you're receiving as well as the amount. You can change the number of servings you get per week, but all the meals for that week have to be the same serving size.
What Makes These Meal Kit Services Unique
In many ways, Green Chef and Home Chef have a lot in common. They both allow you to feed two people or four people, they have rotating menus and they have recyclable packaging and shipping fees. Beyond that, there are some things that make them stand out from each other.
I liked a lot about both of these companies, and there were some things that I didn't like as well. Here are my thoughts on what both companies have to offer.
Green Chef
Pros:
Green Chef portions seem to have a little bit more meat in them compared to other meal kit services, and the portion sizes seemed slightly bigger than what many other services provide.
The focus on sustainable organic food was nice.
I also liked the environmentally-friendly aspects of Green Chef. The company offsets all of its carbon emissions with sustainable programs.
Cons:
Green Chef isn't as customizable as many of the other meal kit services I've tried.
Compared to some other meal kit services, Green Chef seems to be a bit on the pricey side.
Home Chef
Pros:
The prices per meal seemed reasonable when compared to other meal kit delivery services.
I thought it was interesting to find out that Home Chef started selling meal kits at Kroger-owned grocery stores in 2018.
Cons:
The website was a little bit hard to navigate.
Comparatively speaking, the food was middle-of-the-road in terms of tastiness.
Alternatives
Green Chef and Home Chef are by no means the only meal kit services out there to try. If you want one with really delicious food, I suggest Plated. Blue Apron and Sun Basket are some of my other favorites.
You can also check out specific diet options like paleo meal kits, or style of eating like family size meal kits.
Conclusion
When it comes to Green Chef and Home Chef, I prefer Green Chef. This is mostly because of the nicer portion sizes, particularly for the meat. I also liked that you can choose a specific eating plan like omnivore right from the start. It's a simple but effective dinner plan that provides some great basic meals.