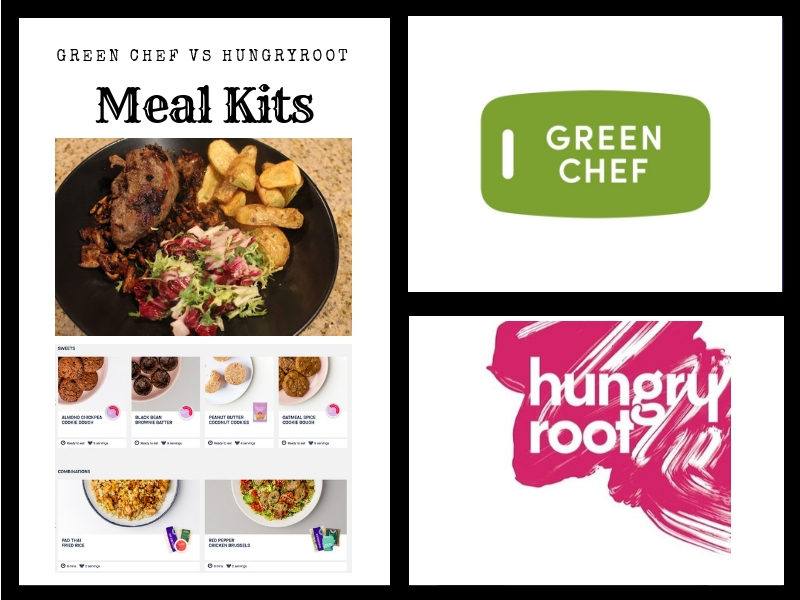 Eating green and clean is getting easier and easier. As meal kit services have emerged into an interesting new industry, some companies are branching out beyond traditional dinners to provide other offerings or to focus on promoting health.

Among these services, you'll find companies geared toward helping people avoid developing diabetes, lose weight, eat in accordance with certain diet rules, or just eat more vegetarian meals. In this Green Chef vs. Hungryroot comparison, we'll take a look at two of these meal kit services that do what they can to promote healthy eating.

Types Of Meals

While both Green Chef and Hungryroot are geared toward helping people eat more nutritious meals, they have a slightly different approach. Hungryroot provides vegan meals with organically-sourced foods whenever possible. Green Chef is all about organic eating.
Green Chef's plans are centered on feeding two people or four people at a time. There are three meals per week on the two person plan, for a total of six meals, and two meals per week on the four-person family plan, for a total of eight meals.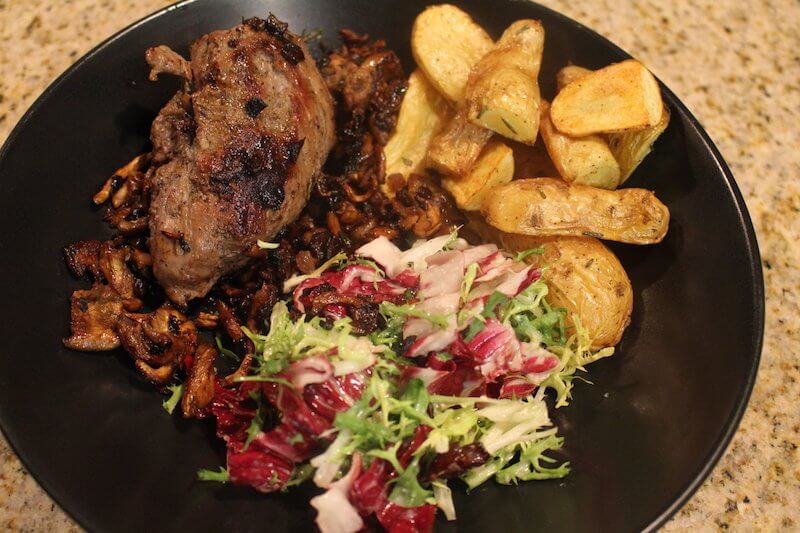 There are quite a few options for the two-person plan. You can set food preferences for keto, paleo, omnivore, vegan, vegetarian and gluten-free eating. On the family plan, you can set preferences for omnivore and carnivore. Both meals in the carnivore plan contain meat, and on the omnivore plan, families get one meat-based meal and one vegetarian meal.

Ingredients come pre-measured and pre-prepped, so meals only take about 30 to 45 minutes to cook. All ingredients are organic, and there are new meals to choose from each week for each food preference plan.

Hungryroot's ingredients are also pre-prepared and packaged so that most meals take about ten minutes to prepare. Because Hungryroot's meals are all vegan based, there are no milk or egg allergens to worry about, and all Hungryroot's recipes are gluten free, as well.

While Hungryroot zeroes in on the vegan eating, it actually expands in other areas. Besides providing dinner kits, there are options for breakfasts, lunches, dinners, and treats. For example, your box could contain ingredients for dinners such as Crunchy Curry Beet Noodles or Lentil curried Butternut Squash, but it could also contain something fun like Black Bean Brownie Batter.

Hungryroot builds boxes for you around your taste profile, and you rate foods so they can send you more or less of what you want. You can also customize your boxes under the deliveries section of your account so you can get what you want in each box.

There are 66 total offerings on the product pages, so there's a lot to try. Hungryroot creates a monthly PDF catalogue of everything that's currently available. The catalogue contains instructions for making the meals, but you can request physical recipe cards to come in your box, too.

Hungryroot has two plans to choose from: The Good Life and The Starter Set. The Starter Set contains three meals of two servings each, plus two sides, snacks or sweets. The Good Life includes five meals for two people and five sides, snacks or sweets.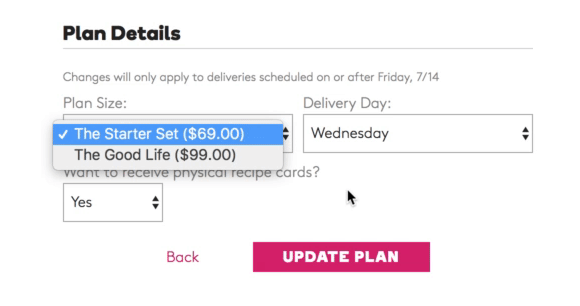 It's a little bit tricky to find out about allergens with Hungryroot. You can look at the ingredients in each recipe on your own, and that might be the easiest way to go. You can also go to the Frequently Asked Questions portion of the website, click on 'products' and scroll down to the question about the allergen you're concerned about. When you click there, you can download a PDF file with the information you're looking for.

The image of the dish on your 'deliveries' page also links to the full ingredients, nutritional information and cooking instructions.
Signing Up And Cancelling

With Green Chef, the first thing you'll do is decide whether you'll be feeding two people or four people. Then you pick your subscription plan from all of the food choice preferences and choose your delivery date.

To get started with Hungryroot, you enter your email address and a password. You can also sign in with Facebook.

To cancel with Green Chef, you have to send an email to cancel@greenchef.com and follow the instructions that you receive.

Cancelling with Hungryroot can be done online in your account, which I like. Navigate to settings, then to account details, and then to edit account details to get to the screen where you can cancel. You'll be asked whether you'd rather place a hold on your subscription or cancel it entirely.

Packaging And Delivery

Both Green Chef and Hungryroot ship ingredients in recyclable cardboard boxes with nontoxic ice packs. Most of the packing inside can be recycled, as well. Both companies also allow you to skip deliveries, and with Green Chef, you can opt to have food delivered bi-weekly or monthly instead of weekly.

Neither company delivers to Hawaii or Alaska, and Green Chef also doesn't deliver in some parts of Louisiana. Green Chef charges $6.99 for delivery.
Hungryroot charges $10 per box for air shipping, but ground shipping is free.

The way that the companies package their food is completely different. With Green Chef, the ingredients came jumbled together. There wasn't a lot of packaging, which is nice if you don't want to worry about recycling it. Green Chef uses a color coded labeling system to help you find the ingredients you need, which is helpful.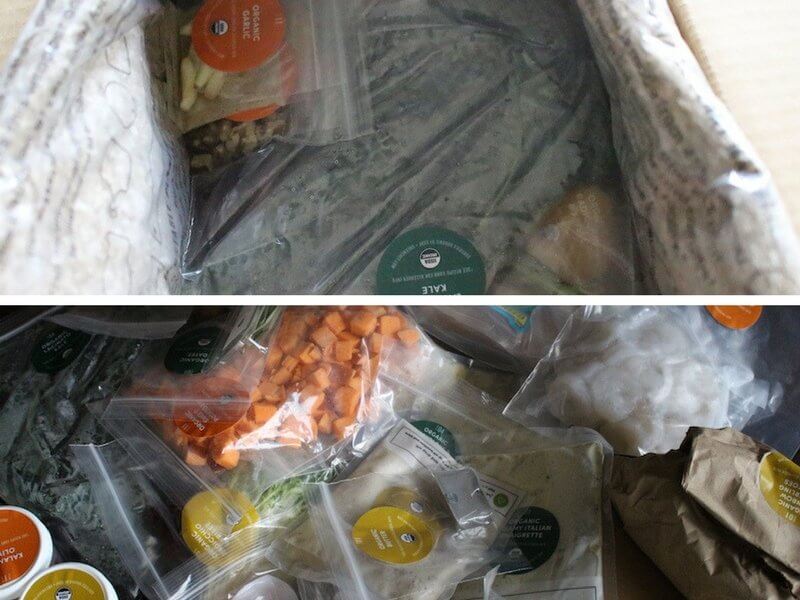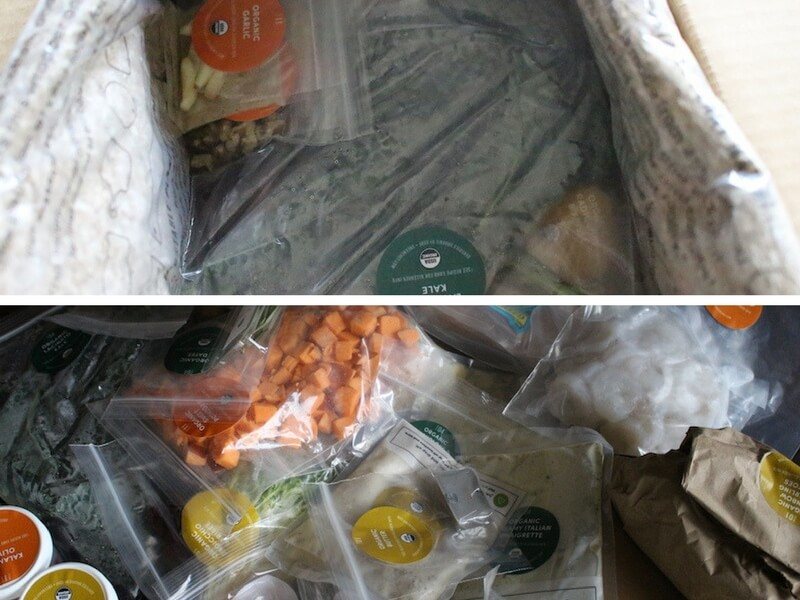 However, I did really like the beautiful packaging with Green Chef. Every item came in its own package with beautiful labels. It felt like I was getting something special, especially with the sides and desserts.

Pricing

The pricing for Green Chef depends on the plan that you subscribe to. The family plan starts at $10.99 per meal, and the two-person plans cost $11.99 per meal for the omnivore, vegetarian, gluten-free, and vegan options. The keto and paleo choices cost $12.99 per meal.

Hungryroot prices its food by the box. The Starter Set costs $69 per week, and the Good Life kit costs $99 per week.

Customizable Options

With Green Chef, you can order more than one box if you're having company, but you can't mix and match meals across the entire menu. I expect this is because of the high customizability of being able to pick a plan that meets your food preferences.

Customizing Hungryroot's boxes is fairly simple, too. First you take out the items you don't want, and then you add other items in from the product pages until your box reaches 100 percent full again. Then you save your box.

What Makes Each Meal Kit Service Unique?

By now, it's easy to see that while both companies focus on nutritious food, there are a lot of differences between them. I like some things about Green Chef better than Hungryroot, and vice versa. Here are some of the things that stood out to me.

Green Chef

Pros:

Green Chef is environmentally focused and balances 100 percent of its carbon emissions with sustainable offset programs.
Having the different food preference plans available makes it easy for people to try out different eating styles, such as keto, paleo or pescatarian before they commit to any certain diet plan.
The family plan makes it easy and fast to make nutritious meals that don't take long to cook at all.
Cons:

On the website, I couldn't see all of the menu options at once. Instead, I had to look at menus separately for every type of meal I wanted to try.
You can't mix and match meals across the entire weekly menu.
Hungryroot

Pros:

There are a lot of reviews on the website from Forbes and other influencers.
It's fun to be able to get sides and desserts as well as just dinners.
The packaging makes you feel like you're getting a really delicious meal even before you start cooking it.
Cons:

In order to customize for allergens, you have to remove recipes from your box and replace them with something that doesn't contain the allergen in question.
On the website, it's difficult to find information on serving sizes and costs. I recommend browsing through the frequently asked questions to find the information you're looking for.
Alternatives

There are a lot of good meal kit services on the market, and you can find almost anything you're looking for. People who want to lose weight might be interested in Medifast or Nutrisystem, or maybe in a meal planning service like PlateJoy. There are also other vegan options, such as Purple Carrot.

If you want something that's more traditional, Plated, Blue Apron and Sun Basket all provide delicious food. Blue Apron was the first meal kit service that I tried, and it's still one of my go-to services, but Plated is still my favorite, because the food is so tasty.

Conclusion

With so many choices on the market providing meals that are both nutritious and delicious, it can be hard to know where to start. This is why I shared what I know about Green Chef and Hungryroot. Which one would you choose?
For me, when it comes to these two services, I lean toward Green Chef. I like the ability to choose a plan that targets exactly what I'm looking for, and I like its simplicity compared to Hungryroot.