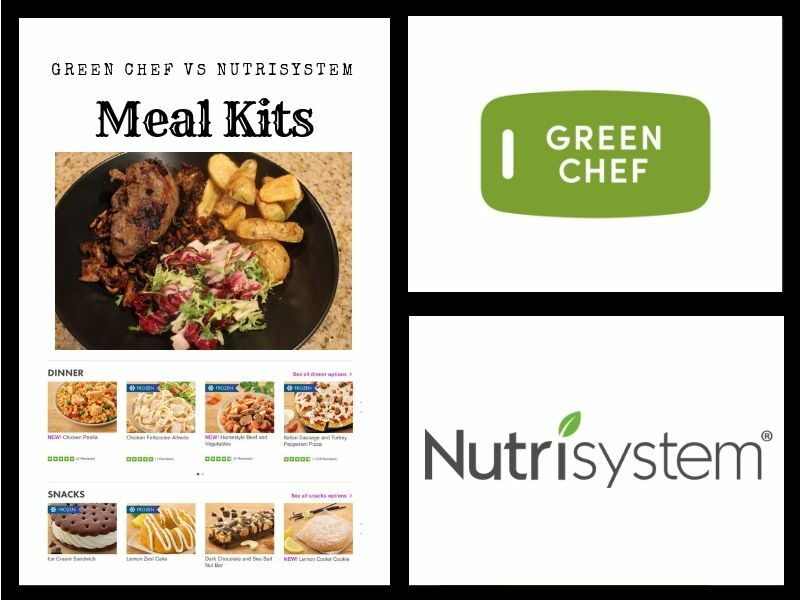 Managing meals is about more than simply deciding what's for dinner. Sometimes it's about reaching certain fitness goals, too, such as eating clean, eating as a family or losing weight.

Meal kit delivery services are helping out in a surprising ways. Besides expanding your choices for eating nutritious meals, they make healthy eating convenient. No matter what your eating goals are, this added benefit could be just the support you need.

In this Green Chef vs. Nutrisystem comparison, we'll take a look at two meal kit delivery services that target your health as well as what's for dinner. Green Chef is all about eating organic foods, while Nutrisystem is geared toward supporting weight loss. Which one meets your personal goals best?

Types Of Food

All of the ingredients in Green Chef's dinner kits are USDA certified organic. They're pre-measured and pre-prepped so that cooking is both fun and easy, and the meals generally take about half an hour to prepare.

Green Chef plans are based first on the number of people you want to feed. The two-person option allows you to select a variety of eating styles based on your eating preferences and dietary restrictions. These include paleo, keto, vegetarian, vegan, gluten free and omnivore. With the two-person plan, you get three meals per week, for a total of six meal servings.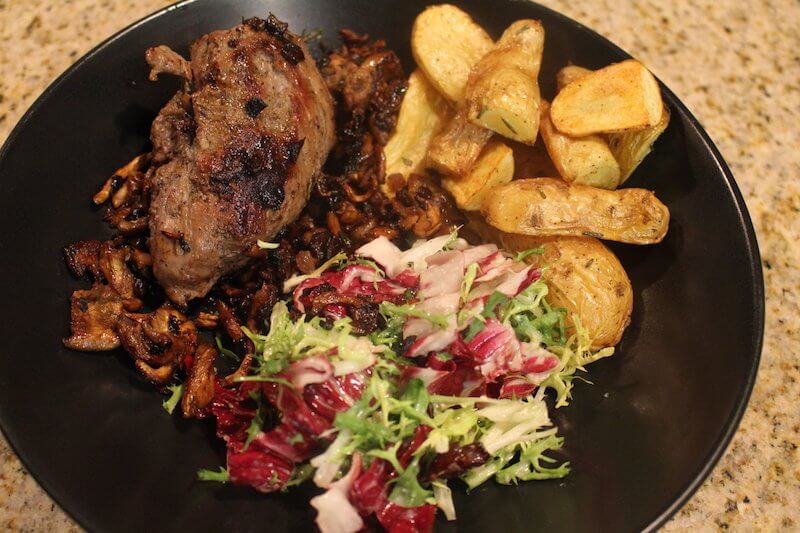 There's also a four-person family plan that offers both carnivore and omnivore options. The family plan comes with two meals per week, for a total of eight meal servings. The carnivore version has meat in both meals, and the omnivore version provides both a meat-based meal and a vegetarian meal.

Green Chef menus change weekly, but Nutrisystem has a static menu of more than 150 items. The foods you get with Nutrisystem go beyond dinners. The system is designed to provide subscribers with six small meals per day, including breakfasts, lunches, dinners and snacks. They also aim to provide you with favorite foods like hamburgers in a way that won't blow your progress out of the water.

With Nutrisystem, the meals are already prepared and pre-packaged. What you get per order is dependent on the type of plan you choose. Plans contain enough food for four weeks each.

There are several different types of Nutrisystem plans. One plan is vegetarian. There is also a basic plan, a basic plan for diabetes, a core plan and a core plan for diabetes, and a Uniquely Yours plan with a diabetes version. The Uniquely Yours Plus plan is the only plan that doesn't have a version for diabetics, but there are men's versions of almost all plans, including this one.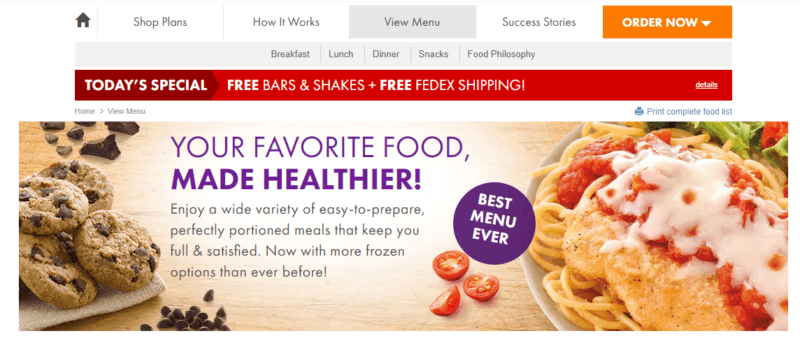 Nutrisystem also has transition and maintenance plans for people who reach their goals for losing weight.
Signing Up And Cancelling

Signing up with Green Chef is easy. You decide whether you'll be feeding two people or four people each week, pick a subscription plan, and set a delivery day. To cancel, you have to send an email to cancel@greenchef.com to get the process started, and then you have to follow through with the instructions you receive.

With Nutrisystem, you don't have to sign up at all—you can just make orders whenever you want to. However, there are some great discounts for signing up for automatic shipments. You can set the automatic shipments up when you go to pay for an order of Nutrisystem meals.

This can cause some problems, though. New customers will pay additional fees (around $125) if they don't cancel the automatic shipments within 14 days of signing up. The additional fees offset the deep discounts you get for signing up for automatic shipments.

Packaging And Delivery

Green Chef's outer packaging consists of jute insulation, cardboard boxes, nontoxic ice packs, paper bags and recyclable plastics. The company ships across the continental United States, except for a few spots in Louisiana, and there's a $6.99 delivery fee per box. Boxes can come weekly, bi-weekly or monthly.

With Nutrisystem, shipping is generally free. Boxes come monthly, and Nutrisystem ships food across the continental United States.

The exception to the free shipping rule can happen if you order frozen foods. If you order frozen Nutrisystem foods, they're shipped in dry ice separately from your other foods in trucks that can handle cold foods. If you order more than $75 worth of frozen foods, they're shipped to you for free. If you don't order at least $75 worth of frozen foods, there's a shipping charge of $20.

You don't have to order frozen foods at all if you don't want them, though. You can stick with items like the Sweet and Salty Nut Bar or the Chocolate Brownie Bar.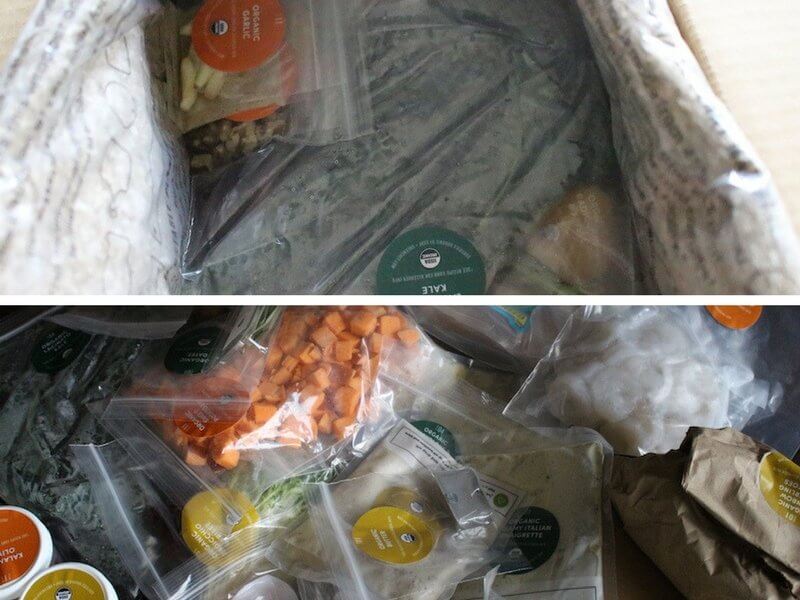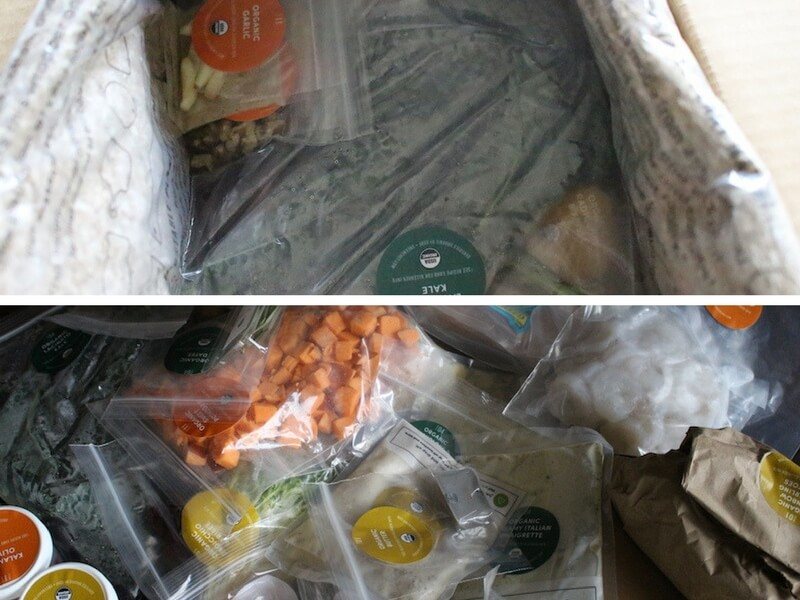 With Green Chef, ingredients for each separate meal are packaged together, and the plastic bags have color-coded levels to help gather the right ingredients when it comes time to cook.

Pricing

The pricing with Nutrisystem depends on the plan you choose. The more intricate the plan, the more you pay.

The vegetarian plan costs $12.50 per day. The basic plans cost around $10.18 per day, the core plans cost around $11.07 per day, and the Uniquely Yours plans cost $12.50 per day. Men's versions are slightly more expensive because they contain an extra snack. The Uniquely Yours Plus plan starts at $13.93 per day, and the men's version costs $15.36 per day.

Like Nutrisystem, the Green Chef pricing depends on the plan you choose. For the two person plan, the omnivore, vegetarian, gluten-free, and vegan options are $11.99 per day, and the keto and paleo choices are $12.99 per day. Meals on the family plan cost $10.99 each whether they are meat-based or vegetarian.

Customizable Options

Nutrisystem has a few different ways it can be customized. If you don't get on an automatic shipment plan, you can choose items a la carte and order whatever you want. If you sign up for automatic shipments, you can choose what you want in your boxes for the Core plans and other higher plans. It's also possible to customize the basic plan, but you have to pay a $25 fee to open up that option.

Nutrisystem allows you to change your plan when you want to, and there are filters to help you search for the foods you want. Filters include the ability to search for frozen or non-frozen foods, types of foods such as muffins or sweets, dietary needs, nutrition preferences, and allergies, including milk, eggs, wheat, shellfish, tree nuts, and fish.

With Green Chef, you can't mix and match meals across the full weekly spectrum of menus, but you can choose deeply focused plans right at the outset. You can also change the number of boxes you want to get in any particular week.

What Sets These Meal Kit Services Apart

These two meal kit services have completely different approaches when it comes to helping you build your health. Green Chef focuses on cooking dinners with fresh, organic ingredients, while Nutrisystem targets controlling portion sizes in six pre-packaged meals per day. There are things to like and dislike about both options.

Green Chef

Pros:

I like the larger portions and larger meat servings in the Green Chef meals when compared to similar services.
Green Chef gives you a lot of choices up front, which can save time later because you don't have to customize every order for keto meals or other dietary restrictions.
Green Chef is environmentally friendly and offsets all of its carbon emissions with sustainable programs.
Cons:

The inability to mix and match meals across the entire weekly menu means that Green Chef isn't as customizable as some other meal kit services.
Nutrisystem

Pros:

You get all of your food for a month at one time in one or two shipments.
The foods are pre-packaged, so they're convenient.
Nutrisystem has a money-back guarantee
Cons:

With Nutrisystem, you don't get to really cook much, which can be disappointing if you like to cook as a hobby.
Alternatives

There are a lot of different options out there for meal kit companies that can support your health care goals.

If you're set on losing weight, you can try Medifast in place of Nutrisystem, and you can also try PlateJoy to plan your own weight loss meal plans. If you want to try vegan foods, Purple Carrot and Hungryroot are good options.

If you're focused on dinners and you like cooking, you might try Blue Apron or Sun Basket. Plated is another great company, and it's my current favorite.
Conclusion

Whether you like Green Chef or Nutrisystem better really depends on your goals. If you're set on weight loss, Nutrisystem might be a great place to start.
As far as I'm concerned, I like Green Chef best. The focus on delicious organic foods with nice portion sizes makes this company a winner. I also like that I get to spend some time in the kitchen trying new recipes.