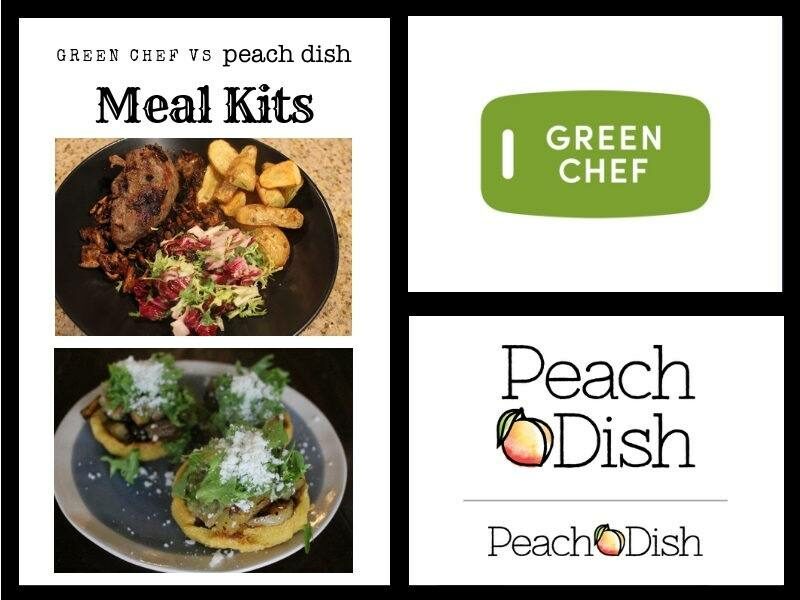 Even if you're a foodie, you might know the feeling of getting stuck in a rut when it comes to dinner time. You might like to cook. You might even like to try out new recipes, but maybe you don't really have the time to shop for ingredients or search for fun new flavors on the web. What do you do then?

Meal kit delivery services are a great option for a lot of people. This industry is predicted to reach $20 billion in sales by 2020, and there are now meal services tailored to all kinds of dietary restrictions and preferences.

In this Green Chef vs. Peach Dish comparison, I'll show you how two meal kit delivery services work, how they get your food to you, what they cost, and how they stack up against each other.

Types Of Meals Offered

Green Chef meal kits come in two-person or four-person plans, with specific menu options available for each one.

With the four-person family plan, a weekly box contains recipes and ingredients for two meals that feed four people. You can choose the carnivore option, which provides two meat-based meals, or the omnivore option, which comes with one meat-based and one vegetarian meal.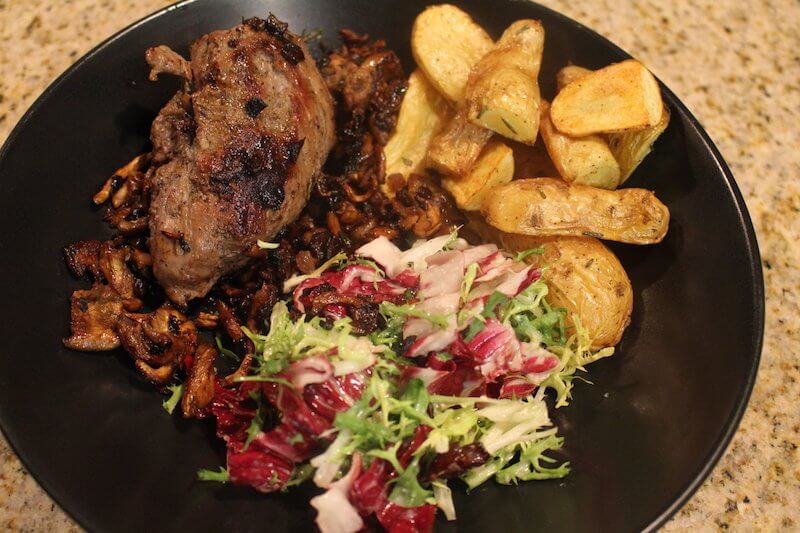 The two-person plan has a variety of menus you can choose from that are geared toward your healthy-eating preferences. These include keto, paleo, vegetarian, vegan, gluten-free and omnivore plans.

No matter what plan you choose, your ingredients are certified organic, and they come pre-measured and prepped. Meals typically take 30-45 minutes to cook.

Green Chef lists three to five new menu options for each two-person menu, and some weeks menus will feature three items that were favorites in the past, as well. Some meals, like the Harrisa-Spiced Chicken Thighs, are featured in more than one menu. The four-person family plan typically has two new dishes and three favorites from the past to choose from each week.

PeachDish menus change weekly, too. There are around seven to nine new menu items per week, plus three year-round favorites and occasionally some 'something special' items. PeachDish meals are based on the taste of the South, and menus include meals such as Wild-Caught Gulf Shrimp and Fennel Tacos or Zeb Stevenson's Chicken and Dumplings.

Although PeachDish doesn't have specific plans for dietary restrictions such as gluten-free or keto diets, there are labels on the online menu that show whether the meals are vegan, vegetarian, gluten-free, or quick fixes. You can filter the weekly menu by quick fixes, meat, seafood, vegetarian, vegan, no gluten, and sweet.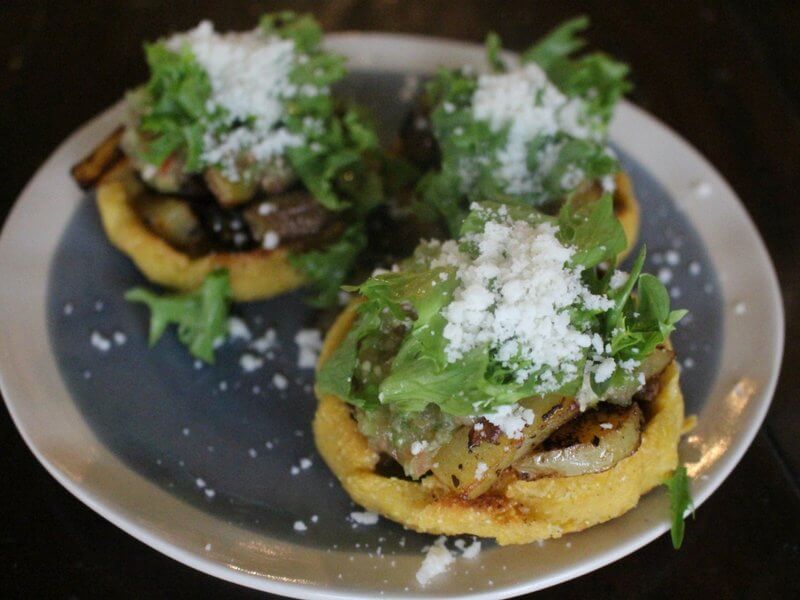 The time it typically takes to cook a meal is show on the menu items, and you can see the price per dish for two people. If you click on a menu item that looks interesting to you, you can also see prices for 4, 6, 8 and 12 servings as well as ingredients, nutrition facts and a beer or wine pairing suggestion.

Unlike Green Chef, PeachDish doesn't have a specific number of meals you get per box each week. For an extra $12 fee, you can order as a guest and try out the meals you want. You can also set up a weekly subscription.

Most weekly subscriptions cost around $50 and contain four servings each. However, as long as you place a minimum order of $45 per box, you can mix and match meals to get the box you want. You can have recipes scaled for two, four, six, eight, ten or twelve people.

Signing Up And Cancelling

For PeachDish, the easiest way to set up a subscription is to start ordering. Once you have the boxes you want in your cart, you enter your email address, shipping information and payment information. Then you choose to proceed as a guest with an additional fee or subscribe for weekly shipments with no extra fee. You can skip orders cancel your subscription on your online account.

With Green Chef, the first step for signing up is to decide whether you want to order food for two people or four people. Then you pick your menu plan and settle on a delivery day.

Cancelling with Green Chef is pretty easy, too. You just need to send an email to cancel@greenchef.com and follow the instructions that you're sent.

Packaging And Delivery

PeachDish and Green Chef both ship across the continental United States, although Green Chef deliveries don't reach parts of Louisiana.

Green Chef has a flat shipping rate of $6.99 per box, while rates for PeachDish shipping vary. In some states, delivery for PeachDish is free, and other states have a $15 delivery fee per box. There's an additional $12 shipping fee if you order as a guest. Depending on where you live and whether you ordered as a guest, you could pay $27 in shipping charges per box.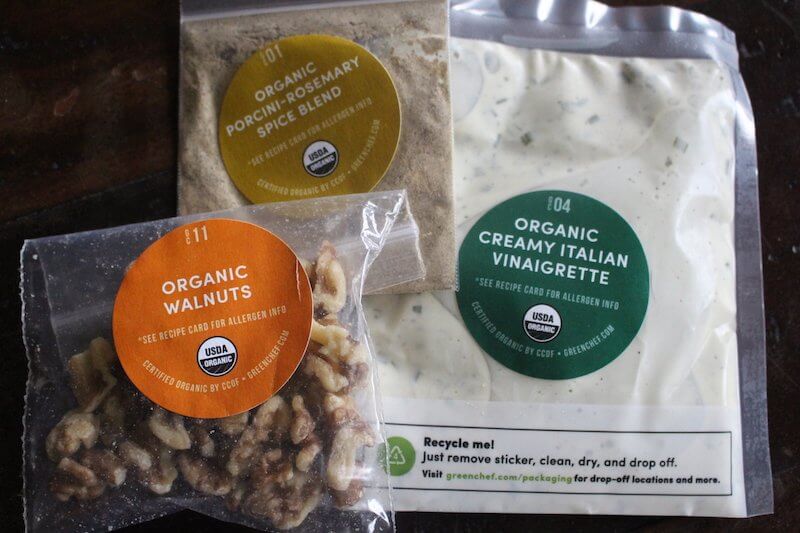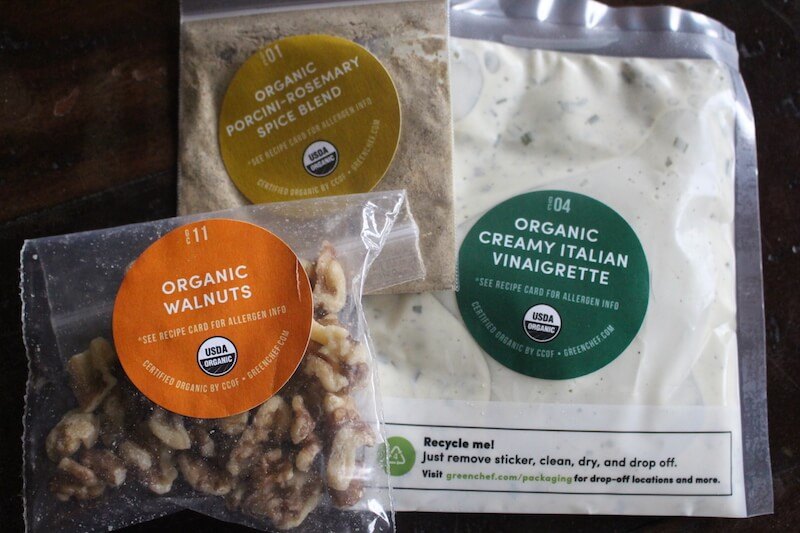 The way these two companies package their ingredients contrasts sharply, too. PeachDish ingredients come bundled in fancy organza fabric bags. Green Chef ingredients come in recyclable plastic with color-coded labels to help you sort out which ingredients go together. Green Chef is an environmentally focused company, so all of its packaging is recyclable.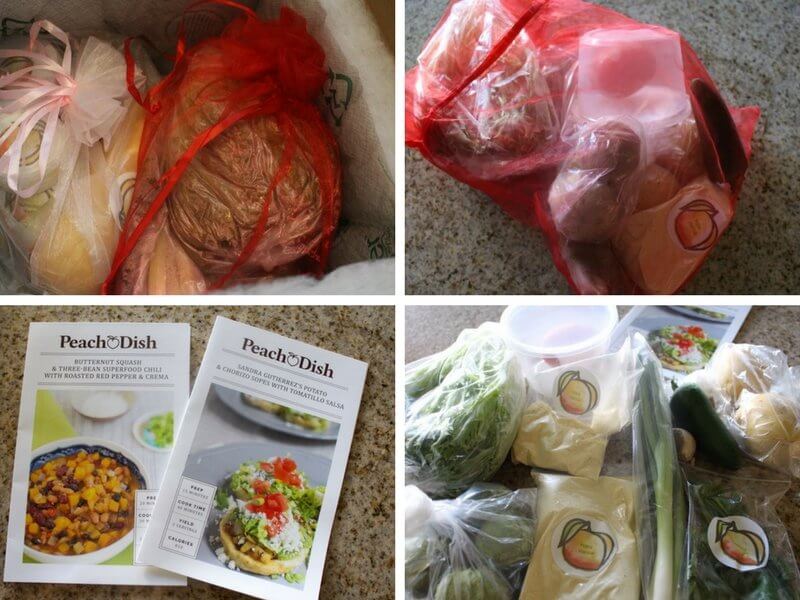 With Green Chef, you can receive deliveries weekly, biweekly or monthly. You can also decide which weekday you'd like to have your shipment delivered on. PeachDish allows you to receive weekly deliveries on a subscription, but you can also order as a guest and receive shipments individually.

Pricing

The cost per meal for PeachDish runs around $12.50, although that can vary depending on the meal that you order. Some meals for two people can cost around $44, or around $22 per plate. The box price also varies depending on how many meals you order and how many people you're buying ingredients for.

With Green Chef, the price varies a little bit depending on which plan you subscribe to. For the four-person family plan, you pay $10.99 per plate. On the two-person plan, you pay $12.99 for paleo and keto menus and $11.99 for vegan, vegetarian, gluten free and omnivore menus. The shipping fee is additional.

Customizable Options

In this department, PeachDish wins. You can mix and match meals across the entire weekly offering, you can order as a guest, and you can order as many dishes as you want for up to twelve people. There are also specialty offerings that allow you to try out brunch dishes, desserts, and other fun menu items.

Green Chef's customizable options are comparatively limited. Although there is a wide variety of menu options to choose from that can help you meet dietary goals, once you've chosen a menu plan, you can only order items that fit within that particular menu.

You can change menus between weeks, however, and you're able to order more than one box at a time if you want to feed more people.

What Makes These Meal Kit Companies Stand Out

Both PeachDish and Green Chef have some great menu items and a solid delivery service. I liked some things about both services and disliked others. Here are some of the things that stood out the most to me.

Green Chef

Pros:
Green Chef portions contain more meat and are larger overall than with other meal kit services I've tried.
The dietary-specific menus make it easy to jumpstart a keto, paleo or other eating program.
Green Chef is environmentally friendly. Besides the completely recyclable packaging, the company offsets all of its carbon emissions using sustainable programs.
Cons:

Compared to other meal kit delivery services I've tried, these meals are a little more expensive per serving.
PeachDish

Pros:

It's nice to be able to try out PeachDish as a guest before you order.
It's nice to be able to mix and match meals from the entire weekly menu.
I like being able to order as many meals as I want for as many people as I want to.
Cons:

PeachDish meals are also more expensive per serving than other meal kit delivery services I've tried.
The additional shipping charges plus the already expensive food makes PeachDish a bad investment, in my opinion. (here's a cheaper one)
Alternatives

Green Chef and PeachDish aren't the only meal kit delivery services to try. If you're looking for services with some solid dinner menus, you might consider trying Plated, Sun Basket or Blue Apron.

Conclusion

When it comes to Green Chef vs. PeachDish, I say Green Chef wins hands down. Even though I liked the customizability of PeachDish better, Green Chef's food was delicious with nice-sized portions. The additional shipping charges for PeachDish also made that company too expensive to stick with for long.