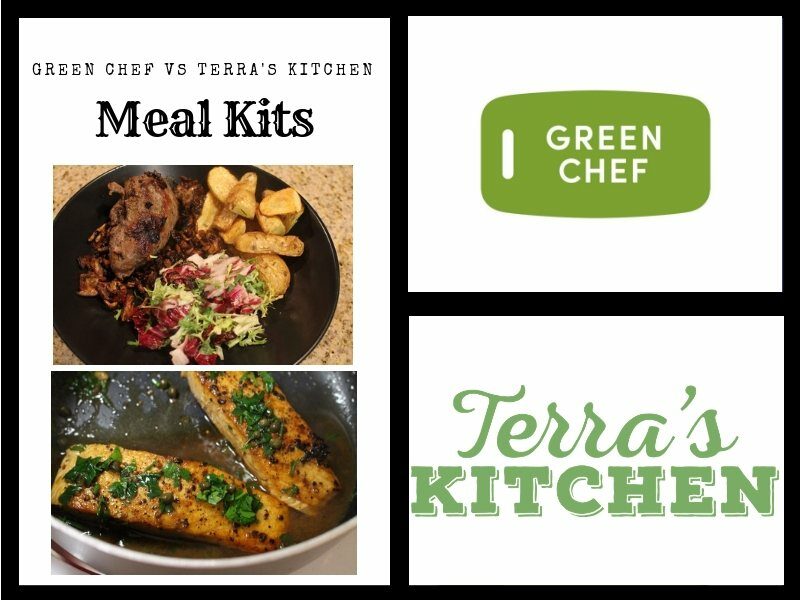 Over the past few years, I've tried a lot of different meal kit services. I'm always amazed at the variety, not just in the types of food that these services offer, but in the ways that they do business. Many of them have found niche markets, even in the food industry, and they're thriving because of that.
One trend I've noticed is that several meal kit services are branching out beyond the idea of just making dinnertime easier. There's a definite nutrition edge to many companies now. Some of them offer only vegan meals, while others focus on organic foods, weight loss or diabetes prevention.
In this Green Chef vs. Terra's Kitchen comparison, I'll show you how two of these health-aimed companies stack up against each other. You'll see the types of meals and plans they provide, how they're packaged and shipped, and what the relative costs are.
Terra's Kitchen is currently closed, so in this case, your best option will be to go with Green Chef! That's OK, it was my first choice anyway!
Green Chef VS Terra's Kitchen
Types Of Meals
Both Green Chef and Terra's Kitchen are focused on building health. Terra's Kitchen adheres to principles of the Mediterranean diet uses organic, sustainably-sourced foods wherever possible, while Green Chef uses only organic foods. Both companies are environmentally conscious.
Both companies also have some of the most powerful customizable options that I've seen for meal kit services, as well. With Green Chef, you can get meals geared toward keto, paleo, omnivore, vegan, vegetarian and gluten-free living. Terra's Kitchen options include family meals, paleo, gluten-free, low calorie, vegetarian, vegan, pescatarian, lean and green, and keto.
For both Green Chef and Terra's Kitchen, you can get 2-person or 4-person meal kits that come with pre-measured, pre-prepped ingredients.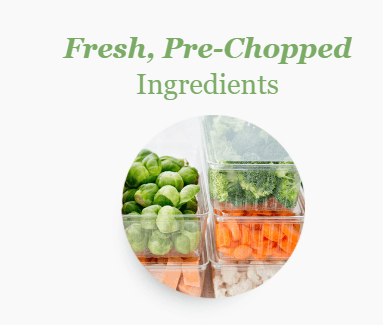 With so many options and so many similarities between the two, how do you know which one to choose?
The meals get a little more individualized when you dive into the plans. You get three meals per week on Green Chef's two person plan, for a total of six servings, and two meals per week for the family plan, for a total of eight servings.
Some options, such as the keto, paleo, vegan, vegetarian and gluten-free menus are available with Green Chef specifically for the two-person plan. The family plan includes both omnivore and carnivore options, although both omnivore selections can be found in the two-person plan, too.
One thing I liked about Green Chef was that it seemed to contain more meat and larger portion sizes than some meal kit services I've ordered from in the past.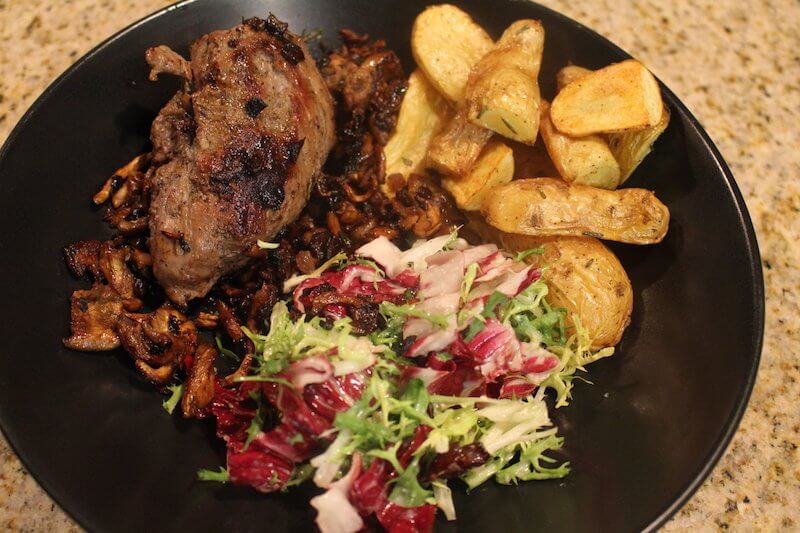 Family meals with Green Chef typically take 30-45 minutes to prepare, but there are quick and easy recipes available on the weekly menu, as well. By contrast, most of Terra's Kitchen meals can be made within 15-30 minutes.
Menus for Green Chef change weekly, with about five options for each plan. Terra's Kitchen has a list of 50 or so recipes to choose from constantly.
Green Chef has a variety of plans to choose from, but it focuses only on dinners. Terra's Kitchen, on the other hand, has options for salads, snacks, ready-to-eat lunches and smoothies as well as dinner kits. You can order multiples of things you like.
One thing I really like about Terra's Kitchen is the powerful search filters. You can filter recipes to eliminate allergens such as gluten, eggs, dairy, fish, shellfish, peanuts, tree nuts and soy.
With these filters, you can search for types of meals, such as breakfasts, dinners or desserts, and you can search for recipes by the time it takes to prepare something. You can also search by the types of meat you'd like to eat.
If you're looking at the online menu for Terra's Kitchen and you click on a particular meal, you'll get step by step directions with pictures that show you how to prepare it.
This leads me to one of my favorite parts: on the recipe page, you'll also get suggestions for wine and beer pairings through Terra's Kitchen's partner, @grapefriend. This makes Terra's Kitchen one of three meal kits that I know of that offers a wine club option. (The other two are Blue Apron and Hello Fresh.)
Signing Up And Cancelling
To sign up with Terra's Kitchen, you start ordering, and you create your account when it's time to check out. When you get to this spot, you'll enter your zip code and email address, and you'll select your preferred plan and delivery options.
Signing up with Green Chef is similar. You decide how many people you'll be feeding, which subscription plan you want, and what day you want your food to arrive. To cancel Green Chef, send an email to cancel@greenchef.com and follow the instructions that you're given.
To cancel your Terra's Kitchen subscription, you go to subscription settings on your online account. Click 'cancel my subscription' and follow the steps until you receive an online confirmation that your account has been canceled.
This doesn't delete your account, but it stops the service. You can start up again later by going into your account and reactivating it.
Packaging And Delivery
Terra's Kitchen really stands out when it comes to delivery. Instead of sending food in cardboard boxes, ingredients for the meals you order come in a temperature-controlled vessel. Individual ingredients are pre-prepped and packaged separately, and they're sent on shelves inside the vessel.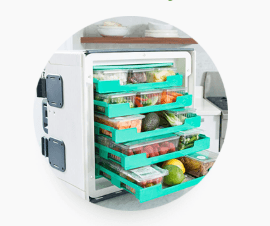 The vessel is picked up the day after delivery and sent back to the company, where it's sanitized. The vessels can be used up to 100 times. The company asserts that this is a more economical and a more green shipping solution than sending food in cardboard boxes that have to be recycled.
The first week of shipping with Terra's Kitchen is free. After that, orders of $100 or more get free shipping, and orders totaling less than $100 have a $6.99 shipping fee.
Green Chef's deliveries also have a typical $6.99 delivery fee. Like many other meal kit services, Green Chef's ingredients come in recyclable cardboard boxes, and most of the internal packaging such as plastic bags and cardboard inserts are recyclable, too. With Green Chef, packages are labeled with a color-coded system to make them easy to find when it comes time to cook.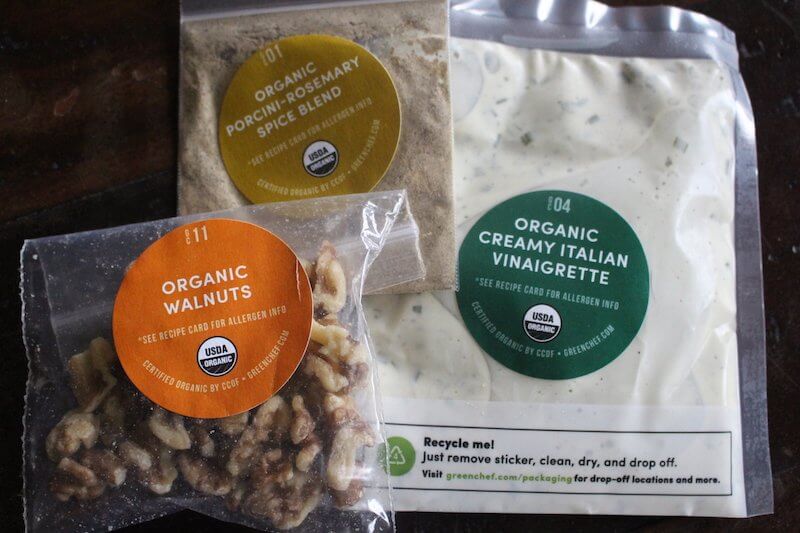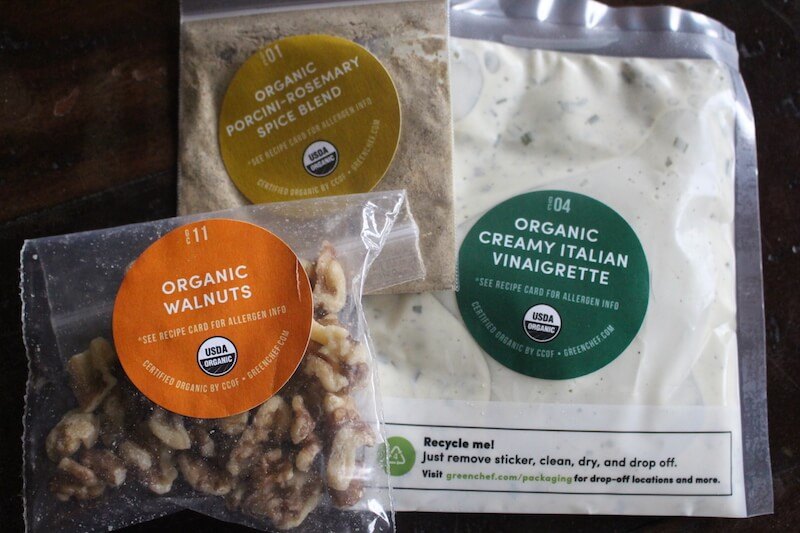 Green Chef varies from many meal kit services by offering bi-weekly or monthly subscriptions as well as weekly ones. Both companies deliver across most of the continental United States, although there are parts of Louisiana that Green Chef doesn't deliver to.
Pricing
Both Terra's Kitchen and Green Chef price their meals individually, so there isn't a set price per weekly box.
With Green Chef, the pricing depends on the plan that you subscribe to. A two-person plan starts at $11.99 per meal, and a family plan starts at $10.99 per meal. Paleo and Keto meals are a little more expensive, at $12.99 per meal.
With Terra's Kitchen, you have to order at least $72 worth of food for your order to go out. Meals generally range from $9.99 to $13.99 per serving. If you use the filters to order four servings rather than two, the price will go down. For example, a meal could be listed at $12.49 per serving but cost $9.99 per serving if you order four helpings.
Customizable Options
Since both Green Chef and Terra's Kitchen charge by individual meals, you're able to customize every order by mixing and matching the meals you want to your box or vessel.
You can switch between plans, and with Green Chef, you can order more than one box at a time. The powerful filters with Terra's Kitchen and the large amount of recipes on the menu allow you to pick and choose meals in a variety of different ways, and the add-ons bring in breakfasts and snack options, as well.
What Makes These Meal Kit Companies Unique
While both of these companies are environmentally friendly and provide health-conscious meals, they have different specialties. Terra's Kitchen, for instance, works hard to eliminate food waste, while Green Chef uses only organic ingredients.
There are things I liked and didn't like about both companies. Here are some of my top pros and cons for each one.
Green Chef
Pros:
One really neat thing about Green Chef is that it balances all of its carbon emissions with sustainable offset programs.
Green Chef's large variety of plans makes it easy to get the kind of food you want to have.
Cons:
Green Chef's meals are a little bit expensive compared to meals from other companies.
Terra's Kitchen
Pros:
Terra's Kitchen sends food that's left over from prepping the ingredients back to local farms to be used as animal feed.
The vessel that Terra's Kitchen uses is a really cool idea. Since it helps keep food from getting damaged during transit, it also helps cut back on food waste.
The large number of recipes available means you can try new things but still stick to a specialty diet, such as keto or paleo.
Cons:
Terra's Kitchen meals are somewhat expensive per serving.
Alternatives
If you're just looking for more adventurous, American fusion style dinners, you might consider Blue Apron, Sun Basket or Plated.
If you wan to get some more familiar flavors and quick dinners, then I think Martha & Marley Spoon or Home Chef would be better options.
Conclusion
As you look into the possibility of meal kits to encourage healthy habits and to enjoy dinnertime more, consider what it is that you're looking for most. If eating only organic food is important to you, then Green Chef is the way to go. If you're committed to a Mediterranean style of eating, you might want to opt for Terra's Kitchen.
Personally, I enjoyed the meals from Green Chef better, and considering that Terra's Kitchen is currently closed, then that'll the one to go with here 🙂