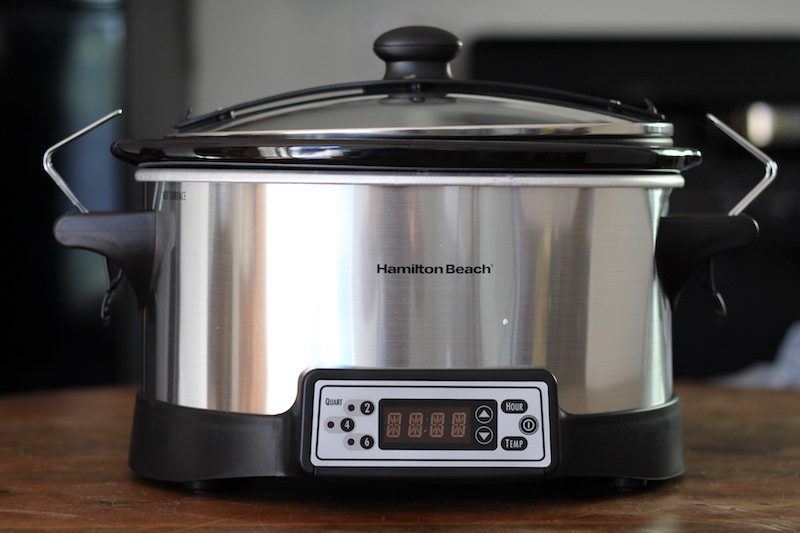 Hamilton Beach Right-Size Multi-Quart Slow Cooker Review
Quality - 95%
Features - 96%
Price - 95%
Personal Experience - 96%
Value - 97%
This is currently the only model offered by any brand which has the ability to accurately cook 2, 4, or 6 quarts all within one appliance. That means saved kitchen space and versatility for cooking different sizes and styles of meals. With a locking lid so you can take it on the go, and a programmable timer so you don't have to watch it all day, the Hamilton Beach Right-Size Multi-Quart Slow Cooker Review is a very good value for the price.
Introduction
This was an interesting buy for me because this really was the only slow cooker available that claims to be able to make food as a 2, 4, or 6 quart capacity slow cooker. Actually, it was quite difficult acquiring this one. They sent the wrong slow cooker twice, and then Amazon was temporarily out of them so I had to get it second hand. That's why you see the damage in the picture above.
But the cooker worked just as fine, and I tested a couple of recipes with different quart sizes to see how it performed. Everything worked quite well, and I actually selected this model to be my #3 pick in the 4-quart mid-priced, AKA small sized slow cookers with a mid-range budget. Though it actually has a six quart capacity, which makes it a bit larger compared to other four quart cookers, the versatility of being able to cook larger dishes was interesting.
Hamilton beach always makes high quality slow cookers with nice features, and my experience with the Hamilton Beach Right-Size Multi-Quart Slow Cooker did not change that opinion!
Standard Features
The standard features of the Hamilton Beach Right-Size Multi-Quart Slow Cooker are the same ones you'll see with the vast majority of other appliances out there. It comes with a dishwasher safe, black stoneware crock. The crock is OK to put in the oven as well, which is great for browning. I only found this out after cooking my chicken and having the difficult time of removing it…more on that later. Anyway, it is oven safe up to about 400 degrees, but be careful not to stick a hot crock into cold water or it could crack (the lid is not oven safe!)
Also, keep in mind that even though the crock is dishwasher safe, the dishwasher doesn't always do a good job.

This appliance also comes with rubber feet to prevent sliding on the countertop, and a brushed stainless steel exterior. This is a step up from the budget models of Hamilton Beach, so you also get a digital timer which is common for this price range of slow cookers. You can set this to a max of 8 hours, then it automatically switches to warm mode, and it can sit like that for a max of 6 hours.
Extra Features
Though not labeled as such, the Hamilton Beach Right-Size Multi-Quart Slow Cooker is actually part of the Stay or Go lineup and has locks to snap down the lid so you can take this slow cooker on the go. Though making a 2-quart dinner probably won't do much for a part event, if you are making something using the 6-quart setting, you could take it to a pot luck at work or to your kid's party event.
I'm not a huge fan of the  big plastic strip down the middle of the lid with notches for hooking on the clips, and think they have a chance of breaking off with continued use, but that's more of an design complaint, and it doesn't affect the effectiveness of the slow cooker.

Of course, the main unique feature of the Right-Size Multi-Cooker is that you can select 2, 4, or 6 quart cooking capacity. Though temperatures are not listed in the manual, we can assume that this has to do with the max temperature the appliance will reach, and possibly the degree of how fast/slow it reaches that temperature. There are marks inside the crock for how full you can fill the crock.
Keep in mind, that this will probably be slightly different than other small slow cookers with 2-quart capacity or 4-quart capacity. Usually, a small slow cooker has a much smaller surface area. Here, we're dealing with a large surface area and large container making small meals. Though I did make a recipe using the 4-quart setting, I didn't see a huge difference (probably because I put the correct amount of food). To actually test to see the differences between 2, 4, and 6 quarts I'd have to do a bunch of testing, but I'm not up for that right now. I'll just take them at their word since the two recipes I tested already turned out fine.

With the six quart capacity I made a whole chicken that cooked for six hours. See below for details! I also cooked a basic 4-quart stew that turned out yummy, but I didn't take any photos.
Cooking Experience
I was in the mood for some lemon pepper herb chicken so that's exactly what I made. I've made an herb chicken before with the Hamilton Beach Set 'n Forget Programmable slow cooker. There are pros and cons to using either of them.
Firstly, the chicken in the Right-Size Multi-Quart turned out fine. It cooked thoroughly, albeit a bit dry. It was a bit of guesswork to think about how long to cook the chicken all the way through, since I didn't want to be constantly opening and closing the cooker and cutting into the chicken to check for pink spots.
Using the Set 'n Forget model, I was able to just use the included probe to continually test the internal temperature of the chicken and stop when the internal temperature reached 160°. The chicken cooked in that cooker turned out less dry, but there were a few red spots. They were not undercooked, it was just some blood around the bone area, but some people may prefer an overdone chicken to prevent any possibility of consuming undercooked chicken.

Anyway, I don't think it reflects poorly on this slow cooker at all. The chicken was tasty, and I could simply adjust the cooking length next time. I just thought it was interesting to compare two different ways of cooking with these two different models.
I also learned that browning the chicken in the oven after helps with getting golden, crispy skin rather that soft, watery looking skin. Though most recipes ask you you to brown meat before putting it into the cooker, I think with a whole chicken it's best to do that after. I learned later that you can just stick the crock into the oven for this purpose, but I removed the chicken and put it on a baking sheet. This was not an easy task with a piping hot large chicken, but I managed without hurting myself.
The chicken was falling off the bone as I did it though!

Comparing The Hamilton Beach Right-Size Multi-Quart To Other Slow Cookers
The one obvious comparison would be to the Set n' Forget style slow cookers which come in five and six quart models. Those come with a temperature probe and digital timer, but no locking lid for transport. For locking lid style cookers from Hamilton Beach, you need to look at the Stay or Go series. Those consistently make my "top 3" list, and are good to choose from! They come in 4, 5, 6, and 7 quart models, with a variety of manual and programmable.
Of course, each of those is best at cooking the amount of food it's designed for. You could buy a six or seven quart model and put less food in it, but you'd have to adjust the cooking time to accommodate, and it may take a few trials to dial it in.

You could also compare this to the 4 quart Hamilton Beach, or a 6 quart Hamilton Beach, both of which are part of the Stay or Go style, which include locking lids. They both scored very well, but they are manual models. There are programmable models out there, but I haven't reviewed them yet. The manual ones will be cheaper, costing about thirty dollars, and the programmable ones will be similarly priced to this one, about fifty.
So the question you have to answer is, "What am I looking for in a slow cooker?". If you are confident you'll just be making big meals, then go for a six quart. If you want to pay more for a programmable, go that direction, or you can save some money and go for a manual version.
However, the versatility of the Right-Size Multi-Quart Slow Cooker is pretty neat. It means you can make small meals for two, like a dessert or dinner for yourself and another person. But also allows you to scale up for parties, families, or meal prepping.
Who Is The Hamilton Beach Right-Size Best For?
The Hamilton Beach Right-Size 33642 is best for someone that wants some versatility in their slow cooking meals. As mentioned above, you could possibly make some smaller dessert recipes like cookies, cakes, and puddings with the two or four quart settings. Come on, we don't need six quarts of chocolate cake! But if you're going to spend 8 hours cooking a meal, you might as well make enough for the next day. Plus, those slow cooked ribs go fast anyway. I could probably eat a whole pot to myself.
Conclusion
Though there are a lot of other options out there, this particular model does a good job of meeting many needs. It has great reviews on Amazon, performed well in my kitchen
Pros/Cons
Pros
Reliable Brand
Easy Travel
Great For Most Kitchen Kitchens
Dishwasher Safe Stoneware/Lid
Oven Safe Crock
Easy Clean
2, 4, 6 Quart Capacity
Crock Markings For Cooking Accuracy
Automatic Warming
Cons
Digital Interface Looks A Little "Dated"
Lid Design Could Be More Stylish