Hamilton Beach Set 'n Forget 6-Quart Programmable Slow Cooker
Quality - 99%
Features - 99%
Price - 99%
Personal Experience - 97%
Value - 100%
For the six quart under mid-priced category, the Hamilton Beach Set 'n Forget ranks #2. A cool design from a reliable brand, that will last for years. Plus, it has a temperature probe for cooking chicken or roasts that will come in hand for anyone making large meals. Cook all types of meals with precise temperatures and times in mind.
Introduction
After reviewing quite a few slow cookers in the six-quart capacity category, of course I had to pick a few favorites, and the Hamilton Beach Set 'n Forget was one of the top 3 in this category. Here in my review, I want to to show you exactly why it was one of my favorites, how it compared to other slow cookers with similar price points and features, as well as who this particular model would be best for.
I made two recipes with this model of Set 'n Forget, and you'll see how they turned out below! (pictures included)
Standard Features
With very basic Hamilton Beach Models like the 6 quart manual Stay or Go, you get some very basic settings like high, low, and warm for cooking. The Set 'n Forget series will also come with those same settings, but you'll be able to select each setting with a button and digital display rather than with a dial. There's not much variance in this area when talking about the base models and mid-range models. To get more advanced cooking features, you'll need to step up to the premium slow cookers.
The Hamilton Beach model 33967A also comes with a rubber seal around the lid, plus locking clips so you can take the cooker with you on trips or simply take it from point A to point B without spilling.
And of course, the lid and ceramic crock are dishwasher safe, meaning easy cleanup for you!
Quite common with mid-range slow cookers is the ability to set an amount of time you want to cook for. This is convenient if you are leaving a meal to cook during the day while you're away from the home or if you're cooking something over night.

Extra Features
One of the reasons this slow cooker made my Top 3 list is that there are a few interesting features not available with most other slow cookers. The main one is that there is an included temperature probe and probe jack so you can measure the internal temperature of your meals, including beef/pork roasts or chickens.
This is extremely convenient if you plan to cook a lot of large pieces of meat in your slow cooker. This cooker is quite big, and with a six quart capacity it can handle a six pound chicken or a 4 pound roast. Since it also comes with automatic warming after you reach your desired temperature, you can set a chicken to cook in the morning and come back to a delicious main course by the time you get home. Throw some carrots and potatoes in there with some water and now you've got a whole meal without a whole lot of effort.


Cooking Experience
I cooked two recipes with the Set 'n Forget Programmable slow cooker. First, I cooked some slow cooker lemon cookie bars as part of my dessert series. Oh man, they were so delicious. Unfortunately, I have to throw some of my dessert recipes away because I simply can't eat them all without gaining a bunch of weight (family and friends complain about the same thing). But fear not! Not a single lemon cookie bar was wasted. Yeah, I ate the whole crock over the course of few days.
I can't say enough good things about those bars, but talking about the cooker and how it performed, the six quart capacity helped to be able to spread the cookie crust thin enough so it thoroughly cooked and made a crispy, flakey crust.

But after I cooked the lemon bars, I realized that I didn't even get to test out the probe, so I bought a whole chicken and cooked that the next day. It was supposed to be easy, so why not? Guess what – it was. All I did was throw some olive oil and Italian spices on the chicken, stuck in the probe, and set my cooking temperature to 165 degrees (according to Google).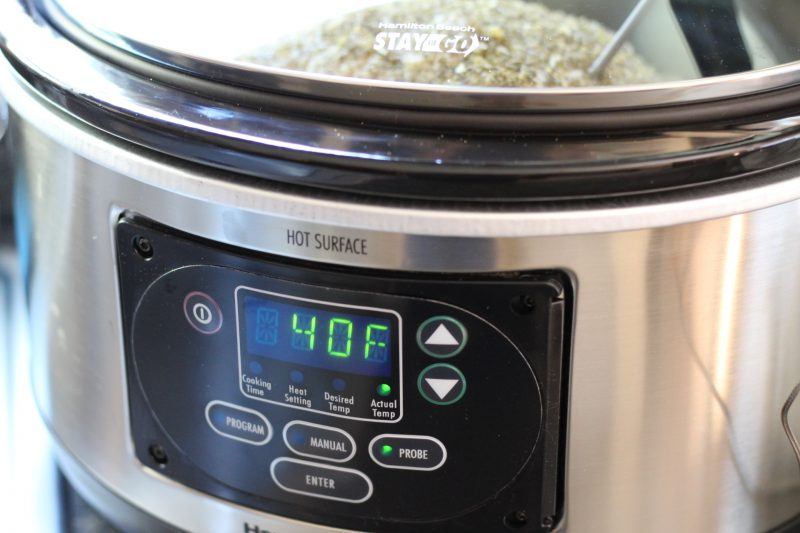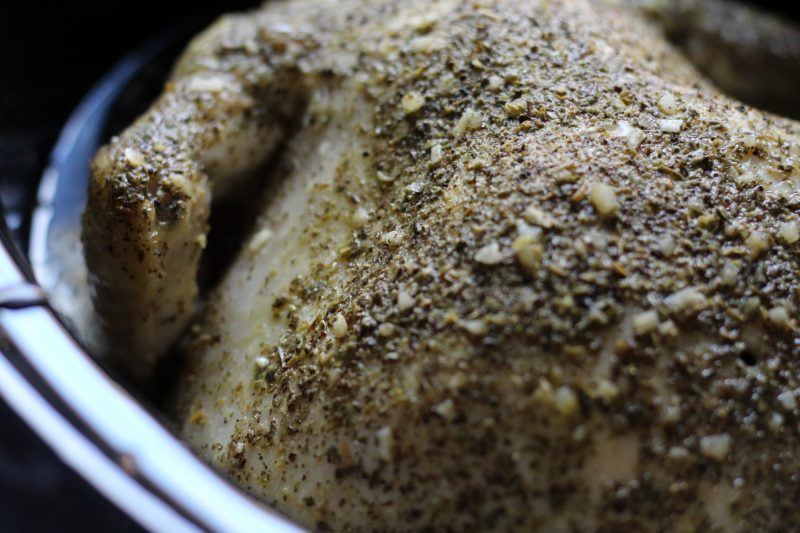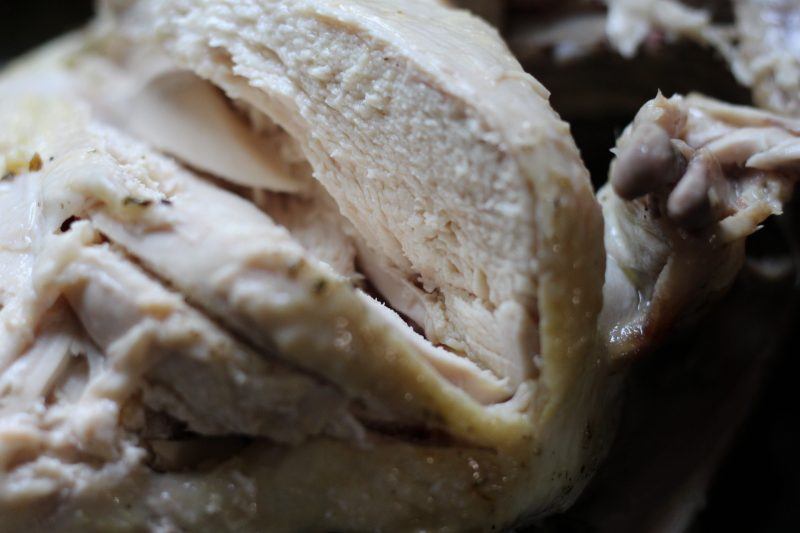 I was actually surprised at how easy it was and that the whole chicken was done. I'm always afraid to undercook chicken because of salmonella, but I was able to cook and serve this chicken confidently. There was no redness around the bone or undercooked spots that I could find.
Comparing The 6-Quart Set 'n Forget To Other Slow Cookers
Actually, there's quite a bit to say here, so pay attention! Though I really enjoyed cooking with the Hamilton Beach Set n' Forget slow cooker, I found it to look and feel quite bulky. So much so, I took a picture right next to another comparable slow cooker, the Crock-Pot Cook and Carry, which is also six quarts. It has similar programming features, but does not have the internal  probe.
Notice how the locking clips and handle stick much further out, and the lid is quite tall. It's not a huge difference, but enough to be noticeable and make maneuvering around this appliance more difficult. This is one reason why that I chose the Crock-Pot as my #1 choice and Hamilton Beach as #2

Hamilton Beach must have noticed this as well, and they have since some out with a new model #33969A (the model I'm reviewing here on this page is #33967A). You can see in the image below that they've streamlined the locking clips and the lid handle in the newer model.

However, you may still prefer the handle style of the #33967A because you can get a better grip, and they may feel more sturdy because of it. it really just is a style preference. Both have great reviews on Amazon. You can pick up the #33969A on Amazon if you prefer that style and assume that the other features regarding cooking and quality are the same as I talk about in this review.
Who Is The 6-Quart Set n' Forget from Hamilton Beach Best For?
The Hamilton Beach Set n' Forget #33967A is best for someone that wants a standard size slow cooker and thinks they'll do best with a temperature probe for measuring the internal temperature of large meats they want to cook. If you plan on cooking roasts and chickens, but don't have a lot of cooking experience to "just know" when it's done, then this is an awesome model for you.
Even if you don't want to use the probe feature, this is still a high quality slow cooker from a trusted brand. It's got a great design, simple programming features, and also has those locking clips if you need to transport it anywhere.
It's a great slow cooker for families, or for a single person that meal preps for the week (or just likes leftovers)
Conclusion
I really enjoyed cooking a few different styles of meals with this slow cooker. It was a little bulky for my kitchen, but I can see that this also gives it a sturdy feel to it. I'm confident in choosing this model as my #2 pick, although some people my prefer the design of the newer model of Hamilton Beach Set 'n Forget that's now available.
Pros/Cons
Pros
Inexpensive
Reliable Brand
Easy Travel
Temperature Probe Included
Great For Cooking Chicken or Roast
New Model Available
Dishwasher Safe Stoneware/Lid
Easy Clean
Digital Timer Settings
Cons
Large Handles
Bulky Compared To Other 6-Quart models