Anyone who grew up in their granny's kitchen will be familiar with a hand crank egg beater. It's a classic, old-school tool that's used not only for beating eggs but also for whipping cream, along with mixing cake and pancake batter.
Also known as a rotary egg beater, it's basically a metal hand tool that uses a crank to rotate two beaters at its end. These days though, modern cooks prefer an automatic version because it's more convenient and faster. This is especially true for professional kitchens because it makes short work of mixing large and thick volumes of batter.
But there are still some things that a rotary is best for. Chief of these is that it's the most practical thing to use for mixing or stirring ingredients for a small meal. That's because using an electric egg beater to make scrambled eggs for two might be a bit of overkill in terms of energy consumption. Plus, if you're living in a small space, a rotary beater and small electric skillet may be much than full-sized versions.
A hand crank will also allow you more control than an automatic too. This is especially true when the recipe calls for lightly beaten eggs. Although, if you're using one to beat eggs in order to get stiff peaks, it'll take you a long time.
It's also very useful for outdoor camping. Because it's more compact and lightweight than a modern egg beater, it's portable enough for storage in a backpack. And because it doesn't use a motor to spin its beaters, you won't need a battery or an electrical outlet to plug it in.
The best hand crank egg beaters are those that have beaters that won't click together at any point and whose crank turns very smoothly. They should also be durable and affordable.
Those who are looking to buy one online, however, will be hard-pressed to find lots of models to choose from. That's because there is more demand for electric hand mixers.
Still, one can find a decent collection of rotary egg beaters on Amazon. Here are my top five picks for the best hand crank egg beaters.
Best Hand Crank Egg Beaters
Master Class Deluxe Stainless Steel Rotary Whisk
Egg Whisk/Separators Plastic Hand Crank Push Whisk Blender
OXO Good Grips Egg Beater
Danesco 12-Inch Rotary Egg Beater
Norpro Egg Beater Classic Hand Crank Style
1. Master Class Deluxe Stainless Steel Rotary Whisk

This manual rotary whisk is a multipurpose tool that's not only good for beating eggs, but also for whipping up a batter or creaming butter for a sponge cake.
It's 30 cm (12 inches) long and made from durable stainless steel. It can take on large quantities of thick or tricky ingredients with its double-headed design and durable beaters.
It has thick top handle for a steady grip and and easy-to-turn crank that pairs efficiently with its smooth-motion gears.
This product comes with a 5-year guarantee.
Pros
Easy to clean and won't dent if accidentally dropped
Great for thick batters
Cons
Handwash only
Not ideal for beating a single egg
2. Egg Whisk/Separators Plastic Hand Crank Push Whisk

Made from non-stick, food-grade plastic, this is the generic hand-crank egg whisk blender that has the best reviews among similarly designed Chinese-manufactured models. With its child-friendly design, it can easily be used as an egg beater, a milk frother, or a mixer.
It has four sets of coaxial stir bar design that makes whisking more efficient and faster. The crank handle is detachable from its body and is equipped with a round handle for a comfortable grip. There is an anti-skid pad at the bottom of the blender which adds more stability when it's used.
It works with anything wet/moist as long as the mixture is not too thick. It also rinses off easily and is compact enough for convenient storage. It also comes with a separate egg separator
Pros
Safe and convenient design
Four axis rotation with omnidirectional agitation
Cons
Not for dishwasher cleaning
Not for dry ingredients such as flour
3. OXO Good Grips Egg Beater

According to the reviews, this is the most ergonomic manual egg beater in the market. Its handle is contoured and the turning knob has a non-slip coating that makes gripping it easy and comfortable.
Its two beaters are made of stainless steel while the smoothly rotating gears are enclosed in its upright handle. It's also equipped with a stainless steel bridge that extends slightly longer than the two beaters so that you can continue beating eggs while resting the tool against the bottom.
It's easy to clean; the base is detachable so that the beaters can be removed for cleaning. While the manufacturer says it's dishwasher-friendly, some users have reported that the base shrunk when cleaned in a dishwasher. Best to just rinse it under running water.
Pros
Elevated beaters to reduce arm fatigue when beating eggs
Non-slip grip
Cons
Not really dishwasher friendly
Doesn't seem to have a warranty
4. Danesco 12-Inch Rotary Egg Beater

This is a 12-inch egg beater that has a chrome handle and stainless steel blades. It works well for making small batches of scrambled eggs or lightweight and thinner batters/sauces.
It has a rigid housing that will keep its nylon gears aligned and protected. It's also rust-resistant and dishwasher safe.
Pros
Durable
Easy-to-clean blades
Cons
Not for mixing dough
No warranty stated
5. Norpro Egg Beater Classic Hand Crank Style

This is another 12-inch egg beater that uses beaters which are made from heavy-duty, 18/1 stainless steel. The handle and gears, meanwhile, are made from polished aluminum.
The crank is easy to turn which makes beating eggs or mixing batter smooth and convenient. The beaters are also not fitted for a specific mixing bowl, so they be used in any type of container.
Pros
Fast rotary action
Dishwasher-safe
Cons
How to Pick the Best Hand Crank Egg Beater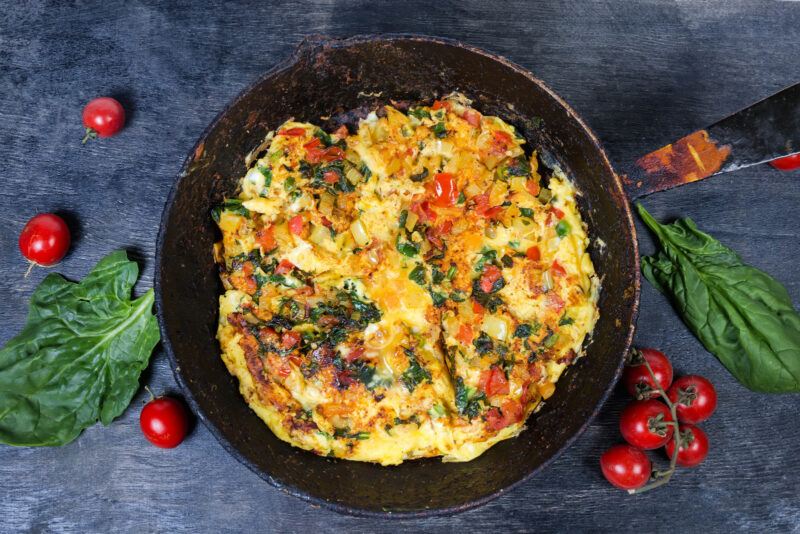 Handle Design
When shopping for a hand crank beater, look for one that is ergonomically designed. This means having a handle that comfortable to use and easy to grip. Some models will feature anti-slip coating or at least use a handle material that allows you a stable hold on the gadget when using it.
But for anyone with larger hands, a holding handle might be difficult to hold even if it comes with finger impressions because this type of handle is typically quite small. So the best alternative would be one that uses a knob because it can be easily held with the fingers and the palm.
Crank and Gears
Make sure that the crank turns the rotors smoothly and easily. Some models will feature a housing to protect the gears but make sure that this is removable so you can easily clean the gears.
Shape of Beaters
A rounded beater with flat spokes is best. The rounded shape works better than an elongated beater for getting the batter off the side of the bowl. This results in a more homogenous mixture. The flat spokes, meanwhile, are better than rounded ones because they cut through thick ingredients like butter more easily.
Elevated Beater
This is another important feature for hand cranks. Usually, these types of tools have a bridge that extends beyond the two beaters so that you can rest the tool on the bottom of the mixing bowl while allowing the beaters to turn freely. This makes the whole process easier because it lessens the stress on the wrist and hands while cranking the beater.
Special Design Features
Is it dishwasher safe? Can it be disassembled for easy cleaning? In the case of models that have plastic and metal parts, make sure that the plastic won't shrink when it's cleaned in a dishwasher, otherwise, you'll never be able to reassemble it properly.
Material
Vintage egg beaters used to be all metal, which made them last for a long time. Today's modern hand crank beaters, however, will use tough plastic and metal to keep them more lightweight. However, if you prefer an all-metal one, pick one that uses stainless steel. Not only is the stainless steel rust-resistant but it's also easy to clean.
Brand
It isn't really an important consideration but it helps if the egg beater was made by a brand with a high reputation for kitchen products. With too many cheap copies flooding the market, it's best to choose one that's backed up by reliable customer service.
Warranty
It's hard to find a hand crank egg beater that comes with a warranty. WIth most of them being made overseas now, it's hard to run after the manufacturer and demand for a replacement. Still, if you can find a product that has one, that should be your main pick. And if you can't find one, check out its product reviews. If most of them are good, then chances are, you've got a reliable product on hand.