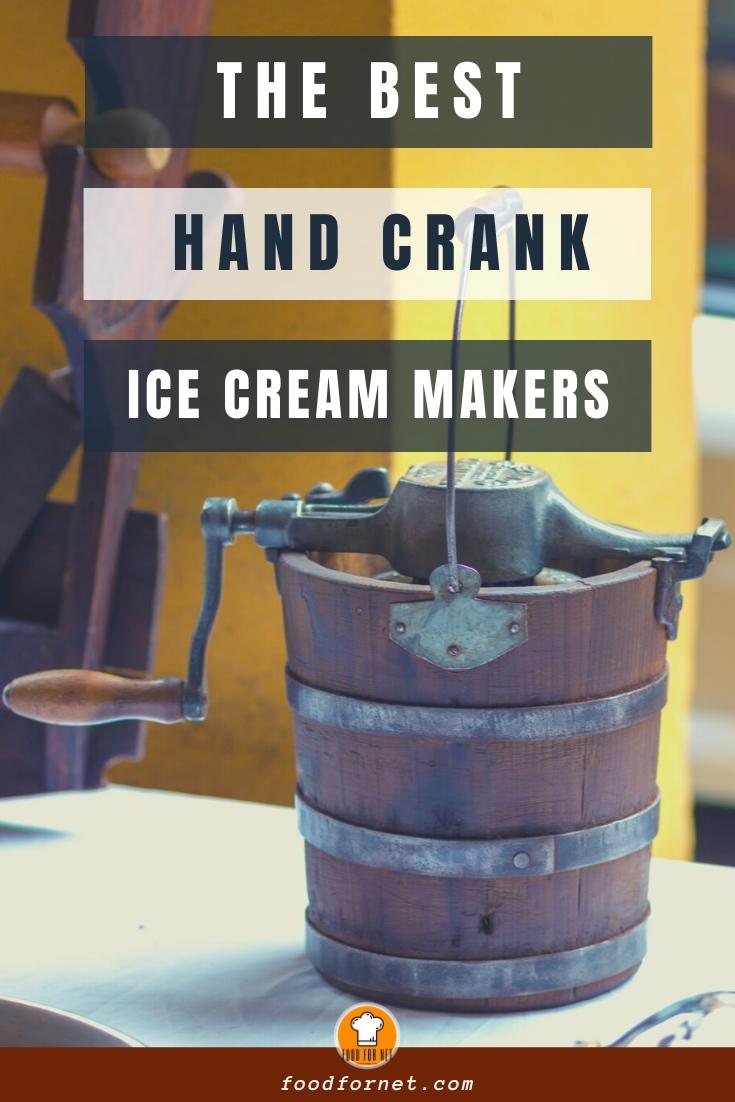 A hand crank ice cream maker may seem to be a culinary anachronism in this day and age, but there are still small pleasures to be gained with using one to make ice cream with your own hands.
For those who have grown up with one in their childhood kitchens, it's a nostalgic exercise of remembrance. After all, who doesn't have fond memories of making ice cream with their parents?
For campers, it's a useful appliance to bring when camping in areas without electricity. Because it's portable and lightweight, it also fits well with RV lifestyles.
A hand crank machine is basically a bucket and a crank. In a traditional design, the ice and salt mixture is placed around the mixing chamber inside the bucket to slowly freeze the ice cream while you fold the ingredients together by cranking it. But some modern variants now have hollow walls that hold coolants so that they're less messy to handle.
This type of ice cream maker is also way more affordable than the electric powered ones. Even if you don't make home made ice cream on a regular basis, you can just buy one and store it for the rare occasion that you feel like making ice cream.
Making ice cream via the hand crank maker can be hard work. The quality will often depend on everything from your timing to your upper body strength. But those that love doing it say that nothing gives you better control over texture and consistency than a manual ice cream maker. Pro tip: if you want lighter and thinner ice cream, go faster with the cranking; if you want a thick dessert, slow it down.
It usually takes 20-25 minutes for a hand crank to churn out ice cream. Some models can take longer; those that require ice and salt to freeze the mixture will require you to crank the ice creamer for longer periods.
Because of declining consumer demand, there aren't many companies now that make old fashioned ice cream makers. Those that do often give you a hybrid model where you can switch between an automated process and a hand crank process. You can either use either mode or begin with an auto mode and change it to a hand crank mode in order to get more control over the ice cream texture.
Some versions may even have more than one gear in their crank. These tend to make the cranking easier but they can be harder to maintain or clean.
In this list, I'm featuring the best of the hand crank models available online. Here are my top five hand crank ice cream makers.
And, if the idea of making your own ice cream sounds like a bit too much, you could always join an ice cream of the month club.
The Best Hand Crank Ice Cream Makers
Immergood Stainless Steel Ice Cream Maker
Elite Gourmet Old Fashioned Vintage Appalachian Wood Bucket Electric Maker Machine
AMERIHOME 6-Quart Old Fashion Ice Cream Maker
Nordic Ware Non-Electric Ice Cream Maker
Buffalo Tools 6-qt. Electric Hand Ice Cream Maker
Immergood Stainless Steel Ice Cream Maker

This is a heavy duty manual ice cream maker that's made from high quality materials for durability and longer product lifetime. It is ideal for making ice cream outdoors or during camping trips. It can produce 6 quarts of soft serve ice cream.
It's designed with triple layer construction and is highly insulated in order to prevent leaks. The housing and crank are made from stainless steel while the mixing tub is made from hard polyethylene plastic. The ice cream can be stored for hours in this tub at a moderate temperature without melting.
Its unique feature is a triple action dasher that creates a constant folding of the ice cream mixture. The can rotates clockwise, the dasher counterclockwise while the center rotates clockwise. This makes the texture of the ice cream better than commercial brands.
This is an artisanal product that's made in USA. It comes with a no hassle 3-year warranty.
Pros
Made from stainless steel
Triple Action Dasher
Cons
Heavier than plastic hand crank ice makers
2. Elite Gourmet Old Fashioned Vintage Appalachian Wood Bucket Electric Maker Machine

This is a hybrid hand crank ice cream maker that's made from heavy duty aluminum and is equipped with a powerful 90 RPM motor to give you the flexibility of making soft-serve ice cream either by hand or by machine. It is equipped with a 6 fin paddle that easily whips air into the mixture so that you can have a soft creamy ice cream in minutes.
It can freeze up to 4 quarts of ice cream and can also be used to make gelato, frozen yogurt or sorbet. It requires ice and rock salt to freeze the ice cream at an optimal 10°F temperature. Just assemble the unit, add ice and rock salt, add the ingredients into the canister, and begin cranking away or plug it into an electrical outlet to turn on the automatic motor.
The parts are removable for easy cleaning. It's ETL approved and uses 50-watt/120V for home kitchen use. The product set includes a wooden bucket with handle, Stabilizing Ring, Freezing canister with indent, canister lid and cap, stirrer, dasher paddle, and bonus die-cast hand crank. It comes with a 1-year limited warranty.
Pros
Quiet
Dishwasher safe canister and lid
Cons
3. AMERIHOME 6-Quart Old Fashion Ice Cream Maker, Brown

This is another hybrid ice cream maker that's designed so that it can easily switch between hand crank and electric motor in seconds. You can also use the hand crank at the end of an automated mixing cycle in order to harden the ice cream mixture without using the freezer.
The tub is made from pine wood and sealed for durability. Its canister mixing can is made from aluminum and it also has an ice crusher to prevent the ice and rock salt from binding up, and a standard mixing paddle. This model can produce 6 quarts of soft serve ice cream.
It's also easy to use; just pour the ingredients into the mixing can, insert the paddle and seal the lid. Add ice and salt to the pine tub, and depending on your mood, install the electric motor or the hand crank. You can produce ice cream in just 30 minutes.
There's also a recipe booklet included in this product. It comes with a 90-day limited warranty.
Pros
Easy to use and set up
Large capacity
Cons
Hand crank is loud when turned
Uses plastic gears; one user said it does not transmit enough power
4. Nordic Ware Non-Electric Ice Cream Maker

This is Nordic designed manual ice cream maker that can produce 1-1/2 pints of soft serve ice cream, yogurt, or gelato in just 25 minutes.
It doesn't require salt or ice. Just place the unit into the freezer overnight, then insert the paddle, place the ingredients into the chilling chamber, snap on the lid, and begin cranking. It's equipped with a temperature indicator that turns green when the chamber reaches the ideal freezing temperature.
The crank can be used in two ways: it can be used to scrape the sides of the chilling chamber or used to incorporate air into the mixture for volume and lightness.
Pros
Great for kids
Easy to use and clean
Cons
Small capacity
Doesn't seem to come with a warranty
5. Buffalo Tools 6-qt. Electric Hand Ice Cream Maker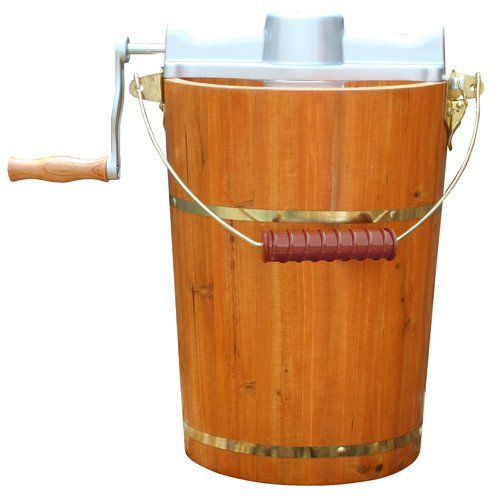 This is a hybrid ice cream maker that uses a 3300 RPM motor. It can produce 6 quarts of soft serve ice cream or yogurt.
The tub is made from sealed pine while the mixing can is made from aluminum. The can has a clear plastic lead for convenient viewing.
The metal hand crank can be used during the early part of the mixing process and you can switch to a motor near the end to achieve a more consistent texture. This product has an auto stop feature when the ice cream achieves the right consistency and thickness.
The unit also includes an ice crusher. This comes with a 90-day manufacturer's warranty.
Pros
Auto Stop feature
Large capacity
Cons
California Prop 65 Label Warning
Buyers Guide to Picking the Best Hand Crank Ice Cream Maker
Manual or Hybrid
If you want to go the traditional route, you can get a manual hand crank model. The design is still reliable for making good ice cream as long as you've got ice and salt and you're willing to put in the effort.
A hybrid, however, is a more practical choice because of its versatility. You can plug it into an outlet if you're in your home kitchen or use the crank if you're taking it outdoors. It won't be too tedious either because you can let it run on auto mode and then just switch to hand crank when it's nearly done so that you can choose the kind of texture you want for your ice cream.
Capacity
Most hand crank models are meant for producing small quantities of ice cream. A 1.5 quart machine can produce about 4 cups which is ideal for a small family.
If you want something bigger, a 6-quart unit can produce about 24 cups. But it's also going to be bigger and might require more storage.
A bigger capacity might also mean longer freezing times within the inner canister. You'd also spend more time cranking it in order to produce good ice cream.
Speed
Anything that requires around 20 minutes or so of cranking is good enough for a standard machine. But some models come with double gears or extra cranks that make the process easier and faster.
If you're looking for more speed, a hybrid might be more suited for you. The automated process will be certainly faster than manually cranking the entire process.
Crank Type
Pick one that's made from heavy duty metal. It needs to be durable enough so it can withstand regular cranking. If it's made from flimsy material, it can chip or break easily, and then you won't have anything to turn the blender blade in order to produce ice cream.
The most sturdy ones are those made from stainless steel. Others will be made from plastic; just make sure that the plastic is hard and of high-quality so that it will last a long time.
Tub Volume
The bigger the tub, the more ice and rock salt you can pack into it so that the ice cream will freeze faster. This will also come in handy during hot summer days when the heat will make freezing more difficult.
Material
Most models are made of hard plastic so that they are easy to clean and won't warp like traditional wood. But to elicit nostalgia, some manufacturers will design it so that it will look like an old fashioned wood barrel.
If you're looking for real wood however, look for ones that have barrels made out of pine. Make sure that they have been treated so that it won't warp or leak later.
Inner canisters, meanwhile, are usually made from aluminum or stainless steel. When checking them out, pick the ones with thin walls so that the contents can freeze faster.
Warranty
Choose the ones that have at least a 1-year warranty. And make sure that the brand also has a reliable after sales service. It will be easier for you to return a faulty product and request a replacement if they are alert and responsive to customer complaints.