During the Middle Ages, knives had ornate designs and carvings, therefore were quite expensive even for nobles. Fun factoid: when people were invited to a dinner, they were expected to bring their own knives so the expense of providing knives for all did not burden the host!
Knives were crucial for refined dining; rather than eating with their hands, people used the sharp point to stab their food and eat directly from the knife. Fortunately, we have forks for that today, but I still think it would be kind of fun to try this at your next dinner party and see what people do.
OK, enough history. Let's get down to brass tacks and look at how to buy awesome kitchen knives for yourself or as a gift. Even the most spartan of kitchens is going to need a least a few, so EVERYONE could benefit from knowing an expert knife buyer! Actually, I've found that a lot of people simply don't know they are making their lives harder by using the wrong knife for the wrong task, or using dull blades.
If cutting tomatoes is a chore, you might be one of these people. Or maybe you know someone so frugal that they would never consider buying something as luxurious as a good working knife. Either way, not all kitchen knives are equal, and price is not always an indicator of value. Let's find out how to buy the right knife for what you need.
First, let's analyze some general construction concepts, the different types of knives, and then we can look at specifically what you are going to need to get the job done in your kitchen.
Stamped vs Forged
Kitchen knives are either stamped or forged. Stamped knives are mass produced, can be suitable for a home kitchen, and are moderately priced. Forged knives are handmade, sturdy, suitable for all kitchens, and can be expensive. Contrary to common perception, stamped knives are not always inferior to forged.
You will also want to know whether or not the steel is stainless or carbon. Carbon steel can rust and change color while stainless remains shiny. Carbon requires a little more care to avoid corrosion, but it's sharper and easier to sharpen.
Handle, Weight, Tang, & Blade
The handle should fit comfortably in your hand for balance and safety. Handles should be textured to help with your grip when your hands are wet. Look for wood, textured plastic, or even rubber. The heel is the part of the blade closest to the handle and it should carry all the weight for optimal control and balance.
The tang of a knife can be very important to functionality. Tang describes how the blade connects to the handle. For example, half tang or partial tang knives only have the blunt end of the blade extend halfway into the handle. Stick-tang (among many other names like thin tang or tapering tang) extend to the full length of the handle, but are not the full width of the.
Full tang knives essentially have one full, solid piece of metal extending from butt to blade, giving you the most weight and durability possible. The handle is usually covered by some kind of material to help with grip.
The edge of the blade should be sharp. A sharp blade is more important than a lot of folks give it credit for because a dull blade is usually what causes serious accidents.
There are three types of edge styles: straight, serrated, and granton. Each edge type serves a specific purpose. In case you don't know what a granton edge is, think of a Santoku knife. There are dimples or holes in the blade to allow for slicing precision.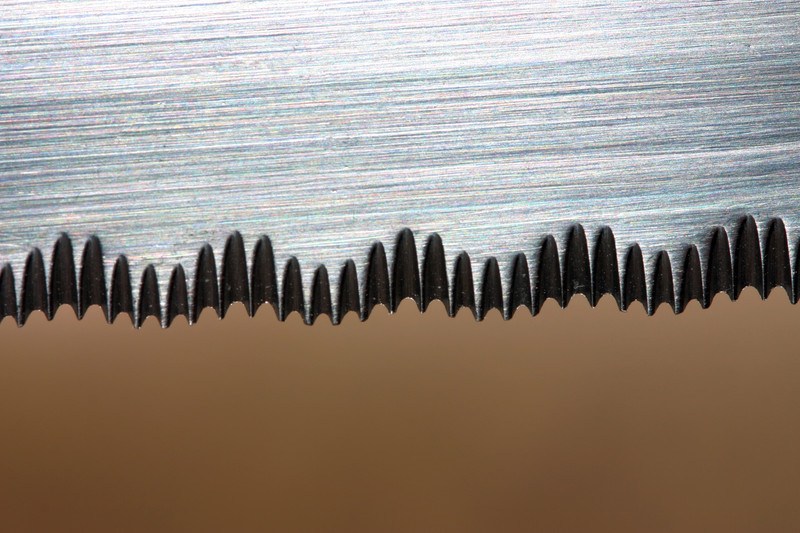 It can be hard to measure things like feel and weight when buying on the internet, but you can absolutely check for details in the descriptions.
For example like like what the handle is made of. You can also check if a knife is full tang or not. I would highly recommend getting a full tang for durability and ease of use. This is one of the most essential kitchen items you'll be using, so it makes sense to get something that feels good and works well.
Should You Buy A Knife Set?
Knife sets and blocks have come under scrutiny recently for a number of reasons. They are generally more expensive due to including the block for storing, they include a lot of items you'll rarely use, and they are often decorative rather than functional.
That's not to say that all sets are bad! And sometimes, they do make a really nice wedding gift or housewarming gift. But if you are buying kitchen knives for yourself, it's a much better deal to piecemeal a few specific, high quality products that will last for a long time and actually get used.
If you do go with a set, you may want to start off with a smaller one and add to it over time by purchasing open stock knives from the same line or brand.
Two Essential Knives You Absolutely Need
As a cook that uses whatever is closes to me, rather than what I really should be using (ever fry an egg in a pot?), I've found that there are only two essential knives you need in the kitchen. Of course, others will come in handy, but talking about bare bones, here's the two I recommend.
Chef's Knife

A chef's knife is the most important knife in any kitchen. Between 8 and 12 inches long, this knife is used for chopping, dicing, and slicing all kinds of foods – it's the all-purpose knife. The blade is thicker than other knives which gives it weight and strength. Celebrity chefs wield their chef's knife with pride.
This is a very important one to buy outside of a set because it's the one you'll use the most. A bit of extra money spent to get a high quality blade that feels comfortable is well worth it. Sure, it'll cost you up front, but if you store it properly and keep it sharp, it can last for many years (and still be awesome). I work from home, so I use my chef's knife 3-5 times a day. You can bet I dropped a few extra dollar on it.
Paring Knife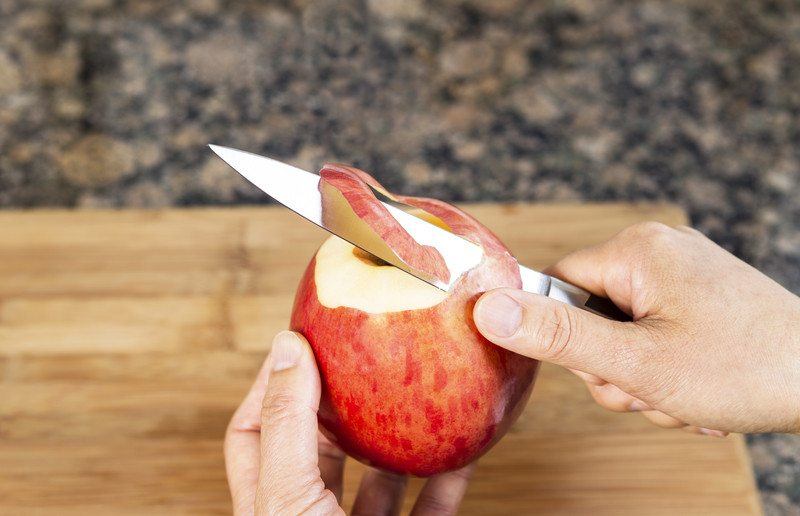 The smallest basic kitchen knife is the 3-4 inch paring knife which is used for handheld work such as peeling and coring. There are several types of paring knives, but they all have a strongly tapered point in common.
This one is great for peeling fruit and cutting vegetables. It still plays second fiddle to the chef's knife, but my philosophy is if the big one can't get it done, the little one can. In a pinch, you could even use it as a steak knife. Yeah, that's a real bachelor move right there.
Common Knives You Probably Need
I'll be honest, and say that it is really nice to have a few extra blades around for appropriate jobs. Slicing bread with a flat blade is not fun, and for steak night, well, you'd better have something on hand for the guests.
Bread Knife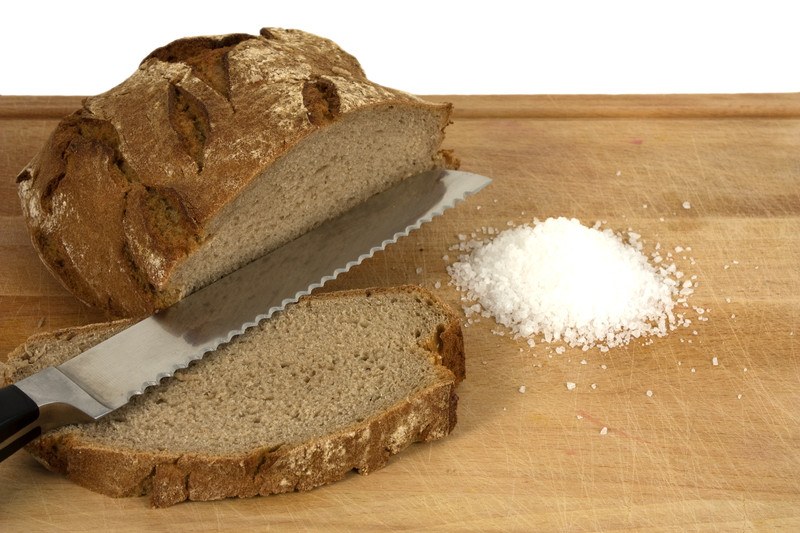 A bread knife has a long, serrated blade that makes slicing through crusty breads a breeze. If you've ever tried to slice bread with any other knife, you know the struggle. Personally, I buy all my bread pre-sliced, so I would never use one. But if you buy unsliced loaves or make your own bread (even better!), then this is a must have.
Santoku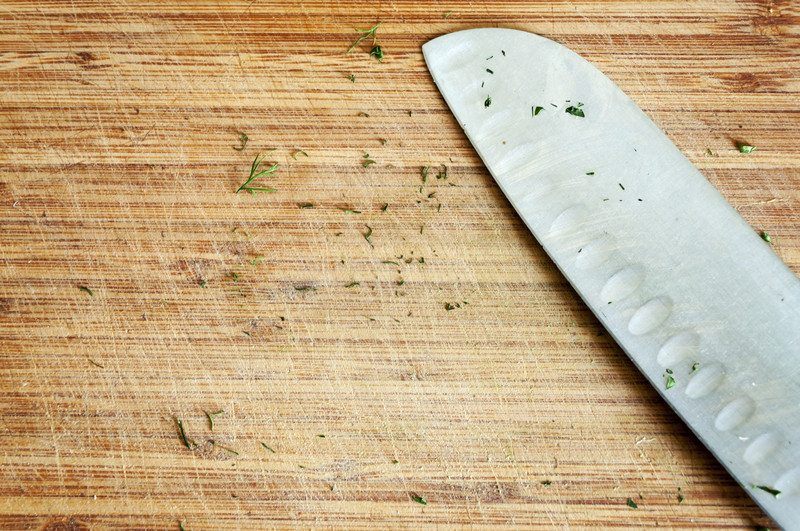 This is another versatile blade, and therefore one of my favorites. The Japanese version of the chef's knife is known as the Santoku knife. Its blade is wider than a chef's knife which makes scooping up your sliced and diced foods easy. I also find that it's easier to use because it's a bit smaller than a chef's, and it doesn't have that pointy end which can be intimidating when you're whipping things around the kitchen.
Steak Knives
For personal use cutting meats. Some are serrated, some not. It's worth having at least 4-5 of these around for steak night with the family or when guests come over. Actually, unless you are cutting through some really thick meats a slightly serrated butter knife does pretty well in my opinion. Still, this is one of those things that a normal kitchen is going to need.
Specialized Knives
Beyond the basic stuff, you may want to equip your kitchen with special purpose knives. Each of these can also be divided into brand, length, blade style, weight, and other variations.
The slicing knife is a long and thin knife, typically used for cutting meat and soft-skinned produce such as tomatoes. It's go t a rounded tip to prevent getting stuck in the meat. Personally, I've never carved a turkey in my life, and never made a roast, so I just haven't had the need use one of these. I'm also not worried if my meat doesn't come out in perfect slices.
A utility knife is a mini chef's knife, measuring 4-6 inches long. Its versatility lends itself to chopping and slicing produce and small cuts of meat.
A granton slicer has small holes drilled into the blade along the knife's edge. The holes prevent foods from sticking to it, like cakes or ham.
A filleting knife has a long, slim blade that's designed specifically for filleting and preparing fish and meats. It's a type of boning knife with a flexible blade.
Boning knives are less flexible and make deboning meat an easier task. A narrow blade works best for cutting through bone and cartilage, a wide blade is great for poultry and pork, and an upward curved blade is designed for cutting close to the bone.
The tomato knife serves its purpose well. This small serrated knife makes slicing through tomatoes a breeze. With the functional tomato knife, the days of squeezed tomatoes are over. Many have a forked tip used to pick up the slices of tomatoes or other fruits.
A vegetable knife is most useful for cutting small fruits and vegetables. It's a type of utility knife used for small cuts and detail work.
The smallest of all is the peeling knife. Its size and curved blade make it a perfect choice for peeling vegetables and fruits.
General Storage and Care Tips
Since water can seep into gaps where the steel meets the handle, it's best not to soak knives. Over time, this can cause corrosion. If your knives have wooden handles, soaking can cause weathering, cracking, splintering, and warping.
It's most important to keep your knives clean and dry, and even if they're dishwasher-safe, it's best to simply wash by hand with warm water and a mild dish soap. Carbon knives also need to be oiled regularly to keep the edge sharp.
For storage, knife enthusiasts recommend magnetic bars and high quality blocks that allow for air circulation and don't dull the edges. This prevents the blades from bumping against each other or other things in the drawer which can also nick or scratch them. This was a simple upgrade I made in my kitchen this year, and so far, it's awesome. Even if just for convenience, I'll never use anything other than a magnetic bar to store my knives again.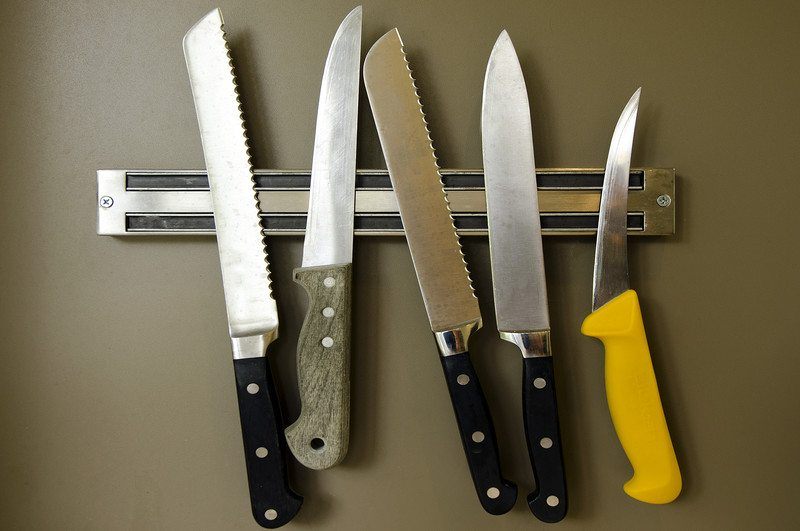 Don't forget to sharpen the blade every once in a while as well. Dull blades are dangerous because you are pushing harder to slice things. That's when you get careless and accidents happen.
Top-Selling Hight Quality Brands:
Family-owned and German-made since 1814, Wüsthof knives are internationally known for their high quality, high carbon forged knives. Many, if not most, would say this company has set the standard to which all others are compared. Their price range is wide depending on the series and set.
They've got an excellent starter set with exactly the two knives I recommend above: the 8-inch chef's knife and a paring knife. They are forged, carbon steel, and hand honed. If you want a little more versatility, you can get the 3 piece set which includes a 6-in utility knife as well. Buyers have reported buying one, then deciding to replace all their old knives with this new brand because of such an excellent user experience.
J.A. Henckels' knives have been crafted in Germany since 1731, and this brand is Wüsthof's biggest competitor. The stainless steel knives have a reputation for the sharpness of carbon steel, are touted as indestructible, and are backed by an impressive warranty. These knives range in price, but you can pick up a starter kit with good reviews (3 piece) for around thirty bucks online.
A highly rated brand that may be more budget-friendly is Chicago Cutlery. The company began in 1930 as a sharpening and honing service for the Chicago meat market. Eventually they created professional-grade, stainless steel knives for the home cook. This brand is easier on the bank account, an their 3-piece set costs more than 10x less than a similar set than Wüsthof.
What Type Of Kitchen Knives Should YOU Buy?
That's the big question, isn't it? Lucky for you I took the time to break it down according to need and budget. Keep reading and see which description fits you the best.
Simple and functional, on a budget
You basically need two knives – a big one and a small one. Yeah, I like to make it simple like that. My recommendation is an 8-inch chef's knife and a paring knife. I guess a single steak knife would work as well as long as it's not serrated. Use the big one for chopping, mincing, dicing, etc. Use the small one for whatever the big one can't do.

Personally, I'm a big fan of the Victorinox Swiss Army 8-Inch Chef's Knife that I bought a few months ago. It's got over 3500 reviews and a full 5 star rating on Amazon. The same brand produces a great standard 4-inch paring knife. Total cost of these together will be less than fifty bucks, and they'll last for years to come.


Diverse cooking needs, on a budget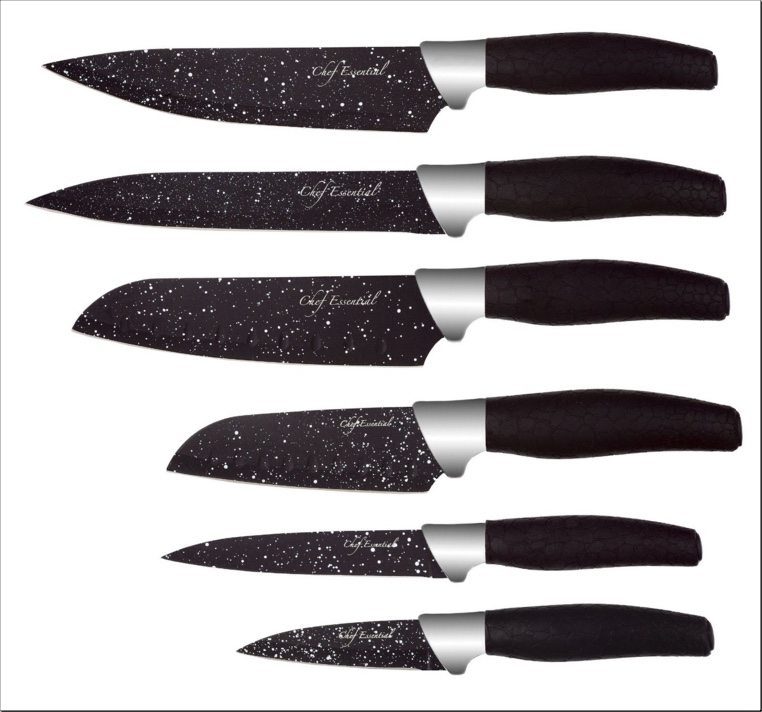 If you're looking for more than the bare minimum for you kitchen but don't want to get into high end stuff quite yet, there are a lot of options. One really cool set is the Chef Essential New England 6 Piece set which will cost you less than a single high end chef's knife. They've got almost 300 reviews and a 5 star rating. They come with a soft grip handle and full tang.

This set includes:
3-inch Paring Knife
5-inch Utility Knife
5-inch Santoku Knife
8-inch Chef Knife
8-inch Slicing Knife
7-inch Santoku Knife
The downside to that set (for some) is that they all come in funky colors (albeit a variety) and there's no knife block (they do include sheaths).
If you want a more traditional looking that includes a cool place to store them, the Utopia Kitchen 6 Piece set (they call it "6 piece" on the product listing because it comes with a block, but there are only 5 knives). The downside is that although they are a solid piece of metal (full tang), that includes the handles, so the grip may not be as good if you have wet hands.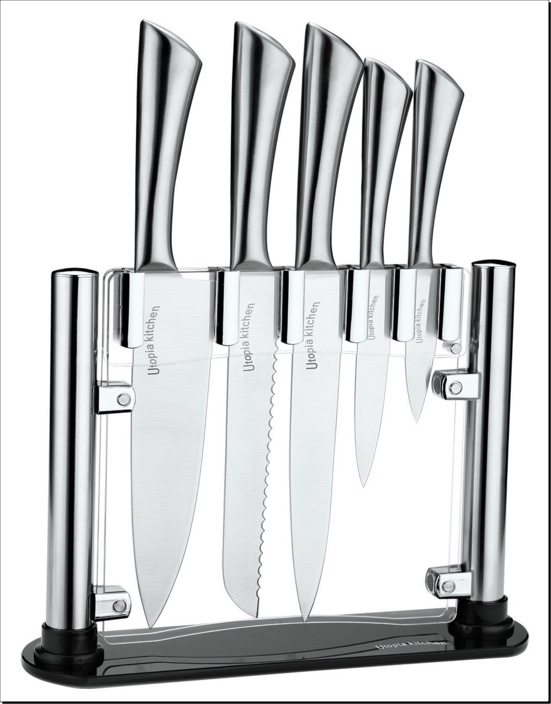 This set includes (including a glass storage/display block):
Bread Knife
Carving Knife
Paring Knife
Chef Knife
Utility Knife
Simple and functional, looking for value
As one of the top brands in the world, the Wustof Classic 8 Inch is a great mid-range chef's knife. However, if you plan to buy a paring knife in addition to the 8-inch, I recommend the Wustof Classic 3 Piece Set. It comes with the 8-inch, a 3 1/2 inch paring, and a 6 inch utility.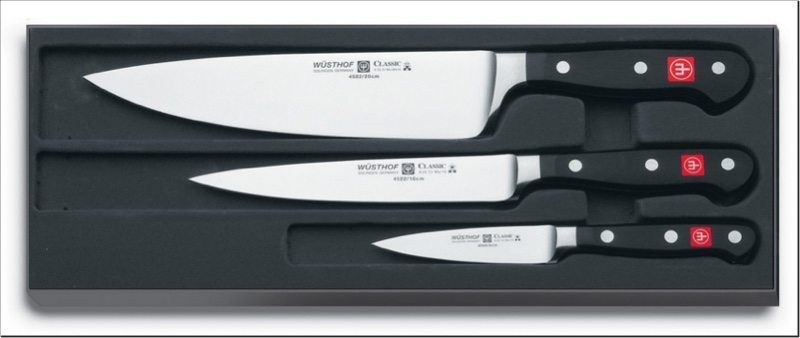 This is a great set for a someone that really appreciates how having quality kitchen utensils can make cooking a pleasure, but it not looking to become the next chef guru any time soon.
Diverse cooking needs, looking for value
If you're looking to spend a little more to make your life easier, and want a wider range of tools to work with, I think the Mercer Culinary Genesis 6-Piece set is a great buy. Again, this is five knives, plus a tempered glass block. Out of 500 reviews they've maintained a 5 star rating. It includes:
8" Chef Knife

8" Bread Knife

6" Boning Knife

5" Utility Knife

3.5" Paring Knife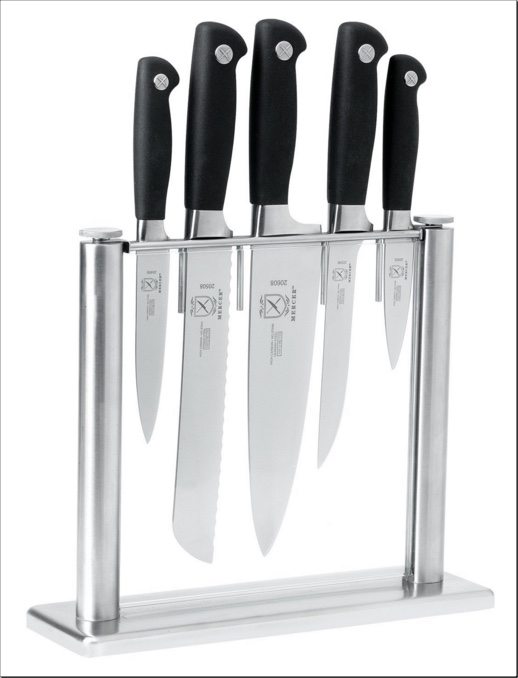 The downside to this set is that it doesn't come with a santoku knife, and the separators on the block are made of metal so you need to be careful when returning the blade so you don't nick it.
Simple and functional, want the best out there
Combining incredible design and precision function, the Shun Premier 8-inch Chef's knife not only looks great, it is sharp as a mother and will cut whatever you need. There are a lot of great looking designs out there, but this one happens to speak to me. So much so, that I'll also recommend the individual 7-inch santoku and the 4-inch paring of the same brand.



Sure, they may cost a pretty penny, but if you take the time to care for these tools, they can last forever and make every single time you cook a pleasant experience.
Diverse cooking needs, want the best out there
Another 'win' for design comes from Zwilling JA Henkels and this 9 Piece Set. There are actually only 6 knives, plus the walnut-colored wooden block, a pair of kitchen shears, and a sharpener. Here are the blades you get:
3″ Paring Knife
4″ Paring Knife
5″ Santoku Knife Hollow Edge
6″ Slicing Knife
8″ Chef's Knife
8″ Bread Knife

Spending over $500 on a knife set isn't for everyone, but for those that want their tools to look as good as they work, this is a great brand to go with. I especially like the modern look to the storage block!
---
What were your selections? Let us know in the comment section, or recommend a brand and size of knife that you love to use!