Changing your eating lifestyle can take some work. When it comes to making big switches, such as eating lean and green, following keto guidelines or even making low-carb meals that satisfy a family, you have to research new foods, new recipes and new ways of thinking about food.
If you're switching from a carnivore lifestyle to a vegan one, how do you know what to eat? You can rely on salads for a while, but you probably want to experiment with other foods that are satisfying, flavorful and fun.
Meal kit services can help. During the past ten years, as meal kit delivery services have grown into a full-fledged industry, some services have begun to cater directly to vegan eaters. Hungryroot and Daily Harvest are two such companies.
In this Hungryroot vs. Daily Harvest comparison, I'll share what I've learned about both businesses, including the types of food they send you, how they operate, and the basic pros and cons. This can give you an idea about the type of meal kit services out there that could help you switch to healthier eating habits.
Types Of Meals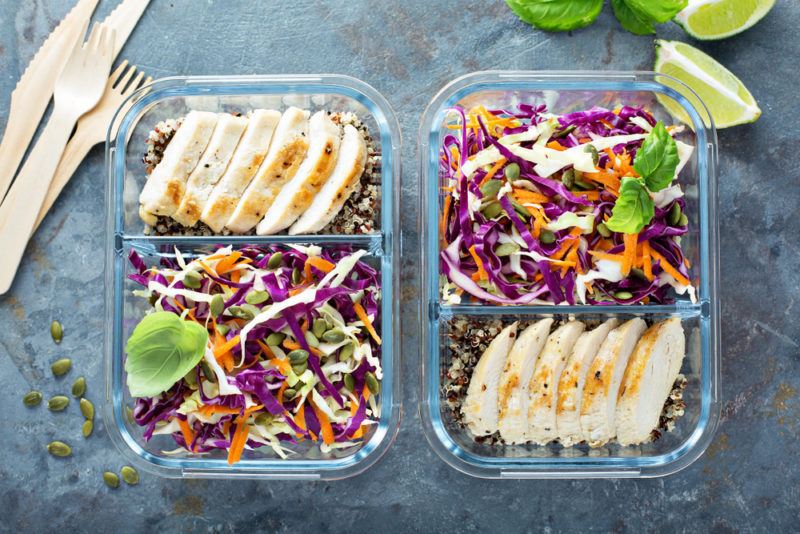 One thing that both companies have in common is that they are created specifically for people who want to eat plant-based meals. This means that most of their meals are naturally free of milk and egg food allergens. The companies both also branch out beyond dinner kits to provide breakfast, lunches and treats.
Hungryroot also sources organic and non-GMO ingredients for their meals whenever it's possible and the company doesn't use artificial ingredients, preservatives, modified food starches, trans fats, or sugars. Daily Harvest also uses ingredients that are 100% natural, organic and non-GMO.
However, the companies have some incredibly different operational styles, too.
For example, Hungryroot sends its meal kits as nicely packaged produce and sauce packages that arrive on your doorstep in cardboard boxes. You get dinner kits for items like Crunchy Curry Beet Noodles or Lentil Curried Butternut Squash for dinners. You also get treats, such as Black Bean Brownie Batter.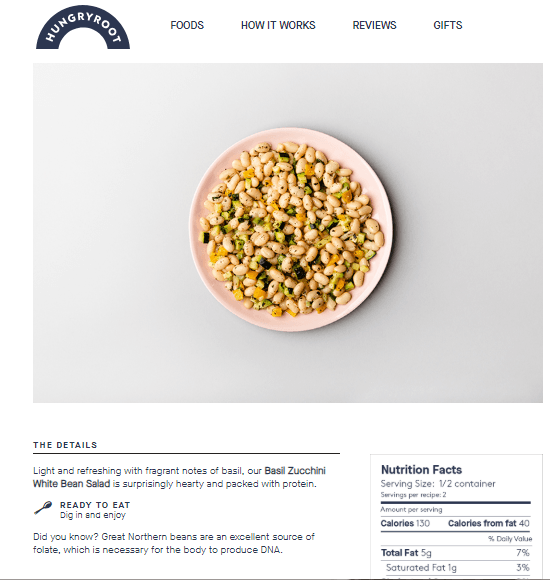 In contrast, Daily Harvest sends blendable meal mixes that are flash frozen, packed in individual cups and then shipped to you. The cups you order can include harvest bowls, soups such as Tomato and Bell Pepper and smoothies like the Ginger and Greens option.
There are also dessert-based smoothies, lattes, chia parfaits and Daily Harvest's version of sundaes. Harvest bowls come with just one serving per cup, but the lattes come with three servings per cup, and the soups and smoothies come with two.
Both companies have overnight oats as a breakfast option, and they both focus on meals that are super-quick and easy to prepare.
With Hungryroot, you generally end up mixing a few ingredients together and heating them. Daily Harvest cups usually require you to add water and blend the ingredients of a cup together. Harvest bowls might only require heating.
Unlike many meal kit delivery services on the market, neither of these companies relies on weekly rotating menus. Daily Harvest's menu is mostly static, with a few items that change seasonally.
Hungryroot's menu changes every month. Subscribers can view the PDF catalogue, which contains around 66 offerings, and the individual product pages on the Hungryroot website. You can see nutritional facts for each Hungryroot recipe, including allergens, by looking at the ingredients list on the product page for each meal.
There's also a PDF that you can download to find out more about allergens, but you have to go through the frequently-asked-questions to get to it.
Daily Harvest works much the same way, answering questions about allergens in certain recipes in the frequently-asked-questions section of the website. You can find out whether certain recipes fall under keto or paleo plans the same way.
Hungryroot builds a box for subscribers based on preferences, but both companies allow you to customize your deliveries so you get exactly what you want. With Hungryroot, you choose a plan that determines the amount of food you get and then customize your order from there. Daily Harvest has a few box options to choose from, but you can build your order cup by cup, too.


Hungryroot has two plans. The Starter Set comes with three meals for two people and two sides, snacks or sweets. The Good Life contains five meals for two people and five sides, snacks or sweets.
With Daily Harvest, you choose any combination of cups you want. Again, there are two plans, but in this case, they're based on whether you want to get weekly deliveries or monthly deliveries. You can choose monthly deliveries and still get enough food for the entire month because the Daily Harvest cups can be stored in the freezer.
Signing Up and Cancelling
To sign up with Daily Harvest, you have to enter your zip code first. This allows you to find out whether the company delivers to your area. Then you pick your delivery plan and choose the cups you want to fill your box with.
To sign up with Hungryroot, you click on a 'get started' button and enter your email address and a password to create an account. Once you have an account, you can log in with your log-in information or through Facebook.
Cancelling with Daily Harvest starts by clicking on the 'help' button online and then navigating to your account management. From there, you can get information on how to cancel or skip orders. Unlike some companies, cancelling your subscription deletes your account, so if you want to start up again, you'll have to open a new account.
To cancel with Hungryroot, you navigate to your 'edit account details' page, where you can find the screen that allows you to cancel. At this point, you can choose to either place a hold on your subscription or cancel it entirely.
Packaging And Delivery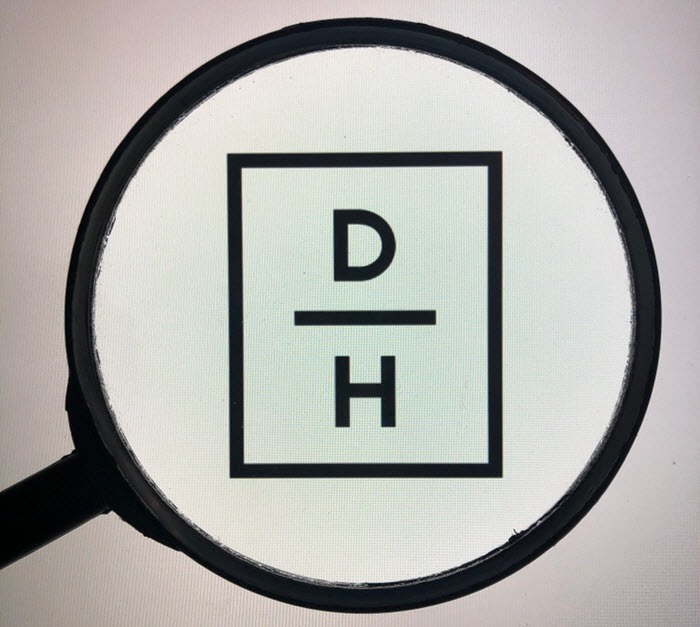 Hungryroot sends its meal kits in recyclable boxes and plastics. If your box is shipped by ground, then delivery is free, but if it's shipped by air, there is a $10 delivery fee.
Daily Harvests boxes are recyclable, but the cups have a special coating so they aren't recyclable in every area. Because Daily Harvest foods are frozen, the cups ship in boxes that also contain dry ice. Once the dry ice dissipates, the shipping box and the silver bag that the dry ice comes in can both be recycled.
Shipping is free with Daily Harvest.
Pricing
Like many meal kit delivery services, you pay by the box you order with Hungryroot. The Starter Set box costs $69 per week, and The Good Life box costs $99 per week.
With Daily Harvest, the price you pay depends on the amount of cups you order. If you order 24 cups, you pay $6.99 per cup whether you have them delivered weekly or monthly. Weekly deliveries also allow you to buy six cups, nine cups, or 12 cups at a time.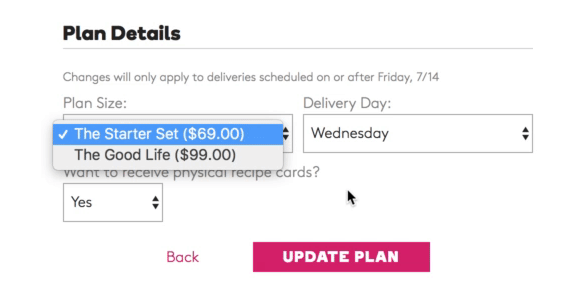 At six cups per box, you pay $7.99 per cup, and cups cost $7.75 per cup if you order nine cups. An order of 12 cups costs$7.49 per cup.
Customizable Options
You can customize your Hungryroot boxes under the Deliveries section of your account. You click on the delivery you want to modify, and then you add and remove items until your box shows 100 percent full. Then you click save.
Using this method, you can customize your order to avoid allergens. You can also customize the number of serving you want as well as the dishes you want.
With Daily Harvest, most of the changes can be made on your online account under the 'hi' tab. From there you can modify your assortment, skip orders or even add a new plan. Daily Harvest also has some browsing filters that allow you to look for dietary preferences, such as paleo-friendly options or the type of meal you're looking for.
If you decide not to build your box cup by cup, you can choose from four pre-set assortments: the smoothie edit, the all-day edit, the breakfast edit, or a seasonal edit.
What Makes Each Company Unique
Although I'm generally a meat-eater, there were things that appealed to me from both companies. Here are some of my top pros and cons for both services.
Hungryroot
Pros:
The packaging for the meal kits was attractive.
The ingredients were nicely prepared with items like crinkle-cut carrots that made each meal feel elegant.
Hungryroot has a lot of positive reviews posted on its website from Forbes and other influencers.
Cons:
It was difficult to find information on serving sizes and costs until I looked under the frequently-asked-questions section of the website.
Daily Harvest
Pros:
With Daily Harvest, you can build your own box cup by cup or order a pre-assortment, and it's nice to have both choices.
The frozen foods idea is definitely unique among meal kit delivery services, and it helps to preserve the nutritional value of the food.
The cups can stack and store in the freezer for up to a month.
Cons:
You have to deal with dry ice with each shipment.
You need a strong blender and you need to make sure you have storage space in your freezer.
Daily Harvest meals are so quick to make that I miss the cooking aspect of making meals.
Alternatives
If you like the plant-based lifestyle Green Chef, Sun Basket and Terra's Kitchen all offer vegan meal plans.
Many other meal kit delivery services have vegetarian (not necessarily vegan) options, too. Blue Apron, Martha and Marley Spoon, and Plated all have delicious vegetarian meals.
Conclusion
If you're switching to a vegan lifestyle, finding a meal kit delivery service that targets your needs can be helpful in deciding what to cook and how to make the new habits stick.
Daily Harvest and Hungryroot are both great for on –the-go people because the meals come together so quickly. However, I like Hungryroot best. This is mostly because I like cooking, and there isn't much to cook with Daily Harvest Meals. I also really liked the simplicity of the Hungryroot meal plans and the ability to customize the boxes based on how full they were.