Knowing what to fix for dinner is just one daily battle. Shopping for the ingredients, prepping them and getting the meal cooked and on the table can be another one. It takes time and energy.
During the past decade, several meal kit delivery services have sprung up to help busy people have nutritious and tasty meals at home. Some of them focus only on dinner menus for busy families. Others aim to help people with specific eating styles, such as eating only organic foods, following a vegan lifestyle, or losing weight on a specific diet plan.
In this Hungryroot vs. Gobble comparison, I'll show you what I learned when I tried Hungryroot, which caters to vegan eating, and Gobble, which is more about fast family dinners. This should give you a basic idea of what to look for when you're shopping around for a meal kit delivery service to try.
Types Of Meals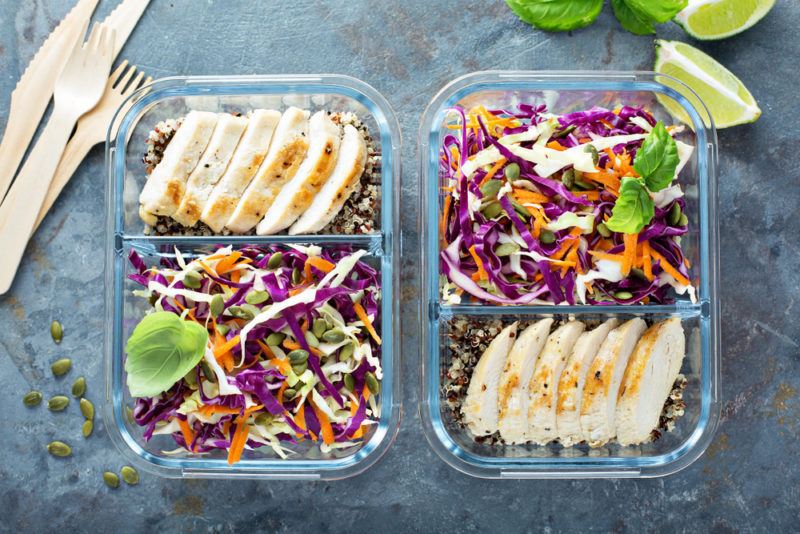 Hungryroot was specifically built for people eating along vegan guidelines. The food is nicely prepped and packaged, so you always feel like you're getting something a little bit on the elegant side even though the food is simple and quick to prepare.
It generally takes about ten minutes to put a Hungryroot meal together. Dinners consist of items like Curried Butternut Squash, but there are also sides and snacks and even some sweets, such as the Black Bean Brownie Batter.
When you sign up for Hungryroot, the company builds a box for you based on the food preferences quiz you fill out. You can modify that box to get the dishes and serving sizes you want, though. There are about 66 different items to choose from every month.
Instead of using a weekly rotating meal system like some meal kit delivery services do, Hungryroot keeps a menu set for a full month. The products are found in an online PDF catalogue, but you can request physical recipe cards, too. There's also a PDF available through the frequently-asked questions section so that you can plan around food allergens.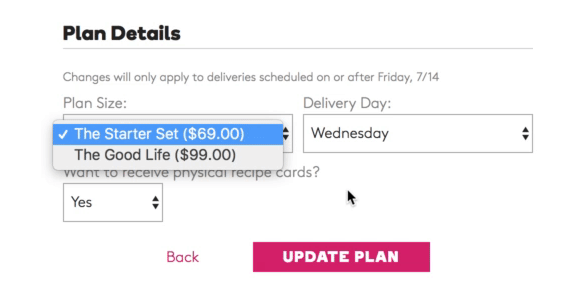 Hungryroot has two plans to choose from, and both feed two people. The Starter Set comes with three meal kits and two sides, snacks or sweets. The Good Life plan includes five meals and five snacks or sweets.
As with Hungryroot, all the prep work is done for meals with Gobble, and most meals come together in less than 15 minutes. Gobble provides dinner kits for two or four people, but you can order more meals if you'd like to. There's also an add-on breakfast subscription and some options for sides, soups and desserts.
Gobble subscribers generally get three recipes to try each week. After signing up, you pick your meals. There are gluten-free, dairy-free, low carb and vegetarian options available as well as meat-based ones. The dinners are also labeled as kid friendly or as containing certain allergens, such as wheat or eggs.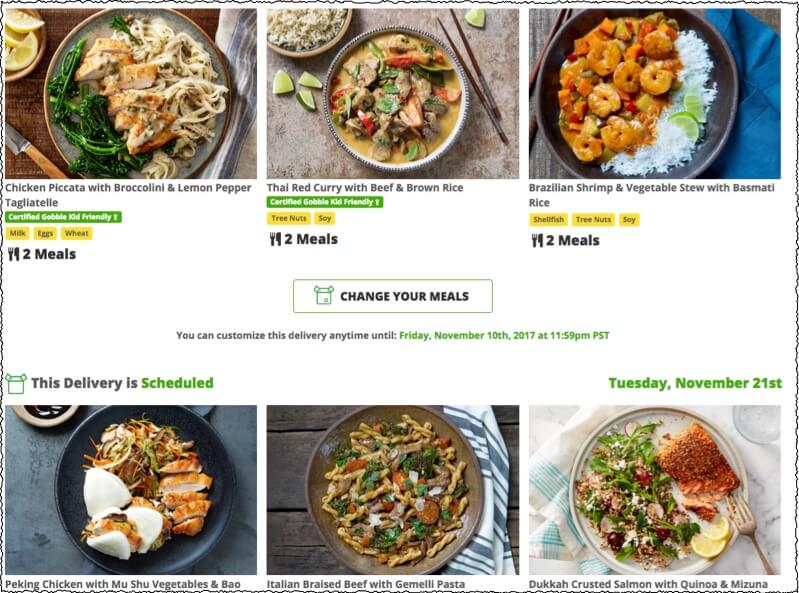 Gobble is one of the meal kit delivery services that rely on a weekly rotating menu, but in this case, there are a set of menus to choose from. The menus are based around poultry, red meat, seafood or vegetarian meals, and there are six meal choices for each menu set.
Signing Up And Cancelling
To get started with Hungryroot, you need to create an account. This includes entering an email address and a password. Once your account is set up, you can log in normally or through Facebook.
Signing up with Gobble is similar. Once you've clicked on the sign-up option, you select the number of people you want to feed and click the "we'll eat anything" button to get a drop-down box.
From this box, you can check or uncheck the types of meats you'd like to try, or click the vegetarian option. Then you enter your email address, password and zip code to set up your account.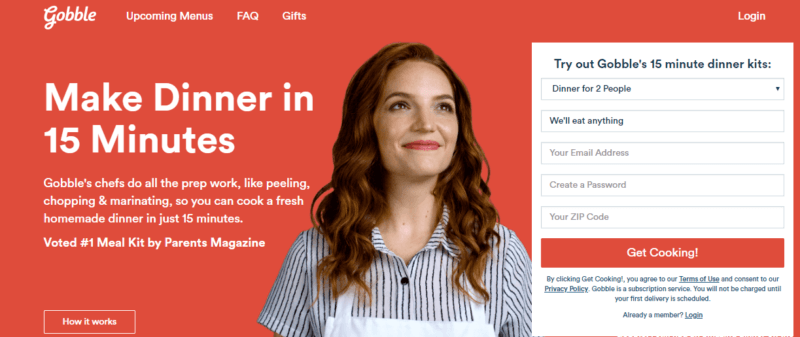 Cancelling with Hungryroot can be done from the 'edit account details' page on your online account, where you can choose to cancel completely or just place a hold on your subscription.
Gobble cancellations begin from the 'manage my account' page, where there's a 'click here' link to start the cancellation process.
Packaging And Delivery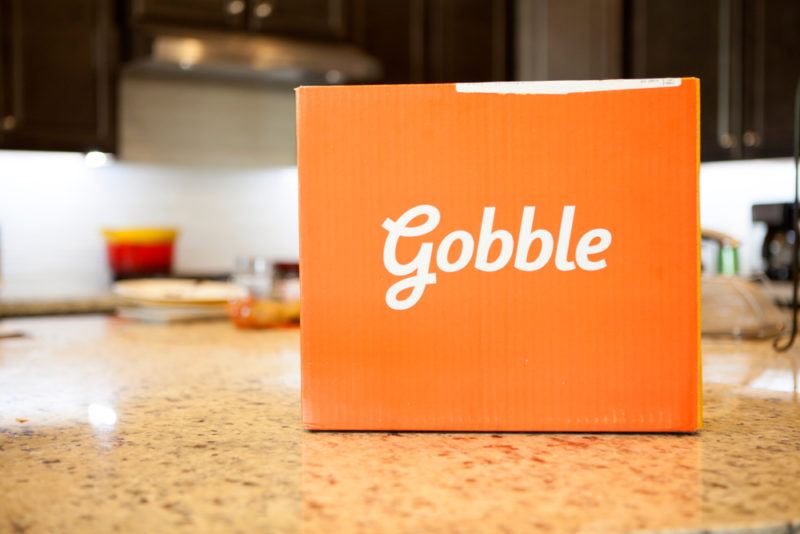 There's a chance for delivery fees with both companies. With Hungryroot, if your order comes by air, you pay $10 shipping, but ground delivery is free. Gobble subscribers get their first delivery free, but after that there's a $6.99 delivery fee.
Both companies ship their ingredients in recyclable cardboard boxes and plastic bags. Hungryroot's presentation is nicer, with fancy labels and nicely-prepped ingredients. Gobble's ingredients are packaged separately in Ziploc bags with labels, which is practical but not as appealing.
Gobble has a minimum order of two meals for two people (four meals total) to schedule a delivery. Both companies have flexible delivery times.
Pricing
What you pay is pretty straightforward with Hungryroot. The Starter Set box costs $69 per week, and The Good Life box costs $99 per week.
Gobble pricing is a little more complicated. If you place only the minimum order, you'll pay $55.96 for the box, or $13.99 per meal.
Meals on the normal two-person or four-person plan cost $11.99 each. A two-person box containing enough food for six servings will run around $71.94 for the delivery, plus the shipping charge. A four-person box costs $143.88.
The add-on breakfast subscription is priced at $44 per week for two people and $88 per week for four people. Each order comes with four meals.
Customizable Options
Hungryroot has a fun way to customize your order. If you don't want to accept the box that the company puts together for you, you can go into the Deliveries section of your account and choose the delivery week that you want to modify.
Then you can take things out of your box and add other items into your box until your box shows that it's 100 percent full and you have what you want.
This strategy allows you to customize your order both by dishes that you want to try and by the amount of servings you'd like to get. It also allows you to replace meals with food allergens in them with something that will better suit your needs.
Gobble is customizable on the front end, where you choose the kinds of meats you want or don't want to try. You can also add on sides or desserts, and you can mix and match from the entire weekly menu.
What Makes These Companies Unique
The different niches that Hungryroot and Gobble fill make them interesting comparisons. There were things I liked and didn't like about each company. Here are some of the things that stood out them most to me.
Hungryroot
Pros:
I really liked the slightly fancy feel of the way the ingredients were prepped and packaged.
Forbes and other influencers seem to have good things to say about Hungryroot.
The simplicity of the plans and pricing strategy was a big plus.
I also liked the unique way of customizing your order based on how full it was by percentage.
Cons:
You have to look in the frequently-asked questions section of the website to find some basic information, such as serving sizes.
If you like cooking, Hungryroot meals may feel too fast for you to enjoy your kitchen time.
Gobble
Pros:
Gobble was voted the #1 meal kit by Parents magazine.
This company sometimes offers credits and promotional offers.
The separate breakfast subscription was a nice touch, and the add-ons are always nice, too.
Cons:
As with Hungryroot, meal preparation can actually be too fast—which is great for some people—but if you really like cooking, you may miss the wind-down time that you get cooking a more complicated meal.
Alternatives
Both Hungryroot and Gobble were fun meal kit delivery services to try, but there are some other great ones out there, too. Plated, Blue Apron and Martha and Marley Spoon are some of my favorites. PlateJoy, which is more of a meal planning service with a grocery delivery option, is another top-notch choice and fits with a lot of different lifestyles.
For strictly vegan options, you could also try Daily Harvest.
Conclusion
When it comes to choosing either Hungryroot or Gobble, I would have to go with Gobble. This is partly because I like meat-based meals more than I do vegan ones, but also because it has a family-friendly feel, and the tasty sauces that most meals include really made the food delicious. This was a tough choice, though. I liked them both.