Sometimes fixing dinner is just one more thing to do. Whether you follow a low-carb or keto lifestyle or you indulge in comfort foods, there are menus to plan, groceries to shop for, and foods to prep before you even get to the cooking part.
With our busy lifestyles, finding time to do all these steps can make dinnertime feel like a chore rather than a time to enjoy food and reconnect with people we care about.
This is one reason that meal kit delivery services have become so popular. With most companies, you can choose menus from home, customize your grocery delivery and have ingredients delivered ready to cook. This saves time, and it also keeps you on track with your eating plan—so you're eating more nutritious foods, too.
There are a lot of different choices when it comes to the type of meal kit delivery services. Some cater to vegan crowds, and others focus on traditional all-American meals.
In this Hungryroot vs. Hello Fresh comparison, I'll share with you what I've learned about two meal delivery kits. If you're considering joining a meal kit delivery service, this can give you an idea of what to look for and how to get started.
Types Of Meals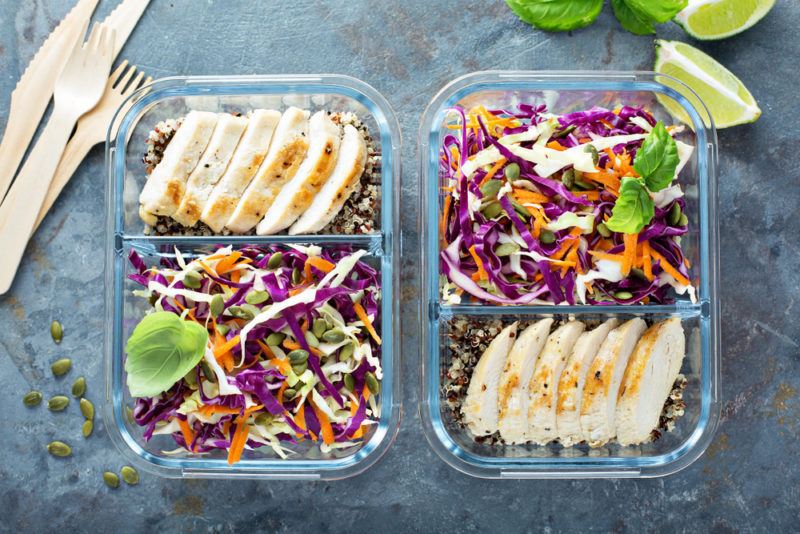 Hungryroot meals are largely plant-based, which means most of them are naturally vegan (don't worry if you enjoy meat from time-to-time, there are some meat-based options too). When it's possible, the ingredients are organic and non-GMO. The company doesn't use artificial ingredients, preservatives, modified food starches, sugars or trans-fats, so meals are nutritious, with good fat and fiber. The recipes are easy to follow, too.
Instead of getting individual ingredients, Hungryroot sends packages of foods like sweet potato ribbons or kale pesto. For most meals, you end up mixing a few packages together and heating them. Meals come together in around ten minutes or so.
Many plans use a weekly rotating menu, but Hungryroot rotates its meals monthly. You can view the full PDF catalogue online, which also includes instructions for how to make the food—although you can request physical recipe cards, too. There are around 66 items to choose from in the catalogue, including dinners, breakfasts, lunches, and sweets like Black Bean Brownie Batter.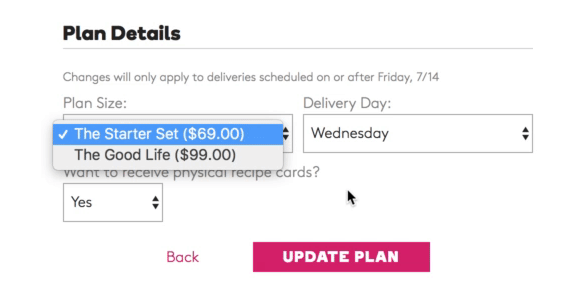 There are two plans: The Starter Set, which comes with three meals for two people and two sides or desserts, and The Good Life. The Good Life includes five meals for two people as well as five sides, snacks, or desserts.
If you're interested in learning about allergens in the recipes, you can find one under the frequently-asked questions section of the website. Alternatively, you could also just look at the ingredients in the recipes to see if the recipe will work for you or not. Information on nutrition and cooking instruction for each recipe can also be found on the individual product pages.
Hello Fresh is a lot more basic. Although the ingredients come pre-measured and sorted, the food is a little bland and boring. The cooking instructions could be a little clearer, too. However, there are some nice-sized portions of meat and plant protein, which I liked.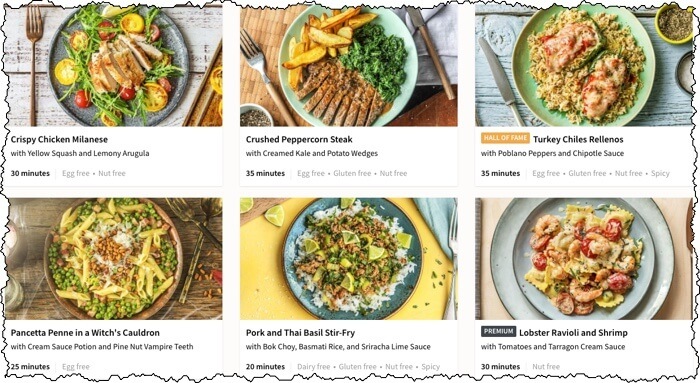 This company is one that uses a weekly rotating menu. There are fifteen meals per week. Three of them are veggie and six are classic. You can view the recipes once you've bought a plan.
There are three types of plans that can feed two to four people per week. The Veggie plan only gets three meals per week, because there are only three vegetarian offerings in the weekly menu. The Classic plan can get two, three or four meals, and the family plan can get two or three meals per week.
Hello Fresh dinners on the classic plan include items like Sweet-as-Honey Chicken with Green Beans over Jasmine Rice. On the veggie plan, you get meals like Vegetable Minestrone Soup with Parmesan Garlic Bread.
There's also a unique dinner-to-lunch option that allows you to use leftovers from dinner the night before to create an entirely new meal for lunch the next day. For example, you might have Chicken Sausage Flatbread for dinner one night and use the leftovers to make Italian Orzotto for lunch the next day.
When you're looking at the menu options online, you'll see markers that tell you which allergens are not included in a meal and how long that meal takes to cook. Dairy, nuts, gluten, and eggs are marked as allergens in the recipes, so you can see which recipes to avoid, but for now there isn't a full plan that excludes all allergens.
You can also see markers that describe the meal a little bit, such as gourmet, dinner-to-lunch, or 20-minute meals.
Hello Fresh has two other features that I really liked, too. There's a wine option where you can buy win for around $15 per bottle. There's also a full recipe archive that allows you to see all 2,500 of the recipes in the Hello Fresh collection. You can search these recipes by world cuisines, quick meals, hall of fame meals, family friendly meals and more. The recipes come with nutrition boxes as well as instructions for cooking.
Signing Up And Canceling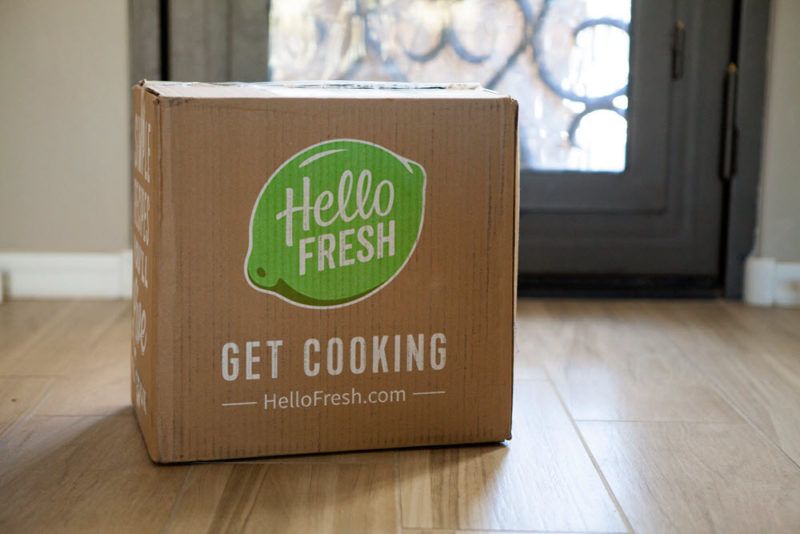 To sign up with Hungryroot, you need to enter an email address and password to create an account. Once that's done, you'll be able to log in whenever you want to with your login information or through Facebook.
Canceling with Hungryroot requires you to go to the 'edit account details' portion of your online account. From there you can get to the screen that allows you to cancel. You will be asked if you want to cancel your subscription or just place it on hold for a little while.
Signing up with Hello Fresh starts by choosing your plan based on dietary preferences and then on number of people and number of times to cook that week. Once you've gone through checkout, you can view your meals and customize your order.
Canceling with Hello Fresh was frustrating for me. I canceled my shipment online (this can be done under the Delivery and Payment section of your online account), but somehow I ended up with two boxes of food. It worked out alright in the end, but it took a long phone call to straighten things out with the customer service department.
Packaging And Delivery
There wasn't much to report for either company when it comes to packaging and delivery. Both companies packed the food in recyclable boxes. Hello Fresh occasionally uses special linings that can't be recycled, but that's only in extreme weather. Otherwise, ingredients come in attractive brown paper bags that are labeled for each ingredient.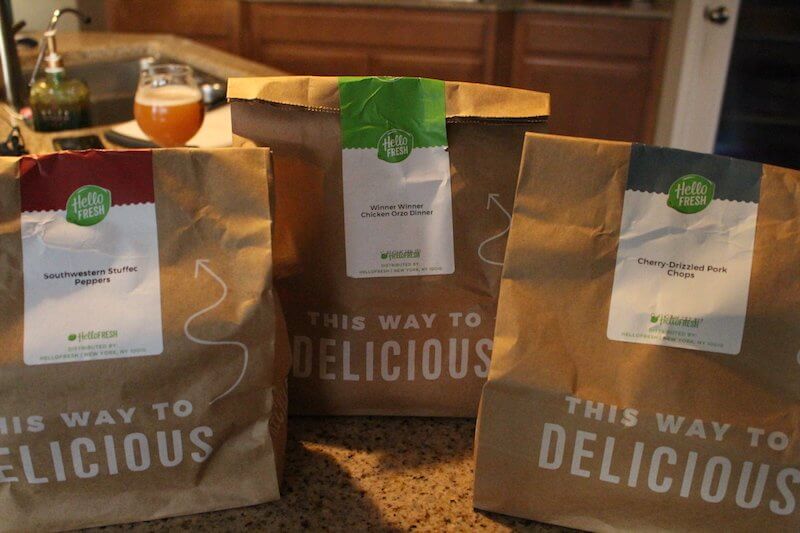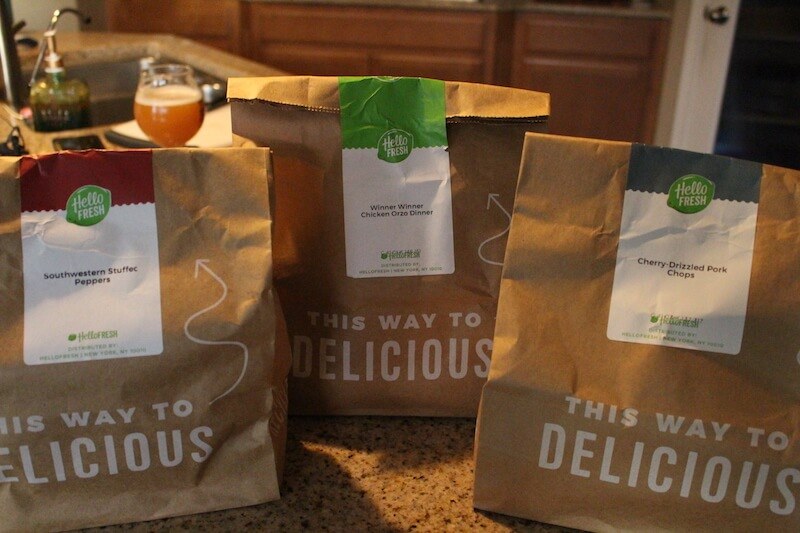 Hungryroot has a shipping fee of $10 if ingredients are shipped by air, but boxes ship free if they go by ground. With Hello Fresh, shipping charges are usually around $6.99 per box.
Pricing
Hungryroot's pricing strategy is one of the most straightforward that I've seen. The Starter Set is simply $69 per box, and The Good Life is $99 per box.
With Hello Fresh, the prices depend on the plan you're ordering from and the number of servings you're getting. For example, feeding four people on the Veggie plan costs $6.99 per serving or $8.99 per serving if you're only feeding two people.
On the Classic plan, meals range from $7.49-$9.99 per serving, which works out to $53.94 per box before shipping charges are added. Family plan meals cost $7.49 or $7.87 per serving—around $59 per box before shipping.

Customizable Options
Hungryroot has a unique way of allowing you to customize your delivery. First you remove the items you don't want from your box, and then you replace them with products you do want. When your box shows that it's 100 percent full again, you click save. This method allows you to customize for the dishes you want, the number of servings you want, and for issues like food allergens.
Hello Fresh allows subscribers on the Family and Classic plans to choose their meals from about 12 of the weekly options. This can be done from the deliveries section of the website, where you can view and edit your upcoming orders.
What Makes These Companies Unique
There were things I liked and didn't like about both companies. They don't actually have a lot in common when I think about some of the other comparisons that I've done, but they do both have some interesting things to offer. Here are some of my top thoughts about both companies.
Hungryroot
Pros:
I like the unique way of being able to customize your box.
The straightforward pricing strategy is refreshing, too.
The full monthly PDF catalogue makes it fun to choose meals.
The packaging and food prep made the plant ingredients look and feel a little bit fancy, so I felt like I was getting something special even though I don't always eat vegetarian meals.
Cons:
This is a personal thing, but I generally prefer meals that have meat in them.
It was a little bit difficult to navigate the website at first. (I recommend using the frequently-asked questions if you're looking for something in particular.)
Hello Fresh
Pros:
Having a wine option is always nice.
Getting access to the full recipe archives was a nice touch, too.
The dinner-to-lunch option isn't something I've seen in other companies.
Cons:
Dealing with the customer service issues while trying to cancel my account was a little frustrating for me.
I wasn't a fan of the food itself—it was a little bit bland.
Alternatives
Both Hungryroot and Hello Fresh are decent meal kit delivery services, but there are ones that I like better. Plated, Sun Basket and Blue Apron are some of my favorites. I also like Martha and Marley Spoon.
PlateJoy is an interesting option that is really customizable and helps you to eat healthy. It's also pretty cost-effective because it allows you to choose whether you want your groceries delivered or whether you want to do the shopping yourself.
Conclusion
When it comes to Hungryroot and Hello Fresh, I opt for Hello Fresh. This is mostly because I enjoy meals with meat in them over plant-based meals, but Hello Fresh still isn't my favorite—and for vegetarian options, Hungryroot is a pretty great service.