The world has changed. Not only is it getting harder and harder to get families together for dinner, but the way we eat has shifted, too. There's a growing consciousness about the importance of choosing nutritious foods as well as tasty ones. For some families, that makes the dilemma of what to fix for dinner even more challenging.
In the past decade, a new industry has emerged to meet the growing demand for dinner kits. The idea behind these meal kit delivery services is to address eating preferences and dietary requirements while still provide fabulous-tasting meals. It's become such a popular idea that the industry is projected to reach $10 billion in sales in 2020—a growth of $9 billion in about five years.
The question is where your family fits the meal kit delivery world. Are you looking for simple, delicious all-American style meals, or do you need to zero in on certain dietary requirements?
There are meal kit delivery services to fill every niche. In this Hungryroot vs. Marth and Marley Spoon comparison, I'll share what I know about a service that's almost entirly vegan-geared and one that's targeted for more traditional family meals.
Types Of Meals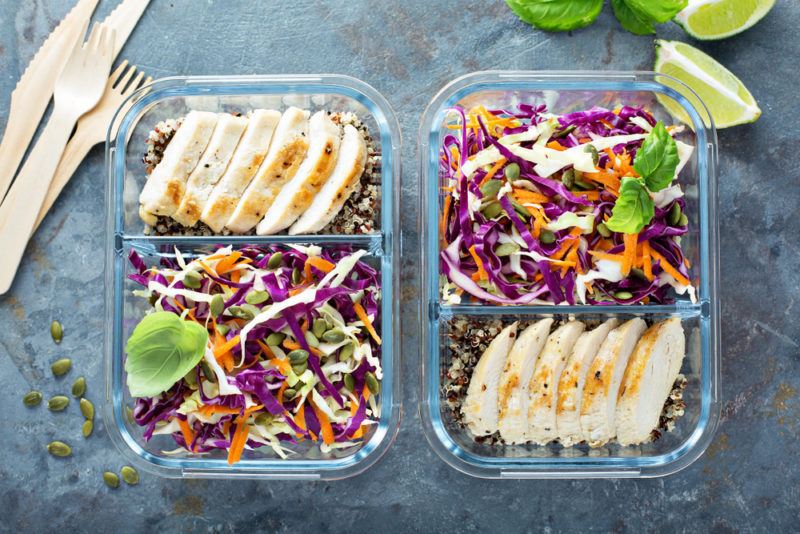 Hungryroot is one of a handful of meal kit delivery services that caters to a mostly vegetarian crowd. Because the ingredients are almost all plant-based, most meals are vegan, although the breakfast options sometimes require soaking oatmeal in milk. There are some meat-based options too, but fewer than with most other companies.
Ingredients are non-GMO and organic whenever it's possible. There are also no added preservatives, modified food starches, sugar, or trans-fats. They're also all gluten free.
The ingredients come in packages like kale pesto and sweet potato ribbons. The meals come together quickly because usually all you're doing is mixing a few packages together and heating them up. I can generally get a Hungryroot dinner on the table in about ten minutes.
For a plant-based company, there's actually quite a lot of variety. Hungryroot offers breakfasts, sides, treats like Black Bean Brownie Batter, and interesting dinner kits like Lentil Curried Butternut Squash.
Unlike many meal kit delivery services that I've tried, Hungryroot doesn't use a rotating weekly menu. Instead, the menu is set up as a monthly PDF catalogue that contains about 66 different products. The catalogue includes instructions on how to make the foods, although you can order physical recipe cards if you want them.
Under the frequently-asked questions section of the website, you can also download a PDF document that goes into detail about food allergens in the meals for that month. From the individual product pages, you can look at the nutrition information.
One of the things I like best about Hungryroot meals is the presentation. Instead of basic carrot slices, you get crinkle cut ones, and the packaging is beautiful, so even the most basic plant-based meals feel a little bit special.
I also really like the simplicity of the Hungryroot plans. There are only two options, but they can both be tweaked so that you get the order you want. The Starter Set comes with three meals for two people plus three sides, snacks or desserts. The Good Life includes five meals for two people and five sides, snacks or sweets.
In contrast, Martha and Marley Spoon is completely focused on dinner kits, with no other meals or add-ons. There are three different types of menus: Carnivore, vegetarian, and gluten free. There are also two options for serving sizes. The two-person box feeds two adults, and the three-to-four person box feeds up to four adults.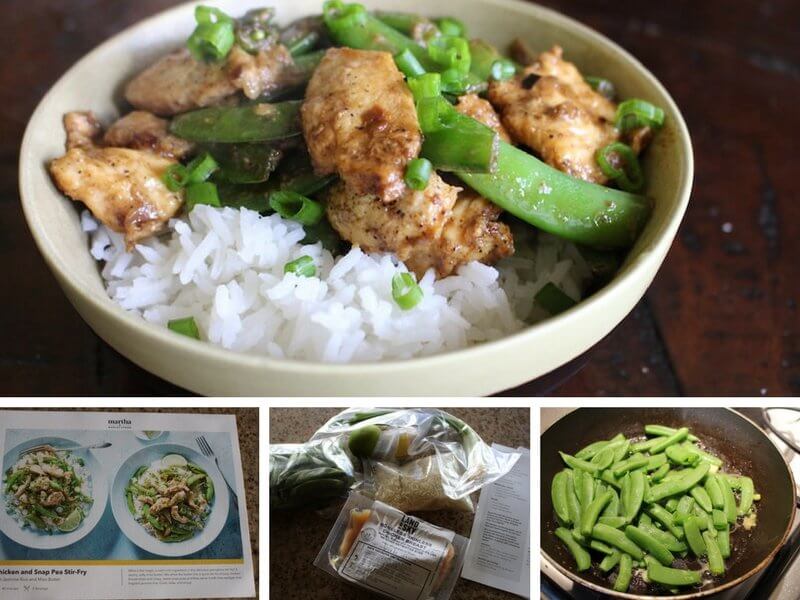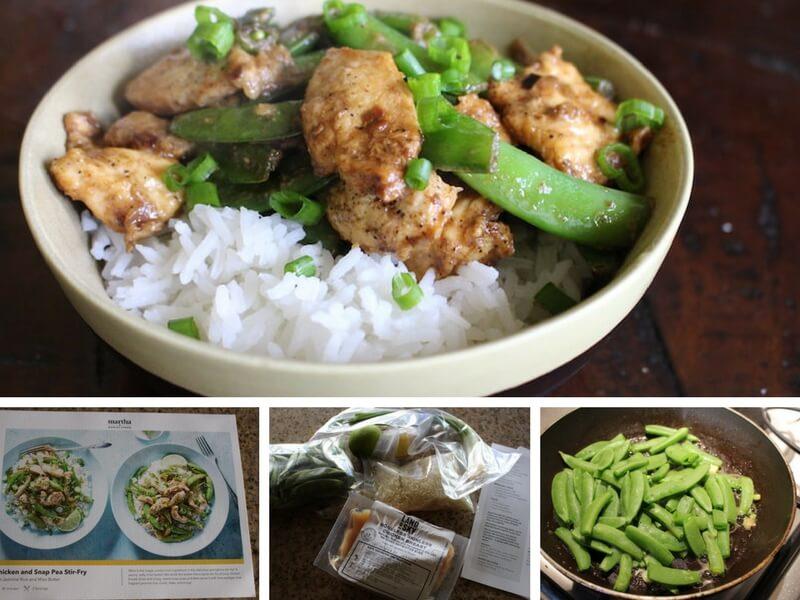 Martha and Marley Spoon is one of the meal kit delivery services that use a weekly rotating menu. With this company, you can view menus for the upcoming five weeks. Each week has ten meal options, and each recipe is scaled for two people. The ingredients come pre-portioned, so most meals can be prepared in thirty minutes or less.
With a Martha and Marley Spoon subscription, you get meals like Seared Steak and Ranch Wedges, Roast Chicken and Potatoes, or Creamy Baked Tortelloni. These comfort-food dishes are all Martha Stewart recipes.
Instructions for cooking the food can be found on the product pages online. When you're looking at them online, you'll see icons showing the meat, fish and vegetarian options. Some recipes are adjusted for certain allergens, but there isn't a full menu for avoiding allergens. The vegetarian menu is the only specialty menu available.
The minimum order is at least two recipes per week, but you can choose to cook with Martha and Marley Spoon twice a week, three times or four times no matter which plan you choose.
Signing Up And Canceling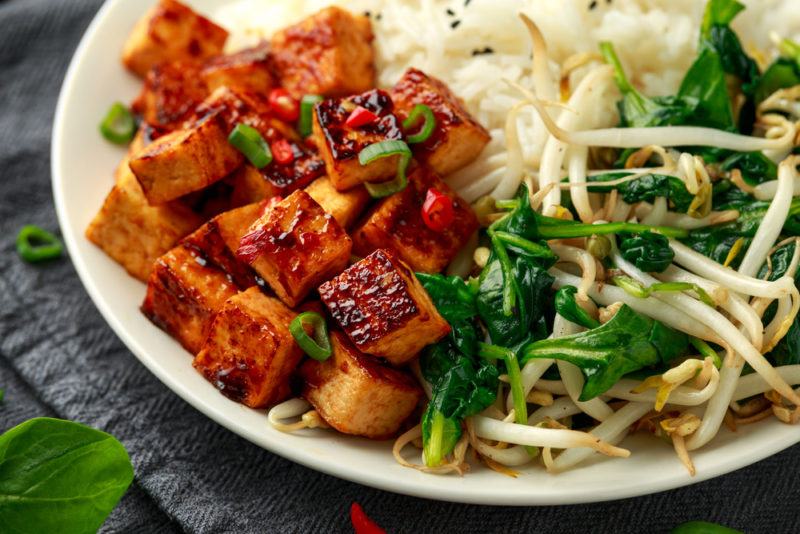 To sign up with Hungryroot, you need to create an account, and this involves entering an email address and password. Once this is set up, you can sign in the next time with your regular log-in information or through Facebook.
You can cancel your Hungryroot subscription under the 'edit account details' screen in your online account. When you start the process, you'll be given the option to cancel completely or to place your subscription on hold for a while.
With Martha and Marley Spoon, signing up is pretty simple. You lay out some basic meal preferences and choose how many meals you want each week. Your account can be canceled under 'my settings' in your online account. You can also call Martha and Marley Spoon or email them to start the cancellation process.
Packaging And Delivery
Both Hungryroot and Martha and Marley Spoon ship ingredients for their recipes in cardboard boxes. Most of the packaging is recyclable. Martha and Marley Spoon packages ingredients together by meal in 'dish bags' so that you don't have to rummage through your refrigerator looking for the ingredients.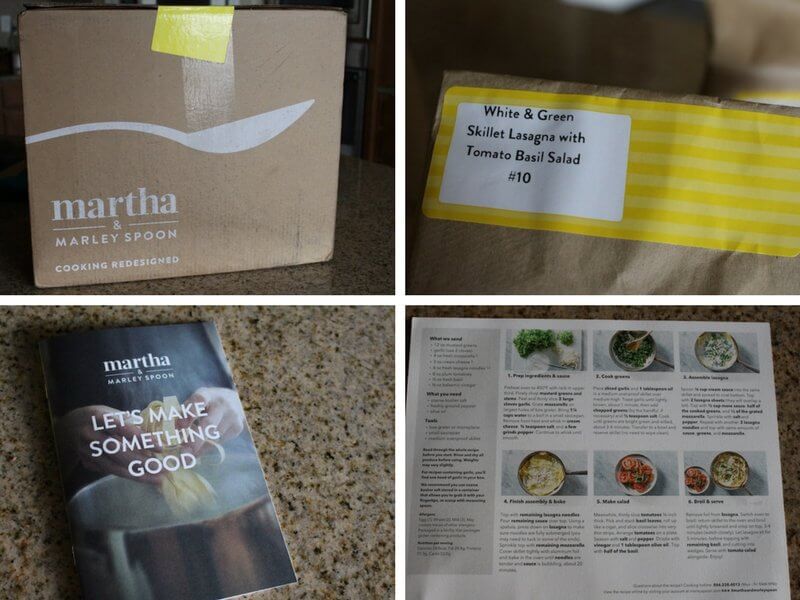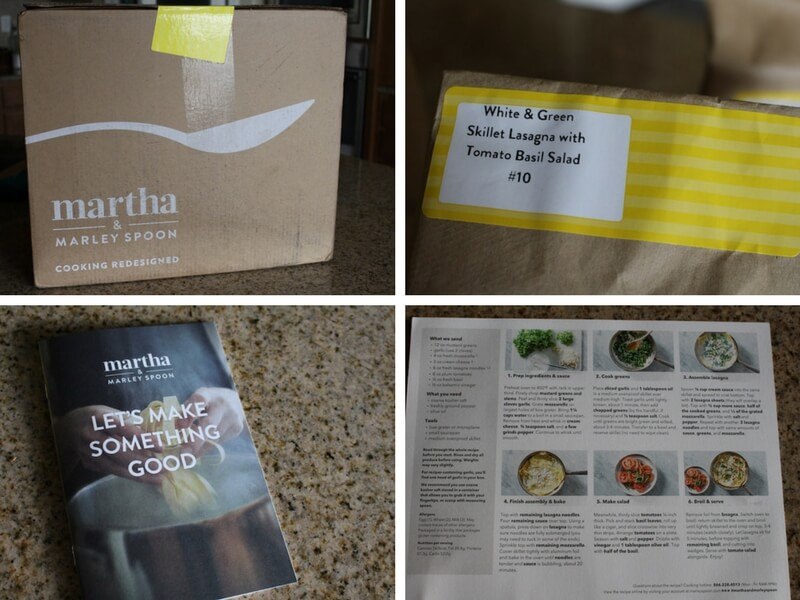 With Hungryroot, you get the box full of food that comes with the plan you subscribed to. In contrast, Martha and Marley Spoon boxes don't have a set amount of food. You can order for two people or four people, and you can order meals for two, three or four meal a night, so there can be a lot of variety in what comes in your box. There is a minimum order of two meals for two people, though.
Martha and Marley Spoon ships all its boxes for free. Hungryroot deliveries are free for boxes that ship by ground, but if ingredients are shipped by air, there is a $10 shipping fee.
Pricing
Hungryroot's Starter Set costs $69 per week, and The Good Life plan costs $99 per week. I'm a fan of this simple pricing strategy because you always know how much to budget for and about how much food you'll be getting.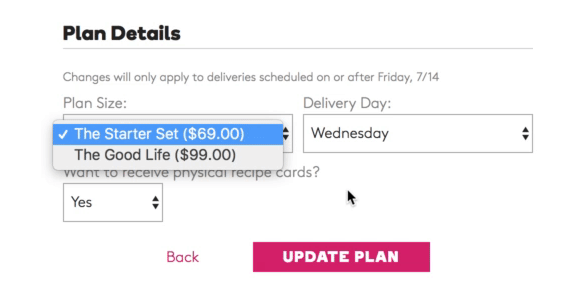 Martha and Marley Spoon deliveries are a little bit trickier. For the two-person box, two meals cost $12 per serving, three meals cost $10.25 per serving, and four meals cost $9.50 per serving. With the four-person box, you pay $9.50 per serving for two meals, $8.90 per serving for three meals, and $8.20 per serving for four meals.
Depending on how many people you're feeding and how many nights per week you'll be cooking recipes from Martha and Marley Spoon, you could pay anywhere from around $44 to $131 per box.
However, in spite of the wide variation in the costs per box, the general range of each meal is reasonably priced, especially when compared to some other meal kit delivery services I've tried.
Customizable Options
I really like the way Hungryroot allows you to customize your order. Besides having a full monthly menu to draw from and meals beyond dinners to choose, Hungryroot bases its boxes on how full they are by percentage.
This means if you want to customize your order, all you have to do is take out items you don't want and replace them with items you do want until your box is 100 percent full again.
With this system, you can customize for the number of servings you want and the dishes you want. You can also remove meals with food allergens and replace them with something that fits your needs better.
Martha and Marley Spoon allows you to mix and match meals from the entire weekly menu and to switch out the number of portions you'd like to receive each week. You can also change plans between orders.
What Makes These Companies Unique
Even among meal kit delivery services, there are vast differences in the way the companies are run, the kinds of foods they offer and the niches they fill. There were some areas where Hungryroot and Martha and Marley Spoon were similar, and a few where they're very different. I liked and didn't like things about both of them. Here are my top thoughts.
Hungryroot
Pros:
There are a lot of great reviews by Forbes and other influencer for Hungryroot.
It was easy to understand how the company works because the plans and pricing strategy are so straightforward.
The meals are interesting and have a nice, slightly fancy feel to them even though they're all plant-based.
Cons:
It was hard to navigate the website to find information for things like serving sizes and costs.
Martha and Marley Spoon
Pros:
The service is based on 18,000 recipes from Martha Stewart's collection.
The meals are definitely comfort food.
The prices per serving were reasonable when compared to other meal kit delivery services I've tried.
Cons:
Compared to many other meal kit services, Martha and Marley Spoon's customizability is only moderate.
There aren't any set company strategies to help people with food allergies avoid allergens, so subscribers have to watch the ingredients list themselves.
Alternatives
While both Hungryroot and Martha and Marley Spoon were fun to try, there are a lot of other meal kit services that I've really liked. Blue Apron, Plated and Sun Basket are some of my favorites, especially when it comes to dinner kits.
If you're looking for something more vegan, you might want to try Daily Harvest. You could also try vegan or vegetarian menus through services like Terra's Kitchen or Green Chef.
Conclusion
Between Hungryroot and Martha and Marley Spoon, I like Martha and Marley Spoon best. This is mostly because I enjoy eating meat with my meals, and this company does a great job of providing traditional all-American comfort food.
I also like the build-your-own-box ideas and the fact that this company draws right from Martha Stewart's own recipe collection.