Eating nutritious meals that fit specific dietary guidelines is easier than ever now, thanks to the myriad of meal kit delivery services that have sprung up over the last decade. While many of them are geared toward providing basic dinner kits, others target people following specific diet plans or families wanting to try a variety of new foods.
The industry is growing fast. In 2020, sales from these companies are expected to reach $10 billion, an increase of $9 million since 2015. It could be that the industry's popularity is based on the wide range of foods and specialty plans that these companies provide, but how do you choose one that fits your needs well when you're ready to try one?
In this Hungryroot vs. Sunbasket comparison, I'll share with you how two different meal kit delivery services fill a variety of consumer needs, including the types of food they offer, how the food is delivered, relative pricing, and more. By the end of the article, you should have a feel for the kinds of questions to ask when you're ready to sign up with a meal kit delivery service.
Types Of Meals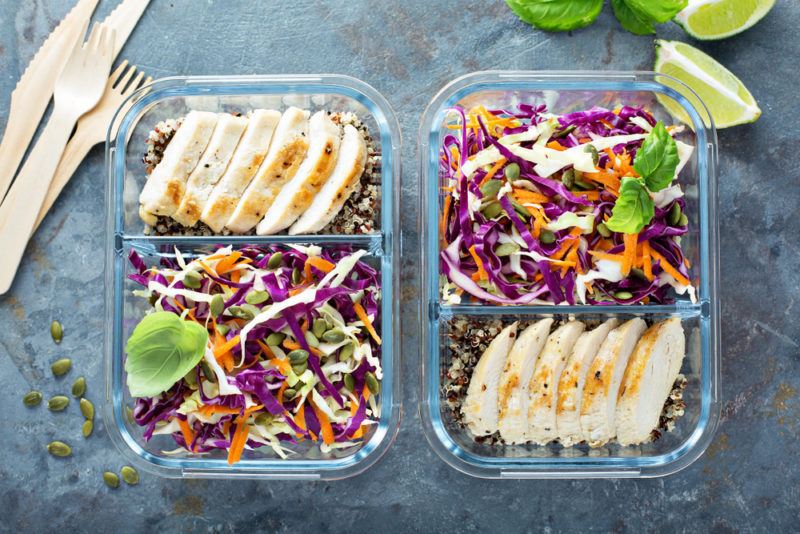 Both Sun Basket and Hungryroot are built around helping people eat more nutritious meals, especially if you're switching the way you eat and need a little bit of extra support while you learn what you can and can't cook.
Hungryroot does this by building meals around plant-based foods. Since the food style is mostly vegan, there are no allergens from milk or eggs. The ingredients are also organic and non-GMO as much as possible, and there aren't any artificial ingredients or preservatives.
Sun Basket's ingredients are thought out just as carefully, with organic produce, wild-caught and sustainably sourced seafood, and meats that are both antibiotic free and hormone free. Ingredients come pre-measured, and meals are ready in about half an hour.
While Sun Basket does have a vegan option menu as part of its Classic plan, there's really a wide variety to choose from here. The Classic plan also includes menus for chef's choice, paleo, lean and green, gluten free, vegetarian, pescatarian, diabetes friendly, quick and easy, and Mediterranean-style eating. The Family plan includes chef's choice or family plan menus.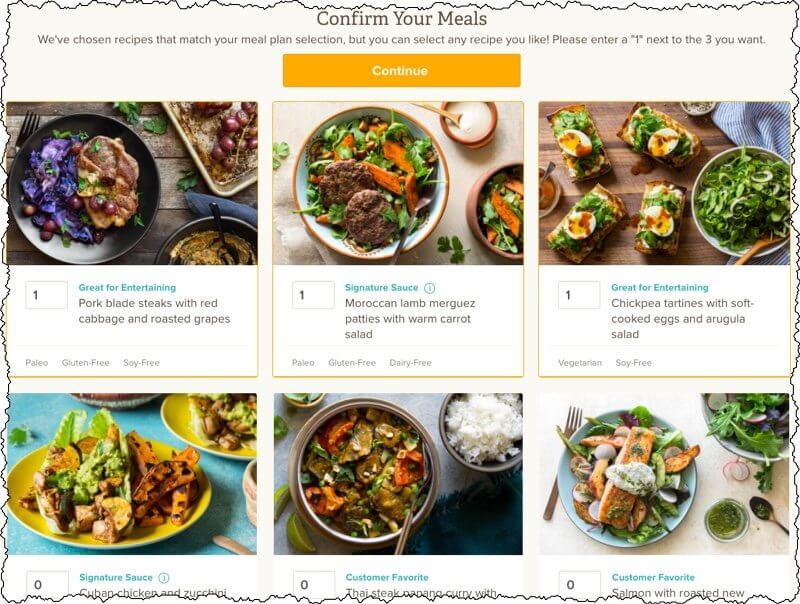 On the Classic plan, subscribers get three recipes each week and the ingredients to cook those meals. You can sign up to feed two or four people on the Classic plan. The Family plan feeds two, three or four people each week, and you can get four recipes per week.
Sun Basket uses a weekly rotating menu of 18 meals per week, but only six of those are available for the family plan. People on the Classic plan can mix and match among all 18 options. To offset this, the chef's choice menu on the Family plan contains kid-friendly options such as tacos or pasta. There are also 'kids can' steps in those recipes so that children can get involved in the cooking.
Hungryroot is one of the few companies that don't use a weekly rotating menu. Instead, this company rotates meals every month. The full monthly menu of around 66 items can be found online as a PDF that contains the instructions for making the meals. There's also a PDF to show information about food allergens, and you can order physical recipe cards if you want them. Nutrition information can be viewed on the product pages for each individual item.
Because the meals are plant based, you get interesting dinners such as Lentil Curried Butternut Squash. The company also offers treats such as Black Bean Brownie Batter, and there are options for breakfasts and lunches, too.
The meals themselves come together in about ten minutes. A few are ready to go. The overnight oats do require adding milk. While the company builds a box for subscribers based on their taste preferences, it's easy to customize the orders to get what you want.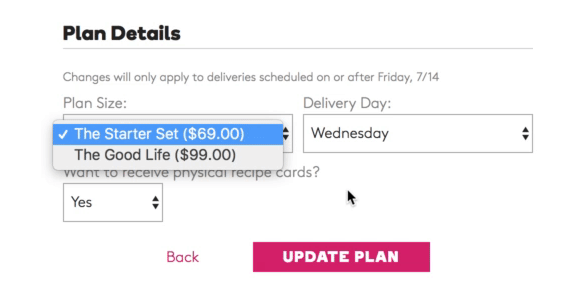 Hungryroot has two plans to choose from. The Good Life contains five meals for two people plus five sides, snacks or sweets, and the Starter Set comes with three meals for two people and two sides, snacks or sweets.
Signing Up And Canceling
Signing up with Hungryroot requires setting up an account. You have to enter an email address and a password. Once your account is set up, you have the option to log in with Facebook, too.
Hungryroot can be canceled from the 'edit account details' screen. When you start the process, you'll be asked whether you want to cancel completely or just place your subscription on hold.
With Sun Basket, the 'get started' button leads you to a page where you can create an account with an email, password, zip code and your name. When your account is created, you choose whether you want to be on the Family plan or Classic plan. Then you can customize your order and go to the checkout. As with Hungryroot, there's an option to log in with Facebook.
To cancel your Sun Basket subscription, you can call the toll-free number or start the process under the frequently-asked questions sections. There's a link in the 'manage weekly deliveries' page that will take you to a screen where you can sign in and begin filling out the information to cancel.
Packaging And Delivery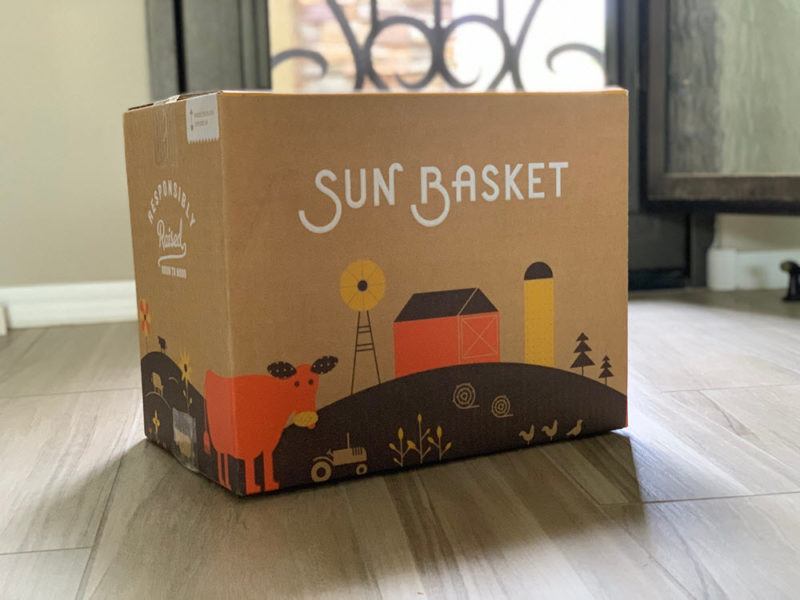 Hungryroot has a shipping fee of $10 if your order ships by air, but ground shipping is free. The food arrives in a recyclable box with recyclable plastics inside to hold the ingredients. Overall, the packaging was attractive and neat without being over the top.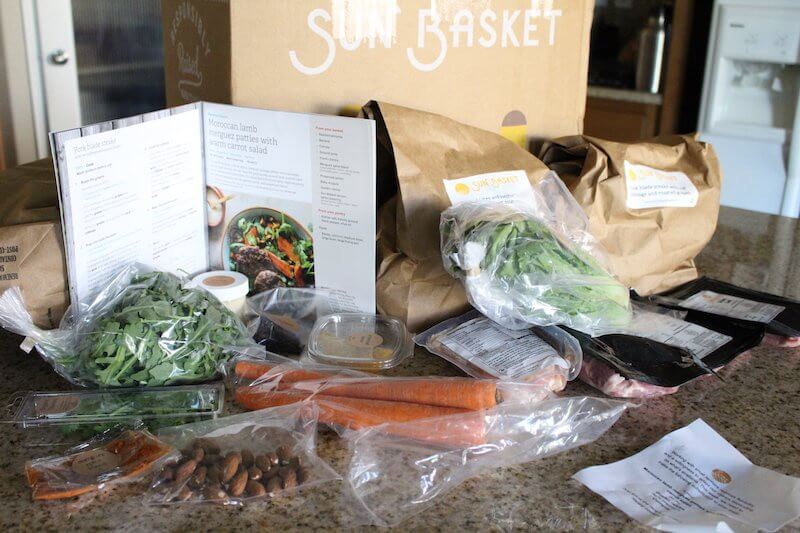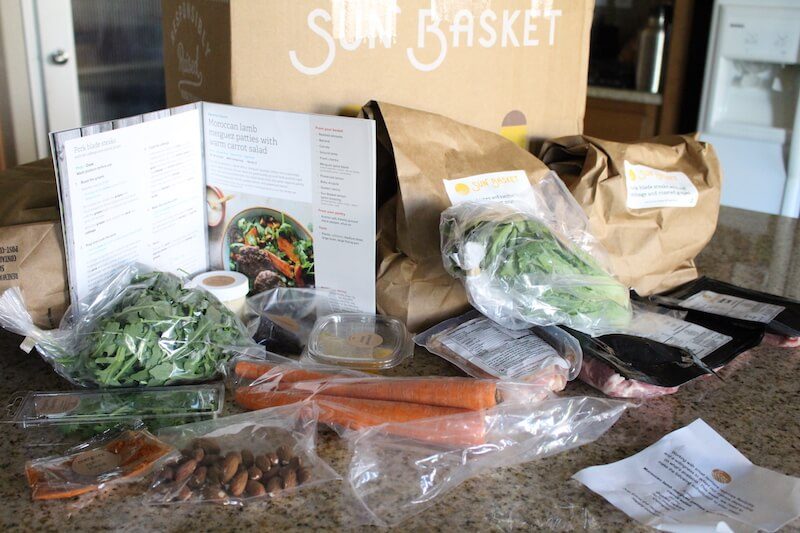 Sun Basket's packaging is mostly recyclable, as well. Ingredients for meals come in one bag, except for the meats, which are separated into their own bags. The first week of shipping is free. After that, there's a flat shipping fee of $6.99 per box.
Pricing
Hungryroot has a simple pricing strategy. For the Starter Set, you pay $69 per week. The Good Life costs $99 per week.
With Sun Basket, Family plan meals cost $10.99 per plate. Meals on the Classic plan cost $11.99 per serving. A Classic plan box costs $71.94 for two people or $143.88 for four people.
Customizable Options
Hungryroot has an interesting way of customizing orders. Boxes are pre-set at 100 percent full. To customize, you take out the items you don't want and add in items until your box is 100 percent full again. When you have it the way you want, you save it.
This process allows you to customize the number of servings you want for a particular dish as well as the recipes you want. You can also customize for food allergens by taking them out of your box and replacing them with something else.
Customizing with Sun Basket is easy on the Classic plan, because you can mix and match with any of the 18 meals on the menu regardless of which menu option you've chosen. The family plan is limited to six choices, but you can mix and match within that category.
What Makes Each Company Unique
Both Sun Basket and Hungryroot have delicious food, and I enjoyed trying them. However, there were things I liked better for each company. Here are some of my top pros and cons.
Hungryroot
Pros:
The food and the packaging were always nicely presented, which made me feel like I was getting a special meal even though I generally prefer eating meat-based meals.
I really like the simplicity and straightforwardness of Hungryroot's plans and pricing strategy.
The easy customizable option and the wide range of foods to choose from were a huge plus for me.
There were reviews from Forbes and other influencers on the website.
Cons:
It was a little difficult to find some information, such as what the serving sizes were like, at first. I recommend looking through the frequently asked questions section if you need to find something in particular.
Sun Basket
Pros:
I really liked the wide range of menu options on the Classic plan.
Having 18 different dinners to choose from makes customizing your box a lot of fun.
The kid-friendly recipes and 'kids can' steps under the Family plan stood out as ways to help kids get excited about cooking, eating what you fix for dinner, and generally helping out in the kitchen.
Cons:
While the cost per meal is average compared to many other meal kit delivery services I've tried, it's a bit more expensive than some of the most similar services.
Alternatives
Sun Basket is one of my favorite choices for meal kit delivery services that focus on dinners, but there are some other good options, as well. I also really like Blue Apron, Martha and Marley Spoon and Plated.
Green Chef and Terra's Kitchen are other great companies that provide a wide range of menu options similar to what Sun Basket provides under its Classic plan.
If you're looking specifically for vegetarian services like what Hungryroot offers, you might want to try Daily Harvest.
Conclusion
Between Hungryroot and Sun Basket, I like Sun Basket best. It has a vegan option, but I can also choose meat-based meals, which I like. The food is also really tasty, and the recipes are fun to cook without taking too much time in the kitchen.