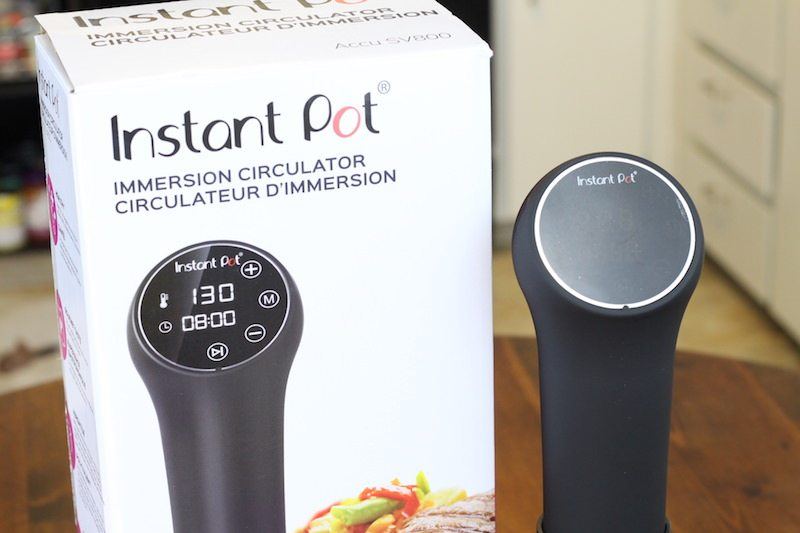 Instant Pot Accu Sous Vide Immersion Circulator Review
Quality - 95%
Features - 92%
Price - 88%
Personal Experience - 94%
Value - 84%
The Instant Pot Accu Sous Vide Immersion Circulator is a decent quality product for a slightly more expensive price than many other immersion circulators. It would not be my "choice" in most situations, considering there are many other models out there with better features, better designs, and better construction. However, this device is getting some very good reviews on other sites so far, so keep reading this review to see if you should buy this immersion circulator or a different one!
Introduction
As part of my extensive reviews of immersion circulators, I bought the Instant Pot Accu Sous Vide Immersion Circulator to test and review it. After all, how could I decide which one was the best without testing them all? OK, I admit that basically I really like cooking sous vide and just wanted to find the best one for me.
I'm very familiar with the Instant Pot brand, and have reviewed their pressure cookers as well as other kitchen appliances before. I'm a big fan!

The Instant Pot Accu Sous Vide started off by giving me a really good impression. They had beautiful box, and neatly packed appliance, a colorful instruction booklet, and an overall pleasant unboxing experience. I couldn't wait to try it! This particular immersion circulator was priced right in the middle of the inexpensive and premium immersion circulators, plus, it had a bunch of good reviews on Amazon, so I was interested to see how it compared to the other 13 models I had tested.
This device did perform as promised, but unfortunately, it did not live up to my expectations for the Instant Pot brand or the price it was selling at. It cooked the food accurately, and there are some definite advantages to this model over other brands, but my main disappointment was that it offered basic features for a premium price.
Keep reading to see what I liked and didn't like about the Instant Pot Accu Sous Vide immersion circulator, how it compared to other brands (cheaper and more expensive), and what I would recommend as an alternative if you decide this is not the one you should get.
Standard Features
Actually, one of the things I really liked about the Instant Pot Immersion circulator was the clear, bright button on the face of the device. Surprisingly, more than one other circulator I tested had low-lit button which made it hard to read and navigate. It's also got a nice anti-glare finish on the screen much like the Anova, and matte-finish black casing (not as nice as Anova's silky satin texture though!)

To operate the device, press the 'M' button to switch between the Temperature and Time display. You can see each clearly labeled. To add or subtract time and temperature, simply press the + or – button. Once you've got it set, press the START button to begin heating your water!
But before we get cooking, I wanted to point out one feature that I did not like about the Instant Pot circulator construction. You can see in the image below that the clamp snaps onto the body of the immersion circulator. That's fine, but it is not adjustable like the Anova (by the way, this review is not strictly an Instant Pot VS Anova comparison). There is no advantage to having a removable clip since it only has one operational position.

Above me, you can see this this is the "screw down" style clamp, which is not my preference. To make it worse, the metal is quite thin, so bends if you tighten it down too much. Just look at the image to see it bending slightly. I think this could cause issues over time, although you can probably just bend it back in place.
After reaching your target temperature, the Instant Pot immersion circulator will give a few warning beeps, then start cooking immediately. I prefer that it waits for some interaction with you before starting like the Gourmia GSV140. For example, while I was writing this article, I was actually using the Instant Pot. It beeped to let me know I reached the 149º F desired temperature, but I was still editing an image, then I got distracted on reddit. 15 minutes later, with the countdown timer already started, I only had 45 minutes left of a 60 minute cook time.
It was very easy to restart the timer, but still. I guess an easy solution would be to just leave the chicken in there from the start, since overcooking is hard to do!
Extra Features
Look below, and you'll see that the Instant Pot SV800 actually has a wide, flat bottom, which makes it great for placing in the middle of a pot rather than on the side though. Not all immersion circulators are made for this, or they do it poorly. The Joule has this feature, but is best when used on metal surfaces since its magnetic. Sansaire Sous Vide is even wider and more stable in the middle of a container, but there are some big downsides to that product as well.

I also noticed that the Instant Pot was very quiet compared to other immersion circulators. Some, like the NutriChef Prime or the Kitchen Gizmo, are quite noisy. Many others I've reviewed are just as quiet! If you're cooking a roast for 48 hours, having a quiet sous vide cooker can be important or that whiz-whir will get on your nerves!
Cooking Experience
Though I cook a lot of salmon, steak, and chicken with my various sous vide devices, I wanted to try something new and do some poached eggs. I love soft eggs on toast in the morning, or on steel cut oatmeal. I usually just fry them because it's quickest, but poaching is my choice method of cooking.
Sure enough, sous vide poached eggs are amazing. In the photo below you can see some orange sweet potatoes in the background. I tried to do the sweet potato toast thing that was trendy for a minute, but it didn't really work out. I ended up pan-frying them to get them soft enough to eat without burning them.

If you are going to do sous vide eggs, I recommend putting them in a bag. I didn't think about it but they can crack, and can get egg stuck on your heating element swirling around in the water. I didn't have this issue, but it can happen! Instant Pot's circulator has an easy-removable casing so you can clean, if necessary, but some other models, namely Gourmia ones, do not have this feature.
Keep in mind though, with only 800 watts of power and no adjustable height, you may be stuck heating a large pot of water before you reach ideal cooking temperature for your eggs. For example, I waited 30 minutes to reach my desired temp, then another 40 minutes for my eggs to finish. I hope you weren't hungry!
Technical Stuff
Unit Size Size: 3.5 x 3.5 x 15 inches, 1.7 pounds
Temperature Range & Precision: 0.4°F/ 0.2°C, Up To 195º F
Power: 800 Watts
Pump Circulation: 2.1 GPM (Gallons Per Minute)
The Accu Sous Vide is slightly wider than most circulators at the bottom, which makes it great for sitting in the middle of your cooking vessel. Since it has an omnidirectional pump, meaning it sprays water in multiple directions, this would be the ideal position I think! However, it still more stable when clipped to the side of the container.

The temperature accuracy is slightly less accurate than almost all the other brands out there, but just barely. The difference between 0.1 and 0.2 probably won't make a difference in any of your meals.
The main point the Accu Sous Vide suffers is the wattage. 800 watts means you'll heat water at a slower pace, although 2.1 GPM is quite good, considering some models go as low as 1.3 GPM. You would probably want to stick to a 5 gallon max capacity, but smaller volumes of water will be better since they heat quicker.
Comparing The Instant Pot SV800 To Other Immersion Circulators
Usually I get quit in-depth in the comparison section, but it turns out I've done a lot of comparisons throughout this review of the SV800, so I'll just summarize with a few main points.
800 watts is the lowest power you can expect from an immersion circulator. The Joule from ChefSteps and the Gourmia GSV140 both do better. The Joule is more expensive, and the GSV14o is cheaper. I prefer both of them to Instant Pot. The only other worse deal in terms of heating element is the Anova (previously mentioned) which gives you 800-900 watts of power and is considered a "premium" circulator.
Instant Pot has a pretty standard design, without any color variation. Gourmia models come with color choices, as to Kitchen Gizmo. It's decent construction, but not the best in comparison to others. It does have a very nice display though!
Just talking about price, I find it hard to pay extra when this is a pretty normal immersion circulator. Why pay 30% – 50% more when you can get similar or better features for cheaper?
Who Is The Instant Pot Accu Sous Vide Best For?
If you really like the Instant Pot brand, then the Accu Sous Vide SV800 is a good product for you. It's got solid construction, and executes basic functions as expected. It's definitely worth the money, especially if you cook sous vide often. If you like this particular design, that's another good reason to get this particular device as opposed to any other one.
However, I think there are other models which will appeal a more specific audience. If you want super cheap, then I'd go with the NutriChef Prime or a Gourmia, both of which also come with a stronger heating element. If you are looking for great design, then the KG Simplified Sous Vide is a great choice. In fact, I think the Anova Precision looks similar to the Instant Pot design, with some obvious upgrades.
Conclusion
This was a very good product, but it just didn't provide enough added value to justify the higher-than-normal pricing. Perhaps someone who's used this brand of immersion circulator can give me some insight into why they prefer it to others, or what their personal experiences have been. Leave a comment below and lets find out!

Pros/Cons
Pros
Very Quiet Pump
Trusted Brand
Wide, Flat Base Can Sit In Center Of Water Bath
Removable Casing For Easy Clean
Cons
Short Cord (2 Feet)
Mid Price, But Basic Features
Only 800 Watts
Automatic Shutdown After Cooking
Unboxing and getting ready to cook some sous vide eggs!


Video: Instant Pot Accu Sous Vide Review