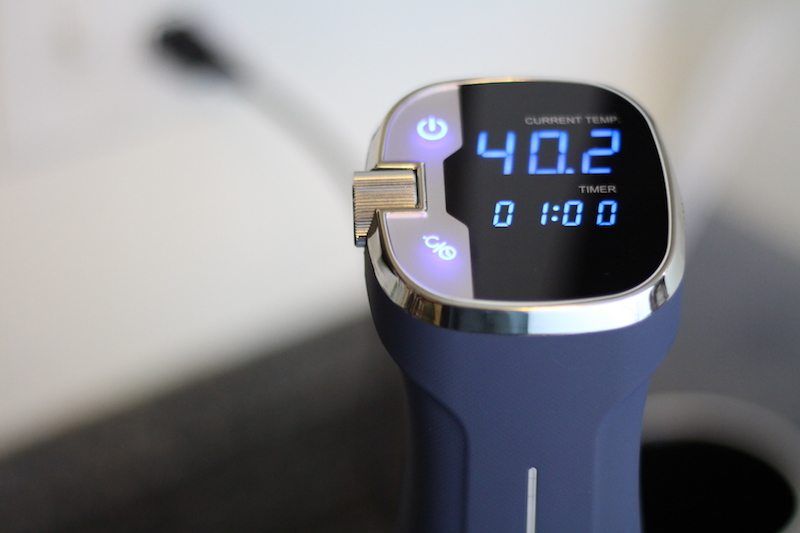 Kitchen Gizmo Simplified Sous Vide Immersion Circulator Review
Quality - 100%
Features - 94%
Price - 97%
Personal Experience - 93%
Value - 98%
The advertising does not lie! It's a low-priced immersion circulator with a high-end feel to it. It also makes a great gift. It's currently ranked #3 on my list of inexpensive immersion circulators! But it's not ranked #1 🙁 Find out the good and the bad of the Kitchen Gizmo Simplified Sous Vide immersion circulator with my in-depth review!
Introduction
When I started cooking sous vide I just bought all the immersion circulators that I could find online. I didn't pay attention to brands or prices – I just wanted to test them all! That's how I ended up with the Kitchen Gizmo Simplified Sous Vide Immersion Circulator. I had not heard of Kitchen Gizmo before! They make interesting kitchen tools – niche products like an all-in-on avocado slicer tool, magnetic salt and pepper shakers, and a manual coffee brewer for k-cups. Cool stuff!
Their "wired" lineup is quite small, but it's the electrical side of things that they do. Actually, wired only has two products so far: an electric water kettle and this immersion circulator.
The unboxing of the Kitchen Gizmo immersion circulator was pretty interesting! It was sent a very nice, hexagonal, tall box with the device inside, along with the setup guide, cookbook, and a few other things.

All in all, Kitchen Gizmo performed fine in comparison to other inexpensive sous vide circulators. There were a few quirks worth mentioning, that you can read about below. The main appeal of this appliance however, is the beautiful design and choice of colors. Keep reading to see if this appliance is right for your kitchen, or if you'd be better of with one of the others I tested.
Standard Features
The first thing you'll notice about the Simplified Sous Vide is that it's got a very unique design. The highlight of the design is the matte-finish, textured material. The feel of this material is quite nice, especially compared to some of the cheap plastic you see on other devices like the Nutrichef [LINK], or even the Sansaire which is 2x as expensive.

This immersion circulator can display both Fahrenheit and Celsius temperatures, but don't forget to read the guide on how to switch them! I couldn't figure it out on my own. It's as simple as holding down the power button for a few seconds, but hey, I never said I was that smart! LOL.
To pick your temperature and time, you can use the rolling dial on the left side to scroll, then press the temp/time button to select each setting. It's pretty simple! I was mistaken and somehow couldn't find the minute setting on my first cook, but a commenter corrected me and let me know that you can actually set specific minutes for timing just by pressing the "time" button again. I don't know how I missed that the first time around. I should know these things by now!
Either way, I guess timing for sous vide cooking is approximate enough that you do not need to cook food for 50 minutes – 1 hour is close enough!

The bottom of the immersion circulator is flat, which is definitely a convenience. Though probably not intended for this use, it means you can sit the immersion circulator in the center of your water vessel. If you're cooking larger amounts of food with a larger water bath, you may find that placing the circulating pump in a central location will help you keep more water at a stable temperature. Most of the time you'll be using the clamp on the side.
Though it's pretty standard to have a side clamp, I do like their design. It's also a very strong clip, so you won't have any slippage. However, I found that the positioning of the clip means you can't sit the device very deep into the water bath. While testing other devices, I kept the water bath at the same volume each time, but when I started working with the Simplified Sous Vide device, I noticed that the water was only up to the minimum fill line.

In other words, if you have very shallow pots, you may not be able to clip the device on the side. If you use a deeper pot, it may take longer to heat a large volume of water especially since it's only 800 watts.The flat bottom will come in handy for shallow pots, but just be sure not to tip it over!

Extra Features
The Kitchen Gizmo Simplified Sous Vide comes in 3 awesome colors. Steering away from glossy black and white like most immersion circulators, you've got a brick red, a satin blue, and a charcoal grey to choose from. Though they are only called grey, blue, and red on the sales page, you can see that they are a little more fancy than your boring old grade school markers.

You've also got a nice blue indicator light and LED display. There's not much else to say about that, but it does look nice. That counts for something right?
You can also take apart this immersion circulator for easy cleaning. There's only a couple that can do that! Most of the time you won't need to do this since the device only sits in water and does not affect the flavor of the food. But if you have hard water and think you'll need to clean the heating element from time to time then this may be an advantage to have. Sometimes eggs may break or a bag may leak, so easy cleaning is definitely a pro!
Kitchen Gizmo has given us a pretty simple immersion circulator. There's nothing like wifi-connectivity or multi-step recipe programming with this device. Unfortunately, they are also missing some basic features as well. For example, there's no alarm or beeping when you reach your target temperature. There is an alarm when you reach your finished cooking time, but then device shuts off automatically. There's no option to continue the cook if you need a few more minutes to finish up what you're doing.
Even the 1st generation Gourmia GSV130 does that stuff!
Cooking Experience
The Simplified Sous Vide immersion circulator comes with a colorful, informative cooking guide which is a very nice touch! Most people, when getting started with sous vide, just want to know a few basic recipes to get started. This means you won't have to browse the internet and flip-flop between your phone and cooking, but you also won't need to invest another $30 in a sous vide cookbook! (you can do that later). Someone needs to let the Kitchen Gizmo guys know that Pork doesn't come from the ocean, but other than that, it's a very nice bonus! LOL

The basics are pretty easy to get down, and it comes with a temperature setting guide as well. Though not as in-depth as some of the sous vide apps out there, it does give you a few options of how you want your meat, and advises on how long you should cook it based on desired doneness and thickness of the cut.
Plus, the recipes are pretty creative too. Spicy mango halibut, tender omelettes, beets with herbed goat cheese, maple dijon pork tenderloin, and crispy orange sesame chicken tenders are just some of the delicious recipes I picked from the book.
In the photo below you can see that I made some chicken nuggets. I wanted to try some crispy chicken tenders but cut the chunks too small and ended up with nuggets. I probably could have fried these without sous vide, but they still turned out delicious. I breaded and flash fried them in a pan. It took just a few seconds. They turned out just a little drier than I wanted, but still way healthier and tastier than McDonald's nuggets!

The advantage of doing something like this with sous vide is that know the chicken is done and I just need to concentrate on cooking the crispy breading correctly. Next time I'll just make them a bit larger!
Technical Stuff
Unit Size Size: 16.9 x 6.2 x 6.2 inches, 3.7 lbs
Temperature Range & Precision: Up to 194Fº +/- 0.1º
Power (Watts): 800 Watts
Pump Circulation: 2.1 Gallons Per Minute
It's not often that you'll need to crank up an immersion circulator to 194º, so the max temp is not that important. The temperature precision of +/- 0.1º, while impressive, is pretty standard across all immersion circulators these days, but it's good to know that the Kitchen Gizmo version is just as accurate.
In terms of size, the Kitchen Gizmo is quite large. It's not the largest – that award goes to the Sansaire. However, the width of the device is a bit larger than many other circulators. Not by much though! It's also slightly heavier, but not by much. I wouldn't factor these things into my buying decision since the stats are quite close.

The main thing to look at with these stats is the 2.1 Gallons Per Minute circulation, and the 800 watt heating element. GPM won't affect you much unless you are cooking large amounts of food and need to move a lot water. 2.1 is quite good. The best is Sansaire, which is probably why it's so big. Modern immersion circulators go as low a 1.3 GPM and still to totally fine for individuals cooking.
800 watts is not very much. It's quite common, and you see that even with Generation 2 Anovas which come in 800 or 900 watt version and cost double what Kitchen Gizmo costs, and Instant Pot [LINK] which costs slightly more. The lower the wattage, the more time it takes to heat the water. Once it's heated, this number isn't very relevant, again, unless you're cooking a lot of food. However, with this appliance you can expect longer wait times to reach your target temperature, which is a little annoying since it doesn't tell you when the temp is reached, so you can't go wander off too far and forget the device is on!
Comparing The Kitchen Gizmo KG-SV1 To Other Immersion Circulators
Below you'll see the Kitchen Gizmo KG-SV1 compared to a few other of my favorite immersion circulators. The others shown there are more expensive, but do have better features. For example, the Joule from ChefSteps is 1/4 the weight, and has 40% more heating power. It also includes an awesome app where you can choose your time/temperature based on pictures/videos within the app. You can also activate the device remotely, or even by voice if you use Amazon's Alexa. It's definitely my all time favorite immersion circulator. However, it costs around two hundred dollars.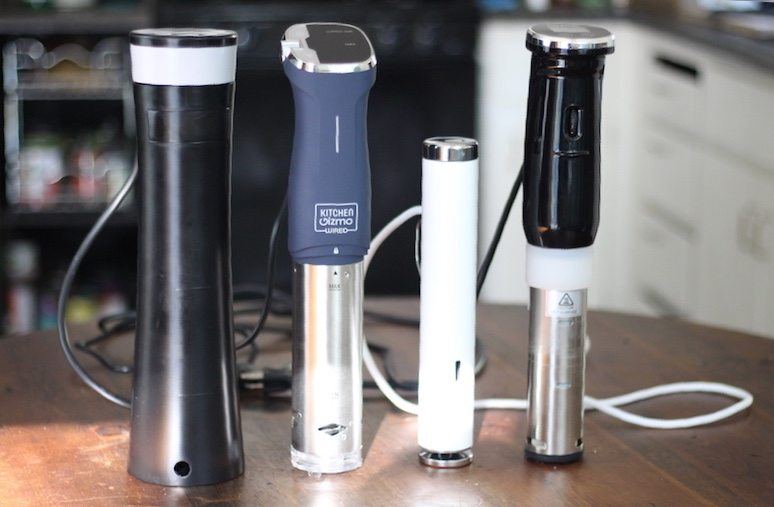 The furthest to the right, the Gourmia GSV150 is only slightly more expensive than the Kitchen Gizmo Simplified Sous Vide, and also includes a bluetooth/wifi connection for remote operation, and a whopping 1200 watts of power which blows away most other devices within this price range. It's a bit louder though, even louder than the wiz/whir of the KG motor (but a lot less high pitched). Most of what you hear is the water gurgling, not the actual motor running like with KG.
The Sansaire Sous Vide is quite a bit larger and heavier than all of them, but has a much more stable base for sitting in the center of pots if you don't want to use the side clamp.  It's also ultra-quiet, and probably the quietest of the bunch (Joule is also very quiet). It packs 1000 watts of heating power. However, it also costs almost two hundred dollars as well, and doesn't have any special features like the other two previously mentioned.
If you want to save money and care about design, the Kitchen Gizmo is a great choice for an immersion circulator. But if you want to save more money and still get 1200 watts of power, check out my Gourmia GSV130 review. It's the oldest model from Gourmia, but still very powerful, and selling at a huge discount right now because they've since released the 2nd and 3rd generation models.
Who Is The Kitchen Gizmo Simplified Sous Vide Best For?
If design and color is your first priority, then the Simplified Sous Vide is a great pick. They really did a stellar job, and this appliance really stands out. It's also really inexpensive compared to some $800 models that are available online! This one doesn't even cost 1/8th of that.

The low heating power is a bit of a bummer, but it's not that big of a deal if you're cooking for two and have a little more patience while the water heats up. You can also use a hot water kettle to help speed things along.
If you want great design and are willing to spend a bit more money, check out the Joule. If price is a priority, then go with the GSV140 or GSV130. Those are the ones from Gourmia that have very strong water heaters.
Conclusion
I love the look of this product, but I think two main things would mean it would not live in my kitchen. One, the sound of the motor is pretty annoying after a few hours, and there are quieter options out there. Also, after testing so many immersion circulators I've grown accustomed to the more powerful ones, so it's hard to wait for an 800 watt heater to warm up a few gallons of water. This model will probably serve as a Christmas gift next year because it looks nice and makes a great presentation!

Pros/Cons
Pros
Inexpensive
Beautiful, Unique, "High End" Design
Easy Clean
Great Reviews From Other Buyers
Quieter Than Some Other Brands* (See Cons)
Flat Bottom Great For Placing In Center Of Pot
Strong Side Clamp
Multiple Colors Available
Removable Casing For Easy Clean
Cons
No Alarm When Target Temp
No Alarm When Finished Cooking
*High Pitched "Whir" Sound From Motor
Only 800 Watts
Position Of Clamp Means You Need Deeper Water
The recipe book comes with a nice temperature/time guide for different types of meat. It's very useful to have on hand!