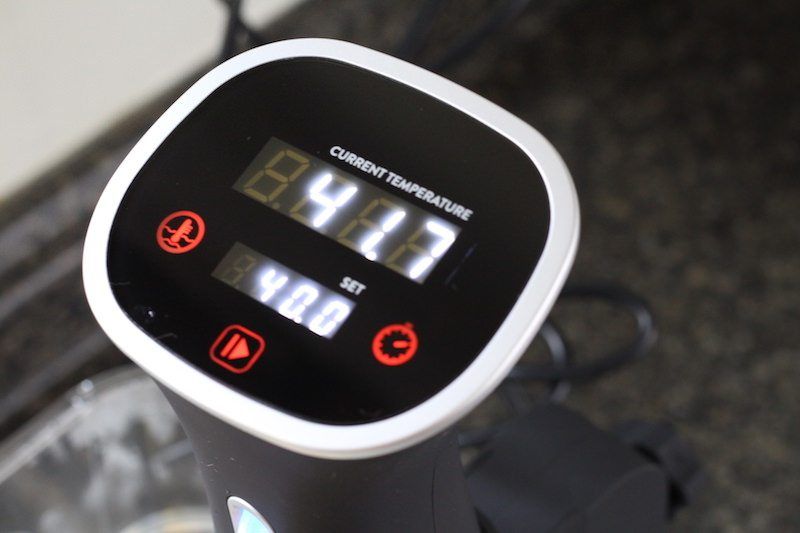 Kitchen Masters Sous Vide Immersion Circulator Review
Quality - 94%
Features - 87%
Price - 92%
Personal Experience - 91%
Value - 81%
Introduction
Note: This device is sold under the brand Kitchen Masters, but is also sold under different brands, like Hampstead. It seems to be a "white label" device, meaning that anyone can buy it and rebrand it. There's nothing wrong with that, and many companies do this, but just wanted to let you guys know.
Update 2017: It's also being sold under other brands like Forsous and Cooktech now. Many of the reviews are quite fake-looking as well, using short, general phrases. I suspect they are outsourced reviews (you can buy them quite cheap).
As part of the extensive series of immersion circulators I bought in the past two months (13 to be exact), I bought the Kitchen Masters Immersion Sous Vide Immersion Circulator to review.  In a nutshell, this device started out poorly, and ended poorly as well. Just speaking about performance, it was fine. It cooked my meals as expected. But there's more to the experience of cooking sous vide!
Plus, there are some dirty details about what's really behind this Kitchen Masters appliance. Keep reading to find out what that is! Or you can just take my word and look for a better immersion circulator.

Standard Features
The Kitchen Masters immersion circulator is very easy to operate. Simply plug it in, and it turns on. Tap the temperature button, then scroll on the front dial to set the desired temp. Repeat for Time. You can enter hours and minutes by tapping the time button twice. Press the Start button to begin, and it will start warming your water. It will beep once when it reaches the target temperature.

You can also remove the bottom casing to clean the device if you need to, although I found it quite hard to remove compared to brands like Kitchen Gizmo which are much easier to remove. Still, it's a plus, because products like NutriChef Prime don't have an option to remove this casing so if you break an egg or a bag with lots of meat juices, it may be difficult to clean the device.
Extra Features
There are not really any "extra" features to talk about, although I did think the lighting and display were very nice looking. You get some very crisp, bright colors which are easy to read!
Oh, and the collar/clamp is adjustable, which makes it easy to adjust for small pots.

I'll use this section to mention that I think it's weird that this brand doesn't offer any other kind of kitchen appliances. All I can find is something from the Home Shopping Network (HSN). It reminds me of the mystery brand behind Travellor, which also seemed to product a one-off sous vide cooker, and nothing else. Chances are it's a Chinese brand. They are well known for copycat products.
Cooking Experience
The unboxing experience was kind of weird. I received a blank white box in the mail. No labeling. No branding. No indication of what it was. I ordered a lot of stuff over the Christmas Holiday, so it was basically a mystery package. Turns out it was another immersion circulator lol. Unexpected! I also had a hard time figuring out what brand this device was, because there seems to be no branding or labeling on it. I had to look back at my Amazon orders to figure out what this device was called so I could take notes and write my review.

Though I ended up not really liking this device as much as others, the meal I cooked was quite delicious. I cooked some sous vide carrots and chicken. Though I just used the same water bath for the chicken and the carrots (bagged separately). The carrots were not cooked completely, but that was expected. I sautéd them briefly, added some brown sugar and chili pepper paste, and they were delicious.

The chicken turned out a little dry, but that was also expected. I was experimenting with cooking times and just went higher on the chicken than I normally do. I don't blame the device for this. I also tried to fry up a crispy crust on chicken breast, which probably didn't help LOL.

Technical Stuff
Unit Size Size: 24 x 4.5 x 4.5 inches, 3.1 lbs
Temperature Range & Precision: +/- 0.01
Power (Watts): 800 Watts
Pump Circulation: Unknown GPM
Comparing The Kitchen Masters Sous Vide To Other Immersion Circulators
The most striking similarity between the Kitchen Masters Sous Vide and other immersion circulators is to the Anova Precision Immersion Circulator. I didn't put two-and-two together until a reviewer on Amazon pointed it out… they look almost exactly the same except for the face. Even the face has some similarities though! I even took the time to point out the similarities in an image, so you can see what I'm talking about.

I think it's pretty clear that the Kitchen Masters company (or brand?) modeled their device very closely after the Anova Precision cooker.
The one thing they didn't do is upgrade their device to include 100 more watts of power and wifi connectivity! Wifi enabled sous vide cookers are becoming the standard these days. Since you often need to cook 1-2 hours, or even 24-72 hours depending on the cut of meat, it can be useful to be able to check on the progress using your phone. You usually end up paying for such a feature, but in my opinion, it's worth it.
Regarding pricing, the Kitchen Masters sous vide cooker currently falls right in the middle between other devices. I happened to get it at a discount, for about $100 I think. However, the price has since changed. At it's current price, I can't recommend it when you have much cheaper devices like the Gourmia GSV140 which have 1200 watts of power, heat water faster, and have a much longer track record. They even have a newer model out with wifi, the GSV150.
Who Is Kitchen Masters Product Best For?
To be honest, there's really not a lot of reasons to choose this product over one of the many other excellent, cheaper immersion circulators that I've bought and tried. Though the Kitchen Masters device performed as expected, it's selling at a middle-price point although it only delivers basic features. I was also unhappy to discover that it's pretty much an Anova knockoff. Unless you really like the design of this particular model, I would not recommend getting it.
Conclusion
Not every device can be a winner. In a space where there are so many companies producing immersion circulators that are passionate about sous vide, competition is fierce. I expect amazing products like the Joule, whose company is solely dedicated to sous vide to improve over time, while I expect the Kitchen Masters immersion circulator to go out of production within a short period of time.
Pros/Cons
Pros
Works Properly
Adjustable Collar For Small Pots
Nice Color Display (Red/Blue/White)
Cons
Difficult to Clean
Imitation of Better Product
Not Attractive Design (In My Opinion)
(Sometimes) More Expensive Than Better Options
Unknown Brand