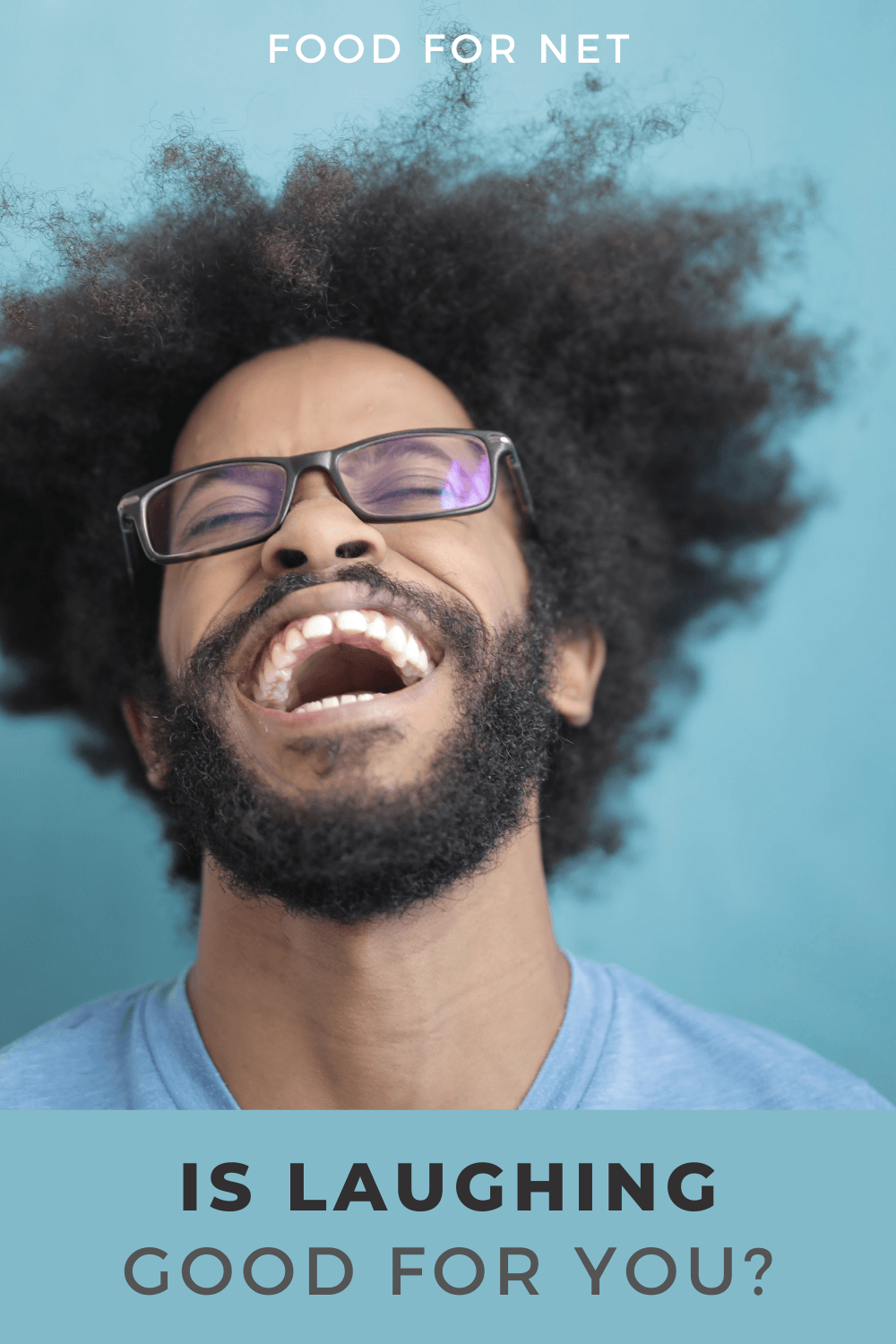 Laughter is the best medicine, right? It's almost universally seen as a good thing, something that makes us feel better, makes the day a little brighter, and may even have many health benefits. These days there is even laughter yoga and laughter therapy, approaches that lean in on the benefits of laughter.
Still, is laughing good for you all of the time? Like any activity, laughter isn't entirely risk free. There are times when it could actually cause you harm or be a sign of something serious.
There are also times were laughing just isn't the right approach. The situation may call for deeper introspection instead or laughter may send the wrong message to the person you're engaging with.
Don't worry too much, though. Just like yoga and running, the benefits of laughing outweigh the negative aspects in most situations. And, as you've probably guessed, there really are many benefits to be had.  
Is Laughing Good For Your Health?
The Many Benefits Of Laughter
Can Laughter Ever Be Harmful?
When Laughter Might Be Concerning
Does Laughter Help You As Much As Sleep?
Final Thoughts
The Many Benefits Of Laughter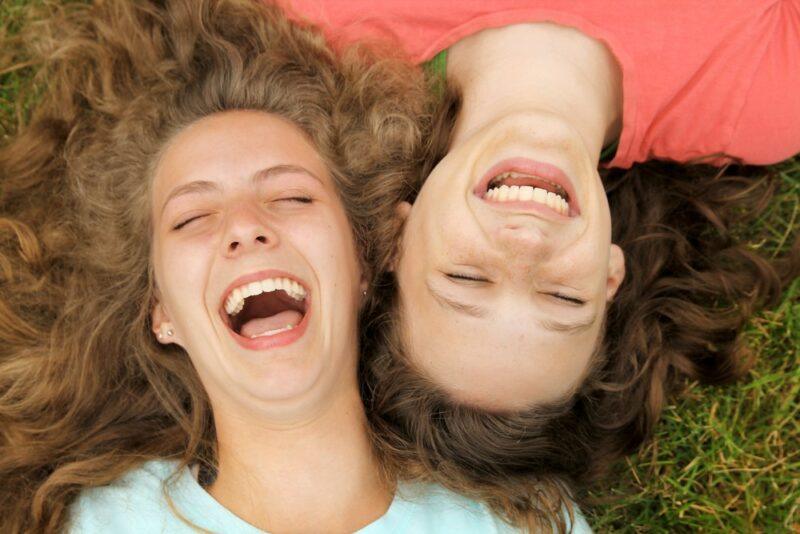 Makes You Feel Better
Laughter makes you feel better. It really is as simple as that. This isn't a throwaway claim either, as feeling better has many direct and indirect impacts on your health.
Think about it this way. What do you do when you feel good? You probably make better health decisions, like exercising more often and spending time outdoors. You may sleep better too and are less likely to eat junk food.
It's not surprising, then, that laughter is also linked to improved mental health.
Decreases Stress
Chronic stress is a serious problem. Our modern lives are loaded with so many sources of stress, including work, financial pressures, family challenges, COVID, and plenty of others.
These pressures can all bear down on us and have many concerning effects. Ongoing stress can even increase the risk of various health problems, including headaches, obesity, diabetes, heart disease, digestive issues, and more.
Laughing has multiple effects here. First, it temporarily stops negative emotions, giving you a reprieve and helping you to relax. It also reduces tension throughout your body, making you feel lighter.
Your levels of the stress hormone cortisol will decrease too. This may be the most powerful effect and reason enough to laugh whenever you feel so inclined.
Is Relevant For Your Heart Too
Did you know that laughing can help your heart? Yes, really. Some research suggests that laughter can make your blood vessels function better and decrease stiffness in your arteries. Both effects can lower your risk of heart disease.
That's not all. The endorphins released when you laugh can help to decrease your blood pressure, which further lowers your heart disease risk.
Could Help With Your Weight
Laughter might even be relevant for your weight loss, as you burn calories when you laugh. For people who laugh often, the effect could make weight loss a little easier.
This could also mean that watching a funny movie helps you to burn calories (as long as you're not snacking at the same time).
However, the calorie burning effect is mostly linked to genuine laughter. Forced laughter may have a smaller effect.
Can Downregulate Intense Emotions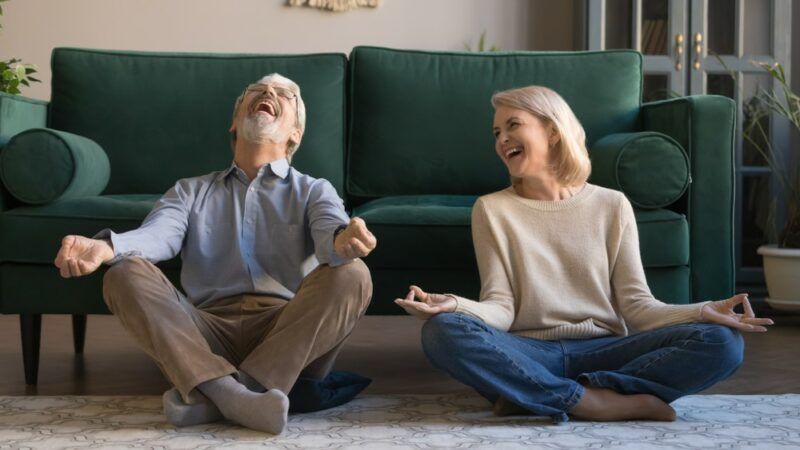 For brief moments, laughter can override other emotions. You can't genuinely laugh and lash out in anger in the same moment.
Laughter isn't just the facial expressions and noises you make either. It goes deeper than that. The underlying circuitry means that laughter can help to decrease intense emotions, making them more manageable.
This may even be why some of us laugh at apparently inappropriate times (like at a funeral). While doing so isn't socially appropriate, it does help to make intense emotions more bearable and perhaps help us to take them less seriously.
Increases Pain Tolerance
In some cases, laughter might be relevant for pain, perhaps even reducing the amount of pain that you feel. This isn't too remarkable, given that laughter leads to a release of endorphins that makes you feel good. Such effects could easily make pain matter less.
Research on this effect shows mixed outcomes. This could mean that the impacts of laughter on pain may vary, perhaps based on the person or the type of pain. Still, laughter isn't likely to make your pain worse, so there's little risk in experimenting with it for yourself.
Can Act As A State Changer
Laughter can do more than just briefly change what you feel. Sometimes genuine laughter can shift your state entirely.
Perhaps it might take you from feeling highly stressed and overwhelmed, to feeling light and happy. Or, maybe a bout of laughter reminds you that the problem at hand really isn't such a big deal at all.
Changing your state like this can be powerful. It's far too easy to get lost in negative emotions, where the negative story just keeps reinforcing itself and you're making a mountain out of a molehill. Sometimes you need something to simply snap you out of it. To remind you that life can be amazing. Laughter does the trick incredibly well.
Has Social Benefits
Most of us laugh much more often around other people than we do on our own. This isn't surprising, either, as laughter has a strong communal aspect. It helps to bond us to one another. Laughing together with a group of people might even decrease stress much more than doing so on your own.
Regularly laughing together also helps to bond social groups together, creating a strong in-group that offers even more benefits to its members.
May Offer Other Health Benefits
We've already talked about how laughter can help with your heart and with weight loss. These aren't the only ways that it can improve health, though.
Laughter might also help improve your sleep, boost your immune system, decrease anxiety and depression, and improve your memory. Many of these effects come from the way you're decreasing levels of stress hormones and increasing endorphins in your body.
Can Laughing Ever Be Harmful?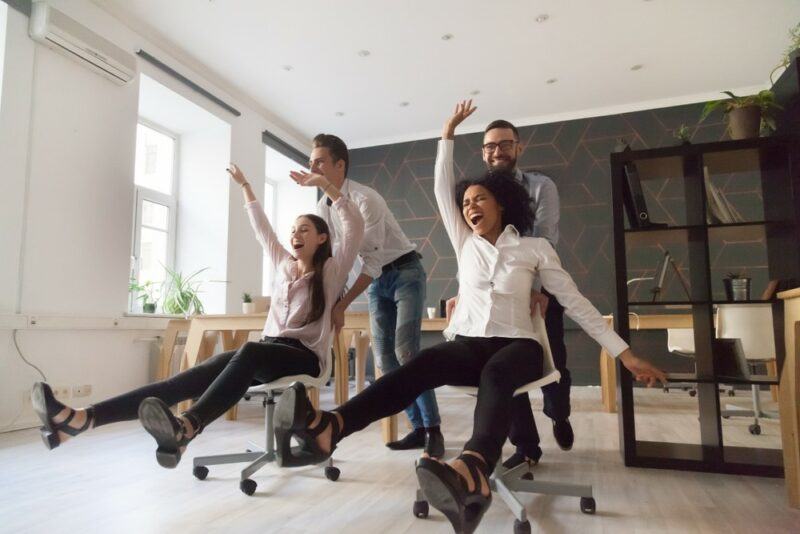 You Might Hurt Yourself
Despite all the benefits of laughter, it can sometimes be a problem. The most common issue relate to the suddenness and intensity of laughter.
For example, we often breathe sharply when laughing, trying to get air into our body quickly. You can easily inhale something small when doing so, which happens surprisingly often.
You might also fall over, trip, or walk into a wall because you're laughing too hard to pay attention to your environment. Some people even lose consciousness from a prolonged fit of laughing.
It is even possible to die from laughing, like if laughter leads to a brain aneurysm, a seizure, or asphyxiation. Thankfully, this is an extremely rare situation. The odds of dying from laughing are incredibly low. The issue simply isn't something that most people need to worry about.
Can Promote Incontinence
You might have noticed this one already. Laughing too hard or for too long can sometimes make you pee a little bit.
This happens because activities like sneezing and laughing place a little extra pressure on your bladder. Sometimes this is too much pressure, particularly if your bladder is full or if your pelvic floor is weak.
Pelvic floor exercises and lifestyle changes can reduce the risk of this happening, but you might sometimes experience it if you're laughing too hard. Don't worry, though. While it's embarrassing to pee a little when you laugh, the problem is a common one – and may just be something to laugh off.
After all, there's always something going on with human bodies. They never work quite like we expect them to.
May Lead To An Asthma Attack
For some people, the intensity of laughter can also trigger asthma attacks, making it much harder for them to breathe. While the asthma attack may be minor, serious ones are also possible.
This doesn't mean that you should stop laughing. But, people with asthma may want to make sure they always have their inhaler handy, just in case.
You might want to talk to your friends as well. Make sure they know that if you're struggling to breathe, it's a serious issue and not something to be taken lightly.
Fake Laughter May Suppress Emotions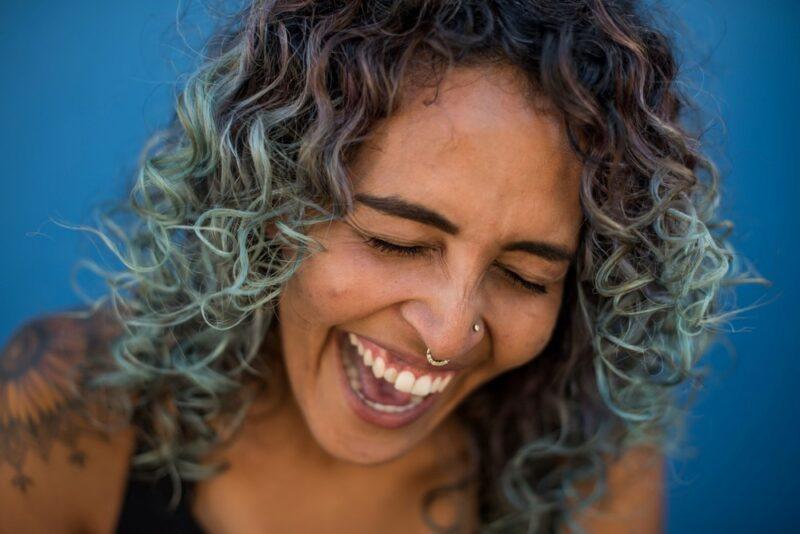 Laughter briefly changes your emotional state. While this shift is often a good thing, sometimes we use laughter to try and suppress undesirable emotions.
In some cases, we might even intentionally watch comedies or listen to jokes because we're struggling emotionally and don't want to feel bad.
However, emotional suppression isn't good for you. Doing so can even cause physical stress to your body. The process doesn't help your emotions anyway. It can simply make whatever you're trying to avoid much stronger.
If you find that you're forcing laughter regularly, you might be trying to suppress emotions. Why not stop and take a close look at when you're laughing? What are you feeling at the time? Is the laughter genuine or is there something else going on?
Can Give The Wrong Message
There's a strong social component to laughter, as laughter helps us connect with other people. However, laughter can also give an undesired message, particularly if the laughter isn't genuine.
Nervous laughter is a great example of this issue. When someone does something that we're not comfortable with or don't know how to respond to, sometimes we laugh or give a slight giggle.
Doing so is a natural response, as the laughter decreases tension in yourself and makes you feel better, at least for a moment. However, doing so quickly becomes a habit, until you laugh automatically without even thinking about it.
This is often a concerning response, as it acts to encourage the problematic behavior. Sometimes the person in question mightn't even realize that you're uncomfortable. Sometimes you might not either.
In such situations, learning not to laugh is a powerful tool. You might think about how you truly feel about the situation instead, then think about how you want to respond. Perhaps you need to tell the person that they're making you uncomfortable, rather than acting like everything is fine.
When Laughter Might Be Concerning
There's another area to think about too. Sometimes laughter, particularly inappropriate laughter, signals that something is wrong.
In particular, people sometimes burst out into uncontrollable laughter, laughter that goes against what's happening in the situation and what they're feeling. Sometimes, this pattern suggests the presence of a neurological condition. For example, Parkinson's disease, Alzheimer's disease, and traumatic brain injury can all lead to such laughter.
This doesn't mean that inappropriate laughter is always a problem. As we mentioned earlier, healthy people can laugh inappropriately too. Some do so more so than others.
Why this happens isn't fully understood, but it might be a subconscious attempt to deregulate the intensity of the moment. Sometimes, when people feel a lot all at once, their emotional reaction simply comes out in an unexpected way.
Does Laughter Help You As Much As Sleep?
There's this strange 'fact' out there claiming that 15 minutes of laughter is as powerful as 2 hours of sleep. Frankly, the idea is absurd.
Laughter and sleep are both important and offer plenty of benefits, but they're not interchangeable. In fact, the benefits of laughter and sleep are vastly different from each other. Sleep is how your body rests, while laughter helps to improve your mood instead.
Besides, sleeping is essential. If we don't get enough sleep, our health starts to deteriorate fast. Laughter isn't the same at all. While a life without laughter mightn't be much fun, it won't impact your health nearly as much as even a few days without sleep.
Final Thoughts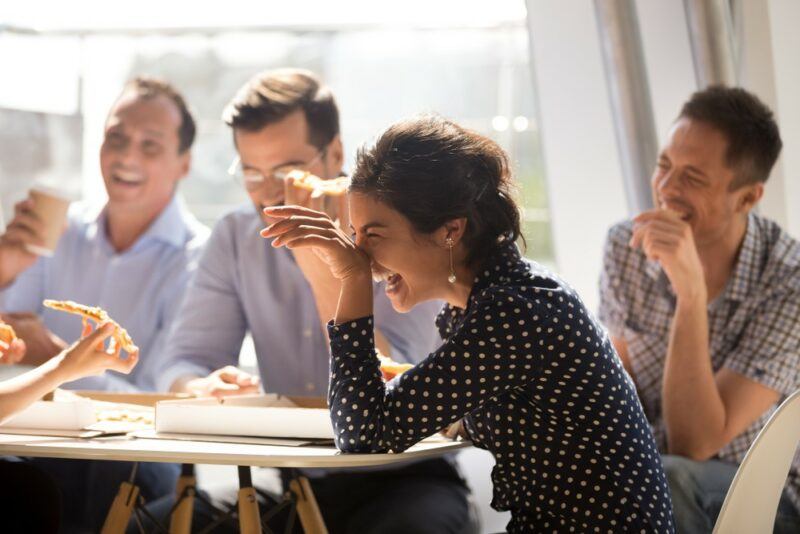 Laughter isn't actually the best medicine, but it gets pretty close sometimes. Genuine laughter helps us to feel better, decreases stress, bonds us with other people, and may even improve our heart health and pain tolerance. Pretty impressive, right?
Beyond all that, laughter is simply enjoyable, as are all the things that make us laugh.
While we have highlighted some downsides of laughter as well, most of these are minor.
Okay, that might sound like a strange claim, given that one of the downsides was that laughter could cause serious harm and even kill you. However, just about anything can kill you if the circumstances align perfectly. You could die in the bathroom, in your car, crossing the road, or a million other ways.
Similarly, laughing could kill you, but it probably won't. Instead, it's likely to make you feel better and keep you healthy.
There is one catch, however. Most of the benefits of laughter are associated with genuine laughter.
Forcing laughter might not have the same stress reduction or feel-good effects, so it might not be nearly as good for you. Forced laughter isn't as powerful socially either, as people can tell the difference and you may be giving them the wrong message.
This brings us back to a classic health and nutrition message – listen to yourself. You'll see the most benefits by focusing on what works for your body, the things that make you feel good, not what society expects.
How To Laugh More
Genuine laughter is clearly more powerful than forced laughter, but does this mean that you need to just wait for the right moment to come along? Not necessarily.
There are ways to increase genuine laughter.
One trick is to look for images that make you laugh. You could print them out or perhaps start a Pinterest board. Pinterest works well, as the algorithm will keep recommending things that match your preferences.
Watching a funny movie, seeing a comedy act, or listening to the right podcast can help too. There are plenty out there designed to get people laughing – and many do an excellent job of doing so.
Don't forget about YouTube either. There are endless funny clips to choose from on there. Again, the algorithm makes things easy for you.
Finally, try tweaking how you see the world around you. Look for the funny things. The little idiosyncrasies. The things that make you smile. There are multiple ways to see any given situation and there will often be a few funny ones. Once you start looking, you might be surprised at just how many good and amusing things there actually are.