If you've ever struggled to know what to fix for dinner, you're not alone. When you're exhausted from a long work day, coming up with a solid meal plan can be one more drain on your brain power. Planning menus, shopping for the groceries and then prepping the ingredients can make dinnertime a struggle for a lot of people.
Over the past ten years or so, meal kit delivery services have appeared on the scene. These companies send dinner recipes and the ingredients to make them right to your door. You can generally decide what you want to fix, but you don't have to think too much about it, and a lot of the legwork is done for you by the time you get your box.
There are a lot of different types of meal kit delivery services to try, too. Some focus on dinners alone. Others have add-on items or offer breakfast and lunch deals, as well.
What do you look for when you're ready to try a meal kit delivery service? In this Martha and Marley Spoon vs. Hello Fresh comparison, I'll share with you how two different services operate. You'll get a feel for the kinds of things I look for, and you'll get a feel for two companies you might want to try sometime.
Types Of Food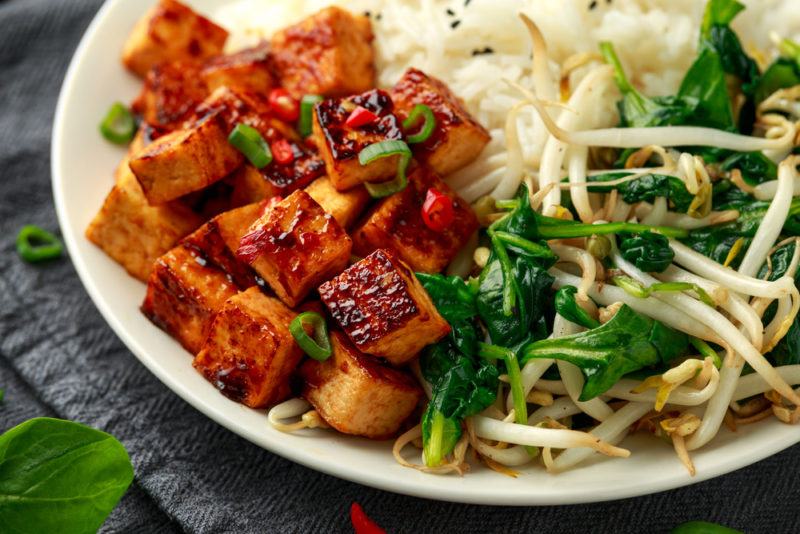 Both Martha and Marley Spoon and Hello Fresh are typical of many of the dinner kit companies out there. They both use a weekly rotating menu, they both have subscription plans, and they both send ingredients that are already proportioned for the recipes you order. The foods also come sorted by the recipes you've chosen, so it's easy to find what you're looking for when you're ready to cook.
Martha and Marley Spoon has recipes for twenty dinners every week, with five categories of meals. The categories include Health and Diet, Vegetarian and Vegan, Meat and Fish, Under 30 Minutes, and Family Friendly.
When you're looking at the online menu, you'll see these labels on the recipes you're interested in. There are also icons that show whether the meal you're looking at is vegetarian or has meat or fish in it.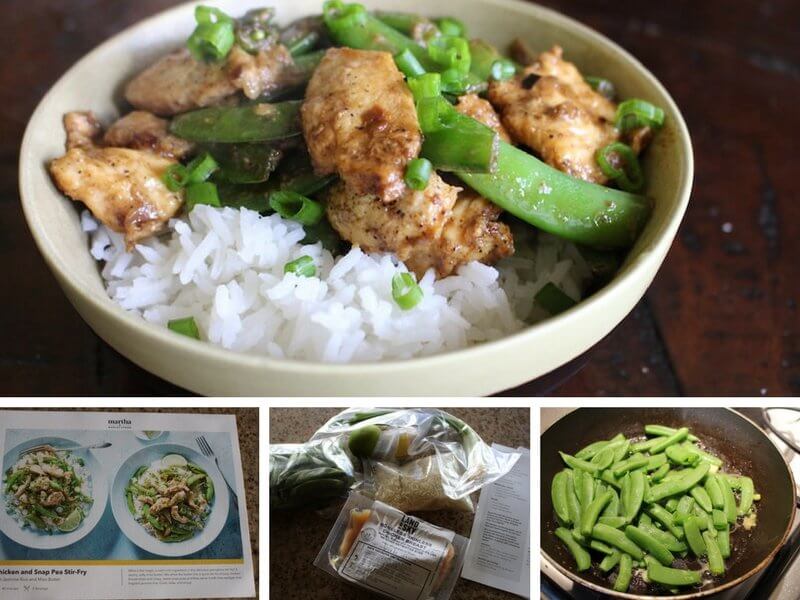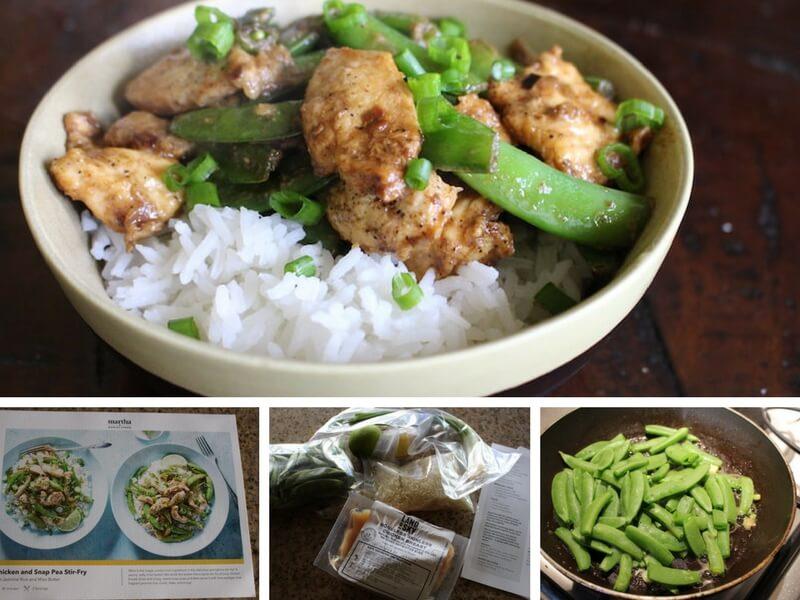 Some recipes are adjusted for food allergens, but other than gluten-free meals, there isn't a full menu dedicated to allergen-free eating. If you want to know whether a recipe has food allergens in it, you can click on the recipe to see the full list of ingredients. There are also labels on the online menu for that, such as dairy-free, and other labels like low-calorie to help you get the types of meals you want.
The recipes are scaled for two servings, and they're all Martha Stewart recipes. Most meals can be prepared in around half an hour. Unlike some meal kit delivery services, Martha and Marley Spoon sticks with dinners and keeps its offerings basic. There aren't any add-ons or a la carte options with this company.
Martha and Marley Spoon has three menu plans: the carnivore plan, the vegetarian plan and the gluten-free plan. When you sign up, you choose a plan, but you don't have to get recipes only for those plans. You can mix and match the recipes you want from the entire weekly menu.
The subscription plans for Martha and Marley Spoon are based on the number of people you want to feed. There's a weekly box for two people, and one for three to four people. No matter which box you choose, you can decide whether to get meals for two, three or four nights per week.
Subscription plans for Hello Fresh are similar. There are three types of plans: classic, veggie and family, and they both feed two to four people a week.
There are fifteen meals on the weekly menu, and three of them are vegetarian. Subscribers on the veggie plan are limited to those three meals, but subscribers on the classic plan can choose from all of the weekly menu offerings.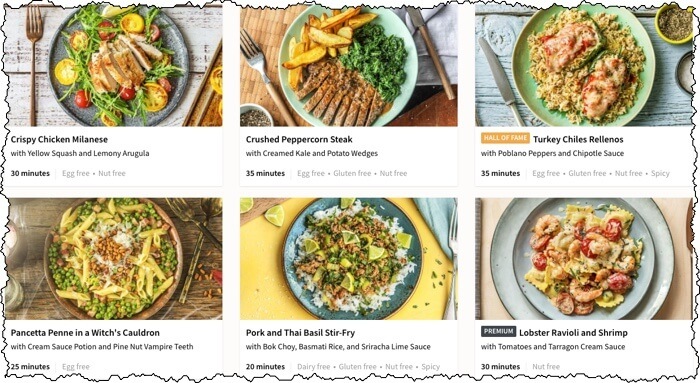 The classic plans can get two, three or four meals per week and the family plan, which feeds four people, gets two or three meals per week.
As with Martha and Marley Spoon, there are no full plans for avoiding food allergens, but there are some meals that are free of dairy, nuts, gluten, or eggs. You can find labels for these things on the online menu, as well as labels such as Hall of Fame, gourmet, twenty-minute meals or dinner-to-lunch options.
The dinner-to-lunch feature is a fun and somewhat unique offering. With this option, you get ingredients for a dinner, such as Chicken Sausage Flatbread, and you use the leftover ingredients to make something like Italian Orzotto for lunch the next day.
The recipes aren't always easy to follow, but as a subscriber you do get the option to see all of the 2,500 recipes in the recipe archives. You can also search by categories such as world cuisines, quick meals, family friendly, and easy to cook meals. This means you can expand your cooking beyond the weekly recipes you order with other recipes that are scaled to suit your needs.
Overall, Hello Fresh meals are a little boring, but sometimes they offer meals with premium meats. Hello Fresh does also have nice portions of plant protein and meats.
Hello Fresh is one of the few meal kit delivery services I've found that has a wine option. Wine ordered with your Hello Fresh box costs $15 per bottle.
Signing Up And Canceling
Signing up with both companies is fairly easy. With Martha and Marley Spoon, there are only a few steps to follow. You set up some simple meal preferences, and you choose how many meals you want each week. For Hello Fresh, you choose your dietary preference plan, the number of people you want to feed and the number of meals you want to get each week.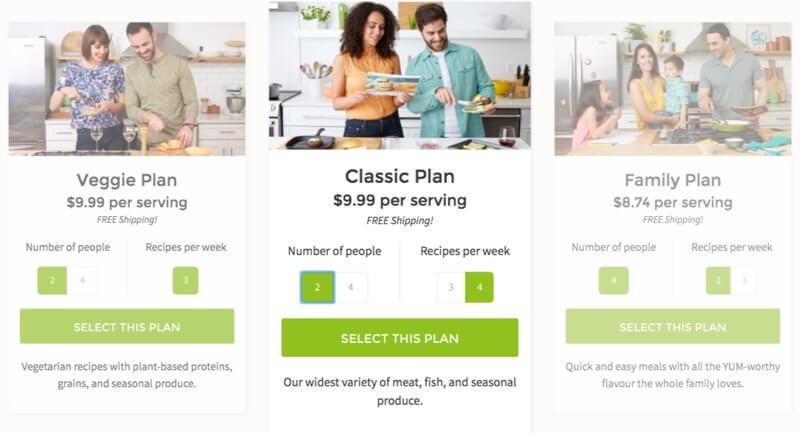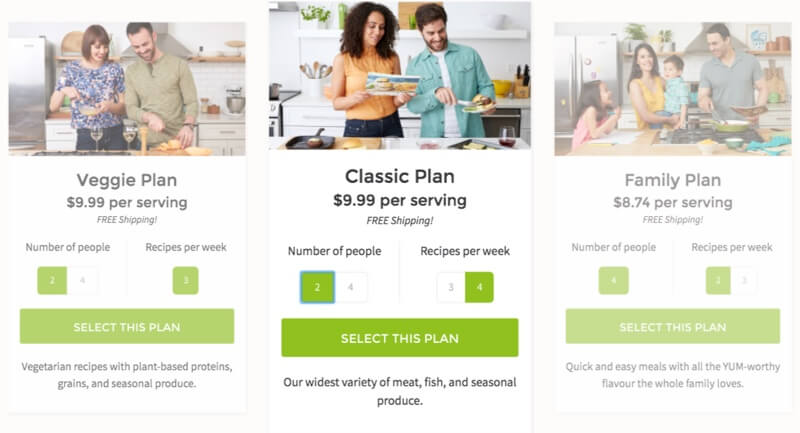 You can cancel services with both companies online. You find the cancellation area under 'My Settings' with Martha and Marley Spoon, and you can also start the cancellation process by sending an email to contact@marleyspoon.com.
With Hello Fresh, you start the cancellation process online under your 'Account Settings.' However, there was a mix-up with my order, and I had to wait on the telephone for about 45 minutes in order to get it sorted out and get my subscription cancelled properly.
Packaging And Delivery
Hello Fresh packages its ingredients in attractive brown paper bags with labels, and ingredients are grouped together by recipe. Likewise, Martha and Marley Spoon ingredients are packaged together in bags that are already sorted by the recipe. Most of the shipping material, such as the box itself and the ingredient bags are recyclable.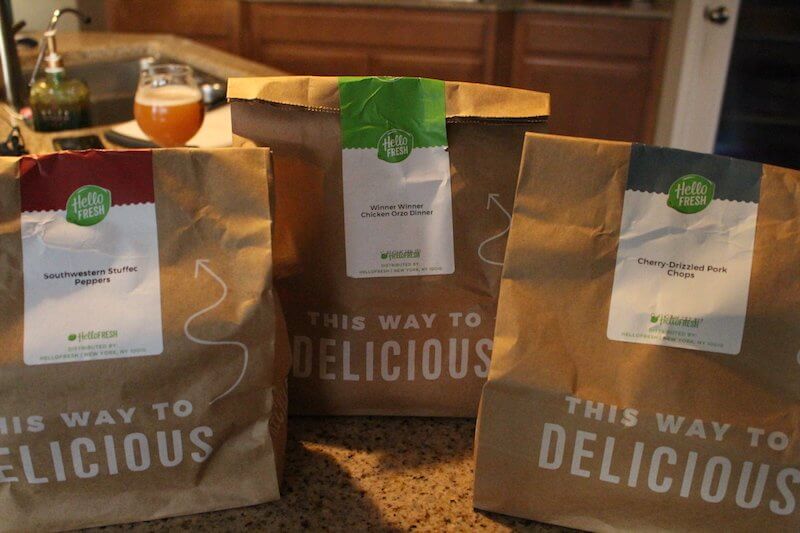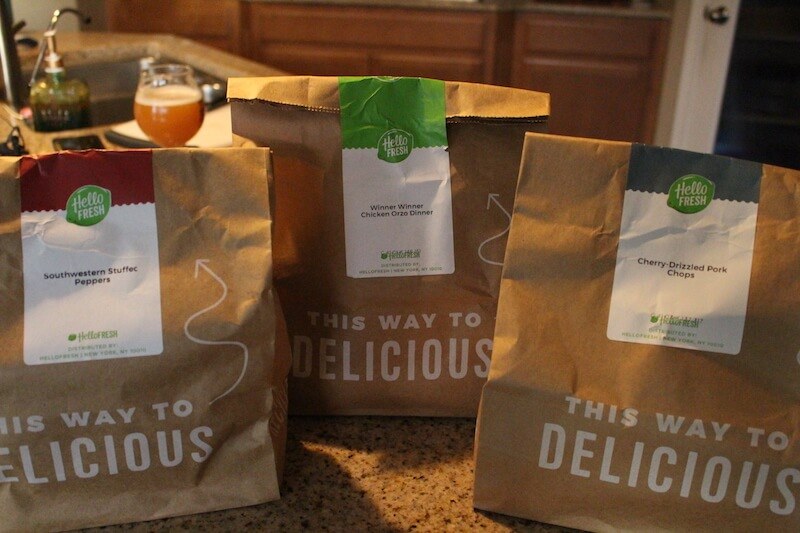 Martha and Marley Spoon has a minimum order per box of four portions, but there's a perk, too. Martha and Marley Spoon always has free delivery. Hello Fresh shipping is $6.99 or $7.99 per box, depending on how much food your order.
Pricing
Both Hello Fresh and Martha and Marley Spoon price their meals based on the number of people you're feeding and how many meals you order per week. The prices are reasonable compared to many other meal kit delivery services that I've tried.
For two people and two meals with Martha and Marley Spoon, you pay $12 per serving, or around $45 per box. At three meals for two people, the price is $10.25 per serving, or $61.50 per box, and four meals brings the price per serving down to $9.50 each.
On the four-person plan, a box of four meals brings the price all the way down to $8.20 per serving. At two meals for four people, the price is $9.50 per serving, or around $76 per box.
Hello Fresh prices are similar, but they vary by plan as well. On the veggie plan, which has three meals per week, a box of food for two people costs $8.99 per serving. A box for four people costs $6.99 per serving.
If you're going with the classic plan, the price per serving ranges from $7.49 to $9.99 per serving. On the family plan, you pay $7.49 per plate for four three dinners per week or $7.87 per plate for two dinners per week.
Customizable Options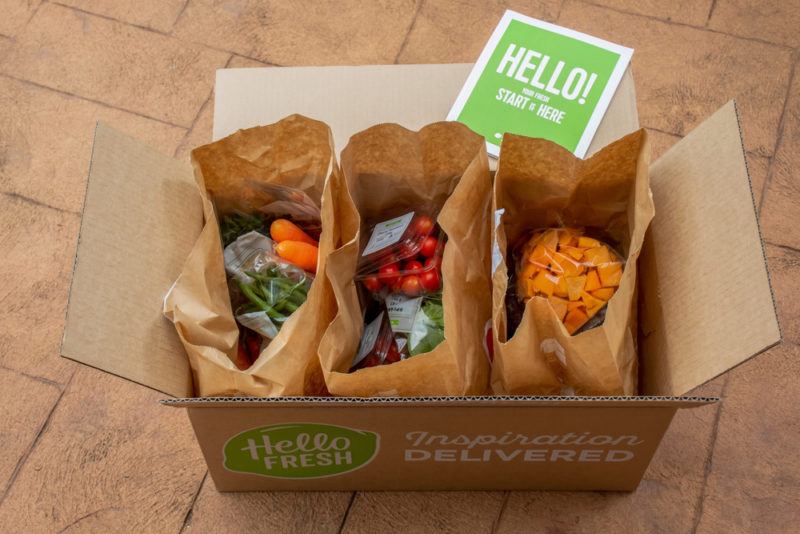 One downside of basic dinner kits is that there isn't an awful lot of opportunities to customize your orders.
However, both Martha and Marley Spoon and Hello Fresh do a pretty decent job. Martha and Marley Spoon recently doubled the weekly offerings from ten meals to twenty, and you can mix and match meals from all of them no matter what subscription plan you choose.
With Hello Fresh, the veggie plan is limited to the three vegetarian meals provided in the weekly menu, and the family plan is limited to six meals to choose from. However, there are other options such as the dinner-to-lunch feature and the wine option availability that make Hello Fresh feel a little more customizable.
What Makes These Companies Stand Out
There are things to like and not like about every meal kit delivery service that I've tried so far. There are certainly some unique features with both Martha and Marley Spoon and Hello Fresh. Here are some of my top pros and cons of these companies.
Martha and Marley Spoon
Pros:
The recipes are drawn from Martha Stewart's collection of over 18,000 recipes.
Signing up and using the service is simple.
The food is good and not too expensive.
Shipping is always free.
Cons:
Beyond basic mix-and-match meals, there aren't a lot of options for customizing your order.
Hello Fresh
Pros:
The prices per meal are reasonable when compared to other meal kit delivery services.
The lunch-to-dinner feature is fun and unique.
I like being able to see all 2,500 recipes in the recipe archives.
The wine option is always nice.
Cons:
Because of a mix-up with my subscription, the cancellation process was frustrating for me.
The food isn't as tasty or as exciting as I thought it might be.
Alternatives
While both Martha and Marley Spoon and Hello Fresh are great places to start, they're not the only meal kit delivery services out there.
Terra's Kitchen and PlateJoy offer some unique customizable options and a wide variety of healthy eating options. The food from Plated and Sun Basket is delicious. If you like basic dinner kits, you might also like Blue Apron, which is one of my favorite basic meal kit delivery companies.
Conclusion
Between Martha and Marley Spoon and Hello Fresh, I like Martha and Marley Spoon best. While both companies were neck and neck for a lot of things, the food from Martha and Marley Spoon was delicious and a little more on the adventurous side than what Hello Fresh had to offer.