In the past five years, the meal kit delivery service industry has grown by leaps and bounds. It's on track to reach the $10 billion mark in 2020, which is a $9 billion increase over 2015.
The growth of this industry is a testament to the fact that people are willing to pay for recipes with the ingredients to make them. Many of these companies deliver boxes of food right to the doors of their customers. Some cater to people on certain eating plans.
A few go beyond dinners into breakfasts, lunches and snacks. There's a wide variety of meal kit services to choose from, but if you're looking for one to try, where do you start?
In this Martha and Marley Spoon vs. Sunbasket comparison, you'll get a feel for the types of areas I look at when I'm investigating a new meal kit delivery service. This should spark some of your own questions to ask or, at the very least, give you an idea of some good services to try.
Types Of Meals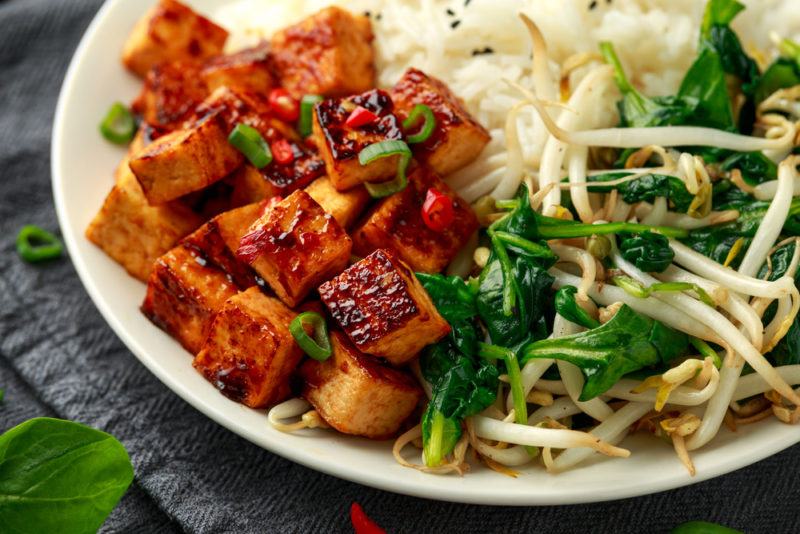 Martha and Marley Spoon and Sunbasket both have a lot in common with many other meal kit delivery services, including the fact that they both use weekly rotating menus. The menus can be viewed online so that customers can see what they might be making and choose the recipes they want to try.
All of the Martha and Marley Spoon recipes come from Martha Stewart's collection of around 18,000 recipes. For this service, the recipes are scaled for two people. There are now twenty options on the weekly menu that customers can choose from, and they're all dinner recipes.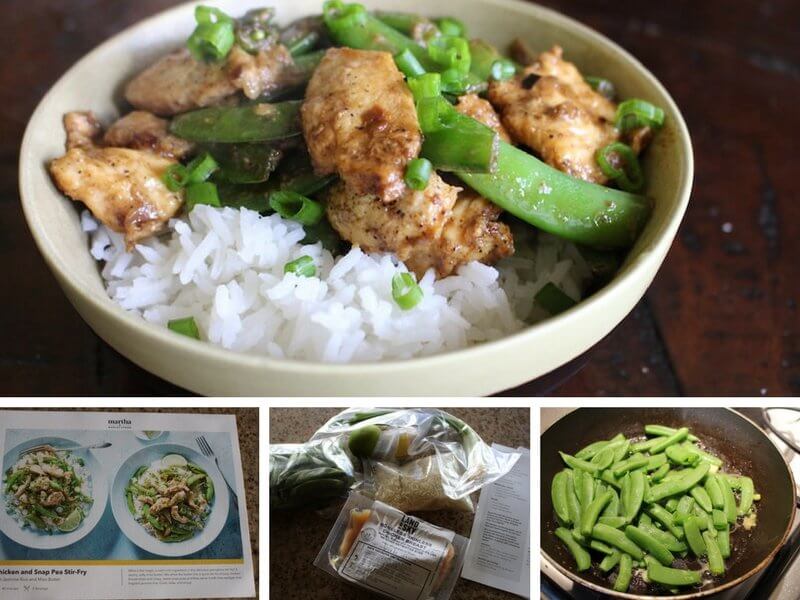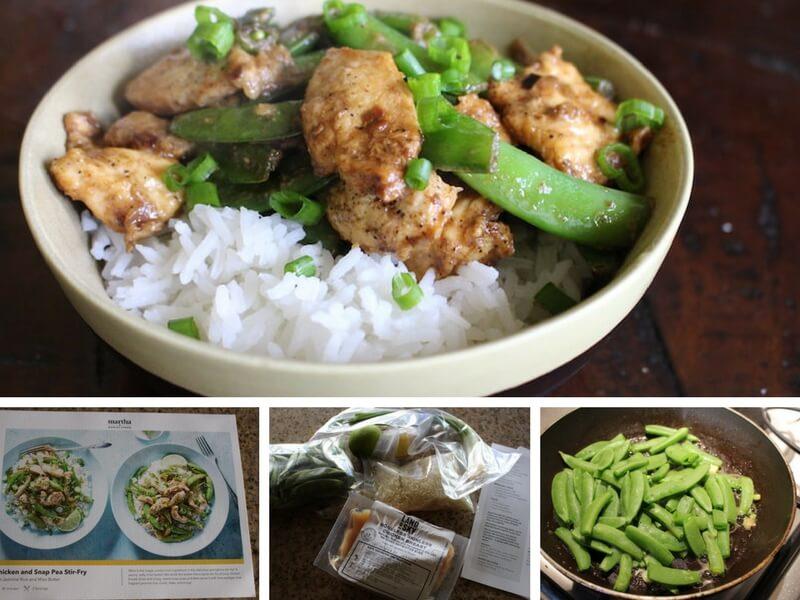 Sunbasket has eighteen dinner items to choose from each week. There are some add-on items as well, including salads, snacks and sauces. Sunbasket uses ingredients like organic produce, antibiotic-free and hormone-free meats, and wild-caught and sustainably-sourced seafood.
Like many similar services, Martha and Marley Spoon and Sunbasket use subscription plans to make ordering meals easy for their customers. Martha and Marley Spoon plans are built around the number of people you're planning to feed. There's a two-person box and a box that feeds three to four people. You can choose to get recipes and ingredients for two, three or four nights a week.
Although you can mix and match your meals from the entire weekly offering, Martha and Marley Spoon does have three specific menu plans to get you going: the vegetarian, the carnivore and the gluten-free menus.
When you're looking at the online menu, there are icons on Martha and Marley Spoon meals to show whether the meals are vegetarian or contain meat or fish.
There are also labels for meals falling into categories such as gluten-free, low carb, low calorie, spicy, kid-friendly, dairy free, healthy, and under 30 minutes. Most Martha and Marley Spoon meals can be cooked in under 30 minutes. There are some meals adjusted for allergens, but no full allergen-free plans.
Sunbasket has two types of plans: the classic plan, which feeds two to four people, and the family plan, which feeds four people. You get three meals per week on the classic plan, and you can choose whether to get two, three or four recipes per week on the family plan.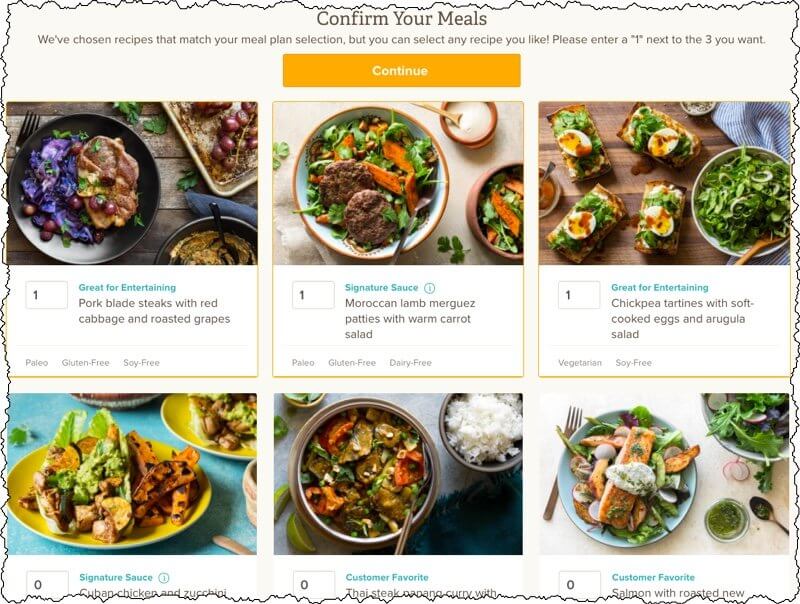 There are sets of menu choices under the basic plans. Classic plans include chef's choice, paleo, lean and clean, gluten-free, vegan, vegetarian, Mediterranean, pescatarian, diabetes-friendly, and quick and easy menus. The family plan has a chef's choice menu with 'kid's can' steps to help children get involved in cooking favorites like tacos and pasta. The family plan also has a vegetarian menu.
As with Martha and Marley Spoon, Sunbasket ingredients come pre-measured, and meals can be ready within about half an hour. There are also labels similar to the ones with Martha and Marley Spoon on the online menu that show categories the meals fall under, such as the menus or allergens that are omitted from the recipes.
Neither company has a full allergen-free menu.
Signing Up And Canceling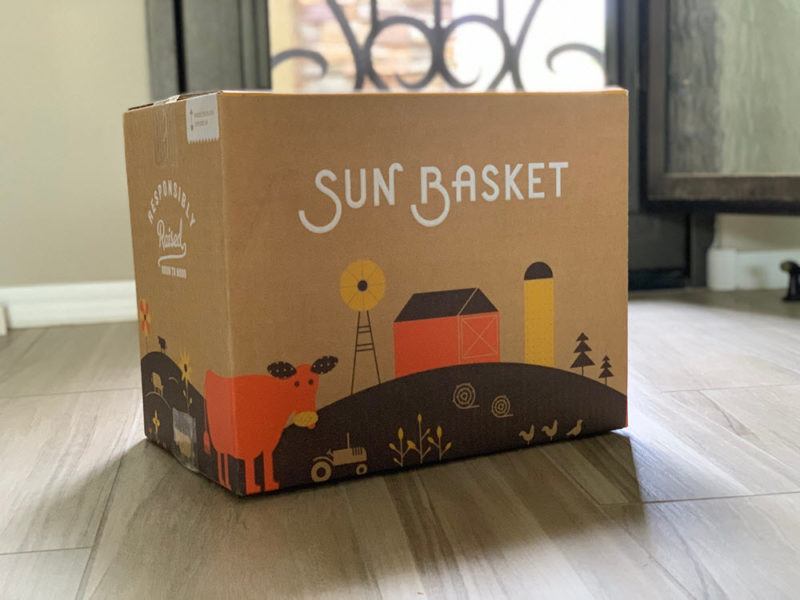 For both companies, signing up is a fairly simple process. With Martha and Marley Spoon, you begin by setting some simple meal preferences and then choosing how many recipes you'd like to get each week.
There's a 'get started' button on the Sunbasket page that allows you to set up an account using your email address, password, zip code and name. You also have to select either the classic or family plan and then choose your menu.
Canceling Martha and Marley Spoon can be done within your account online or by emailing contact@marleyspoon.com. For Sunbasket, you have to look under the frequently-asked questions section to get a link that allows you to start filling out cancellation information.
Packaging And Delivery
Both companies package their ingredients and sort them by recipes, so it's easy to find what you're looking for when it's time to cook. The packaging is mostly recyclable.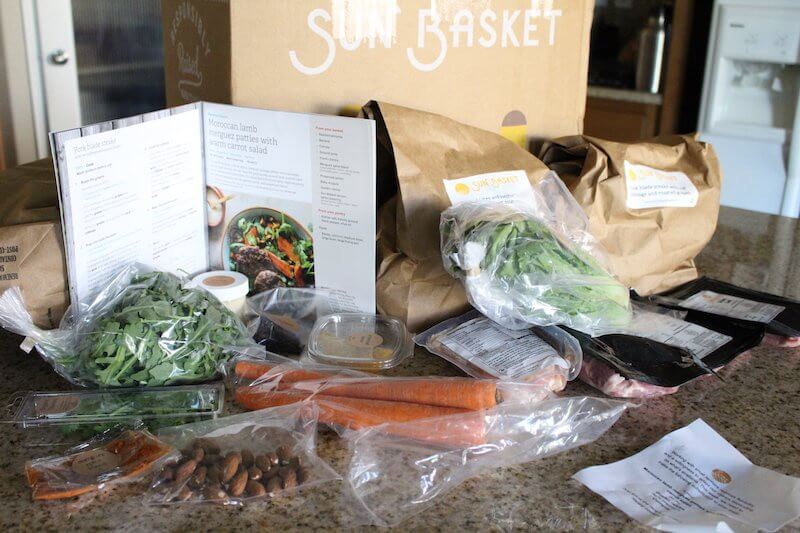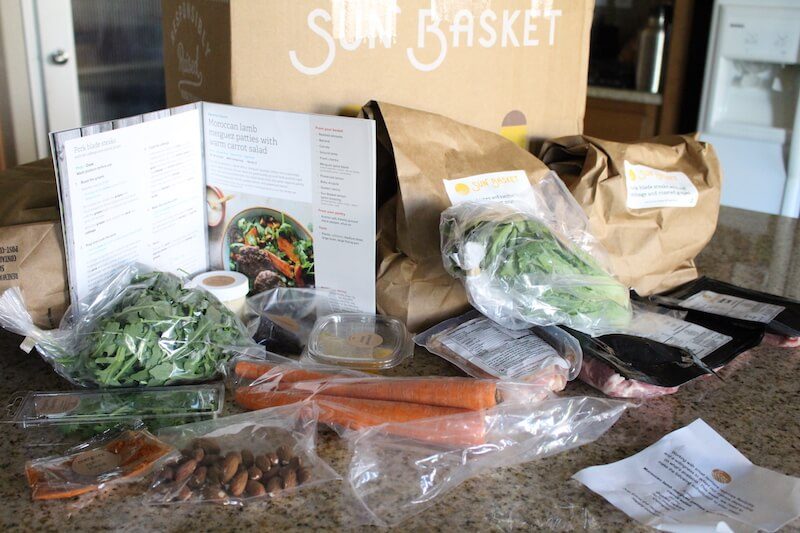 Sunbasket ships to 47 states (not Hawaii, Alaska, Montana or parts of New Mexico) and has a shipping charge of $6.99 per box. Martha and Marley Spoon offers free shipping and delivers to most of the continental United States. Martha and Marley Spoon also has a minimum order of four portions, or two meals for two people.
Pricing
With Martha and Marley Spoon, the price per serving depends both on the number of people you're feeding and the number of meals you're buying. At the high end, the minimum order of two meals for two people is around $12 per serving, or close to $45 per box.
On the four-person family plan, a box of ingredients covering four meals is $8.20 per serving, or around $131.20 per box.
Sunbasket's classic plans for both two and four people cost $11.99 per serving, and family plans cost $10.99 per serving.
Customizable Options
Sunbasket's classic plan has access to the full weekly range of choices no matter which menu you've chosen as your preference. The family plan is limited to six options, though.
Martha and Marley Spoon customers can mix and match their meals from across the entire weekly menu.
What Makes These Companies Stand Out
There are things I like and don't like about all of the meal kit delivery services I've tried, and these two are no exceptions. Here are my top pros and cons for Martha and Marley Spoon and Sunbasket.
Martha and Marley Spoon
Pros:
The menus are based on Martha Stewart's collection of around 18,000 recipes.
The costs per serving are fairly reasonable, especially when compared to some other meal kit delivery services I've tried.
There are a lot of good comfort food choices with this company.
Check Out My Martha & Marley Spoon Review
Cons:
Other than being able to choose your meals, customizability is fairly limited.
Sunbasket
Pros:
The wide range of menu options with the classic plan is nice.
The 'kids can' cooking steps with the family plan is a great way to make dinner preparation into fun family time.
You get all the recipes for the week in a book (rather than just the recipes for the meals you ordered).
Cons:
Navigating through the frequently-asked questions to find a link for canceling the account is tricky, and once you're there, there's a form to fill out.
Alternatives
If you just want a nice dinner kit with some delicious-tasting food, you might be interested in Blue Apron, Plated or Gobble. Green Chef and Terra's Kitchen have some nice customizable options.
If you want to try something really unique, you might be interested in PlateJoy, which is more of a meal-planning service paired with a grocery delivery service.
Conclusion
Between Martha and Marley Spoon and Sunbasket, I liked Sunbasket best. This is mostly because the food is absolutely delicious. The wide variety of menu choices is nice, too.