Meal Kits That Deliver Fresh Food
Sun Basket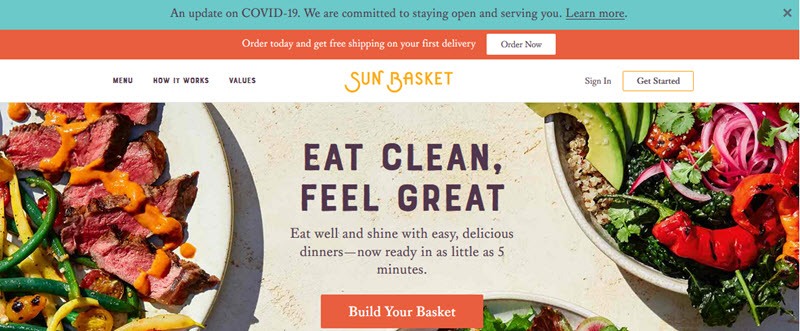 Price Per Serving: $10.99 to $12.99
Food Allergen and Diet Options: Gluten-free, vegetarian, pescatarian, low carb, paleo, diabetic-friendly, and low calorie
Other Features: Organic produce and clean ingredients
Optional Add-Ons: Breakfast, lunch, snacks, proteins, and pasta
We're starting off with Sun Basket, as I've had consistently good experiences with the company. Not only does Sun Basket have delicious food, but the meals are also easy to prepare, relatively inexpensive and there is plenty of variety.
Sun Basket currently offers three different approaches. You can order oven-ready meals, pre-prepped meals or the traditional meal kit style. The meal kit options are the ones that provide you with the ingredients, giving you the chance to cook for yourself.
When signing up, you can order for 2 or 4 people, and receive either 2, 3 or 4 recipes each week. The price per serving ranges from $10.99 to $12.99 per serving, based on the number of recipes you select per week.
These prices are pretty good when you consider that Sun Basket relies on clean ingredients and organic produce, while many other companies don't. Just be aware that these prices are per serving. So, for example, if you're ordering 3 recipes a week for 4 people, you'd be looking at somewhere around $150 for the week.
And, as you'll notice from the rest of this list, Sun Basket is on the expensive end of the spectrum. Other meal kit services are often less expensive.
There is also a variety of meal preferences that you can choose from, including Chef's Choice, No Prep, Carb-Conscious (25 g to 35 g of net carbs per serving), Paleo, Gluten-Free, Lean & Clean (less than 600 calories per serving), Vegetarian, Pescatarian, and Diabetes Friendly.
Regardless of your dietary preferences, Sun Basket does allow you to choose your own meals each week. This makes it easier to get a meal selection that fits in with your eating style. If that sounds like too much work, you can go with the Chef's Choice plan instead, where meals are chosen for you.
Personally, I've really enjoyed Sun Basket each time that I've ordered it. Their spices and sauces are especially appealing. I have to admit that some meals were better than others. Still, the hit rate was very good for this type of company.
Blue Apron


Price Per Serving: $7.49 to $9.99
Food Allergen and Diet Options: Vegetarian + the ability to select meals
Other Features: Responsibly sourced ingredients
Optional Add-Ons: Wine
Blue Apron is the meal kit delivery service. Or, at least, it's the company that made the whole idea popular.
Blue Apron provides 3 different menu options: 2-serving Signature, 4-serving Signature or 2-serving Vegetarian. For the 2-serving plans, you can order either 2 or 3 recipes per week. Shipping is free if you're ordering 3 recipes, otherwise, you'll need to pay a shipping fee.
The 4-serving plan allows you to order 2, 3 or 4 recipes each week and shipping is always free.
I love how Blue Apron sets up this part of the plan selection process, as it provides details about shipping costs and weekly total as you go. There's no need to second guess.
Vegetarian is the only dietary option in the initial selection process. However, Blue Apron does allow you to select dietary preferences after you go through checkout (which seems like the wrong way around to me).
Basically, you're able to choose the things that you don't eat and these are excluded from the meals that you'll receive. This style has limitations, especially if you are following a specialized diet. Some people may find that their selection of meals each week is very limited.
Speaking of meals… Blue Apron will select meals for you each week, but you're able to change these easily. You can choose for up to 3 weeks in advance.
My experiences with Blue Apron have been hit and miss. I've really enjoyed some of the meals from the service, while others haven't been very good at all. Some of the meals were on the boring side too, although the company does seem to expand its range over time.
That being said, Blue Apron does have a stunning wine club, which perfectly complements their meal kit service. And, Blue Apron is still a reliable service that offers inexpensive meal kits. Many people continue to rely on Blue Apron, so the company is clearly doing something right.
Hello Fresh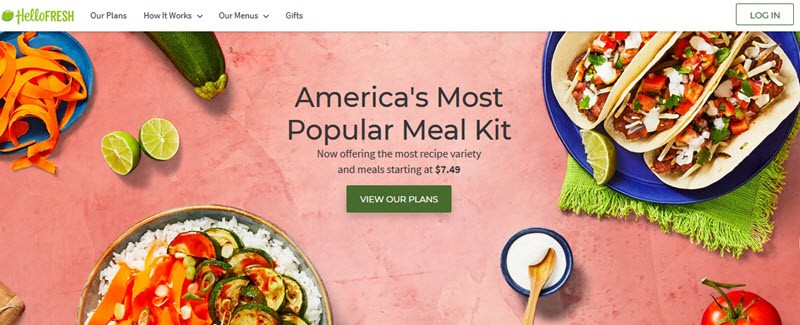 Price Per Serving: $7.49 to $8.99
Food Allergen and Diet Options: Vegetarian, low calorie + the ability to select meals
Other Features: Inexpensive plans, an app to make meal selection easier
Optional Add-Ons: Wine, premium meals
While Hello Fresh isn't my favorite service out there, it is cheaper than most of the others, which is a distinct advantage. There are currently 4 different plans to choose from: Meat & Veggies, Veggie, Family Friendly (kid friendly meals that are easy to cook), and Low Calorie (meals are around 650 calories per serving).
The plans generally allow you to choose between 2 or 4 people and between 2, 3 or 4 recipes per week. However, the specifics vary.
For example, you can only order 2 meals per week on a 4-person plan. With a 2-person plan, you need to choose between 3 and 4 meals. Likewise, shipping is free on some plans and not on others.
Once again, you can choose your meals each week. Hello Fresh provides around 20 different meals to choose from.
While there are no allergen- or diet-specific plans (aside from the Vegetarian menu), Hello Fresh does label meals based on allergens and will often have gluten-free, nut-free or dairy-free meals.
The biggest problem here is the selection. Hello Fresh tends to just offer 4 vegetarian meals each week and may have even fewer meals for some allergen requirements.
My personal experience with Hello Fresh wasn't great either. I found that the meals were pretty bland and the recipe cards weren't always clear. Still, the service is inexpensive, so I wouldn't expect it to be as amazing as some of the others on this list.
Plus, meal kit companies do tend to expand and refine their menus over time. When I tried Hello Fresh, they only had 8 meals to choose from each week and no vegetarian menu. There are more options now, which may mean that the meals are better too.
Home Chef


Price Per Serving: $6.99 to $9.99 (or higher)
Food Allergen and Diet Options: No specific plans, but meals can be selected and there are options for your source of protein.
Other Features: Meals can be customized, normally by changing the source of protein. Meals are marked as gluten-free etc. if that is the case.
Optional Add-Ons: Protein packs and snacks
Home Chef doesn't have any specific menus. You simply choose from the list of meals each week. Some of the meals meet food allergen goals, like being gluten-free, vegetarian or soy-free, but with less than 20 meals each week, some people might find that there aren't enough options to choose from.
The service offers more flexibility than most. You're able to choose from 2 to 6 recipes per week and can cook for 2, 4 or 6 people.
But, Home Chef seems reluctant to provide pricing details. While their main page says that meals start at $6.99, there are few details about the individual plans or pricing.
This information isn't very clear when you sign up either. The page where you choose frequency and number of recipes estimates your price based on a per-serving cost of $9.99. The fine print says that the ultimate price may be different depending on the meals that you choose (which is frustrating, as you need to make your first payment before you can select your meals).
Home Chef also offers customization options. For example, a Chinese Pork Lettuce Wrap meal on their menu could use ground turkey, ground beef, ground pork or a double portion of ground pork. The dish Gnocchi with Roasted Red Pepper Cream could come with ground beef, antibiotic-free ground beef, jumbo shrimp, or no protein.
Being able to change your meals like this increases the odds that you'll find meals that suit your dietary and flavor preferences. However, some of the customization options may increase the price per serving for your meal.
When I tried the service, I found that Home Chef had a good balance between meals that taste good and are easy to cook. This is something that services often get wrong. Some have you in the kitchen for an hour or more, while others give you simple meals that don't taste that appealing.
With Home Chef, the meals were interesting and tasty. The recipes were easy to follow too.
The service isn't my personal favorite, as I prefer ones that offer a greater range of exotic flavors and dishes. Still, Home Chef might be perfect for anyone who prefers conventional flavors.
Green Chef


Price Per Serving: Starts at $9.99 to $12.99, depending on the plan.
Food Allergen and Diet Options: Vegetarian, vegan, keto, paleo (which is also free from gluten, dairy, and soy)
Other Features: Certified USDA organic,
Optional Add-Ons: None
Green Chef has more diet-specific options than most other companies, with their meal plans including Keto, Paleo, Balanced Living, Plant-Powered, and Family. You can generally choose between 2 and 4 servings per recipe per week.
However, you don't have much choice in how many recipes you get each week. Most plans are set at 3 recipes each week, while the Family Plan contains just 2 recipes instead.
As with the other companies, you can select which recipes you receive each week – but only after you've paid. Thankfully, the menus are up on the site each week, so you can get a sense of the service before you sign up.
My experience with Green Chef was mixed. On one hand, it seemed like the meals weren't that impressive, especially as the serving price is on the high end. Still, the servings did seem larger than what I've received from other companies. It felt like they contained more protein too.
Still, Green Chef might be appealing if you're on a specialized diet. There aren't that many meal kit companies offering keto and paleo meals, especially not ones that are also organic.
Every Plate


Price Per Serving: $4.99
Food Allergen Options: None
Other Features: Cheap meals that easy to prepare
Optional Add-Ons: None
Every Plate is billed as America's Best Value Meal Kit and honestly, they're not kidding. The service offers meals at $4.99 per serving. That's around half price compared to many of the other services out there.
As you can probably guess, the meals aren't amazing. You're not going to see the same level of complexity and interesting flavors that more expensive services offer. Many of them end up being simple instead and they're generally fast to cook.
Even so, most of the meals aren't boring either. I've come across some unusual flavors that help to bring the simple meals up a level or two.
There are 11 meals to choose from each week. The menus for the next 3 weeks are listed on the site, so you can know what to expect before you sign up for anything.
A 2-person plan can provide you with 3, 4 or 5 meals each week, while a 4-person plan provides 3 meals per week. The price is always $4.99 per serving plus $8.99 shipping.