So, you're hosting a BBQ. While there are no strict rules for the event, there are still some must have foods for BBQs that you really can't miss out on. These foods can make or break the event.
The goal is to have enough food to meet everyone's needs. Your guests might be bringing some items with them, perhaps their own meat, but you still need to cover the basics.
Besides, relying too heavily on what the guests will bring isn't a great plan. There's always someone who forgets what they were meant to bring or who doesn't turn up at all. If you have a backup plan, then everyone will be happy and fed no matter what.
You could also try a BBQ of the month club or a meat of the month club. These ship out many of the ingredients you'll need to host the perfect BBQ.  
Must Have Food For BBQs
Salads

BBQs can easily turn into meat-laden events, where there is plenty of protein to be found and not much else. While some of the guests might be completely fine with that setup, many others will be craving some lighter food, particularly vegetables.
Salads are one of the easiest ways to get fresh vegetables front and center. They don't need to be complicated either. Even a simple salad that uses lettuce as the base is certain to be popular.
Don't forget about potato salad either. This dish remains a classic at countless events. If you find regular potato salad boring, try playing with the recipe. It's easy to add some more flavors and texture to your salad. Even something as simple as adding some bacon pieces in can work wonders.
You can get more creative with salads too. Fruit salad, pasta salad, and egg salad are all classic options. Then there are the more modern salads to try, like couscous, quinoa, or kale. Each type of salad brings its own flavors and textures to the table.
Burger Patties

What's a BBQ without burgers? Many guests will expect burgers to be on the menu – so don't disappoint them. Burger patties are often inexpensive and easy to cook, which are other reasons to serve them at your event.
While you can go with plain patties, it's much better to add some seasoning. This way your burgers will be enjoyed from start to finish. Honestly, the seasoning you use and your grilling technique will have more effect than the type of meat you've chosen.
You could also make burger patties yourself. This gives you more control over the final product. Using multiple types of meat or adding ingredients like onions, herbs, or spices, would all be ways to make the burgers that much more enjoyable.
Steak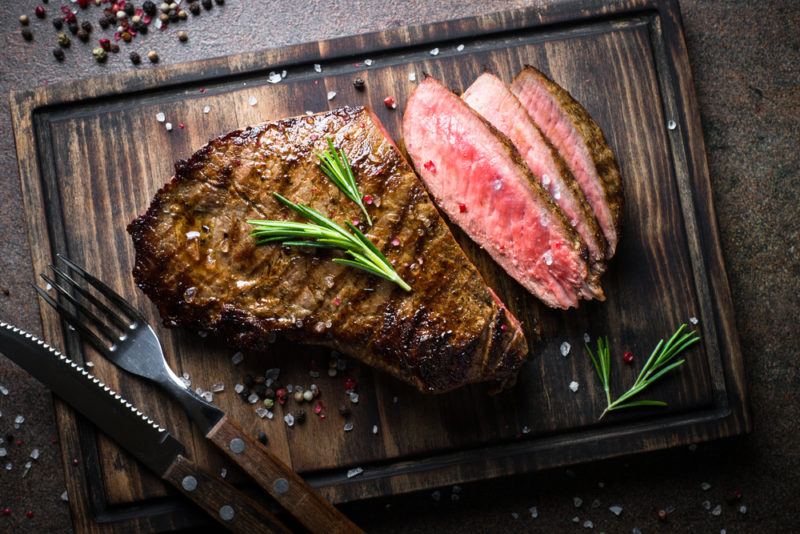 Steak is another BBQ classic. Hopefully, your guests will bring their own, so they get their favorite cuts. Besides, good steak gets expensive fast.
If you want to put on some steak for your guests too, you could focus on steak that has been marinated or tenderized. Be sure to avoid overcooking it too. You want to be serving delicious steak, not something tough and difficult to eat.
People have different preferences for how their steak is cooked. If you're serving a large amount of steak, try cooking the pieces to varying levels of doneness. Don't forget to include some well-done pieces.
Sausages

Sausages come in many styles and flavors. Some are simple, like the classic beef or pork sausage, while others use multiple types of meat or have a more complex flavor profile. Then there's the question of whether the sausages are pre-cooked and whether they have other additions, like cheese.
These factors will influence how the sausages cook, so you'll need to do a little planning.
It's worth having a few types of sausages to serve. After all, guests will have different flavor preferences. But, don't go overboard. It doesn't matter how well you plan. You're never going to have exactly what every guest wants.
Kebabs

Kebabs are another fun choice. You're simply threading small pieces of meat onto skewers and cooking them on the grill. The skewer holds everything together, making it easy to turn the meat as you need to.
Kebabs might be just meat or you could stick other ingredients on as well. Onions, mushrooms, and peppers are common additions. You could use some fruit too, like pineapples.
While you're at it, why not find a complementary glaze? A glaze helps to bring all your flavors together, while stopping the meat from drying out.
Think about veggie kebabs as well. These can be perfect for vegetarian guests and anyone who doesn't want too much meat. You'll need to pay attention when cooking these, as a vegetable-only kebab will cook much faster than one that has some meat on it.
Other Meat

Burger patties, steak, sausages, and kebabs might be the main meat options at a BBQ, but there are plenty of other options too.
Pork is another prevalent choice, especially if you're planning to serve pork ribs or pulled pork. Don't forget about bacon either. While bacon isn't as hearty as other types of meat, it is delicious, especially in burgers.
And, with bacon, it's always best to prepare more than you think you'll need. People can easily go over-the-top with their bacon consumption and eat much more than you expect them to.
Why not serve lamb as well? It makes a nice change from beef and can be just as delicious.
You can branch out further too. Game meats can be fantastic on the BBQ. Just make sure this isn't the only type of meat you serve, as the strong flavor of game meat won't appeal to everyone.
Poultry

Red meat might be the classic BBQ choice, but you should include some white meat as well. Chicken is the easiest option here, as it is often inexpensive.
If you're going to cook poultry on the grill itself, then chicken breast is the easiest cut to work with. This way there are no bones to worry about and the piece cooks evenly. Chicken kebabs work well for a similar reason.
However, chicken breast can be a little difficult to grill. It's a lean cut of meat, so it can dry out easily. And, unlike steak, you shouldn't undercook chicken. It needs to be fully cooked to be safe.
Marinating the chicken or using a glaze can help keep the meat flavorful and prevent it from drying out.
Seafood

Seafood can feature at your event too. Some of your seafood might be cooked on the grill, while other pieces might be cooked by hand instead.
When grilling fish, you need to focus on firm options, like snapper, swordfish, salmon, and tuna. Flaky types of fish aren't any good, as they'll fall apart far too easily.
And, even if you're using firm fish, try to only flip it once. The more often you turn or flip your fish, the greater the risk that it will break apart.
The grill can be used to cook some other types of seafood too, including shrimp. Raw and precooked shrimp can both be grilled without any problem. You can season the shrimp too, with makes them even more flavorful.
Seafood doesn't always need to be cooked directly on the grill either. You can often make foil packets that are filled with different types of seafood, then cook the packets on the grill.
Cheese

Slices of cheese are fantastic additions to hamburgers or hot dogs. Cheese might be useful in other cases too. For example, small cubes of cheese are excellent in many salads.
You could also serve pieces of cheese on a platter, along with cold cut meats, pickles, and other ingredients. A charcuterie platter like this isn't essential for a BBQ. Still, it can be a delightful alternative to the classic meat-heavy selection of foods.
Vegan Protein

Don't leave your plant-eating guests with just salads. Make sure there is something heartier for them too – including food that will go on the grill.
This means you'll need to rely on tofu or vegan meat substitutes. There are now many vegan burger patties and sausages to choose from. They can often be cooked just like the real deal.
You can make similar products yourself, if you have the energy. For example, the site Minimalist Baker has a recipe for grillable veggie burgers. These rely on black beans and brown rice, and are resilient enough that they can be grilled. Burgers like these are ideal for people wanting a non-processed vegan option.
You'll need to avoid contamination between the meat and vegan products, especially when you're cooking and serving the food. Meat eaters mightn't mind if the foods are cooked and served together, but vegetarians and vegans will prefer things to be kept separate.
Bread

You're going to need some carbs to go with all of that meat. Bread fills that role perfectly. You'll want a few different types, including sliced bread with butter or margarine, bread rolls, and hamburger buns. After all, the best bread will depend on the meat that is being eaten with it.
White bread is the classic choice, one that most people will eat without complaint. Still, having a few more options is always a good thing. Try serving some multigrain bread too and perhaps some gluten-free products.
Brioche burger buns and hot dog rolls are a fun way to jazz things up. These tend to be sweeter and airier than regular bread.
Chicken Drumsticks

Most of the meat served at your BBQ is going to come straight from the grill. But, it's crucial to have other types of meat as well. You don't want hungry and impatient guests standing around waiting for everything to cook.
Chicken drumsticks are always popular. They're also delicious and are easy to prepare ahead of time.
Deep frying these will give you crisp chicken skin that covers juicy meat. You can do the same with chicken thighs too.
If you want something healthier, try oven baked chicken drumsticks and thighs instead. These have a different texture and can be just as tasty as the fried versions.
BBQ Sauce

While BBQ sauce isn't something that people eat on its own, you certainly can't miss it out either. The right sauce can bring any BBQ food up to the next level.
Sauces have another advantage too – they help to moisten food. This feature can save the day if some of your meat was overcooked on the grill.
You can buy premade sauces from local stores and they come in many styles. But, premade sauces are often processed. Many will use additives or a surprising amount of sugar.
Making the sauce yourself will give you much better control over the ingredients and the final flavor of your sauce. You could make a few different types, perhaps one smoky, one vinegar-based and one fruit-based?
Condiments

Condiments are just as essential as BBQ sauce or any other part of the event. Ketchup and mustard are the two most important ones at any event. Don't forget about hot sauce either. You could get creative and offer a few different levels of heat. Let people build their own ultimate burger or hot dog.
Mayonnaise can be handy too, along with condiments that you make yourself, like guacamole and salsa.
Of course, your condiments will partly depend on what you're serving. For example, salsa is critical if you have corn chips on the table, but it doesn't matter as much if you skip the corn chips. The same is true for guacamole.
If you have veggies for dipping or potato chips, then you'll want a suitable dip, like French onion dip for the chips and hummus for the veggies.
Veggies for Toppings

You'll also need some vegetables to go with the food that's being served. Mushrooms, onions, tomatoes, and lettuce are the bare minimum.
You can branch out beyond these and include some more interesting options too. Avocado could a good one, either as pieces of avocado or as perhaps as guacamole.
Beets can be appealing as a burger addition. You could even get creative and offer guests pineapple to go with their burgers.
Those are just a few options. There are plenty of other vegetables (and fruits!) that help to fill out burgers and are easy toppings for meat.
Chips

You can't have a BBQ without some chips. They're the perfect snack food and are essential when everyone is waiting for the meat to be cooked.
Make sure you have a few styles and flavors on hand, along with the appropriate dips. Corn chips are a fantastic addition too. Try serving some salsa and guacamole with these.
Corn on the Cob

Salads aren't the only important side dish at a BBQ. You'll need some other options in the mix and corn on the cob is one of the classics.
You can cook the corn directly on the grill, which gives it the same chargrilled flavor that you get from grilled meat. Serve it with butter and salt, then you're good to go.
You might take the idea a step further and use some creative toppings. I've seen bacon served on corn every so often, which should taste as good as it sounds. Using chili salt instead of regular salt is another fun style.
Other Side Dishes

Salads and corn on the cob are the classic BBQ side dishes. Still, they're not your only options. You can get creative with the side dishes you choose, like ones that rely on Mediterranean or Asian flavors.
The site Olive Magazine offers a fantastic selection of easy and creative BBQ side dishes to try for yourself. Many of these include unusual flavors or textures. They can be fantastic ways to inspire your guests and make their BBQ experience a little different.
After all, who says that every event needs to use the same selection of foods? Variation can make everything much more exciting.
Fresh Fruit

Don't forget about fruit. Fresh fruit is juicy and refreshing. Those features can be perfect on a hot day when you're serving so much meat.
You don't need to do anything special here. Even just cutting up seasonal fruit and serving it should be more than enough. If you want to go to more effort, try making a fresh fruit salad.
Desserts

Desserts are the final thing to remember. They are the perfect way to round out your big day.
There are no rules about the type of desserts you can serve. Don't be afraid to whip out family favorites or to try new recipes.
The best desserts will be ones that work well in warm weather. If your dessert needs to stay cool, make sure you work out how to keep it at the right temperature.