Nutrichef Prime Immersion Circulator Review
Quality - 97%
Features - 95%
Price - 95%
Personal Experience - 93%
Value - 95%
The Nutrichef Prime is strikingly similar to the Gourmia GSV130, but it's a little cheaper, so it's definitely worth looking at. With 1200 watts of power and decent water circulation, you can heat your medium-sized water baths very quickly. Though this is a basic immersion circulator compared to other devices which cost a lot more, it still has some unique features that make a good buy. You might not have heard much about the NutriChef brand circulator, but I tested, tried, and liked it!
Update 2017: They no longer call this model "prime". I'm not sure why, but I'm guessing it's just a marketing thing. The stats, construction, etc other things have not changed. There is a version called upgraded that is currently available, but there's no discernible difference as far as I can tell.
Introduction
As one of the cheapest immersion circulators on the market, I couldn't resist buying and trying the NutriChef Prime PKPC120. What I discovered was that is was not only "as good" as pretty much all of the other circulators I tried despite being almost 3x cheaper, it was actually using the exact same parts as one other popular brand (keep reading to find out which one). It's also got the strongest heating element on the market right now, which makes its price even more attractive.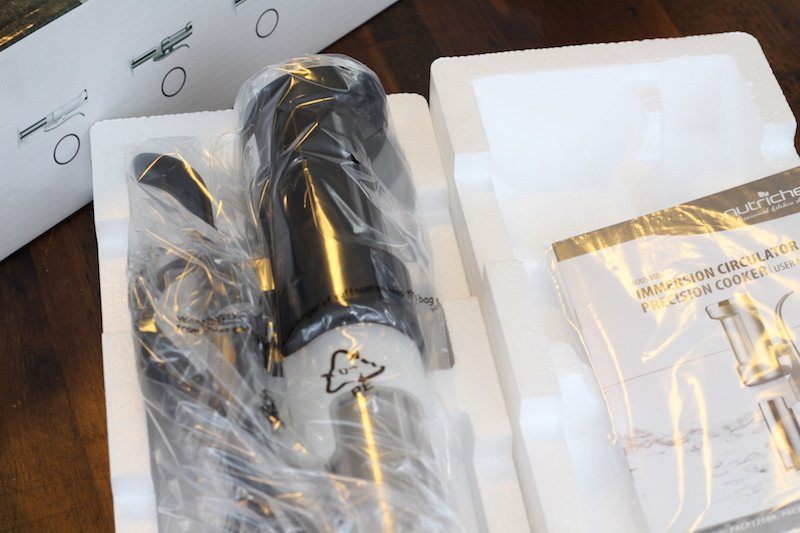 So if you are looking for a deal on an immersion circulator so you can start cooking sous vide, then NutriChef is a great choice. However, there are more and more immersion circulators coming on the market these days. In the last two months, I bought 13 total, and tried them all. In this review I'll talk about what I liked and didn't like about the NutriChef Prime, as well as how it compares to alternate brands and more expensive models.
Standard Features
The NutriChef Prime is very easy to use. There's basically no setup procedure. You just find a metal pot or a food-safe and heat-safe plastic vessel (I use a polycarbonate storage container), plug it in, and turn it on. There are three buttons to use.
The POWER button turns the thing on, obviously, but you have to hold it down for a few seconds. Don't worry, your device is not broken! Just rest your finger on the power butt for a bit and it'll kick on.
The SET button is used to switch between the temperature and time settings. There is a dial on the front of the circulator that lets you add/minus time or degree.
You can set your Prime cooker to Fahrenheit or Celsius by pressing the power and set button together. To start cooking, simply tap the power button.
The only other thing you'll need to do with these buttons I'll talk about in the "Extra Features" section below. Pretty simple, right?

This model comes with a "lever" style clamp that you see on the left of the photo. Some other models from different brands come with a screw-down style you can see on the right. Although I prefer the lever style that NutriChef has, the screw kind does have advantages. For me, the lever is just easier to operate and takes less time to hood on/off of your water pot or for adjusting. With the screw kind, you can fit it on a thicker-walled container like an ice chest.


The image on the right is from the Anova Precision Gen 2. There's a second locking dial you can see in the photo, which can be used to move the clamp up and down the heater casing, which means you can adjust it based on the size of your pot. This makes it a lot more versatile for smaller water baths.
Extra Features
One cool thing I like about the NutriChef Prime is that when your water reaches its temperature, it doesn't start an automatic countdown. It starts beeping at 3-second intervals until you start the cook. To start the cook, you need to go to your device, place your food in the container, then hold the SET for a few seconds. That will do two things.
One, it will start the countdown from how much time you set. But it will also start a count-up of how much time has passed.
But isn't that the same thing?
The great thing about sous vide is that you can leave your food cooking for another 30 minutes to about an hour without affecting the doneness of the food. It's not getting any hotter, so it's not going to get overcooked. With the time-track feature, you can see how much total time has passed. So you may have set the device to cook for one hour, but it ended up cooking for 75 minutes. It's just something useful to know!
The NutriChef Prime also comes in 4 colors. I wasn't aware that gold was such a popular color for kitchen appliances, but it seems to be since there are quite a few other gold models out there like the Gourmia 130 and Gourmia 140. That will make more sense after you read the Comparison section below.

Available colors from different sellers. Each one is a different price, but as of the writing of this post, the white and gold were the cheapest: Silver, Black, White, Gold
Cooking Experience
I cooked some salmon with my brand new NutriChef prime. You can see from the photo below that it was thoroughly cooked, but still buttery and flaky – exactly how I wanted it. After a little pan searing and chopped green onions and served on a rice bed, it was like I was eating a restaurant-style meal at 1/3 the cost.

I really like having the full 1200 watts of power since it heats up the water fast and I can start cooking. Salmon is fun to do with sous vide because with most salmon it will only take 30-40 minutes to cook, unless you get a really thick salmon steak.
Just two complaints to mention. One, is that the water jets are louder than other models. You can really hear the water circulating, while with other devices it tends to be quieter. We're not talking garbage-disposal-loudness here, but if you have it cooking in a central location and are doing a thick roast for 24 hours, you might notice. If you fill the water closer to the max line, it does get much quieter though.
The other thing is that the minimum water level is a little high on this. With a wide container like I have, it means I need to use a lot of water to reach the minimum water line. You may not have this issue if you use a pot with a smaller diameter.
Technical Stuff
Unit Size Size: 5.3 x 3.5 x 14.4 inches, 2.6 lbs
Temperature Range & Precision: +/- 0.1º F, Max 203º F
Power: 1200 Watts
Pump Circulation: Unknown (most likely 1.5 GPM with a max of 5 gallons)
The NutriChef Prime is a pretty standard size immersion circulator, and falls in the lower-middle range in terms of actual size, and in weight. The cooking precision is pretty common among circulators, however, the 1200 watt heating element is not. Many modern, home-use circulators only give 800-900 watts of power. With a full 1200, that means your bath will heat quicker. This can be a difference between a 20-minute and 60-minute wait time to start cooking depending on how much water you're heating.
The gallons per minute pump circulation is not listed on the product listing page or on the box, but I suspect that it's 1.5 GPM with a max of 5 gallons. The reason is that this device is extremely similar to the GSV130, which I'll get into below.
Comparing The NutriChef Prime PKPC120 To Other Immersion Circulators
Though it was not immediately obvious after opening the box, as soon as I turned on the NutriChef Prime PKPC120 I noticed that it was basically the Gourmia Interface.  The other similarities began to fall in place. Actually, when I took photos to compare all the Gourmia Immersion Circulators [LINK], I accidentally grabbed the NutriChef!


The face is the same, the clamp is the same, the dial is the same, and the programming software is the same. It's also 1200 watts. The only difference is a light difference in design. Which do you think looks the best? I like the body shape of the Prime the best actually! But I like the face of the GSV15o. Keep in mind though, that the Gourmia GSV150 is wifi-enabled, so it's got a few features that the Prime doesn't.
The GSV130 is pretty much the same, and (currently) costs about $20 more. Actually, the only immersion circulator almost as cheap as NutriChef is the Sous Smart SSV2700 which I just reviewed last week. Yeesh! I can't keep up with all these new models coming out.
If you want to spend a bit more money on nicer design, you should consider the Kitchen Gizmo. It looks a lot nicer, but it is also a lot less powerful with only an 800-watt heating element.
If you want to upgrade, there's quite a few choices for premium immersion circulators. The are more expensive, but still a lot cheaper than water ovens (by a lot).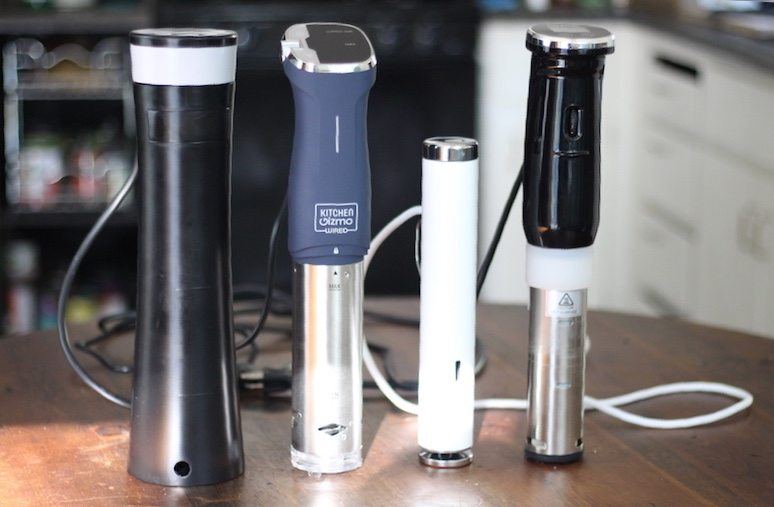 My Top 2 from the list are the ChefSteps Joule and the Anova Precision. The Joule is lightweight, has an incredible app, and is basically the "Apple" of sous vide. The Anova models is not quite as unique and fun as the Joule, but still great. Best of all, it actually has a manual function for when you don't want to open your phone to cook something. Both of these appliances are amazingly quiet too, which is something you come to appreciate after testing so many of these devices.
Who Is NutriChef Immersion Circulator Best For?
If you want a super cheap way to get started with sous vide, your choices are basically the GSV130, the NutriChef Prime, or the Sous Smart SSV2700. The Prime is the cheapest you can get without getting less power. In other words, the Prime is the most powerful and cheapest immersion circulator out there. If you're a beginner, you probably won't care that there's a 5 gallon maximum capacity for the water tank, because you're not cooking for 12 people.

Honestly, you can't go wrong with this. So far it's racking up good reviews on Amazon and other places despite being so inexpensive. The only reason you'd want to venture from this model is if you want to invest a bit more money for a different looking appliance or for one that connects to wifi.
Conclusion
Though I bought the NutriChef Prime immersion circulator on a whim as a part of my sous vide review series, I was pleasantly surprised. If I was 10 years younger and on a budget, this would probably be the one I'd get. However, I have a food site where I review kitchen products and have a business budget, so now I'm spoiled by the more advanced, better-looking devices mentioned in this review.
Pros/Cons
Pros
Inexpensive (Very!)
Reliable Brand
Powerful 1200 watt heater
Great for Individuals, Couples, Or Small Families
Total Time Tracker
Alarm For Cook Start
Alarm For Cook Finish
Multiple Color Choices
Removable Casing For Easy Clean
Holds Temperature After Cook Time Finished
Cons
Doesn't Disassemble For Easy Clean
Not Good For Large Sous Vide Cooking
Noisier Than Other Brands


Video: NutriChef Prime Review