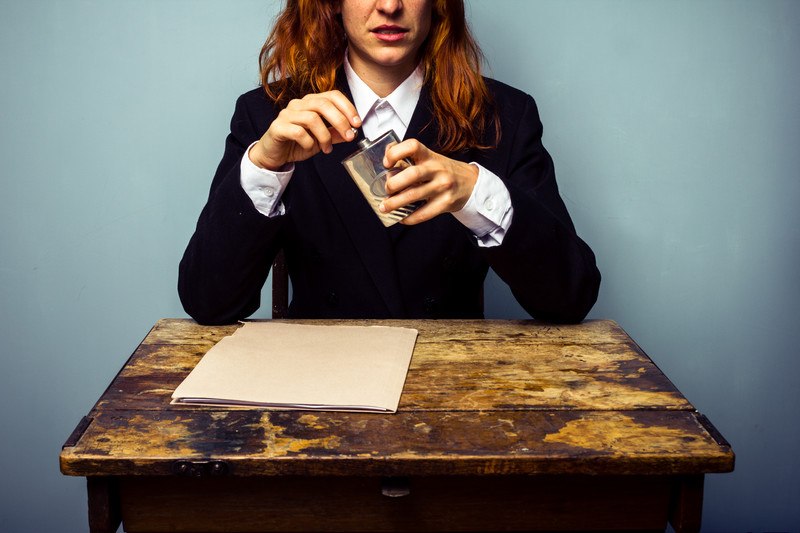 Flasks are often viewed as a masculine gift and regularly given to groomsmen before a wedding. Yet, many females also enjoy their spirits – and why not? You can give a woman the same type of flask that you would give a man. There's nothing wrong with that.
Even so, there's something appealing about finding a flask that's just right for your recipient. That's where this list comes into play. In it, we're focusing on flasks that are particularly well-suited to women.
And guess what – women with a flask need whiskey to fill out. If you're getting a gift for a whiskey lover, you probably want to check out Flaviar, a very cool 'booze of the month club' where you can get samples of whiskey (or other spirits) with themes like Japanese whiskies, peaty scotch, or craft bourbon.
Engraved Pink Flask Gift Set
Pink Leather Hip Flask Set
Floral Flask Gift Set
Floral Flask In Wooden Gift Box
Silver Bling Flask Set
Pink Snakeskin Pattern Hip Flask
Round Engraved Personalized Flask
Mermaid Round Flask
Soft Pink Hip Flask
Blue Marble Flask With Shot Glasses
Cigarette Case With Flask And Inlaid Neo Victorian Flowers
1-Ounce Stainless Steel Flask
Square Stainless Steel Flask
Hot Pink Hip Flask
Tiny Pink Flasks
Pink Camouflage Flask
Pink Plaid Sassy Flask
Stainless Steel Fox Flask
This Way Up Pink Flask
Whiskey Window Flask
Secret Stash Personalized Flask
Black Glitter Flask For Women
Black Matte Flask
Blue Jean Pattern Flask
Red And Green Customized Flask
Girls' Night Out Canvas Flask
Rose Gold Bracelet Flask
White Hip Flask
The Adventure Begins
Art Nouveau Roses Flask
Shimmering Personalized Flasks
Round Glitter Flasks
Cellphone Flask with Black Leather Pouch
Pink Leather Round Flask
Probably Not Coffee Flask
Dolphin Flask
2-Ounce Skinny Flasks
Damask Flask
Monogram Colored Flasks
Text-Based Colored Flasks
Purple And Pink Owl Flask
Wonder Woman Flask
Turquoise Enamel Flask
Engraved Pink Flask Gift Set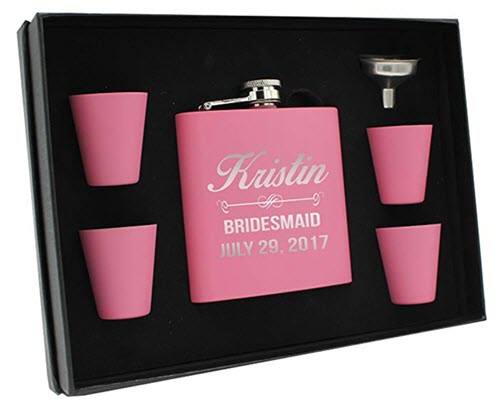 This Engraved Pink Flask Gift Set is designed for weddings but would suit plenty of other situations too. In fact, the gift set is especially versatile. The seller gives 8 different engraving styles to choose from, including the chance to request your own design or logo.
Pink Leather Hip Flask Set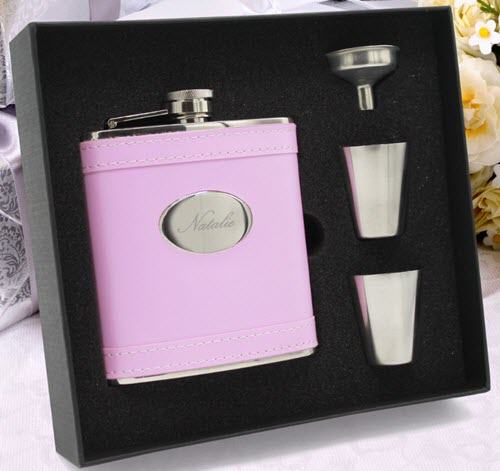 This Pink Leather Hip Flask Set has the same general pink theme and approaches the idea differently. This time, the product is a stainless steel flask wrapped in pink leather. The steel oval on the front can be engraved with the recipient's name.
Floral Flask Gift Set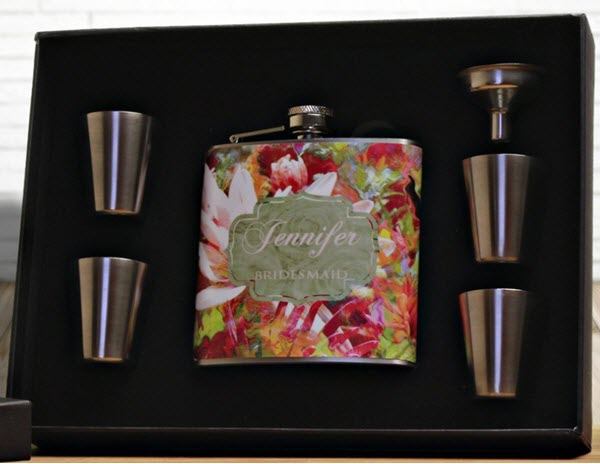 It's easy to see that this Floral Flask Gift Set was designed with women in mind. The flask itself is stainless steel, covered with a laminated vinyl pattern. The name and title can be changed to whatever you like.
Floral Flask In Wooden Gift Box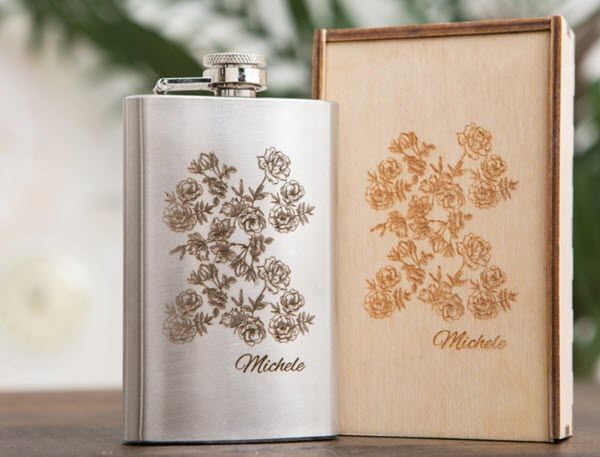 For women interested in something more elegant, this Floral Flask might be the right choice. The same floral pattern and name is engraved on the flask itself and the wooden box. The narrower shape of the flask could also be an advantage, making it easier to hold in small hands.
Silver Bling Flask Set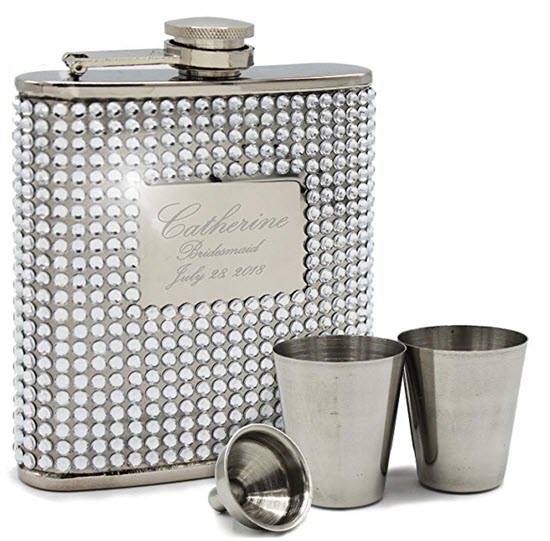 The design of this Silver Bling Flask certainly catches the eye. The engraving can be up to 3 linesand you get to choose what it says. There are also 4 different fonts to select from. That's perfect if you're looking for a particular theme for the gift.
Pink Snakeskin Pattern Hip Flask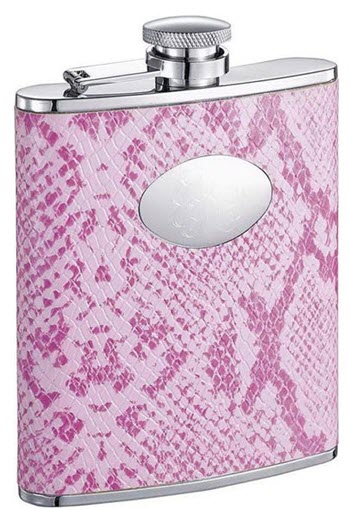 I love this Pink Snakeskin Pattern Hip Flask, partly because it is a little bit different. The texture and pattern make the flask look interesting while keeping it simple and appealing. There are also multiple engraving options, including various monogram styles and initials.
Round Engraved Personalized Flask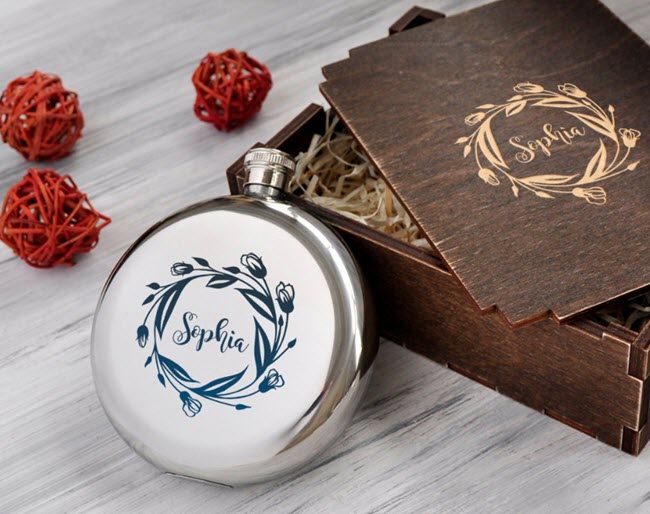 This Round Engraved Personalized Flask makes a perfect alternative to a conventional flask. The style makes it easy for a woman to fit in her hand and use, yet the flask still holds 8 ounces of her chosen spirit. You're not limited to a single design either. The seller has 20 different options, including the ability to create an entirely original design.
Mermaid Round Flask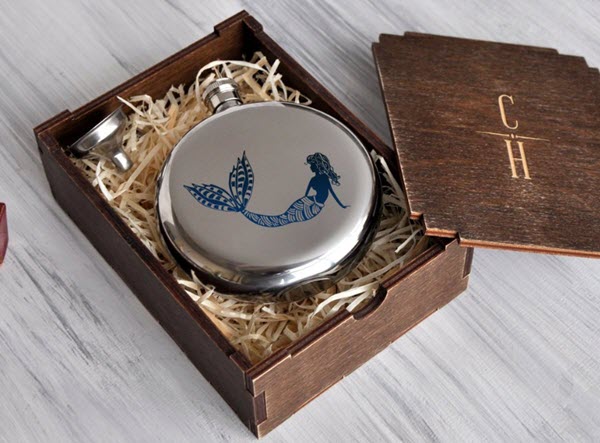 This Mermaid Round Flask makes a simple gift for a woman. It's not your only option either. You can select from 8 different flask designs (4 of them round, 4 square) and various customization options for the gift box. The flask itself can also be personalized, allowing you to create something special.
Soft Pink Hip Flask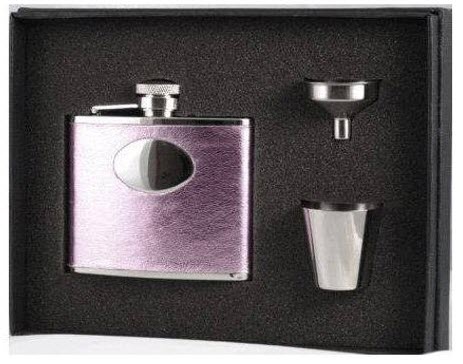 The pink leatherette material means that it looks good, but the real advantage of this Soft Pink Hip Flask is the size. The flask can hold up to 4 ounces of liquor. That's less than many other flasks. The small capacity isn't a bad thing, as this means that the flask is smaller and easier to hold.
Blue Marble Flask With Shot Glasses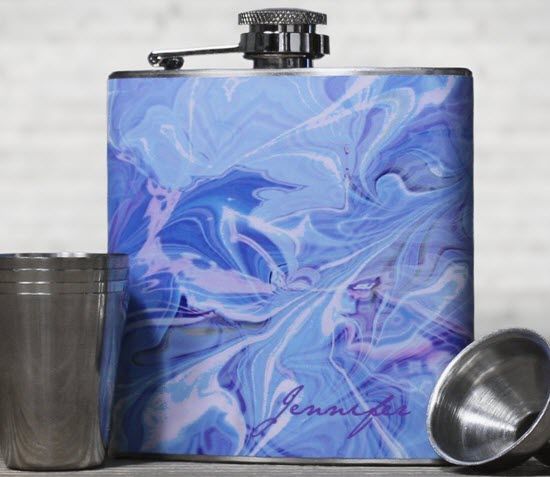 Many female-focused flasks are pink or rely on flowers. That style works well, but not for everyone. This Blue Marble Flask acts as a good middle ground. The customization is subtle as well, which might be ideal in some situations.
Cigarette Case With Flask And Inlaid Neo Victorian Flowers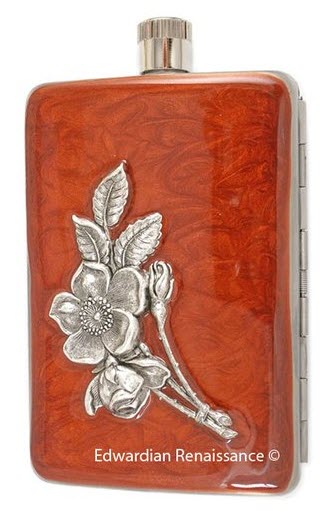 Everything about this Cigarette Case With Flask stands out. The color of the piece and the inlaid flowers are both amazing. This is also a dual-purpose gift – acting as a flask and a place to store cigarettes. It could be a good gift for non-smokers too if you put something else in the cigarette compartment.
It's also worth mentioning the personalization. You are able to purchase 2 or 3 letters on the back. These can be either 7 mm brass letters or 12 mm silver ones.
1-Ounce Stainless Steel Flask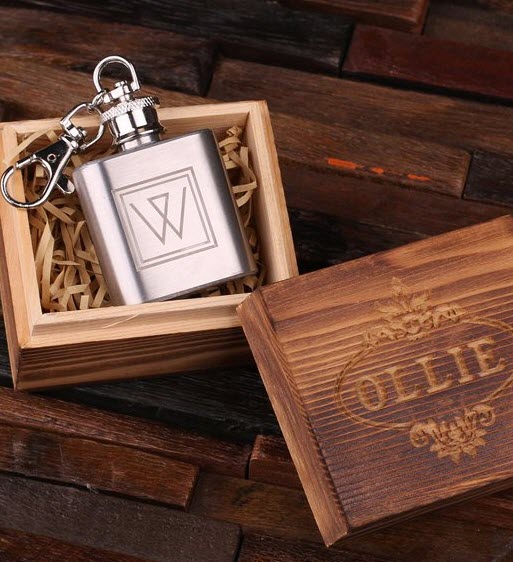 The appeal of this flask isn't the design, but rather the size. The stainless steel flask just holds 1 ounce of whiskey. That's why it looks so tiny in the image. The size makes it easy to hide in a handbag or a pocket. You also have full control over the engraving.
Square Stainless Steel Flask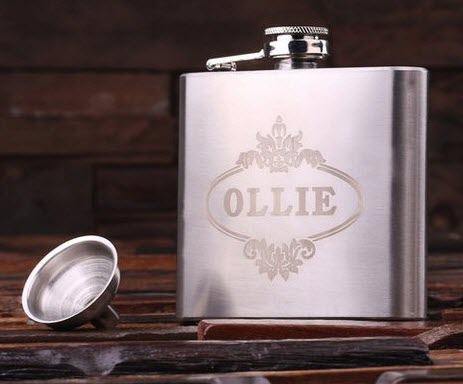 This square flask is from the same seller as the previous one, so it has the same flexibility in terms of engraving. The flask is considerably larger, holding 5 ounces of whiskey. Even so, it's smaller than a typical whiskey flask. That size difference could make it especially appealing to women. If nothing else, pieces of women's clothing tend to have smaller pockets than similar clothes for males.
Hot Pink Hip Flask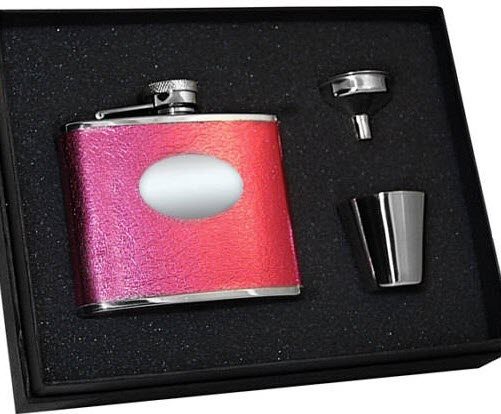 Speaking of unusual sizes, this Hot Pink Hip Flask is an option to consider. The flask holds 4 ounces of liquid, making it a compact nip of scotch. The flask's metal oval can contain 2 lines of text (no more than 10 characters per line). There are various fonts and styles that you can choose from.
Tiny Pink Flasks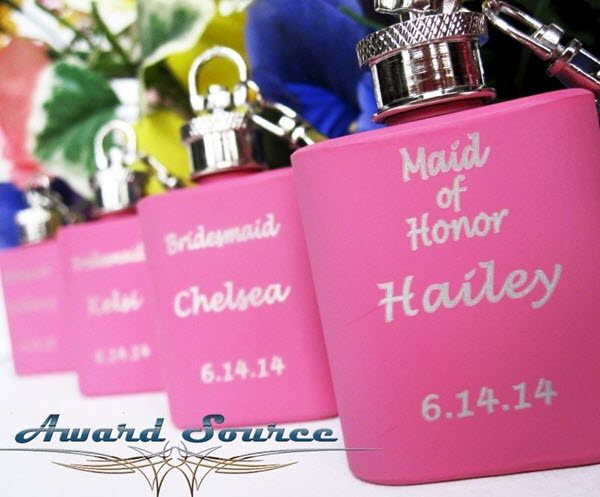 These Tiny Pink Flasks are another choice if you want a very small flask. This time they're pink. They're marketed as being bridesmaid gifts, but they'd be suitable for pretty much any situation. The engraving can contain up to 3 lines of text, with each line containing up to 10 characters.
Pink Camouflage Flask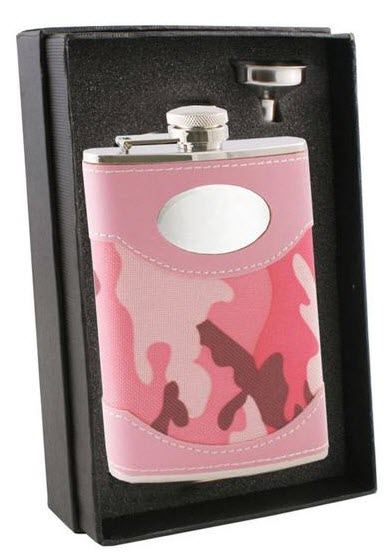 Camouflage products tend to look cool and this Pink Camouflage Flask is no exception. The space for personalization is small, but you can still include up to 2 lines of text (15 characters or less per line). This could also be used as part of a matching gift set, as there are similar flasks available that use a regular camouflage style.
Pink Plaid Sassy Flask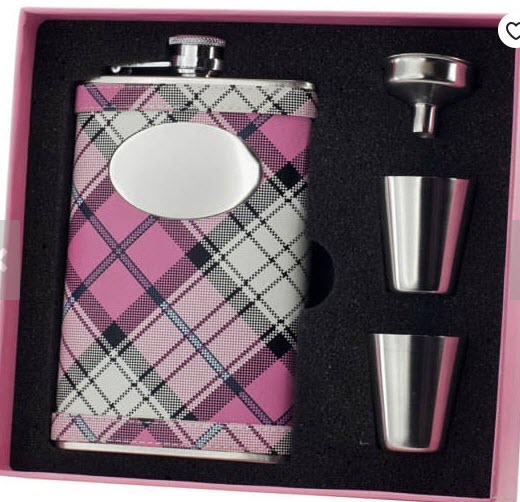 This Pink Plaid Sassy Flask is another unusual pink product. A key feature is that the flask is regular-sized, holding up to 8 ounces of whiskey (or whatever spirit she prefers). While some women may prefer smaller flasks, others will want something like this where they can carry a decent amount of alcohol.
Stainless Steel Fox Flask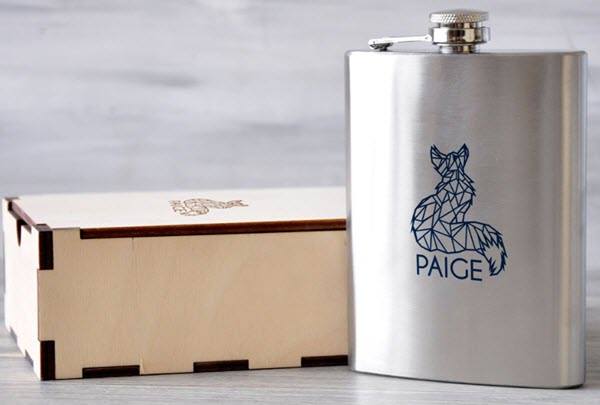 While this Stainless Steel Fox Flask is promoted as a wedding party gift, it could be used for plenty of other occasions too.The choice of animal makes this an appealing gift for females, one that doesn't feel excessively feminine. You can also choose another animal, with options including a hummingbird, swan and house cat.
This Way Up Pink Flask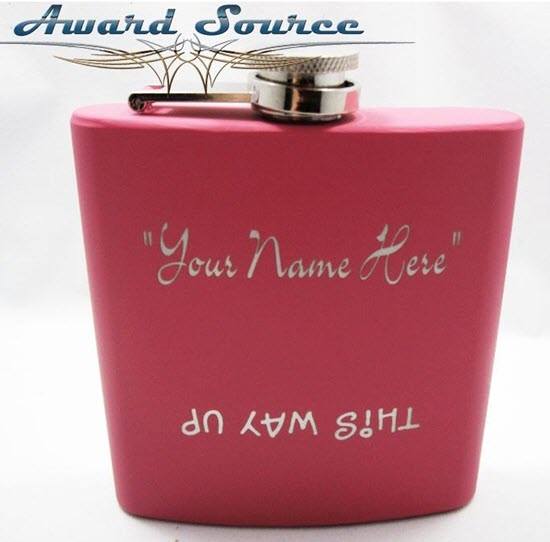 I love the way that this flask uses upside down engraving to make a joke. Gifts are always better when they're both functional and amusing. The 'your name here' section can be engraved with whatever name you like. If you want something more generic, you could specify a 3-word sentence instead.
Whiskey Window Flask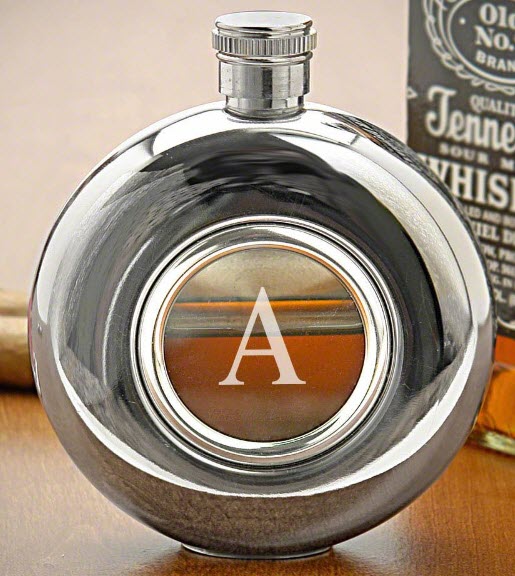 There's a good reason for callingthis a Whiskey Window Flask – you can actually see the amount of whiskey that's left. The same is true if you put a different type of spirit in there. The flask holds 5 ounces of whiskey. That size means that it can easily fit in a woman's hand.
Secret Stash Personalized Flask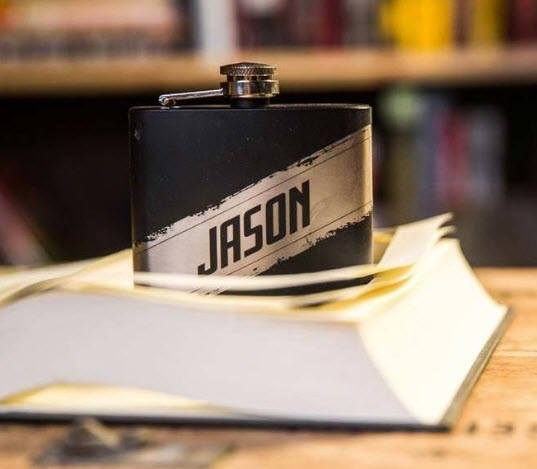 This Secret Stash Personalized Flask comes from Man Crates, so it certainly isn't designed with women in mind. That doesn't make the gift unsuitable. Many women would get a kick out of the idea, especially as the current dust jacket for the fake book is titled Vampire Desires.
Black Glitter Flask For Women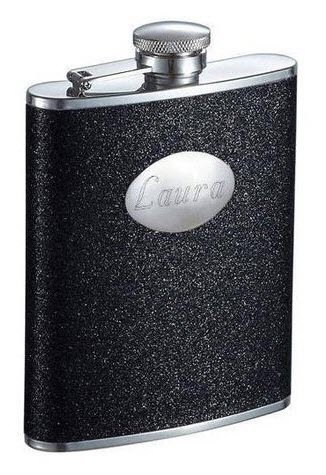 There are many styles for women's flasks, but this Black Glitter Flask is one of my favorites. The flask is as elegant as many of the male-focused flasks out there and is also distinctive. Up to 2 lines can be engraved on the flask, with a maximum of 15 characters per line.
Black Matte Flask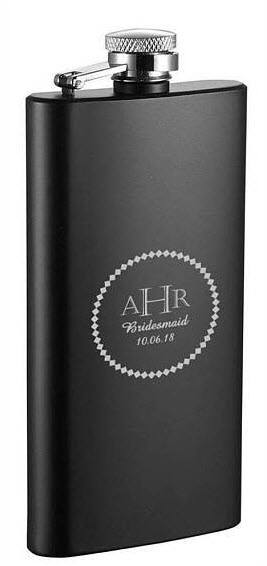 This Black Matte Flask is appealing because it is elegant and also non-specific. The small size (4 ounces) would make it a good choice for women, but men would be just as pleased with the gift. There are many different engraving styles to choose from. Many of them allow for 2 lines of text and a date.
Blue Jean Pattern Flask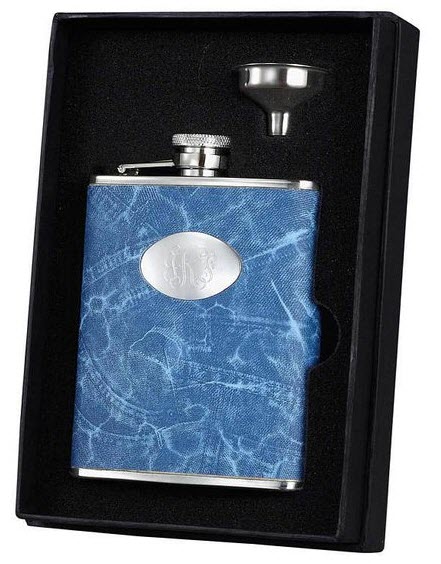 The appeal of this Blue Jean Pattern Flask is easy to see. While the flask is a similar size and shape to many others, the blue pattern is much more interesting. You have plenty of flexibility with the engraving to ensure that the piece is personalized exactly how you want it to be.
Red And Green Customized Flask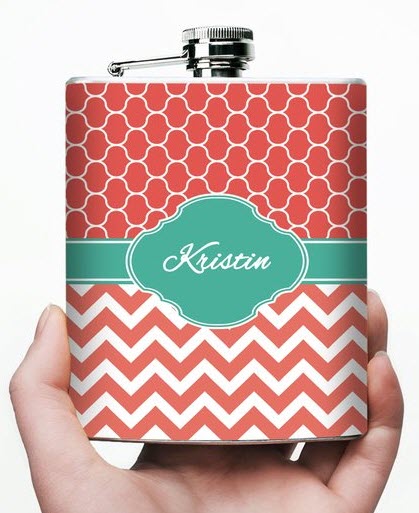 Flasks aren't normally seasonal gifts, but this Red and Green Flask seems suited to that idea. The entire design (including the name) is printed on vinyl. The vinyl has been carefully chosen to reduce the risk of scratching. The approach leads to much brighter colors than most other flasks can offer.
Girls' Night Out Canvas Flask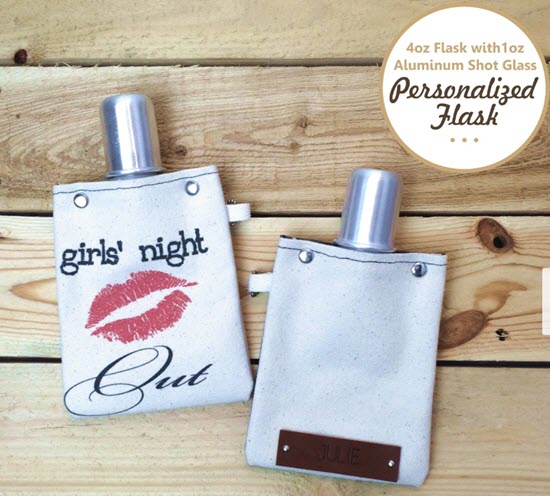 This Girls' Night Out Flask doesn't follow conventional the regular approaches. Instead, the flask itself is made out of canvas and has an aluminum shot glass on top. The shot glass also acts like a cap to the flask. The style means that it can be folded when empty, making it easy to hide. The personalization involves a leather patch on the back that is engraved or uses silver foil.
Rose Gold Bracelet Flask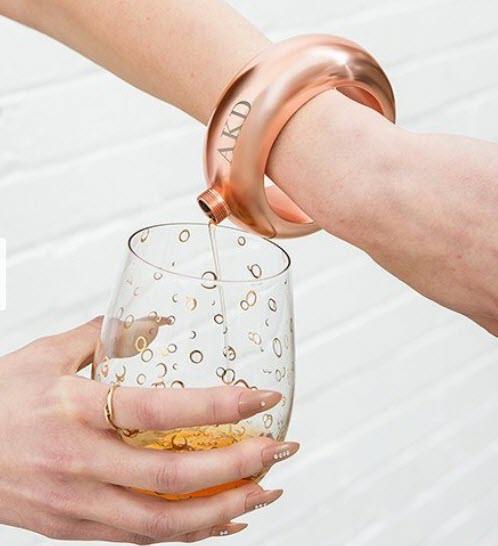 The appeal of this Rose Gold Bracelet Flask is easy to see. By looking like a bracelet, the flask is more discreet. The rose gold also means that it looks pretty, especially when it has been engraved. The flask is on the small side, just holding 3.5 ounces of liquid. Still, that should be enough for many situations.
White Hip Flask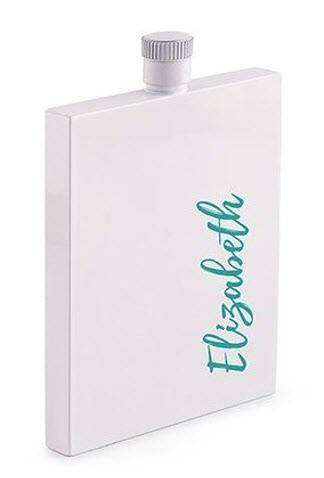 It's unusual to see a flask in white, yet the style does work well. This White Hip Flask doesn't look tacky either. The clean lines help it to look elegant, as does the script used for personalization. There are multiple text colors to choose from.
The Adventure Begins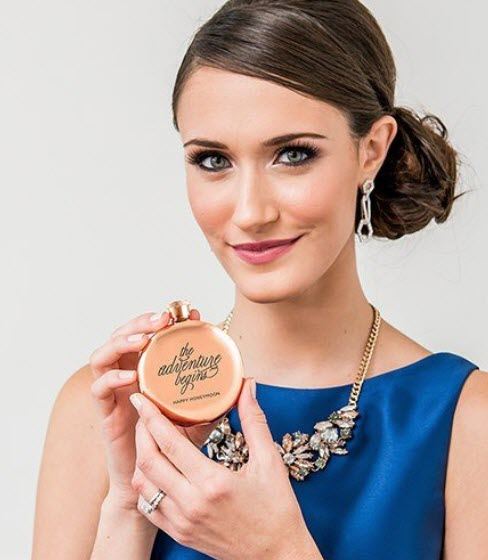 This flask is attractive both for the rose gold color and for its small size. The piece would be a perfect gift for women, especially those with an adventurous spirit. The first line of the flask (The Adventure Begins) cannot be altered, but customers can specify a phrase to be added underneath it.
Art Nouveau Roses Flask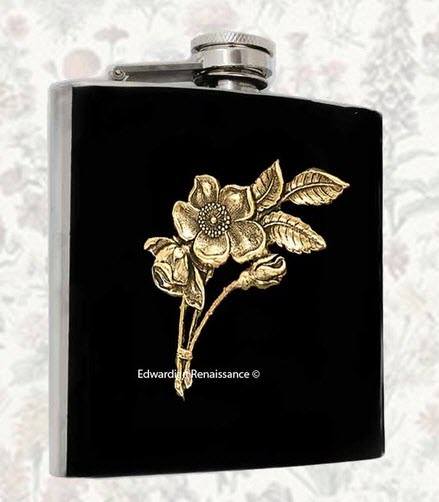 This Art Nouveau Roses Flask isn't simply a regular stainless steel flask with some small tweaks. The piece is inlaid with a hand-painted rose. The style is much more attention-grabbing than traditional flasks. It can be personalized in 2 ways. The first is to have a custom engraving, which can include your own logo. The second is to have brass letters laid into the enamel.
Shimmering Personalized Flasks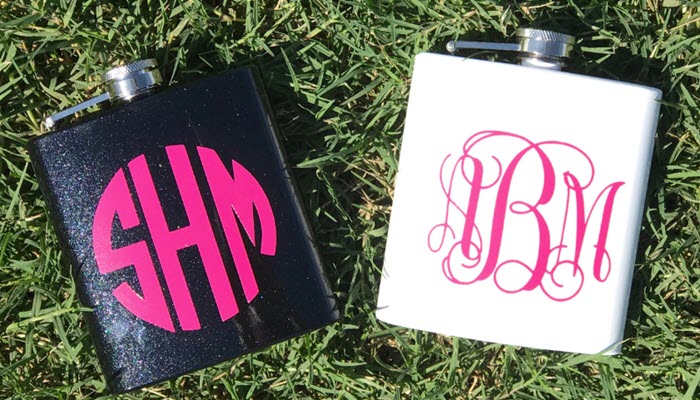 As the name suggests, these Shimmering Personalized Flasks sparkle in the sunlight. There are 5 different base colors that you can choose from, along with various text colors and monogram styles. You can even choose between having a 3-letter monogram and a first name engraved on the flask.
Round Glitter Flasks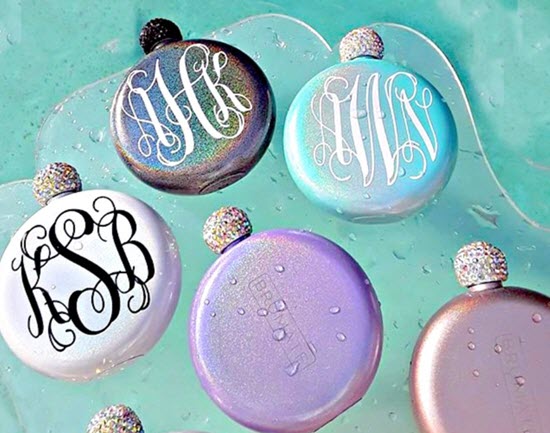 Speaking of sparkling in the sun, these Round Glitter Flasks are another interesting style. There are 6 different base colors this time, along with multiple other choices that you can make. The selections mean that you can create completely unique flasks.
Cellphone Flask with Black Leather Pouch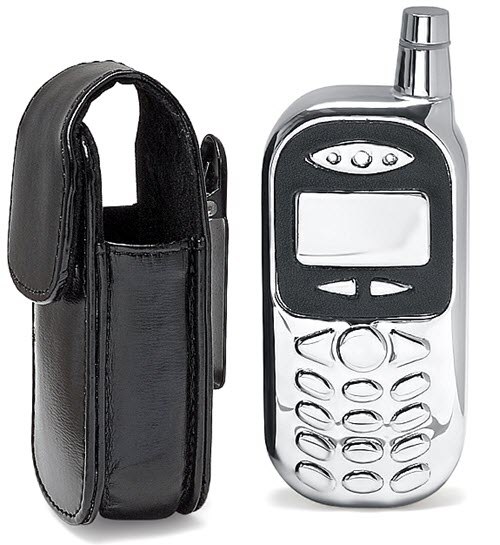 This Cellphone Flask doesn't look all that realistic outside of its holder, but it would be completely overlooked in the bottom of a woman's handbag. The flask holds 3 ounces of her favorite spirit and can be engraved with up to 2 lines of text.
Pink Leather Round Flask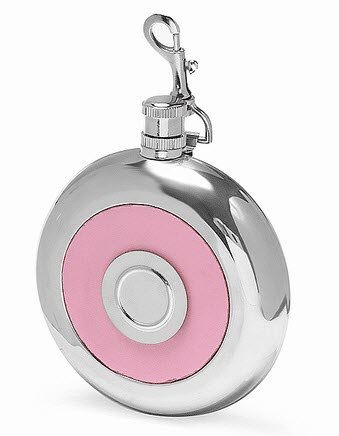 This might be an ideal flask for women who want something fashionable. The combination of pink leather and stainless steel simply works well. The flask even includes a clip to attach it to a handbag. It's not a small flask either. It can hold up to 8 ounces of liquid. That's the same as most regular flasks.
I think a bourbon would taste greate in here.
Probably Not Coffee Flask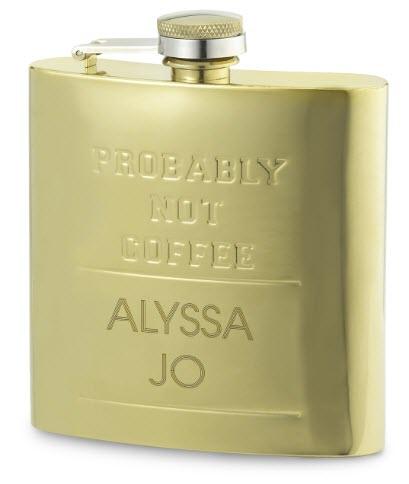 Engraving 'Probably Not Coffee' on this flask is slightly odd – given that no one would put coffee such a small flask. Even so, it makes for an amusing gift. The gold color could be appealing as well. You have plenty of choices for engraving, including up to 10 lines on the back of the flask.
Dolphin Flask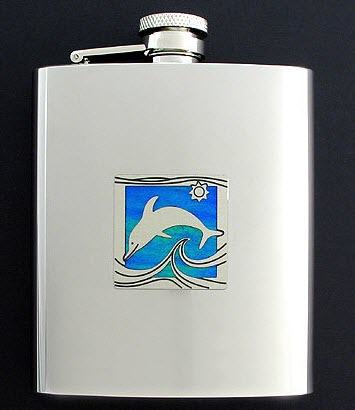 The simplicity of this flask isn't a bad thing. It helps to make the piece look elegant, while the dolphin design adds a splash of color. An even more important feature is the changes that you can make. You get to choose the color behind the design, the finish on the flask, whether it is part of a gift set and the engraving that you want. The engraving options are extensive too, allowing you to add much more text than many other products.
One final thing to mention is the dolphin design. The site offers a large range of different designs that can be used on a flask. Even if you don't like the dolphin style, there may be others on the site that you do find appealing.
2-Ounce Skinny Flasks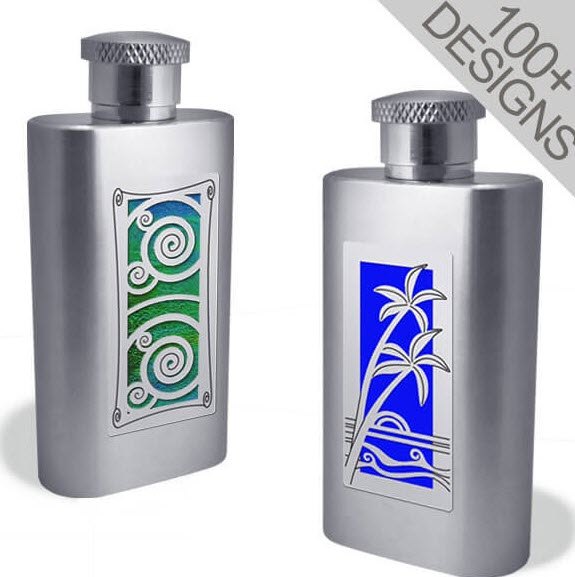 These 2-Ounce Skinny Flasks come from the same site as the previous set. These flasks are much smaller, which could make them perfect for women to slip inside their handbags. The designs are elegant too and there are plenty of choices about the colors and engraving.
Damask Flask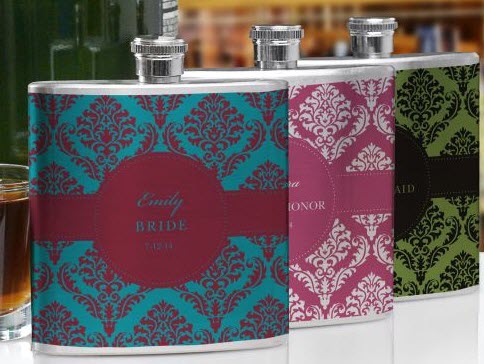 This is another type of flask that's promoted as a bridal party gift – but it doesn't have to be. You are able to choose the name, title and date, so you can make the flask say whatever you please. The ability to choose text and background colors helps you further match the flask to its intended recipient.
Monogram Colored Flasks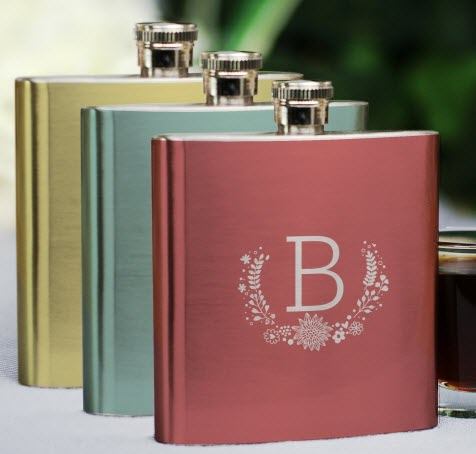 These Monogram Colored Flasks use a simple design, with just one letter and a floral pattern. The style works well, as the flasks end up looking elegant. There are 16 different colors to choose from. All of the colors look good. Just be aware that the color imprint is only on the front of the flask, not the back.
Text-Based Colored Flasks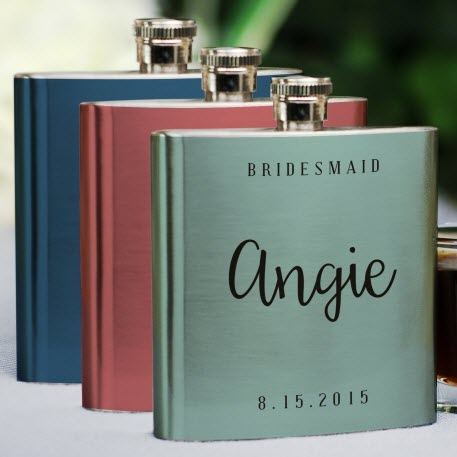 The difference between these flasks and the previous set is simply the engraving. This time you can choose a title, date and name, along with the colors. The style would be perfect for a wedding or for countless other situations.
Purple And Pink Owl Flask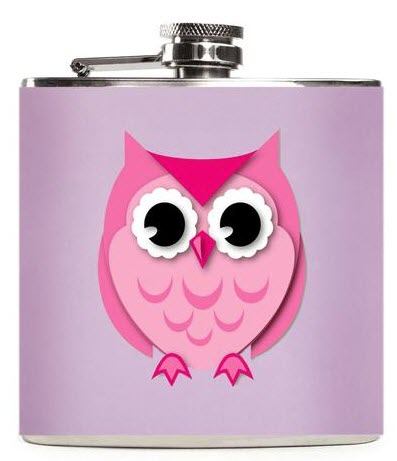 It's hard to imagine anyone not wanting this Purple and Pink Owl Flask. The colors work well together, without making the piece excessively girly. It can be personalized with an initial, a name or even an entire message.
Wonder Woman Flask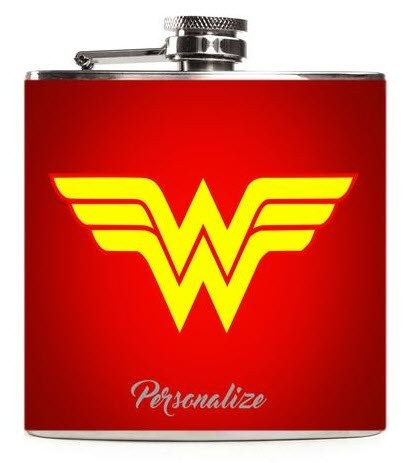 Not only does this flask look cool, but it's also a great way to remind her of what she means to you. The flask holds 6 ounces of liquid, which is a good size. You can choose how it is personalized based on what would be suitable.
Turquoise Enamel Flask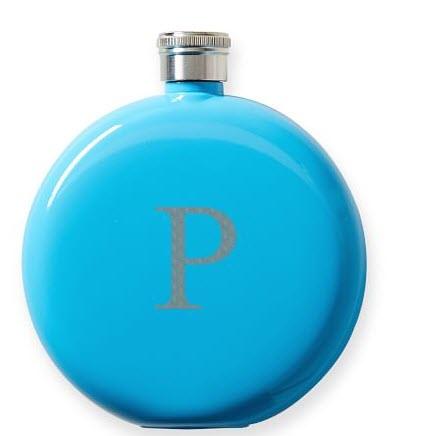 I love the color and the shape of this Turquoise Enamel Flask. Both features make it great as a gift. You're not limited to a single initial either. There are multiple monogram styles to choose from. Most of those allow for 3 initials to be engraved.
Here's our full list of whiskey of the month clubs, which make great gifts too.