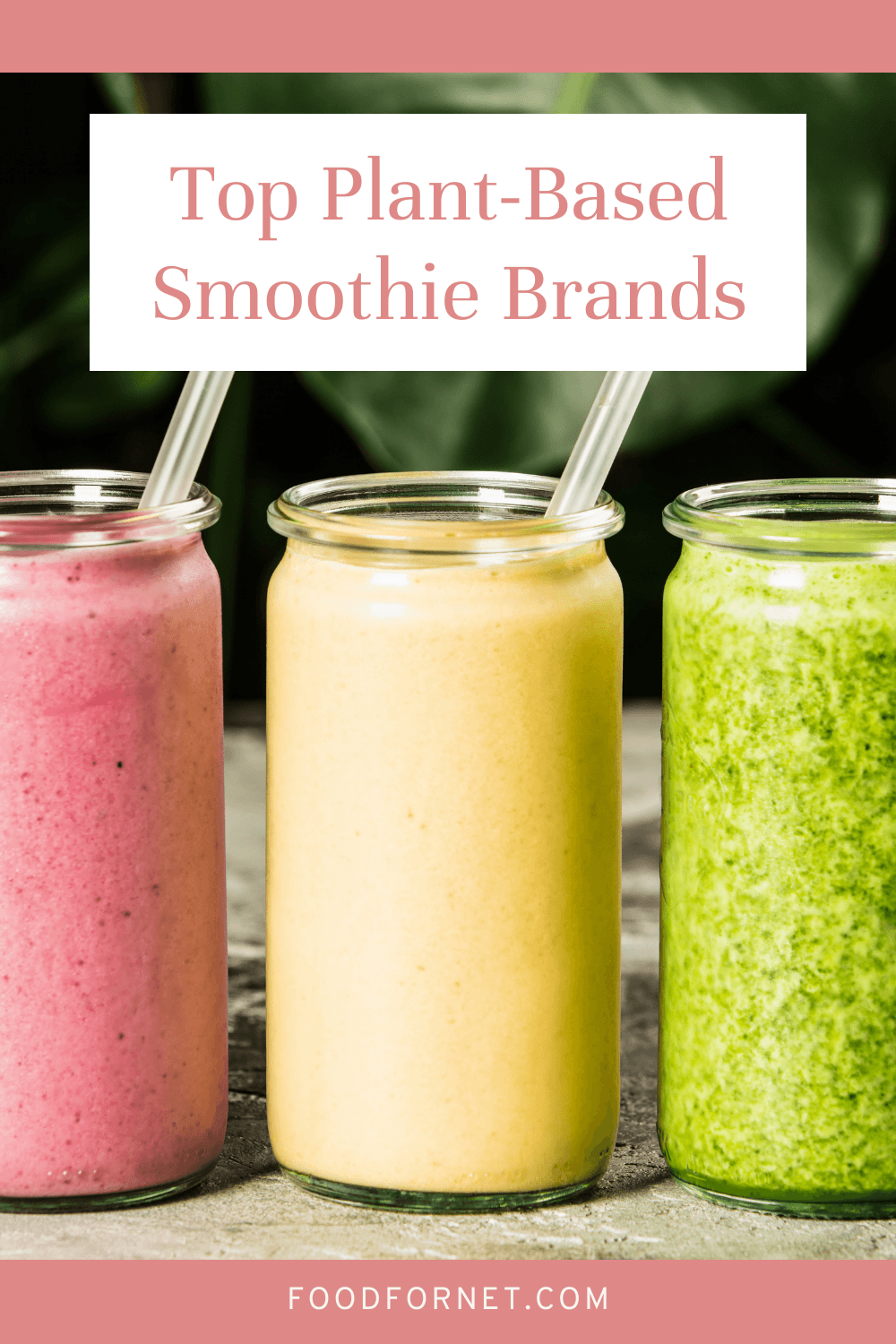 Smoothies have gone through a huge boom in recent years, due to both the incredible flavors they bring to the table and the health benefits. Blending numerous fruits, veggies, and greens together not only tastes great but it's easy to drink and packs a ton of nutrition into one glass. Smoothies are a staple in many people's lives – they're healthy, easy, customizable, and you can take them on the go.
Smoothies are also popular because they fit into just about any lifestyle as long as you use the right ingredients. Bodybuilders drink them after the gym and raw vegans often have multiple a day, for example. You can add supplements to create even more benefits or you can stick entirely to raw fruits.
Either way, it's beyond easy to cater your smoothie to any diet, lifestyle choice, or restriction you may have. They're even easy to add to your day if you're busy and strapped for time. There are plenty of vegan, diet-friendly, plant-based smoothies out there you can order online and have delivered. Many companies have plenty of ingredients and flavors to choose from, and they're just as fresh and healthy as if you blended them up in your own kitchen. 
The Best Plant-Based Smoothie Brands
1. Raw Generation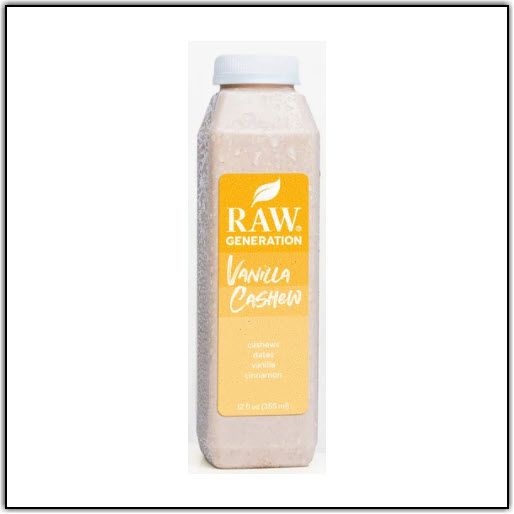 Raw Generation was born when the founder Jess's grandmother fell ill with cancer. Her grandmother went through chemo but during the process, Jess found a book that was all about fighting cancer with food. This drove her to do all kinds of research and learn everything she could about nutrition and whole foods, all the while incorporating her newfound knowledge into what she would cook for her sick grandmother.
Soon, Jess was joined by her dad and the two grew a passion for raw food after learning what to eat to always look and feel their best. They both also discovered a love for juicing and from that, Raw Generation's Smoothies and juices were born.
For smoothies specifically, their selection includes a few basic fruity smoothies, a few that are specifically high in protein, and a few that are super sweet and meant to emulate dessert. Their ingredients are simple and wholesome, with most smoothies featuring dates as a base. Dates are nice and sweet and add substance and nutrition to any smoothie. They also go well with just about any set of flavors, from sweet and fruity to warm and spicy like their eggnog smoothie.
If you want to mix it up a little and/or experience different flavors, they also have a great selection of cold-pressed juices. You can buy their products in curated "cleanse" packages, or create your own box of 12, 18, 30, or 42 bottles. The more you buy at once, the better deal you get, too!
2. Revive Super Foods Smoothies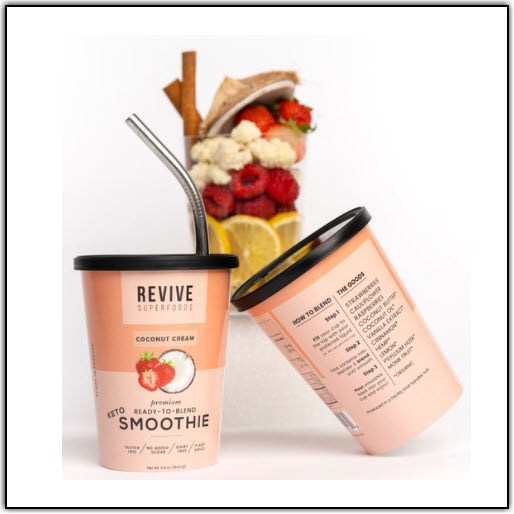 Revive Super Foods Smoothies are all about making your life better, healthier, and easier! These smoothies come pre-portioned and ready to blend. They've done the work for you, creating irresistible flavors and putting all the ingredients together in just the right amounts. Why don't they take the last step and blend them for you? Well, this way you can keep the packages in your freezer and enjoy your smoothies at your leisure with no worries about them going bad any time soon!
Their variety is fantastic, from tropical and exotic fruit mixes to rich and decadent chocolate treats. Their Pineapple & Greens Smoothie is the perfect example of the mixes they come up with. The ingredients here include pineapple, kale, wheatgrass, flax, ginger powder, spinach, oranges, chia seeds, blue spirulina, and hemp protein. This mix of tropical fruits and healthy greens creates a sweet, exotic smoothie with so many benefits. It has only 120 calories, five grams of protein and is packed with things like niacin, vitamin B6, iron, calcium, potassium, and more.
You can mix and match with all their different flavors – get a bunch of your favorite flavor and enjoy one a day, or get one of each and try something new every day! If you like the way they do things, they also have meals, soups, and frozen desserts that you can order along with your smoothies to add even more goodness to your life.
3. Splendid Spoon Smoothies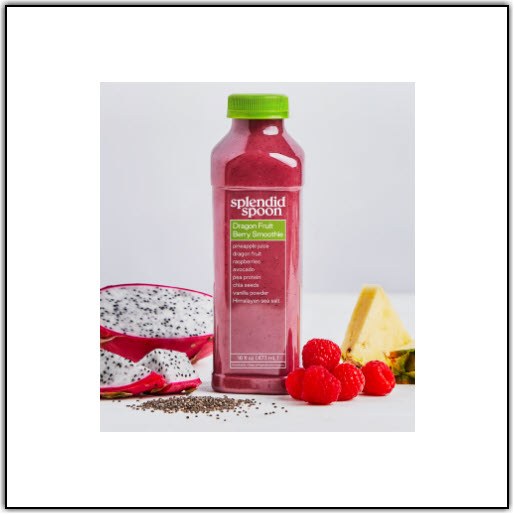 Put simply, Splendid Spoon is on a mission to make your life both healthier and easier at the same time. The idea is that you'll save time and reduce stress when you choose their smoothies and other intuitive, healthy products.
Not only do they use wholesome, healthy ingredients to make their smoothies and other food but they partner with both chefs and nutritionists. This helps them ensure that they're putting the right amount of protein, carbs, fiber, and healthy fats into each product, making them a perfectly balanced addition to any diet.
They have plenty of smoothies to choose from, ranging from sweet, decadent flavors like chocolate and fruits, to earthier, more savory options like herbs and greens. Regardless of the flavor(s) you choose, each smoothie is made with whole foods and clean ingredients.
The products aren't limited to just smoothies, either. They have a great collection of meals you can get as well. They work hard to recreate classic meals with a much healthier twist, such as soups and rice bowls. You can order these along with your smoothies and stock up on many wholesome meals for every day of the week. They're great for taking to work, or if you're just feeling lazy on the weekend – but don't want to sacrifice your good eating habits!
4. Daily Harvest Smoothies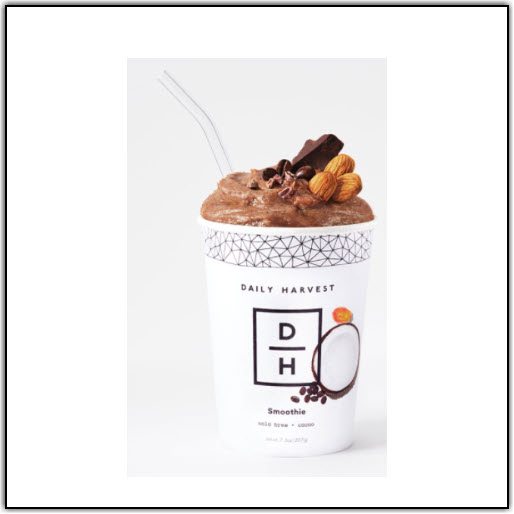 Daily Harvest prides themselves in the quality of their smoothies. Not only are they delicious but they're carefully sourced and expertly crafted to provide the best in quality and nutrition. The ingredients are wholesome and healthy, ranging from fruits and nuts to leafy greens and organic chocolate. Their variety is huge, offering a smoothie flavor for just about every fruit you could think of, from basic strawberries and bananas to the more exotic lychees and dragon fruits.
They also provide a very easy smoothie, everything is pre-portioned and put together. All you must do is add the frozen compilation to your preferred liquid and blend it up!
Like many others, Daily Harvest also offers a selection of other products such as bowls, soups, oatmeal, and more if you want to diversify your healthy eating and get it all from one source.
5. One Potato Smoothies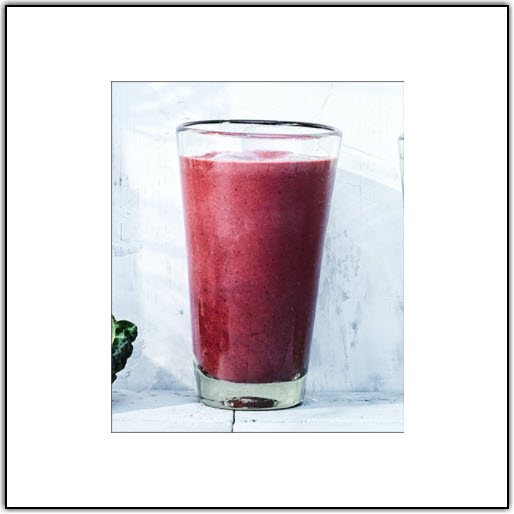 Potatoes are not something you would usually associate with smoothies, but One Potato Smoothies are something special. They have several recipes available, each focused on a different set of powerful and nutritious benefits. Their goal is to make breakfasts for everyone as easy as possible. Breakfast is no doubt an important part of enjoying a full and healthy day, and these smoothies are the perfect way to start them off.
However, that's not to say you can't enjoy these smoothies for other meals or at any other time of the day! The point is that their ingredients are healthy and wholesome, including superfoods like leafy greens, chia seeds, and other wholesome ingredients like almonds, peanut butter, and lots of fruits.
Most Universal Plant-Based Smoothie Ingredients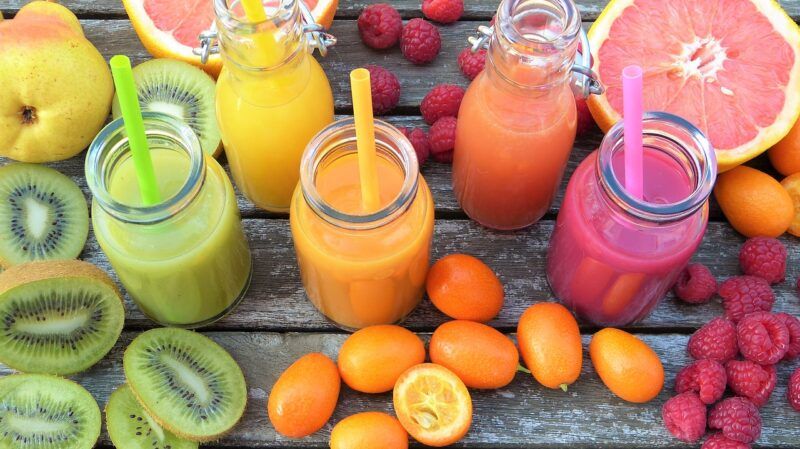 While buying plant-based smoothies from some of the amazing companies listed above is a wonderful and convenient choice, smoothies are also a great thing to make at home. You can make them with the most basic of ingredients and you can build whatever flavor combinations you want – the options are literally limitless.
That said, there are several things you can keep in mind if you want to make consistently good smoothies in terms of complementary flavors and nice textures.
Bananas
Bananas are undeniably healthy, known for their abundance of potassium, among other nutrients. What bananas also bring to the table, though, is texture. They almost always make for a wonderfully thick and creamy smoothie, which is often the goal.
Nut Butters
If you want to stay entirely plant-based, it can be a little tricky to get lots of protein into your smoothies. Nuts are a great way to go about adding the protein you need, and using them in butter form is the easiest. Nut butters blend very well into smoothies, contribute to a nice texture, and add a nice flavor. There are plenty of nut butters available, too, so you can still create a wide variety of flavors just with your choice of butter.
Grains
Grains are a great thing to add to just about any smoothie because, in the right form, they won't hinder your desired texture and their flavor is even easy enough to cover up if you'd prefer. They also bring a lot of nutrition to the smoothie, in terms of healthy fats and fiber.
Avocado
Much like bananas, avocados create a wonderfully creamy texture, but their taste is so subtle that you won't even notice the addition of a little avocado! You can still create any flavor you want and enjoy the many health benefits that come from the healthy fats and nutrients in avocados.