Ten years ago, the meal kit delivery service industry was still fairly unheard of in the United States. Dinner was essentially an on-your-own thing. You planned menus, you shopped for groceries, you prepped ingredients, and then you cooked—or, like many people, you grabbed take-out instead of cooking at all.
Now there are several meal kit delivery services that help with everything from dinner plans for families to specific eating styles for vegans, keto and paleo dieters, and more. Some focus only on dinners, while others have options for breakfasts, lunches and snacks. How do you choose one from all of the options out there?
In this PlateJoy vs. Hello Fresh comparison, I'll share what I've learned about these two very different outlooks on meal kit deliveries and how they can best fit into your life. You'll get a feel for the different kinds of options out there as well as what specifics I look for when I'm about to try a new service.
Types Of Food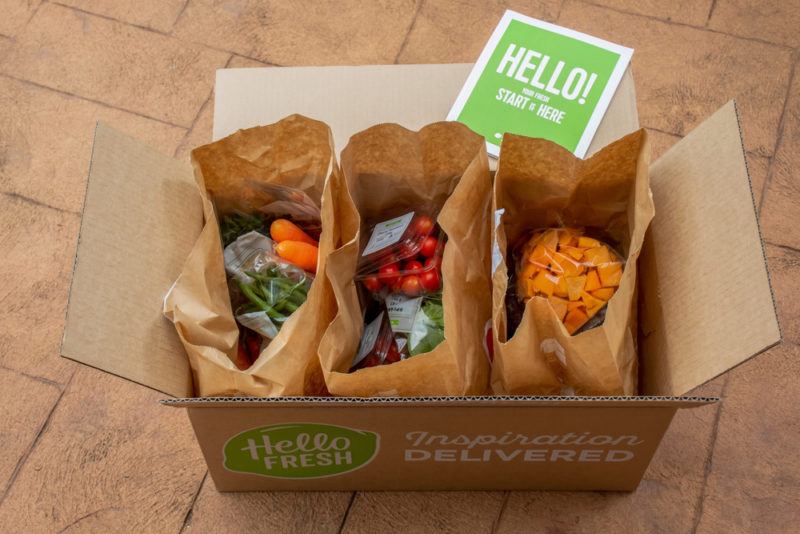 Comparatively speaking, Hello Fresh is almost traditional when it comes to meal kit delivery services. You select the recipes you want to try each week, and you receive the recipes with the ingredients to cook them right on your doorstep.
Like many meal kit delivery services, Hello Fresh ingredients come pre-measured and sorted by the recipes you've chosen. There's a weekly rotating menu, with 15 meals per week. Three of those are vegetarian, and six are on the classic plan.
The service has three different subscription plans that allow you to feed two to four people each week. The classic plan, which includes items like the Sweet-As-Honey-Chicken with Green Beans and Jasmine Rice, allows subscribers to choose recipes to try for two or three meals each week.
The family plan feeds four people and also gets two or three meals per week, and the vegetarian plan gets three meals per week for two to four people.
The classic plan has a feature that I really like, which is the dinner-to-lunch option. This menu item sends you ingredients for two meals in one. You use the ingredients to make a dinner one night, such as Chicken Sausage Flatbread, and then you use the leftovers to make a pack-along lunch for the next day, such as Italian Orzotto.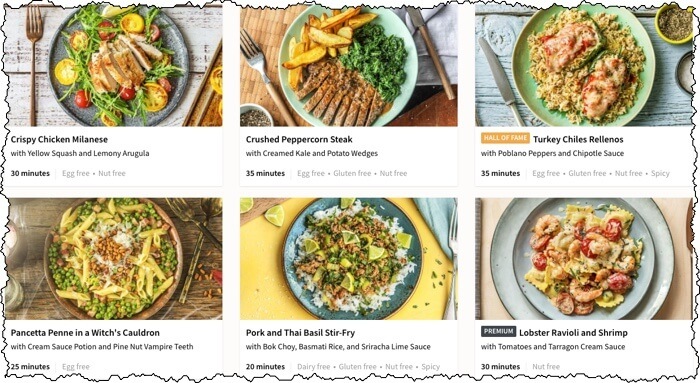 The recipes need some work for clarity, and you can't click on the recipes to view them until you've gone through checkout. However, this service does give you full access to the recipe archives once you've signed up. This means you can see 2,500 recipes and search them with categories such as world cuisines, family meals, quick meals, hall of fame, and more. You can also get nutrition information with the recipes, and the recipes can be downloaded.
When you're looking at the recipe options on the online menu, you can see if there are food allergens that are omitted from that particular recipe (such as dairy, eggs, gluten or nuts) and how long the recipe takes to cook. There are sometimes labels on the online menu items that categorize the recipes into gourmet meals, dinner-to-lunch options, 20-minute meals and more.
The portion sizes of meat and plant proteins were nice-sized compared to some other meal kit delivery services that I've tried, but the food was a little boring. One thing that I do like is that there's a wine option with this company. The wine costs $15 per bottle.
PlateJoy isn't much like Hello Fresh at all. In fact, PlateJoy is one of the most unique services out there. It's not actually a meal kit delivery service, but more of a meal planning service. However, PlateJoy has a partnership with Instacart so you can still get your groceries delivered.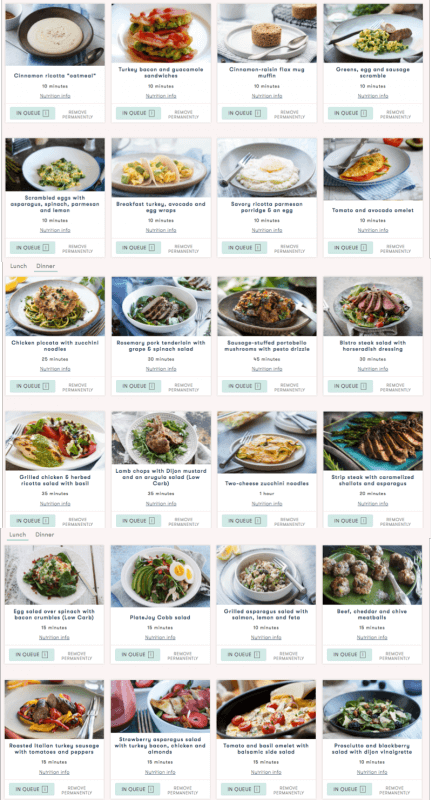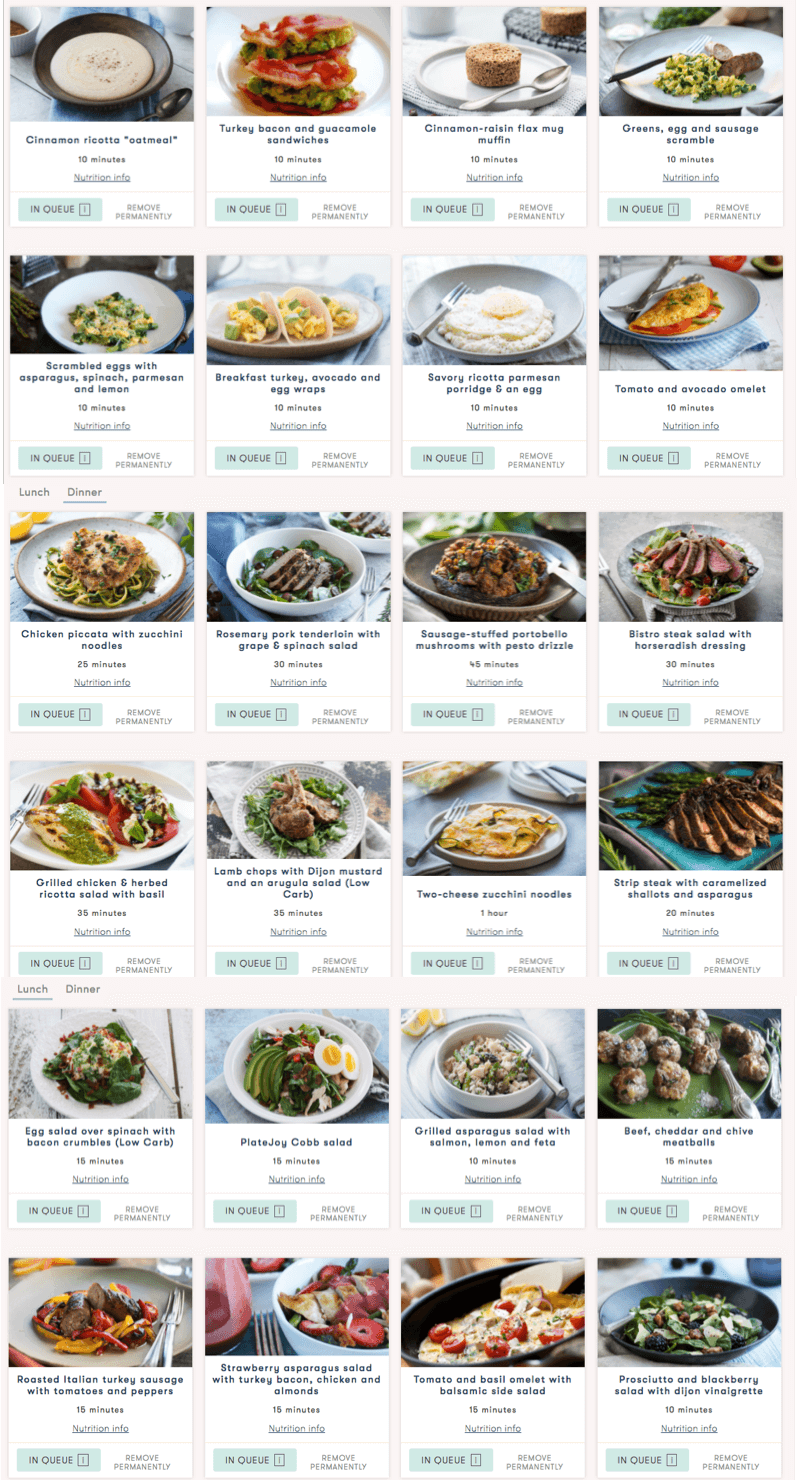 Instead of focusing on dinners alone, PlateJoy allows you to order menus and recipes for every type of meal you want, for as many people as you'd like to cook for, for as many days of the week as you'd like to cook.
To begin with, you complete an advanced lifestyle quiz that includes not just the number of people you'll be feeding but also their sizes or (adult or child) and whether anyone is trying to lose weight. This allows every recipe to be scaled perfectly for the amount of ingredients you'll need.
The company generates customized meal plans based on your criteria. Then you choose whether to have the ingredients delivered through Instacart or have the shopping list sent to your mobile phone so you can get the groceries yourself. The digital pantry feature also remembers what you've got on hand so that you can plan around those items, which saves money on your grocery bill and reduces food waste.
There's full nutrition information for every meal, but you can also get advice from a nutrition coach through PlateJoy, and you can change your dietary preferences anytime you'd like to. One other thing I really like about PlateJoy is that you can add your own personal recipes to the weekly menus you generate.
Signing Up And Canceling
To sign up with PlateJoy, you join a free ten-day trial. This gives you a chance to get a feel for the recipes and whether you get your groceries delivered or get them yourself. After that, if you choose to stay with the service, your credit card is billed automatically.
To sign up with Hello Fresh, you first choose the plan you want based on your dietary preferences. Then you choose whether you want to cook for two or four people and how many nights per week you'll be cooking. As with PlateJoy, you can cancel the service online.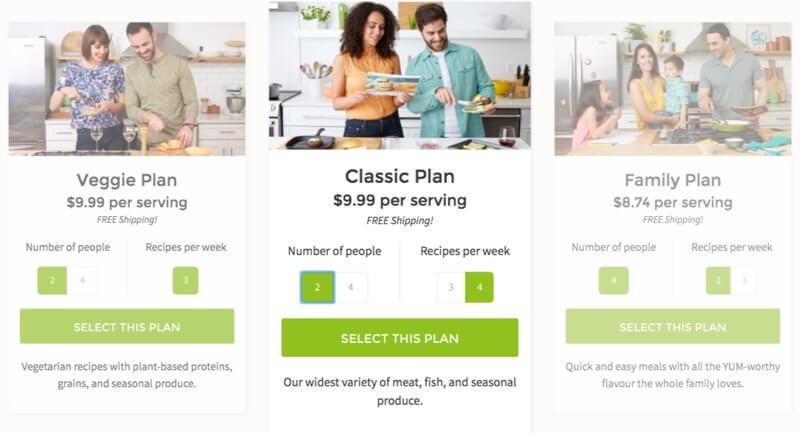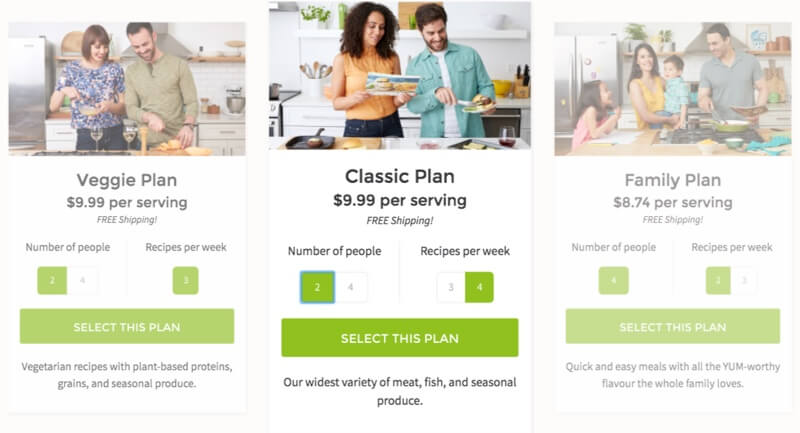 However, I had a mix-up with my cancellation and ended up waiting on the phone with customer service for about 45 minutes. That was a little bit frustrating for me.
Packaging And Delivery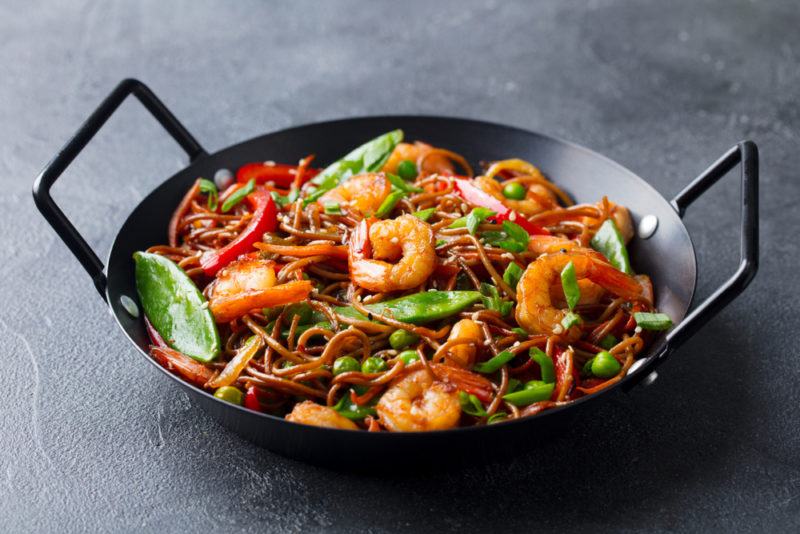 PlateJoy deliveries really come through Instacart, if you choose to go that route. Instacart works with local grocery stores across the nation, so you can get fresh ingredients delivered fairly quickly. It's pretty simple to use. You use the shopping list generated through PlateJoy and update the ingredients and quantities you'd like. Then you check out, and the groceries are delivered to your home.
Hello Fresh is like many meal kit delivery services when it comes to shipping. Ingredients are packed in mostly recyclable materials, including brown paper bags with labels for each ingredient, inside a cardboard box. Hello Fresh charges a $5.99-$7.99 delivery charge for each box that's shipped.
Pricing
PlateJoy pricing can be a little bit tricky because you pay for the meal planning, the ingredients, and grocery delivery separately.
After the free trial, you pay a one-time installment for either six months ($69) or 12 months ($99) for the basic plan. For the special weight loss subscriptions, which come with more nutritional information and help, you pay $89 for three months or $119 for six months. This works out to around $8-$12 per month for the basic plan or $20-$30 per month for the weight loss plan.
Once you have your meal plans, you can decide whether you want your groceries delivered. Instacart has a few delivery options available. You can get your ingredients within an hour for a $7.99 fee, or within two hours or more for a $5.99 fee. If your orders are always going to be at least $35, you can also pay an annual fee of $149 and have your ingredients delivered in the two-hour window.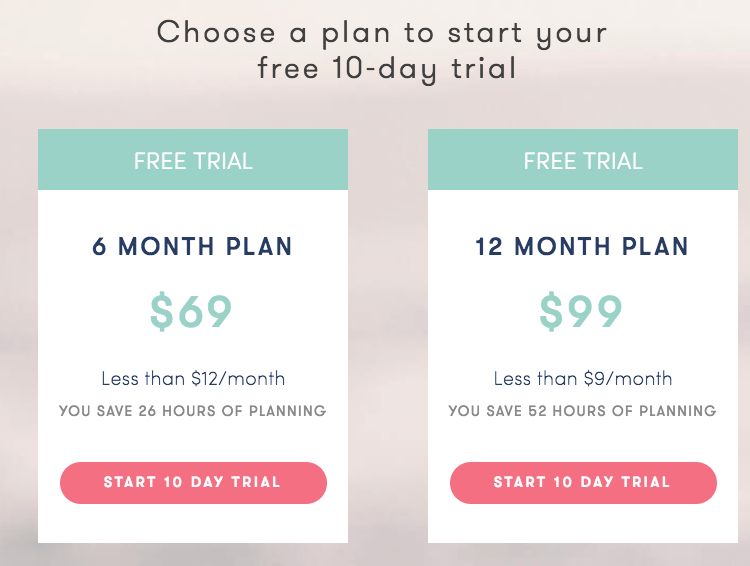 The only other cost with PlateJoy is the food itself, which depends on the cost of the groceries locally and whether you're adding more items to your cart.
With Hello Fresh, the price you pay depends on the plan as well as how many nights you're getting recipes for and how many people you'll be feeding.
The veggie plan only has three meals per week, which simplifies things a little bit. You pay $6.99 per meal for four people and $8.99 per meal for two people. On the family plan, which serves four people each, you pay $7.49 per plate for three recipes and $7.87 per plate for two recipes per week. The classic plan costs per meal range from $7.49 to $9.99.
Customizable Options
Hello Fresh is comparatively limited in its options. The vegetarian plan is limited to the three meals that are offered per week, although the family plan and classic plan can mix and match meals a little bit more.
PlateJoy is much more customizable. Besides getting an unlimited amount of meal plans, you can choose meal plans for every type of meal, choose whether or not to have your groceries delivered, whether you want to add your own recipes to PlateJoy and even if you'd like to switch to different local grocers through Instacart.
What Makes This Company Unique
Both PlateJoy and Hello Fresh have some great things going for them. I liked PlateJoy's innovative approach to meal kit deliveries, but I also liked Hello Fresh's simplicity. There are pros and cons with each direction. Here's are some of the things that stand out most to me.
PlateJoy
Pros:
The free trial is always a plus.
The digital pantry is really helpful.
You can sync PlateJoy with your Fitbit.
The customizable options are outstanding.
Because PlateJoy's aim is to help people avoid developing type II diabetes, some insurances will cover the cost of the meal planning.
Cons:
Because you pay for the meal planning, the grocery delivery and the ingredients separately, it can take a few weeks to get a feel for how much to budget per week.
Hello Fresh
Pros:
I always like having a wine or beer pairing option.
It's nice to be able to access the full recipe archives.
Because Hello Fresh is a basic service focused mostly on dinners, it's simple and easy to use.
The cost per plate is reasonable compared to other meal kit delivery services I've tried.
Cons:
The mix-up with my cancellation was a little bit frustrating for me
The food wasn't as exciting or delicious as I expected or hoped.
The recipes were a little bit tricky to follow.
Alternatives
If you like the simple, more main-stream approach of Hello Fresh, you might also like Blue Apron or Martha and Marley Spoon. Some of my other favorites are Plated and Sun Basket.
Terra's Kitchen and Green Chef have some interesting customizable options too.
Conclusion
When it comes to PlateJoy and Hello Fresh, I would go with PlateJoy most of the time. I really like the customizable options, including whether or not to have my ingredients delivered and how many menu plans I get. That level of control just isn't possible with most meal kit delivery services.