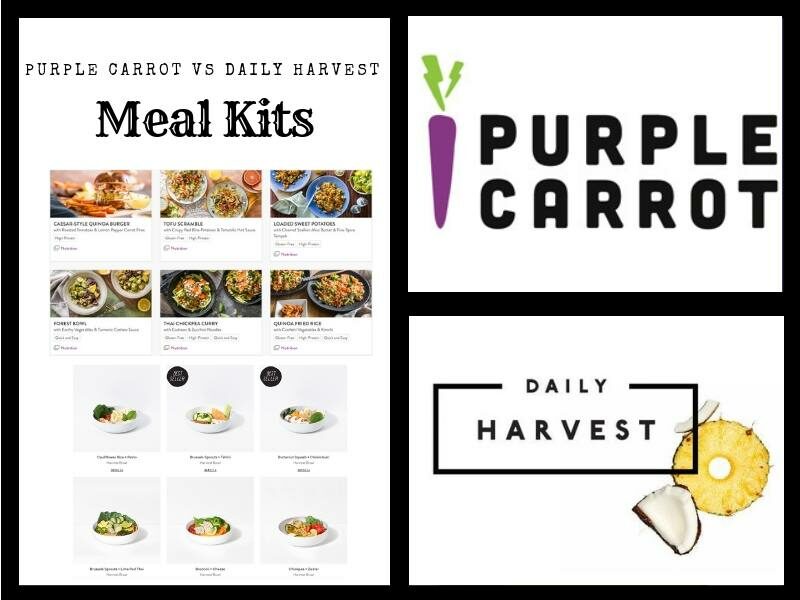 As the day winds to a close and you start thinking about what to make for dinner, meal kit delivery services can make cooking and serving nutritious meals easier than ever. It's always nice to have new recipes or new ideas to try.

If you're switching to a new dietary lifestyle, such as keto or vegan eating, this can be particularly true. Until you get more experienced, you might only have a handful of meals you can count on. Having a meal kit service fill in the gaps might be really helpful.

In this Purple Carrot vs. Daily Harvest comparison, I'll help you zoom in on two vegan-based meal kit delivery services. You'll get to see everything from the types of foods they offer to how they're packaged and shipped, as well as some alternative meal kit services you might consider trying.

Types Of Meals

Both Purple Carrot and Daily Harvest offer vegan meals, but they provide them in totally different ways. Purple Carrot is more traditional, with ingredients for dinners arriving on your doorstep in a box. Daily Harvest is a super-foods company that packs its blend-able meals (think soups and smoothies) into cups.

When you sign up with Purple Carrot, you set your default plan from a few different choices: high protein, quick and easy, and a gourmet chef's choice. There's also a high-performance, gluten-free plan called TB12 that costs a little more and isn't as customizable.

Quick and easy meals generally take less than half an hour to prepare. The high protein plan includes meals with at least 20 grams of protein and seasonal ingredients, and the chef's choice plan is for people who want to be a little more adventurous in their cooking.

Each week, there are six total meals to choose from, and each plan has three different meal offerings. These meals usually fit in two categories, such as quick and easy and high protein, or gourmet and high protein. You can mix and match the meals with any plan but the TB12 option.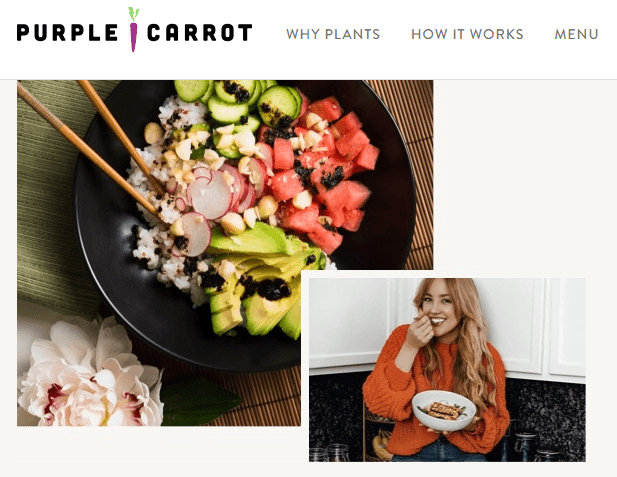 All three plans serve two people and include ingredients for three dinners in the weekly boxes.

One really nice feature that Purple Carrot offers is a dropdown nutrition facts box for each meal. On the weekly menus page, you'll see the meals available and what plans they fit into, plus a purple 'nutrition' link, where the dropdown box is generated. Meals include options such as General Tso's Tofu with quinoa and steamed broccoli or Crispy Buffalo Chickpea Wraps.

Daily Harvest meals are focused more on eating on the run rather than cooking and eating dinners at home. These meals are made from cryogenically frozen, non-GMO organic ingredients that come in cups.

Because of its unique take on providing healthy foods, the types of meals are a bit limited. There are harvest bowls, smoothies, and blended soups. There are also lattes, overnight oats, chia parfaits and sundaes, but not much you'd use a fork with instead of a spoon.

You can use the filters on the 'browse' section to find meals that meet specific dietary needs, such as paleo. To find out whether a food fits a specific eating plan, such as paleo or keto, by going into the help menu and selecting the question you want to ask from the suggested questions at the side. For example, if you click the question 'Are your soups paleo friendly,' you'll get a list of soups that fit a paleo lifestyle.

For every delivery, you can choose any combination of cups that you want from a static menu. The smoothies section, for example, lists 18 different smoothies, including Mint + Cacao, Mango + Papaya and Strawberry + Peach.

There are sections for all the types of cups Daily Harvest offers, and a new section for vegan-based cookie dough, as well. You also have the option of choosing pre-planned boxes, such as the smoothie edit, the breakfast edit, the all-day edit or a seasonal edit to come to your door.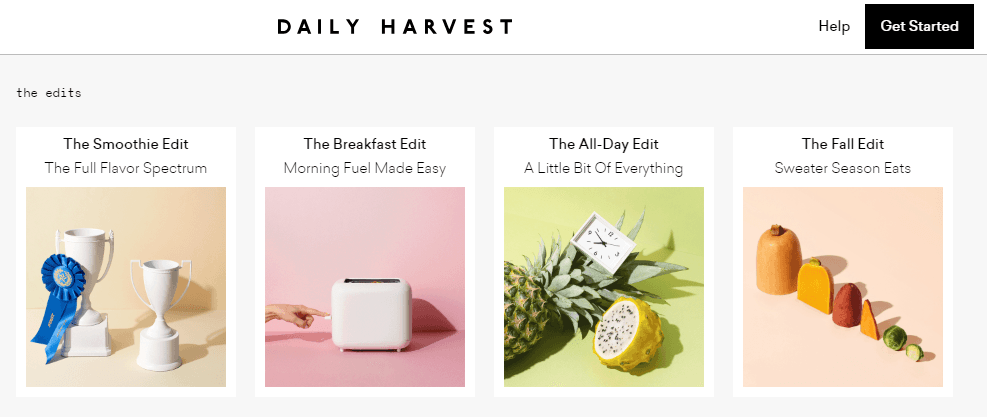 To find out more about the nutritional information, you can go to the product pages and click on the 'Ingredients & Nutrition Facts' tab. Nutrition fact labels are also included on the side of every cup. If you'd like to know about possible allergens, you can look through the frequently asked questions under the 'ingredients and nutrition' subheading.

To prepare a Daily Harvest food, you add liquid to the cups and blend, soak or heat the ingredients. Harvest bowls, such as the Broccoli and Cheese harvest bowl, take around 5 minutes to cook on a stovetop. Cups can be stored in the freezer for one month.

Signing Up And Cancelling

The sign up process for both companies is fairly simple. With Purple Carrot, you enter an email address, create a password, sign up and customize your weekly recipes. When you get to the checkout, you enter your shipping and billing information.

For Daily Harvest, the first step is to enter your zip code to make sure the company delivers in your area. Then you can pick your delivery plan and build your box. When you come to the checkout, you enter your shipping and billing information and an email address so you can watch for your order confirmation.

It's a little bit difficult to find information about cancelling your Daily Harvest subscription. You can find that information in the terms of service.
To cancel your subscription and delete your account, click the help button and navigate to account management. From there, you should be able to cancel or skip orders. You can also start the cancellation process by sending an email to contactus@daily-harvest.com.

Cancelling with Purple Carrot is also done from within your account. Go into your profile, then into account settings, and click the 'change' link next to information on your subscription status. You'll be able to pause the service for up to ten weeks or cancel it completely. Cancelling has a few more steps, and you also fill out a brief questionnaire.

Packaging And Delivery

Ingredients for Purple Carrot's meals come in a box that the company encourages customers to recycle, along with composting scraps from cooking the meals.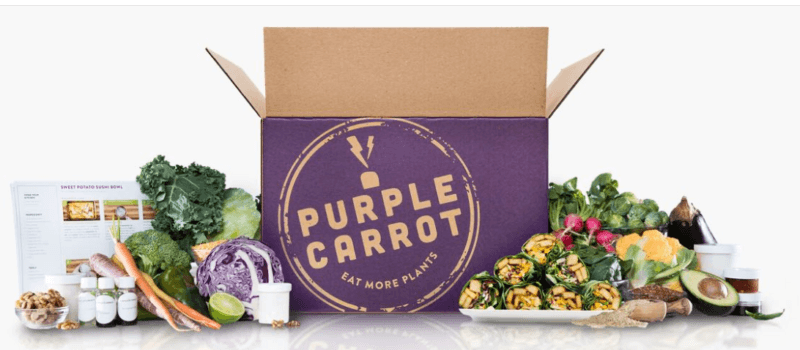 Deliveries are made in all contiguous 48 states, but not in every area of those states. To find out more about whether Purple Carrot delivers in your area, you can send an email request for more information to hello@thepurplecarrot.com.

One really great thing about Purple Carrot: shipping is always free. You agree to pay shipping and handling for Daily Harvest boxes, but the amount changes per delivery based on what you order.

With Daily Harvest, everything is packaged in pre-portioned cups, although some cups contain more than one serving. The latte cups, for example, contain three lattes each.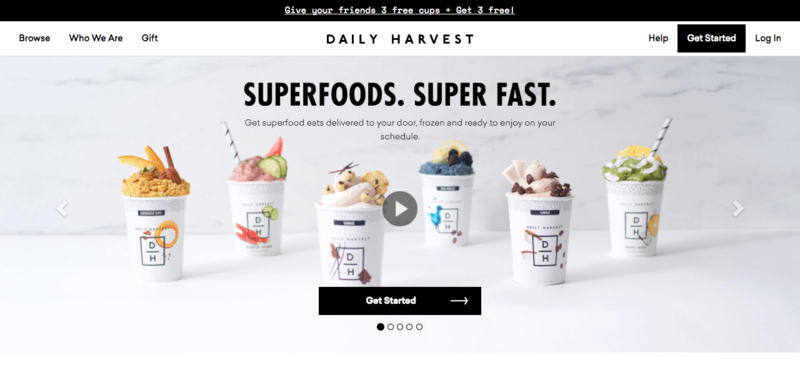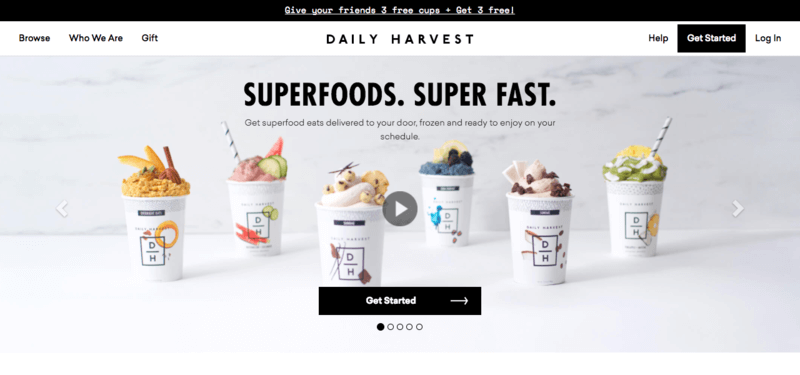 Because foods from Daily Harvest are frozen, they come in a box that also contains dry ice. The box and cardboard inserts can be recycled once the dry ice has evaporated. The cups themselves can only be recycled in certain areas.

Daily Harvest delivers to 95 percent of the United States.

Pricing

Daily Harvest's pricing varies depending on whether you choose weekly or monthly deliveries and how many cups you get in each delivery. For example, you can order a box of 6, 9, 12, or 24 cups, and the price per cup goes down when you buy more of at a time.

On a weekly plan, a box of 24 cups costs $6.99 per cup, 12 cups costs $7.49 per cup, nine cups costs $7.75 per cup, and six cups costs $7.99 per cup. On the monthly plan, you get 24 cups at $6.99 per cup.

Pricing with Purple Carrot is straightforward. You pay $12 per plate, which works out to $72 per week, for the quick and easy, chef's choice and high protein plans. TB12 plans cost $78 per week, which is $13 per plate.

Customizable Options

Both Purple Carrot and Daily Harvest are reasonably easy to customize. You can mix and match the meals you want or switch plans.

For Purple Carrot, customizing weekly meals is done under the 'Upcoming Deliveries' section of your account. You can't mix and match meals for the TB12 plan, however. For Daily Harvest, you make changes from the 'mange my account' tab under 'Hi.'

Daily Harvest has an interesting feature that allows you to add a new plan. This means you could have one plan for smoothies that are delivered weekly and another for soups or harvest bowls that are delivered monthly. You could also use this feature to have boxes shipped to different addresses.

How These Companies Stand Out

If you're just heading into a vegan lifestyle, both Purple Carrot and Daily Harvest have the potential to keep you from getting bored with your food. Their styles are completely different, though. Here are some things that I like best and least about each company.

Purple Carrot

Pros:

I was pleasantly surprised at the flavor and variety that Purple Carrot has to offer.

It was nice to see that the company encourages customers to compost their leftover food scraps. This is the first company I've seen that makes a point to suggest this.

I like the simple setup of Purple Carrot, including knowing how much I'll pay for each box.

Shipping is free, and that's always nice.


Cons:

For meals with no meat in them, I thought the price was a little too high.

Other than contacting the company or looking at the ingredients for each recipe, there's no easy-to-find information on what food allergens the meals might contain.
Daily Harvest

Pros:

Meals are super-quick to make.

Options like parfaits, sundaes and cookie dough are nice additions.
Cons:

Not all of the packaging is recyclable.

For those of us who like to cook, the meals-in-a-cup idea might feel a little impersonal.

You have to deal with the dry ice that the cups are shipped with.
There's no easy way to find out about food allergens.

You need a powerful blender and a lot of freezer space.
Alternatives

Although both Purple Carrot and Daily Harvest are great meal kit companies if for vegan customers, they're not the only options out there. Hungryroot also caters to the vegan crowd. Many other meal kit subscription companies such as Blue Apron, Gobble and Green Chef have vegetarian meals available, too.

Personally, I like meat-based meals, so I'll often opt for Blue Apron, Sun Basket or Plated.

Conclusion

When it comes to vegan meal kit subscriptions, I like Purple Carrot better than Daily Harvest. Purple Carrot's dinners are tasty and opened my eyes to the idea that vegan meals don't have to be boring.

They're also fun to prepare. I like to cook, and Daily Harvest is a little bit too on-the-go for me to relax with.