More than a quarter of all internet users in the United States purchased meal kit services in 2016. Since then, some companies have disappeared, while others have grown stronger, and the concept of meal kit deliveries continues to appeal to a wide range of people.

Whether you're looking at meal kit subscriptions as a way to slow a hectic pace of life or help you make a change in your dietary lifestyle, getting pre-planned meals delivered to your doorstep can help. Finding the right one for you is the real trick.

In this Purple Carrot vs. Gobble comparison, I'll share with you what I've learned about two these meal kit subscription services. You can choose whether one of them will meet your needs or whether you'd rather look at some alternatives. I'll share some of those with you, as well.

Type Of Meals Provided

Purple Carrot provides vegan-based meals in three plans. These include a quick and easy version in which meals take less than 30 minutes to prepare, a high protein version, and a gourmet chef's choice version. There's also a high-performance, gluten-free plan called TB12.

The plans for Purple Carrot are designed to feed two people each week and provide three meals. The menu changes each week and has a total of six meals to choose from. Some of the meals fall into two categories. For example, the Creamy Butternut Pasta Bake with Kale and Pepita Parmesan falls into both the high protein and the quick and easy plans.



When you're looking at the weekly menu, you'll see that the meals are labeled by the categories they belong in. There's also a nutrition link for each meal choice. If you click the nutrition link, you'll see a drop-down box with nutrition facts and an ingredient list that you can scan to help keep an eye out for food allergens.

Unlike Purple Carrot, many Gobble meals are meat-based, and you can set preferences for beef, fish, lamb, pork, poultry, or shellfish. You can also set your preferences for vegetarian meals.

You choose the types of meals you want to get after you sign up. Dinners are labeled for food allergens such as wheat, tree nuts, soy, milk, fish or eggs, and there are options for gluten-free, dairy-free, low-carb and vegetarian meals. You choose from poultry, red meat, sea food or vegetarian menus.

There are six meal choices for each weekly menu. Rather than being limited to feeding two people, plans with Gobble can feed either two people or four people. By default, the two-person plan gets three meals a week for a total of six servings.

Dinners for four people ordinarily get three meals a week for a total of twelve servings. However, if you want to order more food than what comes in those plans, you can add more meals to your delivery. Gobble also has sides, soups, desserts and breakfast options, so you can expand beyond dinner.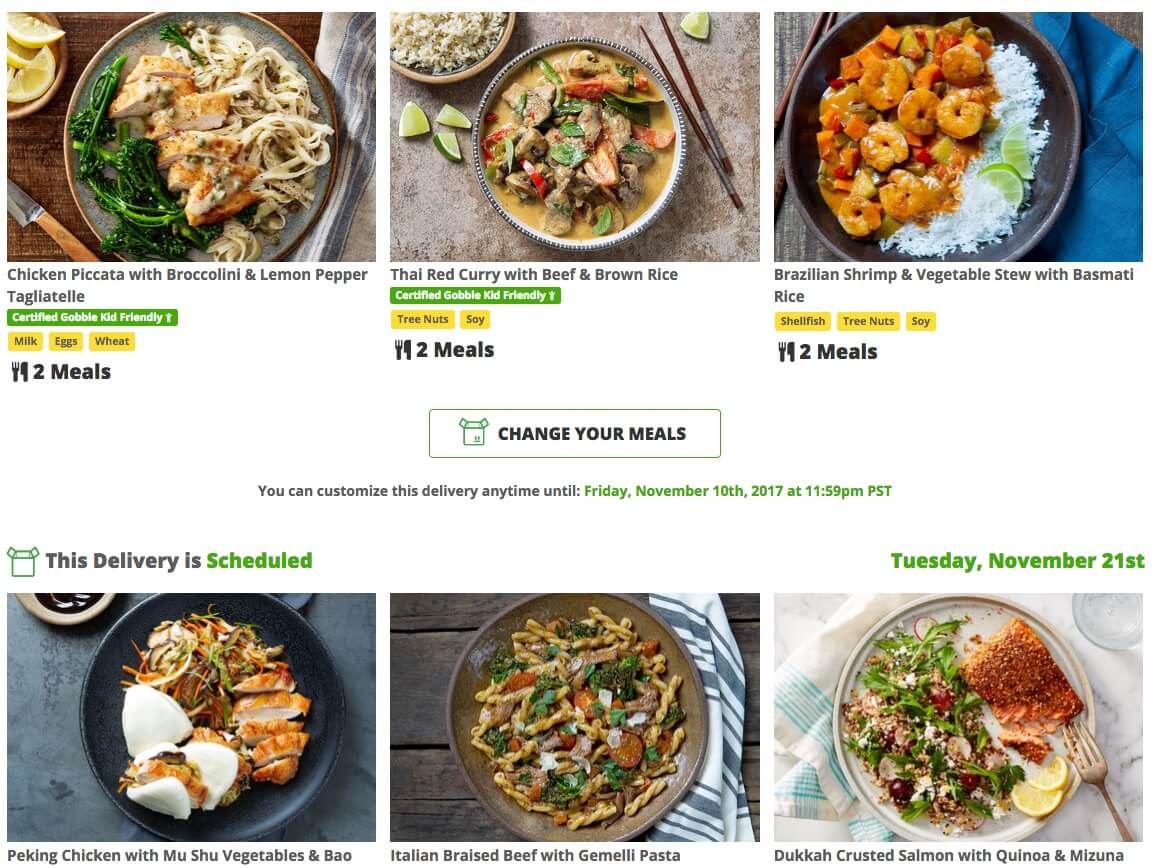 With Gobble, all the prep work is done for you, and the dinner ingredients come in packages that are basically mix, heat and serve. Dinners take around fifteen minutes to prepare and only take one pan, so there isn't a lot of clean up to do, either.

The pre-made sauces are tasty and make the dinner preparations fast and smooth. Of all the meal kit delivery services I've tried so far, Gobble's meals were the fastest to prepare. They include dishes such as Chicken Florentine Rigatoni Bake with Sun-Dried Tomatoes and Sweet Chili Shrimp with Coconut Rice and Thai Coleslaw.

Sign Up And Cancellation

With Purple Carrot, you sign up by entering an email address, creating a password, and clicking the 'sign up now' button. Once you're in the system, you customize your weekly recipes, enter your billing and shipping information, and go through the checkout process.

Cancelling with Purple Carrot starts by logging into your account and navigating to your profile (click on your name in the upper right-hand corner to find this). Go into your account settings. Next to 'Subscription Status' you'll see an option for changing it. You can either scroll to a spot where you can cancel your account, or you can skip orders by selecting the 'pause' option.

If you choose to permanently cancel your subscription, there will be some additional instructions and a short survey to fill out.

Gobble's sign-up process is fairly simple. To sign up with Gobble, click on the sign up option on the website and select the number of people you want to feed.

To start customizing your order, click the "We'll eat anything" box. When you do, you'll be presented with a dropdown menu. Mark the boxes for the meats you want to try or check the vegetarian box. Next, you enter your email address, create a password, type in your zip code and click 'Get Cooking.'

Cancelling is also similar to the process for Purple Carrot. Go into your Gobble account and click 'managing my account.' Select the 'click here' button and go through the next steps as they come up.

Packaging And Delivery

One nice thing about Purple Carrot is that the shipping is always free. The company also promotes recycling its packaging and even composting scraps leftover from preparing meals.

Purple Carrot delivers to all 48 contiguous states, but not in every area of every state. You can find out more about delivery in your area by sending an email request for information to hello@purplecarrot.com.

Gobble's packaging was a little bit interesting. Although everything was sorted into meals, the bags were simple plastic bags. Each bag had a label to indicate which meal it was, which was helpful, but it wasn't the most elegant assembly I've seen in a meal kit ingredients box.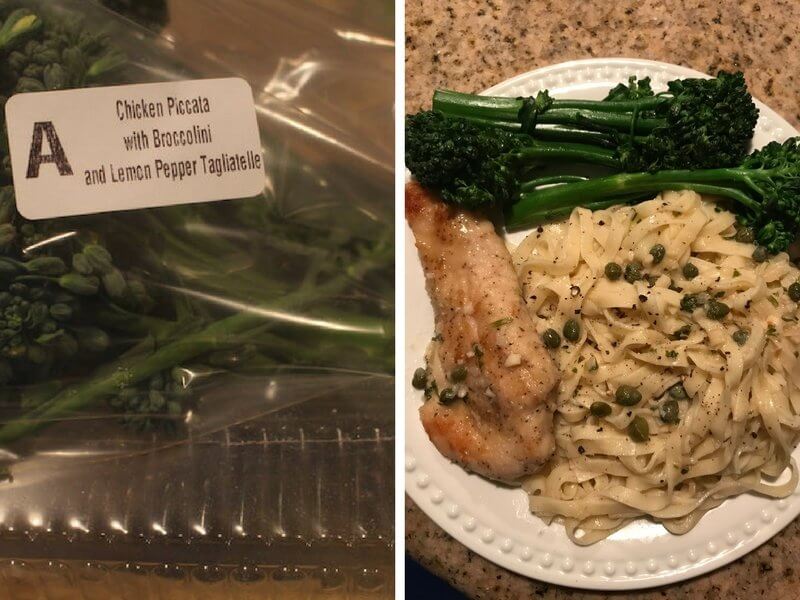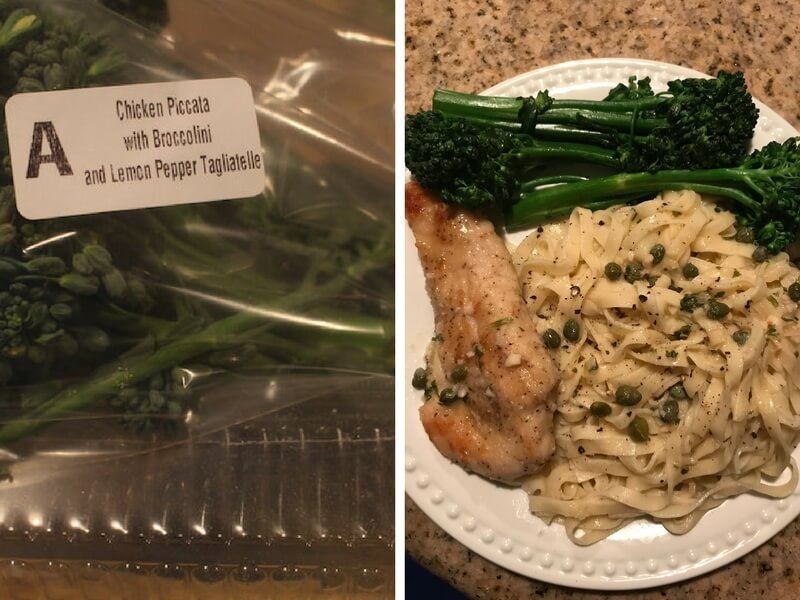 In order to schedule a delivery with Gobble, you have to order at least two dinner kits (four total servings). Shipping is $6.99, but new customers can get free shipping on their first box.

Pricing

With Purple Carrot, pricing is simple. You pay $12 per plate for the high protein, quick and easy or gourmet plans. This works out to $72 per week for three meals serving two people. The TB12 plan is a little bit more expensive, costing $13 per plate, or $78 per week.

Gobbles pricing is more complicated. Each serving is $11.99. A box for two people containing three dinner kits (six meals) runs $71.94 plus the $6.99 delivery fee. A four-person plan costs $143.88 for the weekly delivery, plus the shipping fee.

If you add Gobble's breakfast subscription, you pay $40 per week for two people and $80 per week for three people. These prices include four meals.

Customizable Options

From the 'My Profile' tab in your Purple Carrot account, you can select the 'Change' option next to your current plan to update it. If you just want to switch out meals, click on 'Upcoming Menus' and hit the 'Change Meals' link next to your upcoming delivery.

Mixing and matching meals isn't an option for the TB12 plan, although all of the other Purple Carrot meal plans can be customized.

What Makes These Companies Stand Out

Both meal kit services have their good points and bad. Overall, I thought both were decently delicious. Here are my top pros and cons for these companies:

Purple Carrot

Pros:

While I generally prefer meals with meat in them, Purple Carrot's meals surprised me with how tasty they were. They were flavorful and fun to try.

Like many meal kit services these days, Purple Carrot has an environmentally-friendly bent. What set it apart this way was its encouragement to subscribers to compost their leftover food scraps.
Cons:

I thought $12-14 per plate was a little expensive for a meal that didn't contain any meat in it.
Gobble

Pros:

Gobble was voted the #1 meal kit by Parent's magazine

This company has a lot more variety than some of the other meal kit brands out there. I really like that there are offerings for lunch and dessert as add-ons.

Gobble also offers credits on promotional offers, so you can get some good deals.
Cons:

While the price wasn't outrageous, Gobble still charges more per meal than you'd pay in the grocery store for similar ingredients.
What are the alternatives?
While this comparison gives you an idea of some of the meal kit services you can subscribe to, it's really a small sampling. If you want to try other vegetarian-based meal kit services, check into Daily Harvest or Hungryroot.
Daily Harvest may even be faster than Gobble, too, although it's geared more toward individuals than families wanting a sit-down dinner together.
So far, my favorite options have been Sun Basket, Plated, Green Chef and Blue Apron.
Conclusion

While I liked both Purple Carrot and Gobble, I can't say that either of them are my top choices. Between the two, I liked Gobble best because it was fast and fairly good. However, I'll probably stick with my favorite standbys so that I can get a little more involved and enjoy the cooking process.