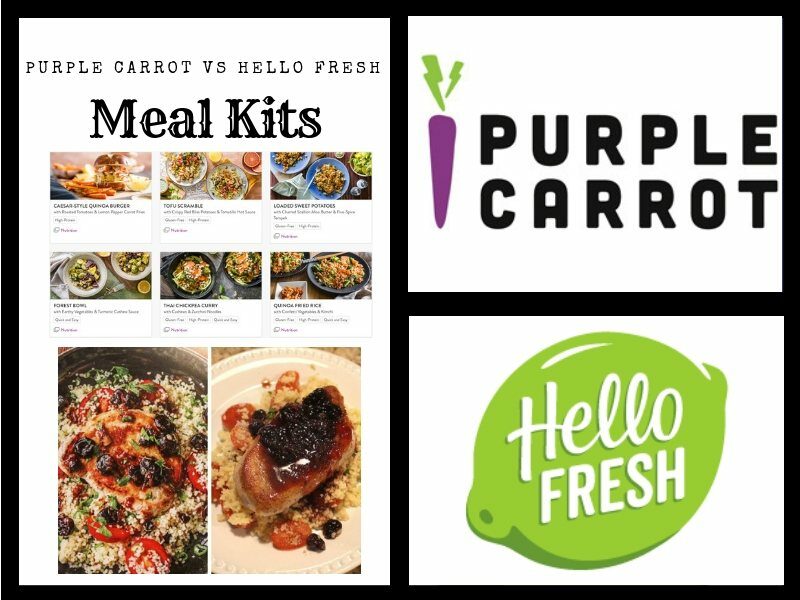 There are a lot of meal kit delivery services on the market. Some cater to people with special dietary needs, such as losing weight or managing diabetes. Others are based on personal preferences, such as vegan meals or living within the guidelines of a Mediterranean diet.
As each meal kit company finds its niche market, they offer different thing specialties, too. Some are built for on-the-go people and come with meals almost ready. Others are geared for people who like to cook as a hobby, and some are aimed at simplifying dinner options for busy families.

As a whole, the meal kit industry has had its ups and downs. Some companies have disappeared completely over the past few years, while other companies flourish. What makes the difference?
In this Purple Carrot vs. Hello Fresh comparison, I'll show you how two of these companies work, what makes them successful, and how they compare to each other.
Types Of Meals
Both Purple Carrot and Hello Fresh are interested in providing nutritious, delicious dinner options, but they go about it in entirely different ways.
Purple Carrot is a plant-based company that focuses on providing meals based on vegan philosophies. Its offerings include items such as the Delicate Squash Bowl or Miso-Chili Meatballs.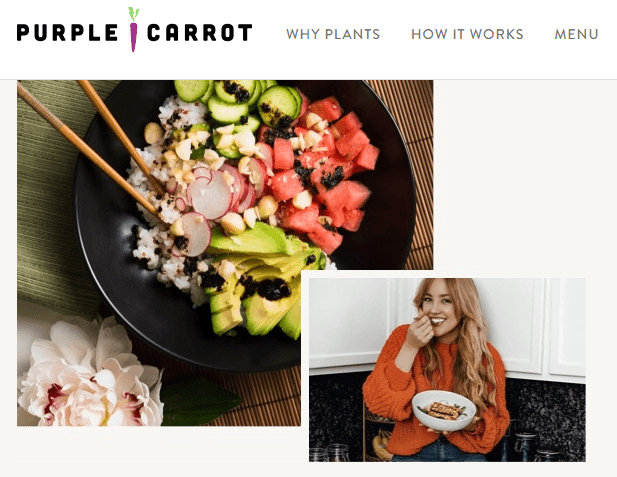 Hello Fresh is a basic, all-American dinner kit company. Its meals aren't too adventurous or exciting (think mostly meat and vegetables), but it's good. The meals are generally easy and quick to prepare, and the pricing is reasonable for a meal kit delivery service.
Both companies offer a different menu week-to-week. Subscribers can either let the company send them a box of food that the company selects based on the food preferences, or they can mix and match meals within the menu selections to get what they want each week.
Purple Carrot and Hello Fresh both also offer different plan types to help their customers get what they want.
For example, Purple Carrot offers a gluten-free, high performance plan called TB12 as well as three basic plans: quick and easy, high protein, and a gourmet plan. Hello Fresh has a vegetarian-based veggie plan, a classic plan that includes meat, and a family plan.
Weekly plans with Purple Carrot are fairly simple. You get three meals a week, and each meal feeds two people.
With Hello Fresh, it's a little more varied. There are three meals offered for Vegetarian boxes. You can choose between two and four meals for the classic box and two or three meals for the family box. You can also choose to bump up the number of people you're feeding to four per meal rather than just two.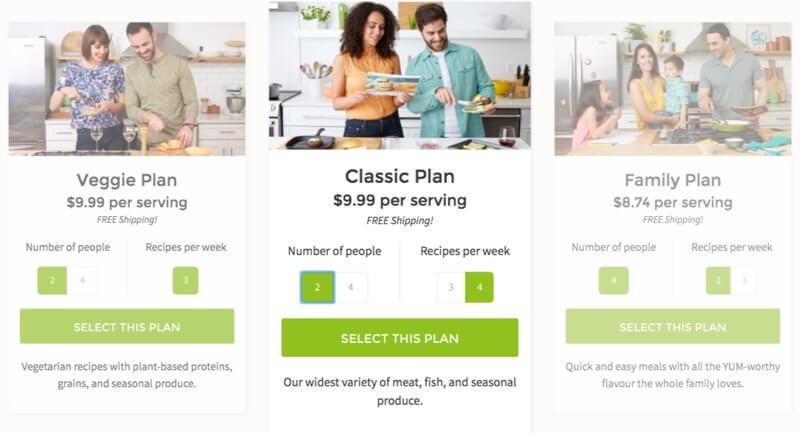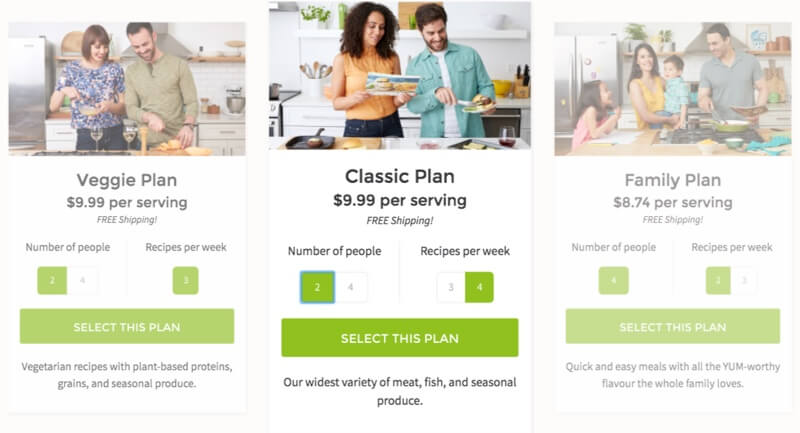 Purple Carrot offers fewer meals on its weekly menu than Hello Fresh does. The weekly menu for Hello Fresh contains 15 choices. At least three of those are vegetarian, and six are classic. On the online menu, you'll also find options for gourmet meals, Hall of Fame, family-friendly, easy to cook, and twenty minute meals.
By contrast, Purple Carrot's weekly menu has six meal choices. Most of the meals fall into more than one plan. For example, the Miso-Chili Meatballs can be categorized both as high-protein and gluten-free. The Purple Carrot weekly menu has information showing how long it takes to cook the meals and a nutrition link that provides a full drop-down box of nutrition facts.




Labels on the Hello Fresh weekly menu includes things like nut-free or egg-free so that shoppers with food allergies know which foods are safe for them. Unfortunately, Hello Fresh doesn't have full plans built to avoid specific allergens, so you have to pay attention to the ingredients in the meals you choose if you're following dietary restrictions.
Hello Fresh has a couple of other fun options that Purple Carrot doesn't offer. Hello Fresh has a wine club and a few cool dinner-to-lunch menu items that allow you to transform dinner from one night to entirely different meal for lunch the next day.
One other really fun feature that Hello Fresh has is its recipe archives. You can view around 2,500 recipes on the Hello Fresh website. You can search these recipes by world cuisines, quick meals, easy to cook, family-friendly recipes and more. If you click on the recipe for one of the meals, you'll see nutrition facts as well as the recipe, which can be downloaded.
One quick note here: I did notice that the instructions on some of the Hello Fresh recipes weren't as clear as they could be. That's not a problem for me because I have enough cooking experience to make things work, but new foodies might find these recipes more challenging.
As far as the food goes, many of the Hello Fresh meals contain meat, which I like, but overall, the Purple Carrot meals were more adventurous and flavorful.
Signing Up And Cancelling
Signing up for both companies is fairly simple. With Purple Carrot, you enter an email address and a password and click the sign-up button. Then you customize your weekly order, and when you get to the checkout, you enter your billing and shipping information.
Signing up with Hello Fresh involves choosing the meal plan you want (classic, veggie or family), how many people you'll be feeding, and how many meals you want to get in a week.
Cancelling Purple Carrot requires you to log into your account and find your account settings under your profile. Then you click on the 'change' button next to 'subscription status' and either skip meals or cancel the plan entirely.
If you choose to cancel the plan, there's a short survey and a few more instructions to complete.
Hello Fresh's cancellation policy is similar. You need to find your account settings in your account and then the plan settings. From here, you can cancel your account.
Both companies allow you to skip deliveries. For Purple Carrot, you choose the weeks you want to skip in the same area that you cancel your subscription. For Hello Fresh, the skipping option is found under 'my menu' in your account.
Packaging And Delivery
Both Hello Fresh and Purple Carrot promote recycling of their shipping products. Most of them can be recycled, with the exception of some of the liners that Hello Fresh uses in extreme weather conditions. Purple Carrot also promotes the idea of composting leftover food scraps.
Both companies deliver across the continental United States. Purple Carrot has free shipping on all deliveries. When you look at the Hello Fresh page for comparing plans, you'll see that most deliveries have a shipping charge of $5.99 or $7.99.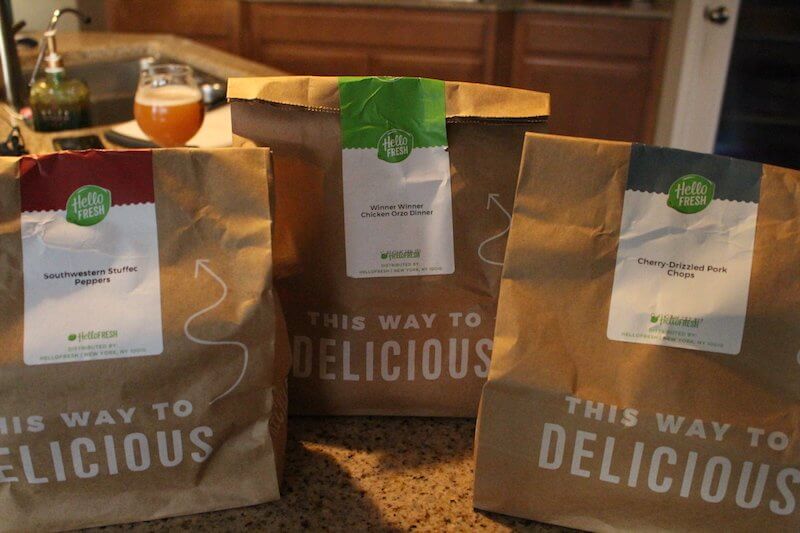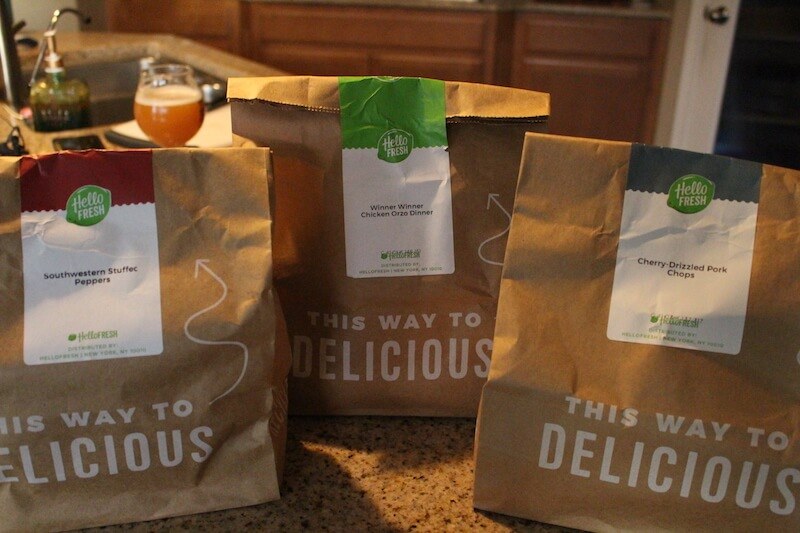 One thing I liked about Hello Fresh was that their ingredients are pre-prepped and come nicely packaged in individual bags.
Pricing
For Purple Carrot's basic plans, you pay $12 per plate or $72 per week. The TB12 plan costs $13 per plate, or $78 per week.
The cost per meal with Hello Fresh varies depending on the plan, the number of times you cook in a week, and the number of people you'll be feeding.
Meals on the veggie plan start at $6.99 per serving and go up to $8.99 per serving. Classic plan meals can be $7.49 per serving or $8.99 per serving. On the family plan, you can pay $7.49 or $7.87 per serving.
Customizable Options
With Purple Carrot, the customizable options are limited to skipping deliveries and mixing and matching meals within the basic plans. You can't change the number of people or the number of meals you get in a week. Also, you can't mix and match meals with the TB12 plan.
Hello Fresh is a little more customizable. Since there are more meal choices to pick from, you have more options for what you can cook each week. You can also change the number of people you're feeding or how many meals you want to get ingredients for.
What Makes These Companies Unique
It's interesting to me how many meal kit companies there can be and that each one still has its own angle on the best way to provide food and nutrition to its customers. Both Purple Carrot and Hello Fresh have some definite similarities, such as their focus on dinner foods, their rotating weekly menus, and their weekly boxes.
Having said that, I can also say that there are as many differences as there are similarities. Here are some of the things I liked best and least about both companies.
Purple Carrot
Pros:
I didn't expect to enjoy vegan meals as much as I did with Purple Carrot. These meals were fun to try and didn't taste raw or bland like I expected them to.

I like that Purple Carrot has free shipping on all its boxes.
So far, Purple Carrot is the only company I've reviewed that actively promotes composting the leftover food.

I like the simplicity of the Purple Carrot plans and pricing structure.
Cons:
Compared to Hello Fresh, Purple Carrot is lacking in customizable options.

I also think Purple Carrot is a bit pricey per serving for meals that don't contain meat.
Hello Fresh
Pros:
The prices per serving are relatively inexpensive compared to Purple Carrot and other meal kit services.

I liked the way that the individual ingredients were packaged—it made cooking fast and fun.

The ability to choose how many meals per week and how many people you intend to feed makes it easy to plan around guests.

I also like having 15 different menu options to choose from per week.

I like having the option of a wine club.
Cons:
The food was good, but not that exciting or adventurous, which took some of the fun out of cooking.

The recipes could use some editing to make them easier to read and follow.
Alternatives
Purple Carrot and Hello Fresh are great samples of the meal kit services available, but they're certainly not the only options out there.
If you're looking for other good dinner kits, you might try Blue Apron or Terra's Kitchen. Sun Basket and Plated are two other really great services to try.
If you're really into vegan food, you could also try Hungryroot or Daily Harvest.
Conclusion
When it comes to Purple Carrot and Hello Fresh, this is really a toss-up for me but I prefer Hello Fresh in the end. I usually like meals that contain meat better than vegetarian ones, but Hello Fresh meals were on the boring side. Given a choice, I would probably still opt for Hello Fresh due to the decent variety of flavors and the inclusion of meat in the meals.