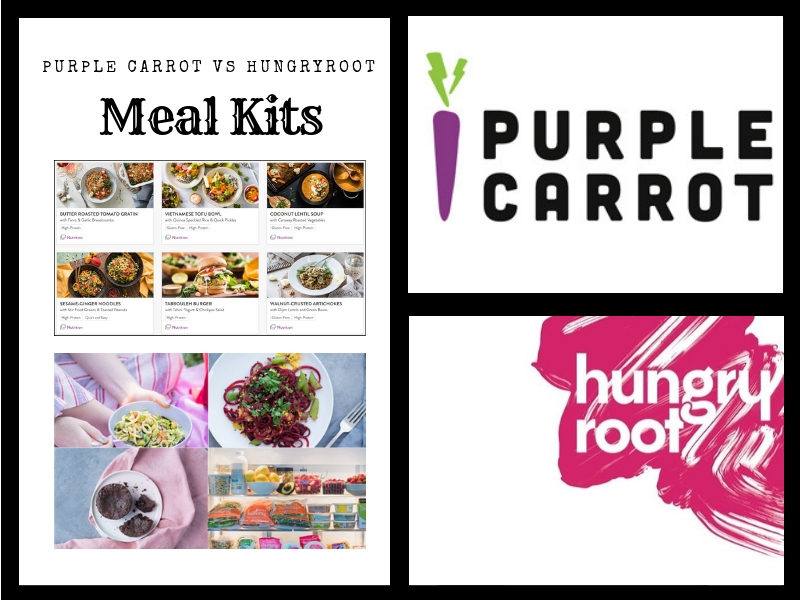 About half the meal kit services available are geared more toward providing healthier alternatives to traditional dinners. In this Purple Carrot vs. Hungryroot comparison, you'll have a chance to read about two companies that base all their meal plans on vegan principles.
I like meat-based meals, so I was skeptical at first about how the foods would taste and whether these companies could offer something substantial. I've been pleasantly surprised at the creativity, delicious flavors and overall aesthetic value of the foods these companies provide.

Types Of Meals Offered

Both Purple Carrot and Hungryroot are vegan-based. Since their meals don't contain eggs or milk, people who subscribe don't have to worry about allergies to those products. All of Hungryroot's meals are gluten free, and Purple Carrot labels its gluten-free meals so that you can clearly see them in the menu section of the website.
Both companies also make it easy to find out more about the nutritional quality of their meals. With Hungryroot, you can check out the products section under Frequently Asked Questions to find out more about possible allergens. There's a PDF file to download, so you can keep the information on hand.
On the Hungryroot deliveries page, you can also click the image of the dish you're interested in to get a full ingredient list, nutritional information and cooking instructions.
Purple Carrot also offers a drop-down box with nutrition information. To see what each meal provides, subscribers can go to the menu options for the week and click on the nutrition link.


Purple Carrot is set up with three plans: the Quick and Easy version, High Protein, and Chef's Choice. In the weekly menu section, the meals are labeled to show you what plan they fit, and there are three meals for each plan per week.
Many meals fit into more than one plan. For example, the Sesame Ginger Noodles with Stir-Fried Greens and Toasted Peanuts counts both as a high-protein meal and as a quick and easy meal. There are six meals total in each weekly menu.
Quick and easy meals generally take less than half an hour to prepare, and meals on the high-protein plan contain around 20 g of protein each. The Chef's Choice meals are designed with gourmet tastes in mind.
Purple Carrot also has a high-performance, completely gluten free plan called TB12. It's more expensive than the other plans.

With a Purple Carrot plan, you'll get three dinners each week that serve two people.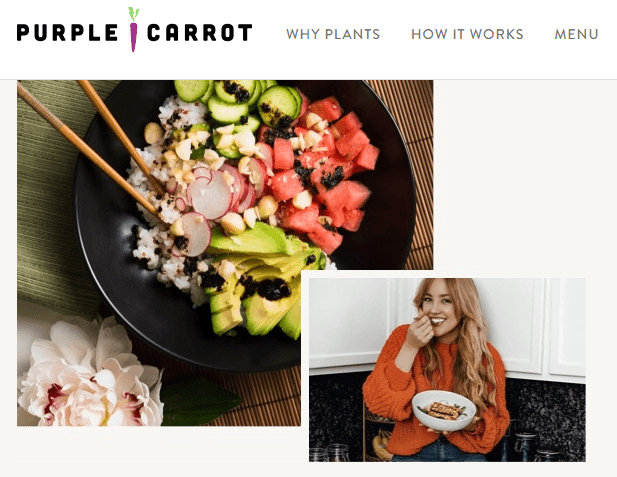 Hungryroot's plans and meal presentations are a little bit different.
With Hungryroot's plans, rather than getting individual ingredients you get beautifully packaged mixes of foods, such as Sweet Potato Ribbons and Kale Pesto.
Preparing dinners typically takes ten minutes or less to prepare. It's usually just a matter of combining a few of the packages and heating them.

Hungryroot offers more than just dinners. There are options for breakfasts, lunches, sides and treats, as well. The menu includes such as Black Bean Brownie Batter, Crunchy Curry Beet Noodles and Lentil Curried Butternut Squash.

Instead of a weekly menu, Hungryroot prepares a monthly meal catalogue with a PDF file that you can download. There are around 66 total offerings per month on the product pages. The PDF contains instructions for making the meals, but you can also request to receive physical recipe cards, as well.
Boxes are built around the taste profile you set up with Hungryroot when you sign up. You have the option to rate the meals so that the company can send you more of what you like and less of what you don't. You can also customize what you get in your boxes under the deliveries section of your account.

Hungryroot has three plans to choose from: the Good Life, the Starter Set and a Family Plan. You choose your plan details from the settings section under your account.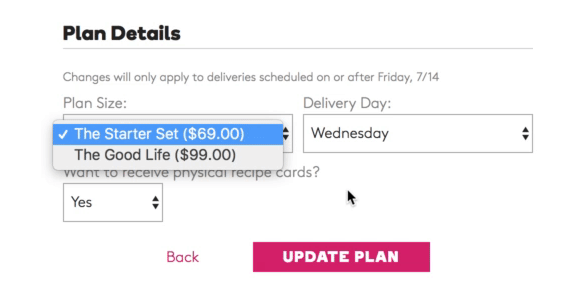 With the Starter Set, you get three meals of two servings each and two breakfasts, snacks or sweets. With the Good Life, you get five meals of two servings each with five breakfasts, snacks or sweets.

The Family Plan gives you room for seven to eight meals. You also get to choose from the breakfasts, snacks and sweets that are offered for the other plans.

Signing Up And Cancelling

To sign up with Purple Carrot, you enter an email address and create a password. Then you click the 'sign up' button, customize your weekly recipes, and enter the shipping and billing information when you're ready to check out.

If you need to take a break, you can skip upcoming orders for up to ten weeks, or you can cancel the account indefinitely. To do this, subscribers navigate to the 'my profile' section, then to 'account settings' and then to 'subscription status.' If you click the 'change' link, you can either pause your service or click 'cancel my account.'

If you choose to cancel Purple Carrot, there will be a short survey to complete and a few more instructions.

The sign-up process with Hungryroot is accessed through the 'get started' button on the website. The first thing you do is enter an e-mail or password, or you can choose to sign up through Facebook.

To cancel Hungryroot's services, you go to the settings, then to account details, and then to 'edit account details.' On the next page, you'll be asked if you'd rather cancel or just place a hold on your subscription.

Packaging And Delivery

Purple Carrot's shipping is always free. The company ships to the contiguous 48 states. You can send an email to hello@thepurplecarrot.com to find out more about deliveries in your area.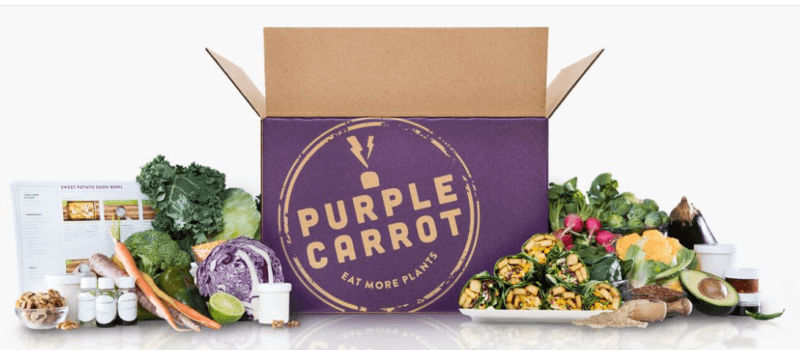 Both companies encourage recycling their packaging products.

Shipping with Hungryroot is free if the box is shipped over ground. If your box is shipped through air, there's a $10 fee for air shipping.

Pricing

For Purple Carrot's three basic plans, you can expect to pay $12 per plate, or $72 per week. The TB12 high performance plan costs $13 per plate, or $78 per week.

With Hungryroot, the Starter Set costs $69 per box ($11.50 per serving), and the Good Life box costs $99. The Family Plan costs $129 per week (around $9 per plate).

Boxes are delivered weekly for all plans.

Customizable Options

Both Purple Carrot and Hungryroot allow you to customize the meals you'll get each week, with one exception. You can't make changes to Purple Carrot's TB12 Performance Meals plan.

With Purple Carrot's other plans, there is a 'change meals' link under the 'Upcoming Menus' on your account. You can also change your meal plans or skip deliveries if you want to.

If you have a Hungryroot subscription, you can customize the meals you receive under the deliveries section of your account. First you need to remove items that you don't want from your scheduled box and then add products that you do want back in. When your box is 100% full, you click 'save.'

Using this feature, you can customize your plan to remove meals with soy and other allergens. You can also customize the number of servings you want as well as the dishes you'd like to get.
For more customizations, try Green Chef or Sun Basket!
What Makes These Companies Unique

Both companies have surprisingly delicious options. For an omnivore like me, I've been pleasantly reminded that eating vegetarian meals doesn't have to be bland or have an unsatisfying raw taste. Meals from both companies are tasty.

Here's what I like best and least about these companies.

Purple Carrot

Pros:

Purple Carrot's meals are flavorful and fun to cook. I like that I can get involved in the cooking process but still have a substantial meal within about 30 minutes.
Purple Carrot's focus on dinners makes it simple to customize your weekly deliveries.
I liked the idea of the TB12 Performance meal plan because it's completely gluten-free.
Cons:

For meals without meat, the price seemed a little bit high even for a meal kit delivery service.
You can't customize the TB12 menus each week.
Hungryroot

Pros:

Hungryroot's meals are delicious and simple. If you're an on-the-go type person, these most of these meals are ready in less than ten minutes, so they're super-convenient.
Hungryroot has options for sweets and snacks so you don't feel deprived while trying to live a vegan lifestyle.
The addition of a Family Plan is nice.
The ingredients are packaged in a beautiful way that makes you feel like you're getting something extra-special.
Cons:

At first, I had difficulty finding the menu or information on serving sizes and costs. I recommend using the Frequently Asked Questions at the top of the website to find information if you have questions.
As with Purple Carrot, the prices per dish seemed expensive.
Alternatives

If you're checking into meal kit delivery services to help you eat more nutritious meals, Purple Carrot and Hungryroot are just two of the options. You might also want to look into Terra's Kitchen or another meal kit with vegan options.

If you're an omnivore like me, you could also try Home Chef, Blue Apron or Plated.
For frozen meals delivered, I'm a fan of Factor 75, but they do not have vegan options.
Conclusion

It's nice to know that there are some really tasty options out there for vegan meals. Both Purple Carrot and Hungryroot have some great foods.
For me, choosing between these two companies comes down to a balance of convenience and simplicity. I like that Hungryroot has so many options each month, but I could spend a lot of time filling and refilling my weekly boxes.

Also, I'm more inclined to think of meal kit subscriptions services as helping out with dinner dilemmas. With that in mind, I'd probably choose Purple Carrot, although this comparison is a close tie.