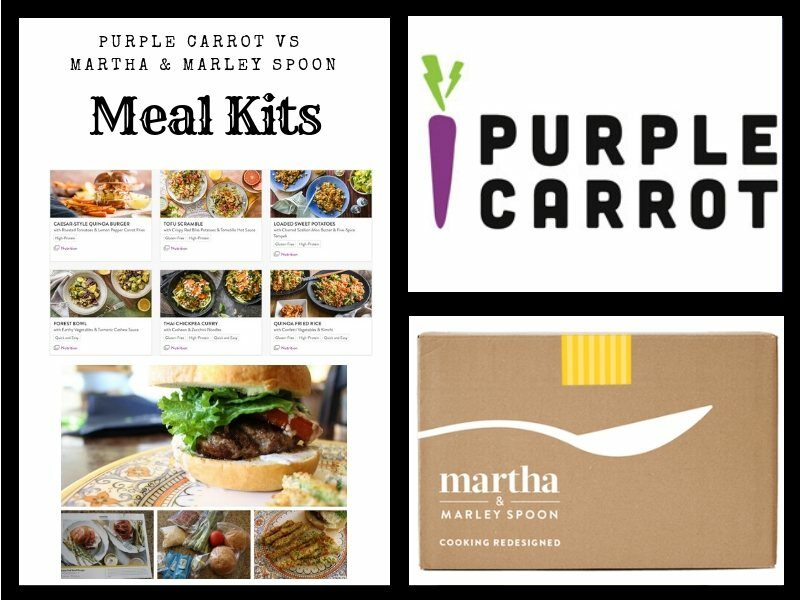 Whether you're an herbivore or an omnivore, the question about what to cook for dinner can have you stumped night after night. It's been an inspiration for meal kit subscription services, a fairly new industry that was projected to reach 10 billion in sales by 2020.

As meal kit subscription services become the norm, they're also branching out. Purple Carrot, for instance, is geared toward vegan eaters, while Martha and Marley Spoon is designed to please the all-American family.

In this Purple Carrot vs. Martha and Marley Spoon comparison, you'll get a feel for two very different meal kit services. Which one appeals to you most?

Types Of Meals

Purple Carrot is a dinner subscription kit based on all vegan ingredients. There are three plans that feed two people for three meals each week.

Meals in the quick and easy plan take around half an hour or less to make, while those in the gourmet chef's choice plan are more complicated and varied. The high-protein plan has around 20 grams of protein per meal.
There's also a high-performance, gluten-free plan called TB12 that costs a little more and is less flexible.

With the first three plans, you can mix and match meals each week. Each plan has at least three offerings per week, with a total of six offerings, so most of the meals fall into more than one category. For example, the Crispy Buffalo Chickpea Wraps fall into both the high protein and the quick and easy plans.




On the weekly menu section of the website, the meals are labeled by the plans they fall under. There's also a nutrition link with a dropdown nutrition facts box. While there isn't much information available for possible food allergens, the dropdown menu allows you to see the ingredients so you can choose whether that meal is for you or not.

Some meals from Martha and Marley Spoon are adjusted for allergens, but there isn't a full allergen-free menu section. As with Purple Carrot, you can see the list of ingredients for each recipe to determine if the meal is a good fit for your family.

The recipes for Martha and Marley Spoon are available in the menu section of the website. There are icons on the menus to show whether the recipes include meat or fish or if they're vegetarian-based. Most dinners can be cooked within about 30 minutes.

Martha and Marley Spoons menu section has ten meals available per week, compared to Purple Carrot's six offerings. There are options for meat eaters, vegetarian plans, and gluten-free diets. You can also see the menus for up to five weeks in advance, so you can plan ahead.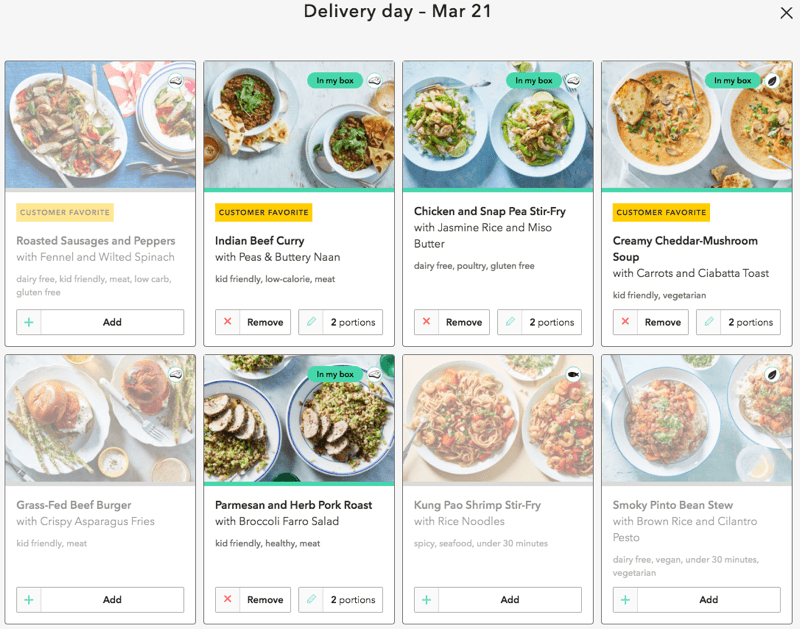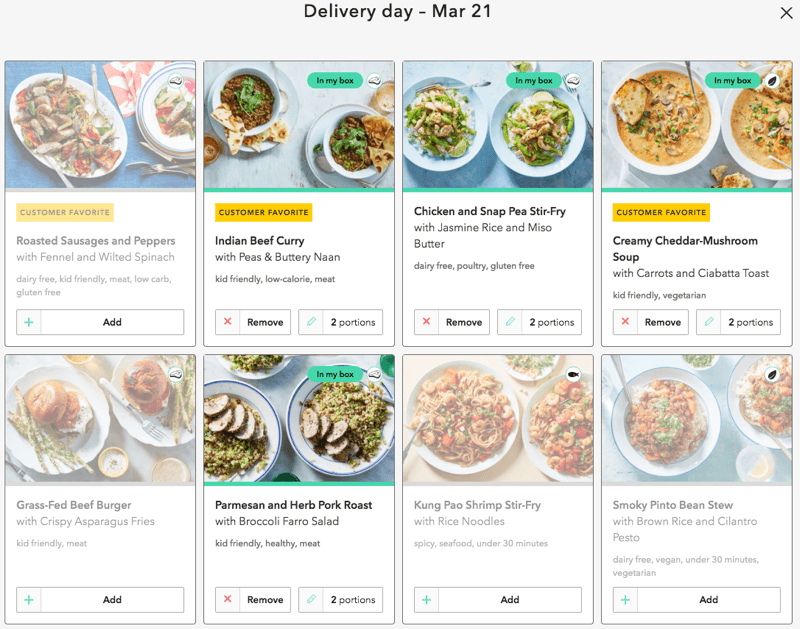 Both Purple Carrot and Martha and Marley Spoon are focused on dinners, and there are two servings per recipe.

However, Martha and Marley Spoon has a 3-4 person box as well as a two-person box. With both plans, you can choose how many meals you'd like to get for that week, and you can pick from any of the ten offerings for that week.

Signing Up And Cancelling

Signing up for both companies is simple. With Martha and Marley Spoon, you choose some simple meal preferences and how many meals you want to receive each week.

With Purple Carrot, you start by adding an email address and password. Once you're in the system, you can customize your weekly meals. You don't enter your shipping and billing information until you're ready to check out.

To cancel your account with Purple Carrot, you'll have to go into your account, then into your profile, and then to your account settings. Near the subscription status, you'll be able to click on a 'change' link that will allow you to pause your account or cancel it completely.

If you choose to cancel your account, you'll have a few instructions to follow and a brief survey to fill out. If you just want a break, you can skip deliveries for up to ten weeks.

To cancel with Martha and Marley Spoon, you can go into your account and cancel under the 'my settings' tab. You can also call the company at 866-228-4513 or send an email message to contact@marleyspoon.com to start the cancellation process.

Packaging and Delivery

One thing I love about both these companies is that shipping is always s free, and both companies ship to most of the contiguous United States.
Purple Carrot encourages its customers to recycle the packaging and to compost leftover food scraps, as well.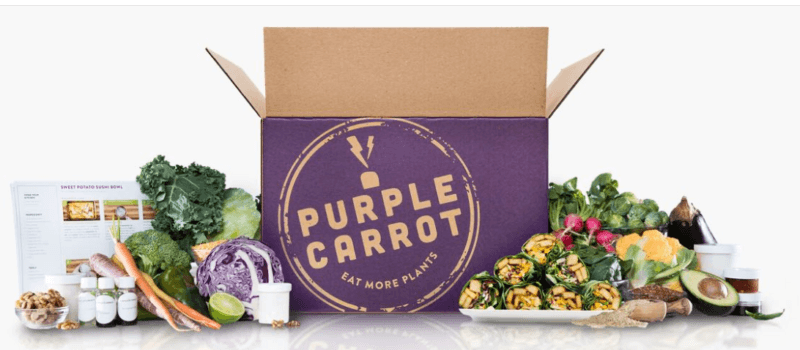 With Martha and Marley Spoon, ingredients come in 'dish bags' that are already combined for the meals they'll be used in. Each recipe has enough for two portions. You need at least four portions to order a box.

Pricing

The pricing for all three of Purple Carrot's basic plans is $12 per plate, or $72 per week. The TB12 plan is a little more expensive at $13 per plate, which works out to be $78 per week.

By the serving, Martha and Marley Spoon's meals start around $8.20. The amount that a meal costs depends on how many portions you're buying.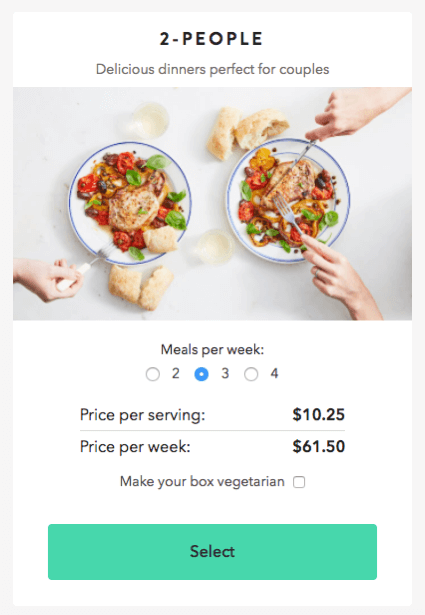 For a two-person box, two meals are $12 each, or $45 per box. You can get three meals for $10.25 each at $61.50 per box, or you can order four meals at $9.50 each at $76 per box.

The three to four person box costs $9.50 per meal for two meals ($76 per box). Three meals cost $106.80 per box, or $8.90 per meal, and four meals cost $131.20 per box, or $8.20 per meal.

Customizable Options

Both Purple Carrot and Martha and Marley Spoon allow subscribers to change plans week to week, mix and match meals, and skip weeks. The only exception is Purple Carrot's TB12 plan. In this case, meals can't be switched out for others.

Changing plans with Purple Carrot can be done from the Current Plan under the My Profile tab in your account settings. Switching out meals can be done from the 'Upcoming Menus' section.

With Martha and Marley Spoon, changes can be made under the 'Settings' tab of your account.

What Makes These Companies Stand Out

Purple Carrot

Pros:

I really liked the surprising variety of flavors that Purple Carrot's meals provided.

Purple Carrot encourages its subscribers to compost its leftover food scraps. This is the first company I've seen to suggest this idea to its customers.

I like the simplicity of Purple Carrot's plans.
Cons:

I felt that the meals were too expensive considering they didn't contain meat.

Information on food allergens has to be found by looking at the ingredients list on the recipes.
Martha and Marley Spoon

Pros:

The menus are based on 18,000 recipes from Martha Stewart's files

Meals are surprisingly affordable compared to meals from most other meal kit services.

The food is tasty, as well.

The plans are simple to navigate, which saves time.
Cons:

As with Purple Carrot, you have to do some digging to find out whether there are possible food allergens in the meals you choose.
What are the alternatives?

There are good choices for meal kit subscriptions out there no matter what kind of food you eat. If you're enjoying the vegan lifestyle, you could also look into Hungryroot or Daily Harvest.

If you like the family-friendly lifestyle of Martha and Marley Spoon, you may also enjoy Blue Apron, Sun Basket, and Plated.

Terra's Kitchen and Green Chef are great choices offering some great filters to help you get just what you want in an eating plan.

Conclusion

When it comes to Purple Carrot and Martha and Marley Spoon, the comparison was closer than I thought it would be. Their plans are structured in similar ways.

The biggest differences that I could see were that Purple Carrot is vegan based and is more expensive than Martha and Marley Spoon. For me, those were big enough differences to top the scales in favor of Martha and Marley Spoon.