This Purple Carrot vs. Medifast comparison pits one of the best vegan meal kit subscription companies against a long-standing weight loss program that provides meal deliveries as part of its services.
While both these companies work to build your health through nutrition, they have different focuses. Purple Carrot promotes overall health through delicious plant-based nutrition. Medifast aims for weight loss without the loss of lean muscle mass.
If you're hoping to get healthier while using a meal kit subscription service, choosing between Purple Carrot and Medifast might be a good place to start.
Types Of Meals Offered
Medifast's meals and adaptations for special dietary needs are overseen by a scientific board consisting of both scientists and medical doctors. It's only been in the past few years that Medifast products have become widely available without a doctor's prescription.
There are 65 meals to choose from. These meals are small,because you eat six times a day on Medifast plans. The products include items like shakes, smoothies, oatmeal, pancakes, soups, bars, puddings, crunchers,and soft bakes. There are also a small handful of dinner-type products, called Flavors of Home.
Each serving counts as a meal. Meals can include things like Sour Cream and Chives Mashed Potatoes, Chocolate Chip Soft Bakes, and Maple and Brown Sugar Oatmeal.
Medifast meals are portion-controlled, low glycemic, and low calorie. They're designed to contain low-fat protein and healthy fiber, and they're fortified with 24 vitamins and minerals.
One of the most interesting things about these meals is that the nutritional composition is similar no matter what meal you choose. Because of this, you can mix and match the meals you want to have day by day no matter what plan you're on.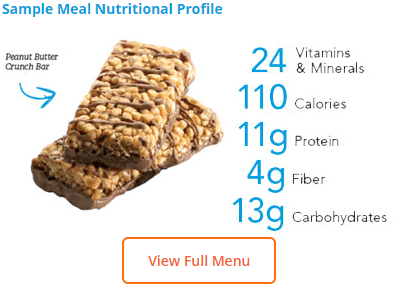 Medifast offers three plans: the Thrive plan for people who want to maintain their weight, the Medifast Flex plan and the Medifast Go plan.There is also a gluten-free version of the Medifast Go plan.
The Thrive kit provides you with three Medifast meals per day. You also eat two lean and green meals and a balanced meal of your choice with this plan. With the Medifast Flex plan, you get four Medifast meals and two lean and green meals. The Medifast Go plan includes five Medifast meals and one lean and green option.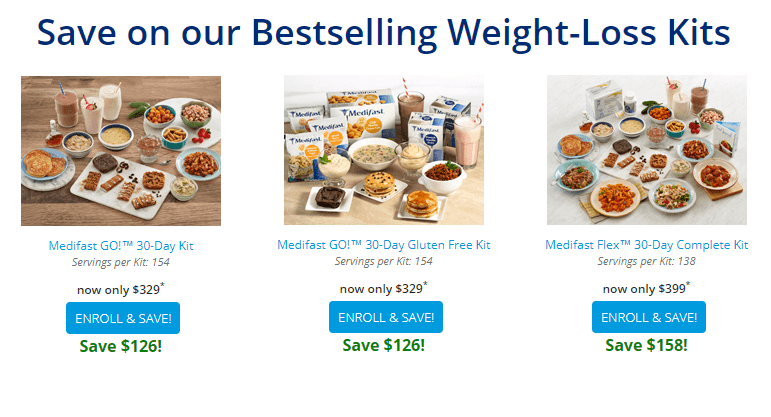 For the lean and green meals, you follow dietary guidelines provided by Medifast and shop for the ingredients at your local supermarket.You can also opt for a Flavors of Home Medifast product in the place of a lean and green choice.
The company provides guidelines and special adaptions for diabetes, gluten allergies, vegetarian needs, nursing moms and seniors. There'seven an information sheet on how to use Medifast products if you've had bariatric surgery.
Under the frequently asked questions section on the Medifast website, you can find more information about soy, whey, dairy, lactose free,gluten and kosher and other dietary needs with Medifast meals.
While you can order Medifast products online without needing a subscription, Medifast Advantage customers get breaks on shipping and can earn credit toward future orders. Medifast Advantage customers get automatic shipments every month.
In contrast, Purple Carrot is a weekly meal kit delivery service that provides ingredients and recipes for three vegan meals each week.The meals serve two people each. There are three types of meals: quick and easy, high protein, and chef's choice, which includes gourmet dinners. Often one meal will fall into more than one of these three categories.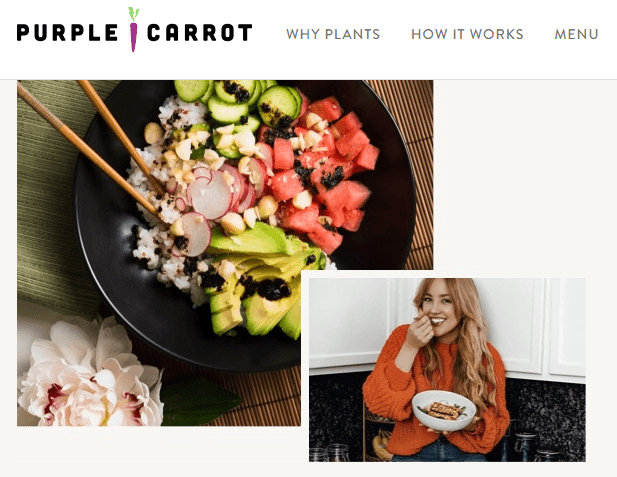 The quick and easy category meals are designed to be prepared in less than 30 minutes. These meals include items like Black Bean Burritos or Chili Mac. The high protein category meals have around 20 grams of plant-based protein per meal as well as seasonal ingredients. One example is the Miso-Chili Meatballs.
The chef's choice category is composed of more gourmet foods and includes items such as the Delicate Squash Bowl. There are a total of six meals per week in the menu. You can click on nutrition information on the menu options to see full nutrition labels for the associated recipe in a drop-down box.
Purple Carrot also offers a completely gluten-free, high-performance plan called TB12.
Signing Up And Cancelling
To sign up for Medifast's auto-shipment plan, you place an order and select 'Automatic Meal Delivery' when you go to check out. If your order is $149 or more, you'll be able to earn rewards and have shipping discounts.
To cancel your Medifast service, you log into your account online and then call customer service. You can place individual orders without having to have an automatic shipment.
To sign up with Purple Carrot, you enter an email address in the dialogue box, create a password, and click 'sign up now.' Then you customize the recipes you want for the week and enter your shipping and billing information before checking out.
To cancel with Purple Carrot, log into your account online and navigate to your name in the upper right hand corner. Click on 'My Profile'and then 'Account Settings.' Under Account Settings, find the subscription status and click 'change. Then you can scroll to 'Cancel My Account.'
From here, you complete a short survey and follow the instructions you're given to finish cancelling the account. You can also skip coming orders or pause the service.
Packaging And Delivery
With Purple Carrot, shipping is always free. The company ships all across the 48 contiguous United States, but not in every area within each state. You can find out more about whether the company delivers to your area by sending an email to hello@thepurplecarrot.com.
Purple Carrot's ingredients are fresh, so boxes are sent out every week. With Medifast, servings are individually wrapped and usually packed in seven-count boxes. They can be purchased in individual boxes or in groups of boxes included in the 30-day kits as part of a weight loss program.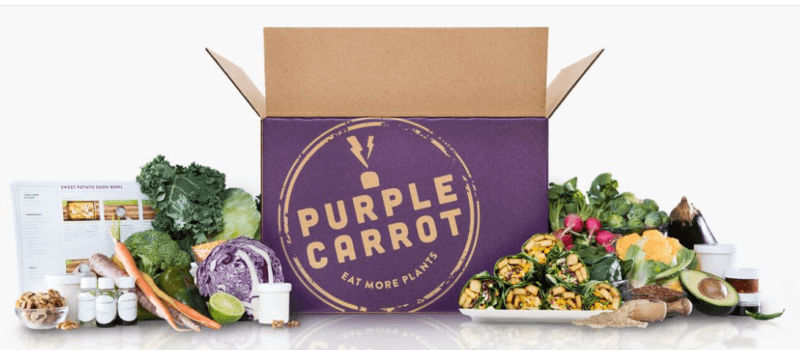 Because the meals are individually wrapped, there's a lot more packaging overall, and it's not all recyclable. Most of Purple Carrot's packaging can be recycled.
Medifast shipments come within a week of when you place an order or every month, if you've signed up for automatic shipments. Medifast Advantage customers get free shipping or $5 flat-rate shipping depending on how much their order costs.
Pricing
Buying individual boxes of Medifast products costs $19.70 each. The 30 day Medifast Go and Medifast Flex kits cost $329 and $399 respectively for new auto-shipment subscribers. However, the discount only lasts one month, and then the price for the kit goes up by $126 and $158 respectively.
Per serving, Medifast meals might look like they don't cost as much. For something like a shake or a crunch bar, the cost is around $2.79 per serving. Flavors of Home products are $4.58 or $4.95 per serving, depending on whether you buy a six-serving package or a 12-serving variety pack.
The big thing to remember here is that the Medifast plan is intended to feed you for a full day at a time. This means if you have five Medifast meals, as you would on the Medifast Go plan, you'll pay $13.95 per day for one person.
You also have to add in the cost of the lean and green meal. That can vary in price if you shop for that meal at a grocery store. If you opt for a Medifast Flavors of Home product, you add another $4-5 to the total price. The total cost of eating on the Medifast Go plan for one person for one day could be around $18 per day.
Purple Carrot only offers dinners, and only three times a week. Pricing is set at $12 per plate or $72 per week for two people. If you opt for the TB12 gluten-free plan, the cost rises to $13 per plate and $78 per week.
Customizable Options
If you're ordering Medifast products on their own, you can pick and choose whatever you want and the amounts you want, too. If you go with a 30-day kit, you'll be sent a certain number of seven-count boxes for each product (for example, two boxes of Dutch Chocolate shakes and one box of Chocolate Mint Crunch bars).
If you're a Medifast Advantage member, you can swap out items on your automatic shipment so that you can mix things up order to order.
With Purple Carrot, you can change your plan, skip orders,and mix and match meals for each week by going into your online profile and editing your upcoming order. However,you can't mix and match meals on the TB12 plan.
What Makes Each Company Unique
While Medifast is geared only toward helping people lose weight and maintain weight loss, Purple Carrot is more about bringing healthy,plant-based food choices into mainstream life. Weight loss might be a side effect, but it's really more about creating a fun vegan lifestyle.
Here are some of the things I liked best and least about each company.
Purple Carrot
Pros:
Shipping is free.
The plan is simple and direct, so you always know what you're getting and you won't feel overwhelmed by too many choices at once.
The food is delicious, even if you're not a vegetarian.
While Purple Carrot costs a little more per meal than some other meal kit subscription companies, the price per serving isn't prohibitive.
Cons:
The food is delicious, but personally I do prefer meals with meat in them.
There aren't options for feeding more than two people at a time, which means you'll have to utilize other options if you're trying to feed a family.
You can't customize the number of meals you purchase per week.
Medifast
Pros:
Medifast provides PDF guides for eating out, creating maintenance meals, having healthy celebrations, and more.
Medifast also has a 30-day money back guarantee.
If you're a Medifast Advantage customer, you can earn discounts toward your next order and get free or $5 flat-rate shipping.
Cons:
I prefer fresh food and home-cooked meals to individually packaged bars, shakes and other types of Medifast meals.
Although the cost per serving is small, buying a full 30-day kit could be too expensive for many people.
Alternatives
Where healthy eating is concerned, Purple Carrot and Medifast aren't the only options available. If weight loss is your main concern, you could also try out Nutrisystem.
If you want to try other vegan meal kits, you could look into Hungryroot. Daily Harvest is also vegan but is built for an on-the-go lifestyle.
If you want something more basic but still health-conscious, you might consider Terra's Kitchen, which is built around the Mediterranean diet plan, or PlateJoy.
Conclusion
When it comes down to Purple Carrot and Medifast, both have their advantages. Personally, I'd probably go with Purple Carrot because I'm not trying to lose weight, and I love cook. However, Medifast is still an awesome service for people that want to lose weight with a company that has a proven track record and a solid weight loss system.
Even though Purple Carrot's meals are delicious, I still prefer to eat meat. I keep going back to simple but delicious balanced meals like the ones provided by Blue Apron or Sun Basket.