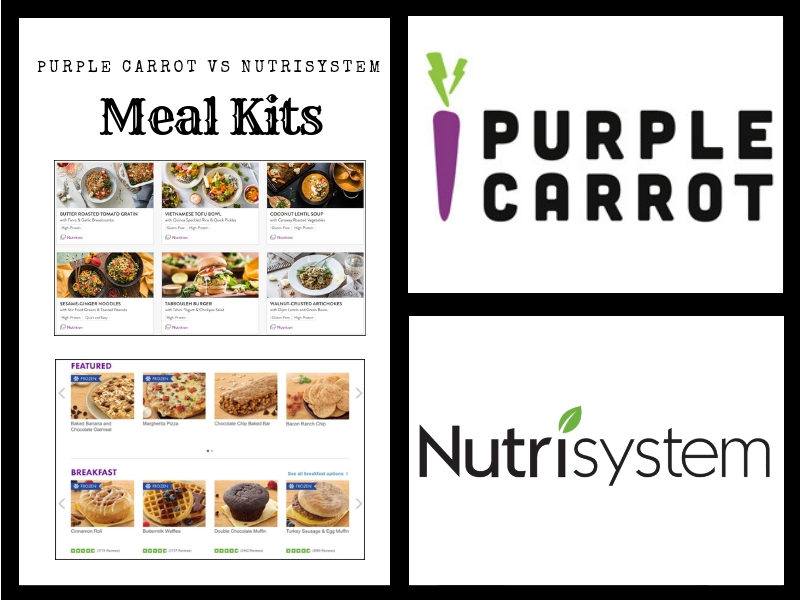 Healthy meals delivered to your door can be as simple as subscribing to a meal-kit delivery service. There are some really great options out there. If you're looking to build your health as well as save time on dinners, this Purple Carrot vs. Nutrisystem comparison might help you clarify what you want.
Purple Carrot is one of several vegan-based meal kit subscription services on the market that brings nutritious plant based dinners into mainstream society. Nutrisystem, on the other hand, was designed more for weight loss, with the option of having meal kits delivered to your door to help subscribers stay on their diets.
I'll give you a closer look here so you can see which one might be a better choice for you.
Types of meals
Purple Carrot's vegan meals come in three categories: quick and easy, high protein, and chef's choice, which provides gourmet-type meals. Often one meal will fall into more than one category. For example, the Black Bean Burritos fall under both the quick and easy and the high protein categories.
You sign up for one of these categories as your plan preference when you join Purple Carrot, but you can mix and match your meals each week. There are a total number of six meals offered weekly. You can choose three of them.


The exception is if you opt for the TB12 high performance plan, which is also gluten-free. Meals on this plan are automatically set by Purple Carrot, although you receive different menus each week.
Although I normally prefer meat in my meals, Purple Carrot's dinners are delicious and creative.
Nutrisystem's meal types are a bit more complex, since they're utilized in several different weight loss plans. There are more than 150 menu items total, including breakfasts, lunches, dinners and snacks. With Nutrisystem, you eat six times a day and mix in fresh grocery foods, as well.
One thing I like about Nutrisystem is that although it's a weight loss plan, there are options like hamburgers, Pepperoni Pizza Melt and Cinnamon Coffee Cake. If you're trying to lose weight, it's nice to not feel like you have to only eat granola-bar type meals or drink only shakes or smoothies—although those are also options with Nutrisystem.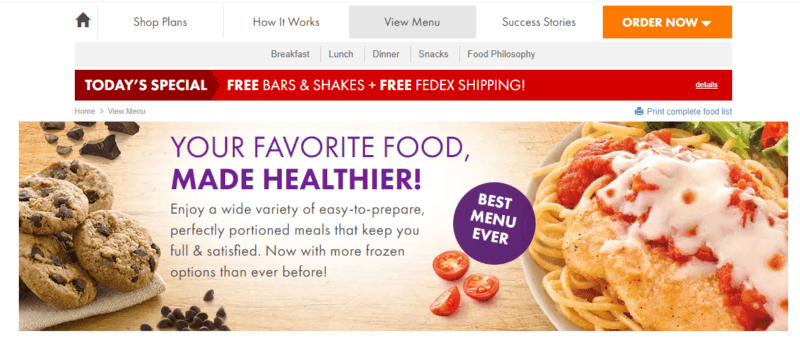 There are several different weight loss plans you can choose from, including Vegetarian, the Basic plan, the Core Plan, Uniquely Yours and Uniquely Yours Plus plans. Most of these plans have adaptations for men and for diabetics, too.
With each plan, you get four weeks of food for six meals per day. With some plans, you can choose from a frozen food menu as well as normal off-the-shelf products. If you're not sure what plan will work best for you, Nutrisystem provides a dietary services team that can talk you through your choices.
Sign Up And Cancellation
To sign up with Purple Carrot, you enter an email address, create a password and click the 'sign up now' button. After that, you customize the recipes you want to get. When you come to the checkout, you enter your shipping and billing information, and you're done.
The company provides online instructions for how to cancel or pause your account or skip orders. You'll have to log into your account first and fill out a short survey as part of the process.
To sign up with Nutrisystem, your first step is to choose the plan you want. Then you select whether you're ordering for a man or a woman, whether or not you want to choose your own meals. Then you choose whether this is a one-time delivery or if you'd like to get automatic shipments every month.
You can save money with the automatic shipments, but there's a catch. If you cancel after 14 days, you'll be charged $125 to offset the costs of the savings you receive on the automatic shipment plan.
If you order a months' worth of food but you don't sign up for auto-shipments, all you have to do is stop placing orders. You won't get the savings, but you also won't be charged extra fees if you decide to stop ordering.
If you are set up for automatic shipments and you do want to cancel, you'll need to call Nutrisystem to start the process.
Packaging And Delivery
Purple Carrot's ingredients come in a recyclable box with an ice pack to keep them fresh. The company encourages composting scraps left over from cooking.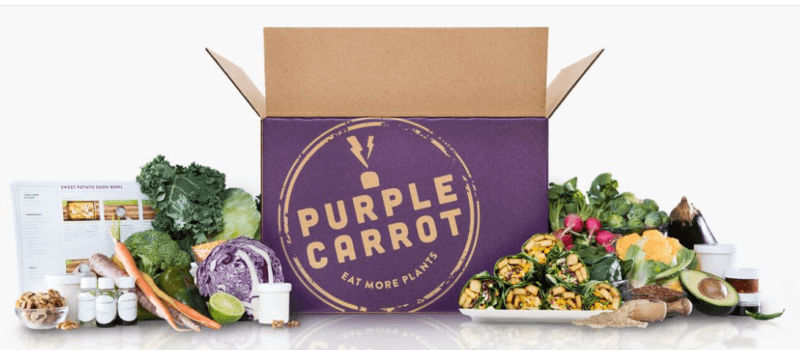 Shipping is always free, and Purple Carrot ships to the contiguous 48 states. If you're not in an area where Purple Carrot delivers,you can ask about their expansion plans by emailing the company at hello@thepurplecarrot.com.
Shipping is free with Nutrisystem, too. Most orders come within four to ten business days of ordering, unless you're on the automatic shipment program. Then orders will come about every 28 days.
If you've ordered frozen foods, those foods will be delivered separately and will be packed in dry ice to keep them frozen for up to eight hours. If you order less than $75 worth of frozen foods at one time,there's an additional shipping charge of $20.
Pricing
Purple Carrot's pricing is simple and direct. If you order one of the three basic plans, you pay $12 per plate, or $72 per week for three meals that feed two people. If you order the high-performance TB12 plan, you pay $13 per plate or $78 per week.
Nutrisystem's pricing plan is a little more complicated. The Vegetarian plan costs $12.50 per day. The Basic Plan for women and diabetics is$10.18 per day, and the Basic Plan for men is $11.61 per day. The Core Plan is $11.07 for women and diabetics and $12.50 for men.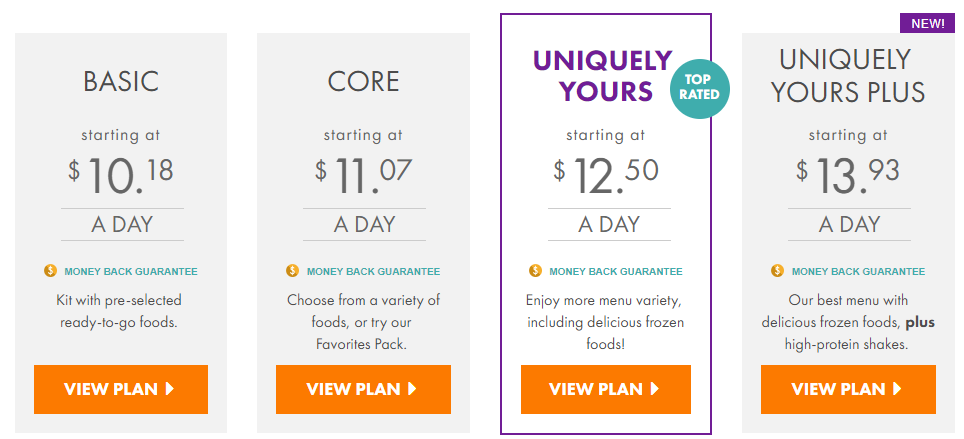 The Uniquely Yours plan costs $12.50 per day for women and diabetics and $13.93 per day for men. The Uniquely Yours Plus plan starts at $13.93 per day and can go up to $15.36 per day.
Customizable Options
Purple Carrot allows you to change plans, skip weeks and mix and match meals within the weekly menu offerings. However, you can't order for more than two people on one plan, and you can't change the amount of meals you get in a week.
You also can't mix and match meals on the TB12 plan.
Nutrisystem allows you to change plans at any time. You can also search for food using filters and get the foods you want in your plans.Filters include frozen or nonfrozen foods, types of foods (muffins, sweets,etc.), dietary needs, nutrition preferences, and allergies
What Makes These Companies Stand Out
While both companies aim to increase health, the way they go about it is completely different. Nutrisystem focuses on weight loss, while Purple Carrot is more about providing sustainable lifestyle changes in regards to dinner choices.
Here are some things I liked and didn't like about both companies.
Purple Carrot
Pros:
The foods are creative, delicious and fun, even for people who are used to eating meat.
Purple Carrot places a lot of emphasis on green living, including recycling.
Purple Carrot is a simple, direct program that doesn't overwhelm you with too many choices.
Cons:
Beyond the TB12 high-performance/gluten free plan, there isn't any way of seeing whether there are food allergens in the meals unless you look directly at the ingredients.
Nutrisystem
Pros:
This company has been around for 45 years, so there's some credibility behind its claims for promoting weight loss success.
Nutrisystem goes beyond bars and shakes to provide meals that aim to keep dieters from feeling deprived.
There are a lot of plan options and options to customize those plans.
Nutrisystem has a money back guarantee
Cons:
It can be tricky to cancel and costly if you cancel after 14 days on an automatic shipment program
Because there are so many options, it can be overwhelming to find the plan you want and to customize it.
With Nutrisystem, you still have to do some grocery store shopping to supplement what you get from the company.
Alternatives
While both Nutrisystem and Purple Carrot can provide you with health-conscious meal kit choices, they aren't the only plans available. Hungryroot is another great vegan-based service, and Daily Harvest is a vegan service designed for people on the go.
If you're like me and you prefer meat in your meals, Terra's Kitchen or Dinnerly are other good choices that also offer some vegetarian meals.
Conclusion
Between Purple Carrot and Nutrisystem, I opt for Purple Carrot. The meals are delicious, and I like the process of creating a home-cooked meal. Nutrisystem is convenient, but it takes some of the fun out of dinnertime if what you're eating comes individually wrapped.
Overall, I'm still a huge fan of Sun Basket and Plated, so check out those kits too!