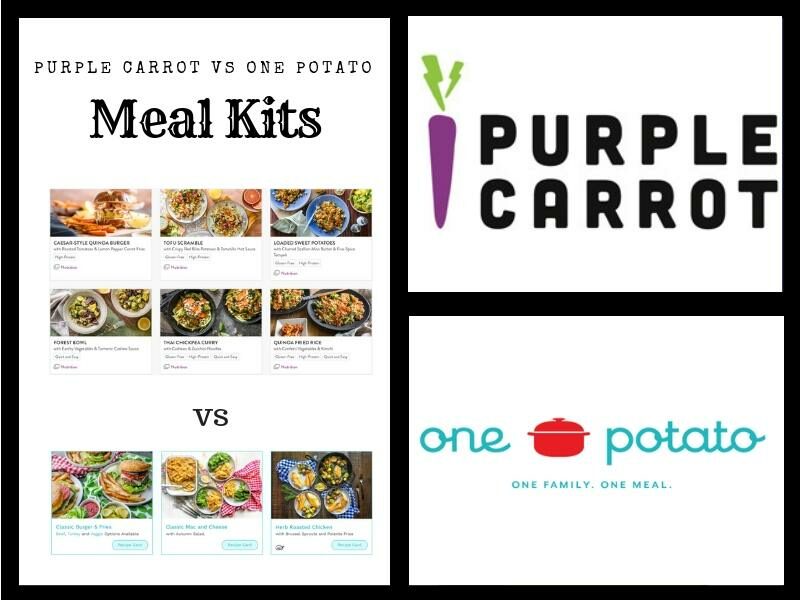 Whether you're an on-the-go professional who likes to cook or a mom who needs some help with dinner, there are a lot of choices available beyond fast food. Over the past decade or so, meal subscription services have become a steady to-your-door supplier of ingredients for fast, nutritious and delicious dinners and other meals.

In this Purple Carrot vs. One Potato comparison, I'll share how two such meal plan companies work and how they're tailored to meet the needs of their target customers. Are you more into vegan gourmet foods, or do you prefer family friendly meals? This article might help you decide.

Type of Meals

One Potato is an outgrowth of Weelicious, an endeavor that provides fun, no-fuss recipes for family meals. All of One Potato's recipes are tested by Weelicious before they're included in the weekly menus.

As with the Weelicious recipe company, the focus is to provide delicious family meals that are both nutritious and kid-friendly. The ingredients in meals from One Potato are non-GMO and organic, and whenever it's possible, the recipes use seasonal ingredients.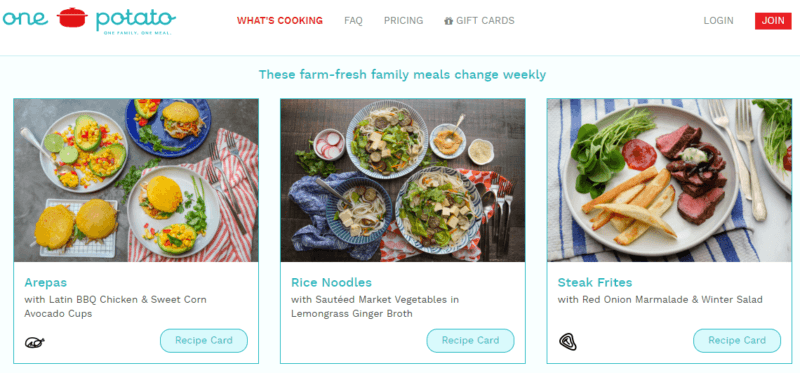 The ingredients also come pre-measured and pre-chopped, so if children want to join in the cooking, it's easy to include them without a lot of extra trouble. Meals are usually ready within half an hour or less.

There are eight recipes to choose from in a week, and two types of plans: a vegetarian box, and an omnivore box. One really great feature about these plans is that you can choose to feed anywhere from two people to six people.

For example, the Two-Potato box contains ingredients for two servings per night, for two or three nights per week. This will comfortably feed two adults or one adult and one to two children. The Six-Potato box feeds the equivalent of two adults and four children. Three-Potato, Four-Potato and Five-Potato options feed up to three people, four people, and five people respectively.

If you're viewing the menu page, you'll be able to click on and view the recipe cards (even if you're not ordering anything). There are also icons on the weekly menus that show whether the meals contain meats such as fish or beef. One Potato also offers gluten-free and nut-free meals, and you can set dietary preferences or restrictions to eliminate poultry, red meat, pork, fish, or shellfish.

The menus change weekly. Three of the eight offerings are be labeled for picky eaters and will include items like Pan Roasted Chicken or Classic Mac & Cheese. The others include seasonal favorites, such as Chilaquiles with Winter Vegetables or Steak Frites with Red Onion Marmalade and Winter Salad. You can scroll ahead to see what's coming up for future weeks, too.

Purple Carrot's menu system is set up the same way. While all the meals are vegan-based, there are three basic plans: quick and easy meals, high protein meals, and gourmet-style meals called Chef's Choice. There's also a high performance, gluten-free plan called TB12.

All of Purple Carrot's plans serve three meals to two people each week. The quick and easy meals typically take less than half an hour to prepare, and the high protein meals contain at least 20 grams of protein per meal. The TB12 plan costs a little bit more per plate and, unlike with the other meal plans, you can't mix and match meals from the weekly menu.

There are three meal offerings for each plan on each Purple Carrot weekly menu, with a total of six meals per week to choose from. Many of the meals are included in more than one plan. For instance, the Plantain Bowl with Black Beans and Loaded Guacamole fits in the high protein and the quick and easy plans, as well as the TB12 plan.




If you're looking at the Purple Carrot weekly menu, you can click on the nutrition link to get a drop-down nutrition facts box. Meals on the weekly plan are labeled by the type of plans they fall under, including gluten-free.

Signing Up And Cancelling

The Purple Carrot sign-up button is located in the top right corner of most pages on the website. There are also 'Get started' and 'Pick your plan' buttons on the main website page.

To get started, you enter an email address and create a password. Then you click on the 'sign up now' prompt. You'll be able to customize your weekly plans. You enter your billing information and shipping information when you check out.

To cancel with Purple Carrot, you'll need to navigate to your account, find your profile and click on the 'Change' link next to your subscription status. From the next page you can either cancel your account permanently or put your deliveries on pause for up to ten weeks.

If you cancel permanently, you'll be given a short survey to fill out and a few more instructions to follow.

With One Potato, the sign up prompt (also in the upper right hand corner of the main page) is labeled 'Join,' and it's also on most pages on the website.
The first step to sign up is to fill out an information box with your name, email, password and zip code. Then you build your box. You'll start by choosing how many people you want to feed from the Two-Potato to Six-Potato selections.

You also need to let the company know whether you'd like to cook two meals a week or three meals each week and whether you have any dietary restrictions. Once your box is the way you want it, you check out and enter your payment information.

To cancel with One Potato, send an email from the email address associated with your account to cancel@onepotato.com. You'll receive an email link with instructions to follow for the cancellation process. The process is complete once you receive an email confirmation.

Packaging And Delivery

Both Purple Carrot and One Potato ship ingredients for your meals in cardboard boxes that can be recycled. For both companies, most of the plastics and cardboard inserts inside the boxes can be recycled, too. The liners inside the One Potato box should go into your regular trash bin.

Purple Carrot delivers to the contiguous 48 states, but not to every area in every state. If you're interested in finding out whether Purple Carrot delivers to your area, you can send an email to hello@purplecarrot.com to ask.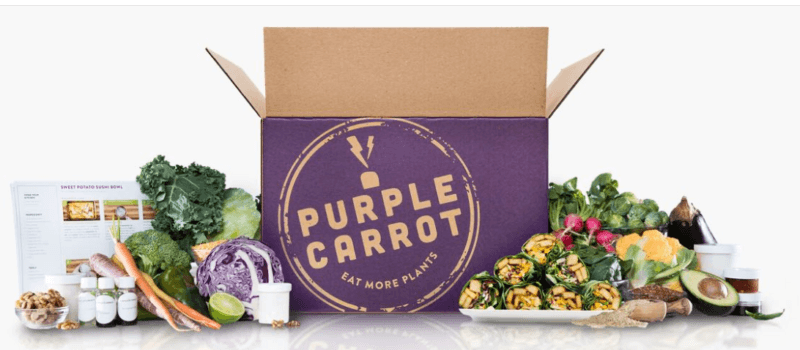 Shipping is always free with Purple Carrot.

With One Potato, shipping costs vary depending on how much food you're buying. Shipping costs are free with higher value boxes, such as the Four-Potato box with three meals. You can be charged a $4.99 fee or a $7.99 fee for lesser value boxes, and you will be charged a shipping fee if you live in Colorado, Idaho, Oregon, Utah or Washington.

Right now, One Potato only delivers to Arizona, California, Colorado, Idaho, Nevada, Oregon, Washington and Utah. The company is planning to expand into other areas.

Pricing

The cost per meal for Purple Carrot is a steady $12 per plate for the basic plans and $13 per plate for TB12 meals. This works out to be $72 per week for the quick and easy, high protein and Chef's Choice plans and $78 per week for the TB12 plan.

One Potato's pricing is a bit trickier. Per plate, it ranges from $7.32-$12.95, depending on how much food you're buying.

For example, the Two Potato plan for two nights is $12.95 per serving, or $59.70 per box, plus a shipping fee of $7.99 per box. On the extreme other end, the Six-Potato plan costs $7.32 per serving, so a two night box is $87.80 and a three night box is $131.70.

The Three Potato plan costs $10.13 per serving. A Four-Potato plan works out to be $8.72 per serving, and the Five Potato plan is $7.88 per plan.

Customizable Options

Comparatively speaking, Purple Carrot's customizable options are limited. For the three basic meals, you can mix and match between menu selections, but the TB12 plan is limited to the three gluten-free offerings. You can change your preferences between shipments and skip shipments if you'd like to, but that's about it.

One Potato has a wide range of options for the number of people to feed, and you can choose two meals or three meals per week. You can set your preferences for the kinds of foods you like or have dietary restrictions for. There are also nut free and gluten free options.

What Makes These Companies Stand Out

Both companies have something to offer the target audiences that they appeal to, and it seems like they've developed a niche. Purple Carrot caters to a sophisticated vegan crowd, while One Potato is definitely geared toward family foods. There are things I liked and disliked about both of them.

Purple Carrot

Pros:
I'm not a vegetarian, but Purple Carrot's meals are surprisingly delicious and flavorful.
The set cost per plate and the set number of meals per week makes Purple Carrot's system simple to understand and easy to use.

The free shipping is always a plus.
Cons:
The price per plate is a little expensive for meals that don't contain meat in them.
One Potato:

Pros:
Pre-measured and pre-chopped ingredients make it easy to involve children in the food preparation process without creating a huge mess.

One Potato is a National Parenting Product award winner.
There's free cookie dough in every box. Even if you don't have a family, that's still a win.

There's special pricing for children, which means if you specify the number of children's portions you want, you can get a better deal on the food prices.
Cons:
The varied shipping costs are challenging to figure out.

By the same token, One Potato's ability to customize by children and adult sized portions and the number of people you'll be feeding feels a little overwhelming.

The biggest con that I can see is that One Potato is geographically limited to a handful of western states.
Alternatives

If you like the family-friendly feel of One Potato but need something that delivers in your area, you might consider trying Gobble or Blue Apron.

On the other hand, if you're really into vegan meals like what Purple Carrot has to offer but you want to try something new, you could opt for Hungryroot or for Daily Harvest.

Plated and Sun Basket are both good meal services to try, as well.

Conclusion

When it comes to Purple Carrot and One Potato, I prefer the fun feel of One Potato and the fact that some meals contain meat in them. However, its limited delivery options might be a downer for other people who want to try it but can't.