Meal kit services have come and gone over the past few years. The industry itself is fairly new, but it seems like it's here to stay. Sales from meal kit services are expected to rise to $10 billion per year by 2020. That's $9 billion in projected growth since its 2015 sales of $1 billion.

For most people, what that means is that ordering food from meal kit services is becoming more widespread. There are more companies and more types of food to choose from than ever before. Some are built on foundations of dietary restrictions, while others focus on providing nutritious and delicious dinner solutions.

In this Purple Carrot vs. Plated comparison, I'll share with you my experiences with these two companies, including what I like best and least about both of them. When it's time to choose your own meal kit service, will you go for one like Purple Carrot that focuses on a niche market, or will you opt for a company like Plated that has a wider range of food offerings?

Types of Meals

One area where both these companies excelled was in their ability to provide delicious, surprising food. I love trying new flavors and recipes, and these services did not disappoint. Even though I prefer food with meat in it, Purple Carrot's meals were excellent and adventurous, and Plated's meals were some of the best that I've had so far.

Purple Carrot caters to a vegan crowd and offers three basic plans. Its quick and easy plan is designed to get meals on your table in less than half an hour, and the high protein meals provide around 20 grams of protein. The Chef's Choice menu offers gourmet-type meals. Each plan serves two people, and you get recipes and ingredients for three meals each week.

There's also a high-performance plan called TB12. This costs a little more, but it's also gluten-free.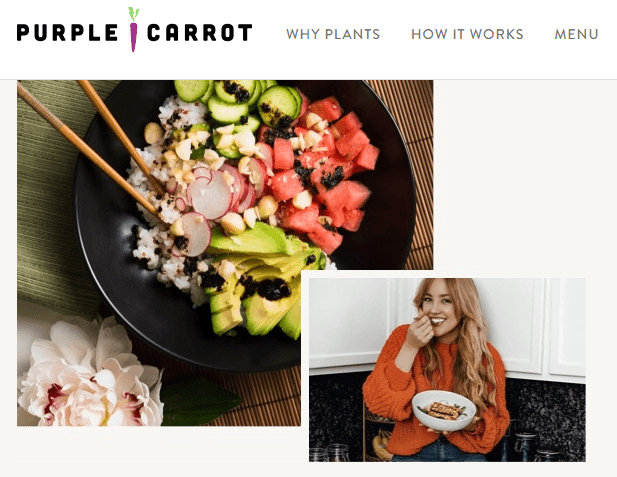 Purple Carrot has six vegan options for every week. Most of the meals fall into more than one category. For example, the Quinoa Fried Rice with confetti vegetables and kimchi falls into the gluten-free plan, the high protein plan, and the quick and easy plan.

Both Purple Carrot and Plated have options where you can see nutrition information. When you're looking at the menu selection for Purple Carrot, you can click on the nutrition link for each recipe to get a full drop-down box with nutrition facts for each meal.

With Plated, you can click on the 'quick facts' link to get information like the number of calories in a meal, how long it takes to cook, and what plans it falls under. You can also click on the 'full details' under the quick facts section to get information on the number of grams of carbohydrates, fat and protein a meal has as well as other nutrition information, an ingredient list, and allergens.
You can get your recipes from Plated in your online account, but they'll also be shipped to you with your food order. There are 20 options to choose from, and you can mix and match meals from the entire menu. You can also get desserts, such as peanut butter cookies or marshmallow brownies.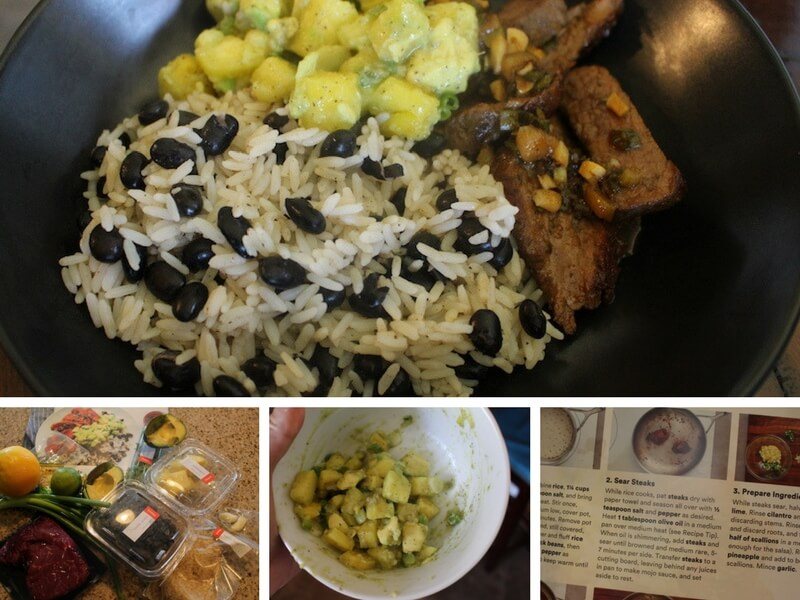 Plans are based on the number of people you want to feed each night. You can choose to get enough food for two people, three people or four people, and you can choose to get recipes and ingredients for 2, 3, or 4 people each week.

Signing Up And Cancelling

Signing up with both companies is a fairly easy process. With Purple Carrot, you enter your email address, create a password, customize your weekly recipes and enter your shipping and billing information when it's time to check out. Signing up for Plated starts with choosing your plan and your food preferences.

One plus for both these companies is that cancelling your subscription can be done easily within your online account. Purple Carrot gives you the option to pause your deliveries for up to ten weeks, and if you do choose to cancel, there is a short survey to complete.

Packaging and Delivery

Both companies ship their ingredients and recipes in cardboard boxes and other materials that are mostly recyclable. Plated does sometimes use a denim liner that has already been made of recycled material, so it can be discarded. The plastics and cardboard for both companies can be recycled normally.

Purple Carrot ships its boxes across the continental United States and shipping is always free. Boxes for plated are delivered to 95 percent of the United States, and shipping cost $7.95 per box if the box order totals less than $60. Shipping is free for boxes costing more than $60.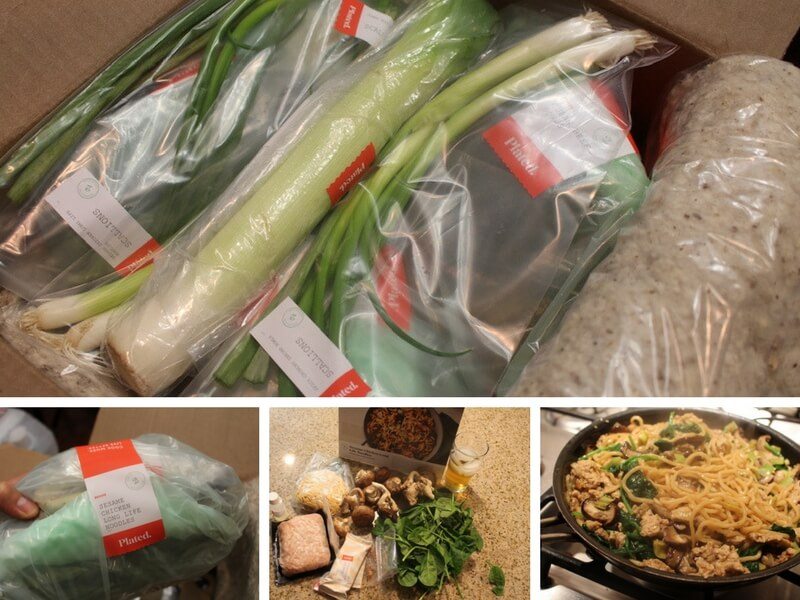 With Plated, ingredients come pre-measured and separated by recipe, which makes cooking convenient and fun.

Pricing

All of Purple Carrot's basic plans cost $12 per plate, or $72 per week. The TB12 plan costs $78 per week, at $13 per plate.

Meals from Plated cost $11.95 per serving for the two person plans and three nights per week. The three-person and four-person plans cost $9.95 per serving.

Both companies offer first-time discounts, too. With Purple Carrot, you can get $25 off your first order, and with Plated, you get more than 50 percent off.

Customizable options

Both these companies allow subscribers to change plans, skip deliveries, and mix and match meals within the weekly menu options. The exception is Purple Carrot's TB12 plan—no meals can be switched out on this plan.

Because Plated has so many more offerings per week, including desserts, it's more customizable than Purple Carrot. It also has a filter system. Subscribers can search by gluten free, low carbs, stovetop only, spicy, quick prep, low calorie, and meat-focused options.

What Makes These Companies Unique

While both Purple Carrot and Plated have a lot in common, there are a lot of differences, too. I liked that both of them introduced me to new foods I wouldn't have had a chance to try on my own. Beyond that, there are things I liked and disliked about both companies.

Purple Carrot

Pros:
I was expecting meals that tasted bland, boring or raw, so I was surprised at how delicious and fun vegan meals can be.
I like that Purple Carrot promotes composting leftover scraps.
Free shipping is always a plus.
Cons:

There aren't as many customizable options with Purple Carrot as there are with Plated.
For meals that have no meat in them, Purple Carrot seems a bit expensive.
Plated

Pros:

The portion sizes were larger than I expected, so I almost always had leftovers.
Plated donates leftover perishable ingredients to local food banks and similar organizations.
Plated is featured in Vogue, the Wall Street Journal, and Today
Cons:

The recipes are more complicated than recipes with other meal kit services that I've tried.
When compared to Purple Carrot, the shipping fee seems expensive.
Alternatives

Purple Carrot and Plated are just two of many meal kit services to try. There are a lot of other good options out there, too.

Some companies, like Medifast and Nutrisystem focus specifically on helping people lose weight. PlateJoy targets those who want to avoid diabetes. Besides Purple Carrot, Hungryroot and Daily Harvest provide solid vegan-based options.

If you're more into delicious traditional meals, you might enjoy Sun Basket or Blue Apron. Gobble is a great option for families.

Conclusion

I really enjoyed the food with both Purple Carrot and Plated, and overall the prices are right in line with what many of the other meal kit companies charge.
However, I really liked the larger portion sizes, fun new recipes and the meat that came with Plated Meals. Of all the meal kit services I've tried so far, I think Plated is my favorite.
(check out what discounts they currently offer)