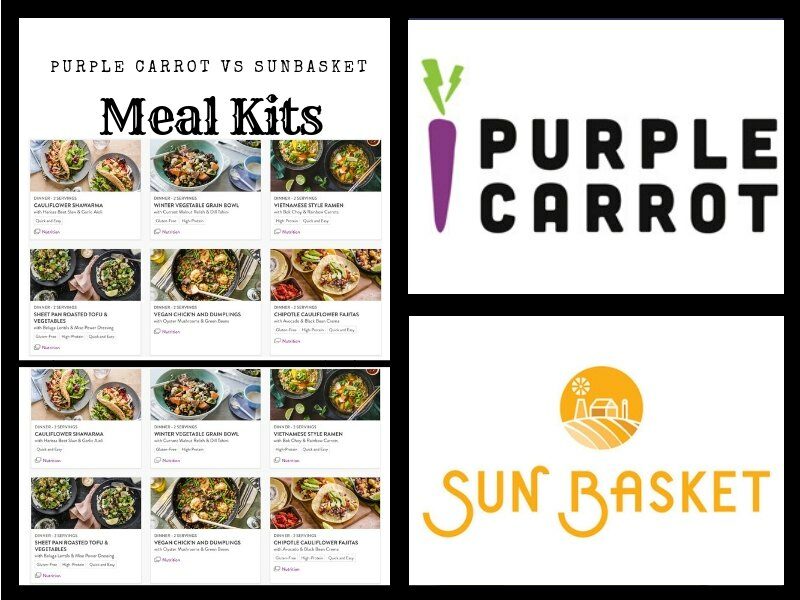 Over the past few years, the question of what's for dinner has taken on a life of its own. As meal kit services compete to answer it in their own way, traditional dinner offerings have expanded. Some businesses target people with specific dietary requirements, while others aim at providing the best taste and value experiences out there.
I've tried a number of these companies, and I am always amazed at the variety they offer. Besides making my hobby of cooking more convenient and fun, they're a great way of trying out new dishes and learning new cooking skills.
In this Purple Carrot vs. Sun Basket review, I'll share my thoughts about these two meal kit services. They're very different in their target markets, but one thing they both deliver well is delicious, nutritious dinners.
I haven't personally tried Purple Carrot, so can't offer insight into the flavor of the meals, but I have tried Sun Basket, and loved it! The meals were bursting with flavor, and made cooking dinner a little more interesting the "meat and veg" with "salt and pepper" like I often end up eating when I don't have time to plan.
Types Of Meals
Purple Carrot is one of a handful of meal kit services that is geared specifically toward the vegan community. As a meat lover, I didn't expect to enjoy the meals as much as I did, but they were flavorful and interesting.
Meals from Purple Carrot fall under three different plans: quick and easy, high protein, or chef's choice, which is centered on gourmet-type meals. The quick and easy meals are designed to take less than 30 minutes to prepare, and the high protein plans have around 20 grams of protein per meal.
There's also another Purple Carrot plan called TB12, which is gluten-free and high performance. It's slightly more expensive and has fewer options for customizing it than other Purple Carrot plans.
Sun Basket's meals can contain meat, but you can also opt for vegan or vegetarian meals. In fact, Sun Basket offers meal plans for a variety of different eating styles.
Under its classic meal plan category, you can choose from chef's choice, paleo, lean & clean, gluten free, vegan, vegetarian, Mediterranean, pescatarian, diabetes friendly, and quick and easy. The family meal plan gives subscribers choices from a chef's choice menu or the vegetarian menu.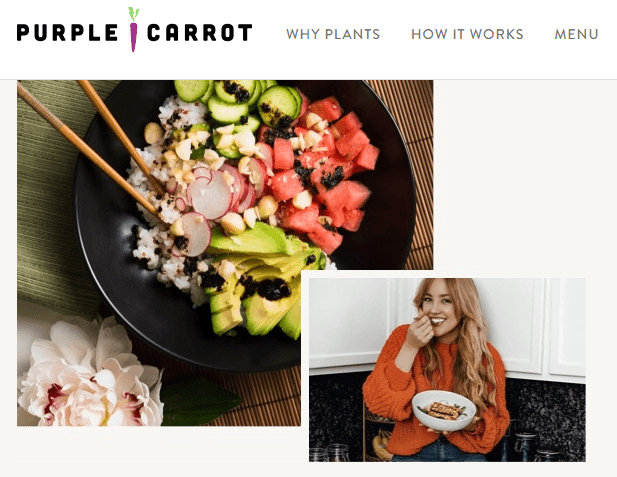 Sun Basket has a total of 18 different weekly options. Purple Carrot has six weekly options, with most of its meals falling into more than one category. For example, the Thai Chickpea Curry with cashews and zucchini noodles falls under both the high protein and the quick and easy plans, and it also qualifies for the TB12 plan.
Purple Carrot's plans are designed to serve three meals each week for two people. Sun Basket's classic plans can feed either two or four people, and the family plan feeds four adults.
Both companies pay close attention to nutrition and quality of ingredients. Purple Carrot labels its menus by the plans they fall under and whether or not the recipe is gluten free. There aren't any specific options for avoiding allergies, so you'll have to watch the ingredients list for each recipe, but there is a full drop-down box of nutrition facts that you can click on right from the weekly menu section.
Sun Basket makes a point to use meats that are antibiotic and hormone free, sustainably-sourced and wild-caught fish, and organic produce. The meat is kept separate from other ingredients when the food is shipped, but all other ingredients are pre-measured and are grouped together by recipe, which makes finding the ingredients a breeze when it comes time to cook the meal. Most meals can be cooked within half an hour.
Signing Up And Cancelling
To sign up with Purple Carrot, you first enter your email address and choose a password. Then you can customize your weekly recipes. You don't enter your shipping or billing information until it's time to check out.
Signing up with Sun Basket begins by selecting either the classic or the family plan and then choosing your menu. When you click the 'get started' button, you'll first see a page where you can enter your email address, password, and zip code, along with your name. This creates your account. You can also sign in with Facebook. Once your account is created, you customize and place your order and complete payment.
Like most meal kit companies out there, both Sun Basket and Purple Carrot allow you to skip deliveries when you want to as long as you give them enough notice in advance.
Cancelling Purple Carrot can be done under your profile in your Purple Carrot online account. If you want to cancel, go to your account settings and click the 'change' link next to 'subscription status.' This allows you to skip deliveries or cancel your service. If you decide to permanently cancel your subscription, there will be a few more steps to follow and a short survey to fill out.
With Sun Basket, you'll have to call customer service in order to start the cancellation process. There's also a link under the 'manage weekly deliveries' section of the frequently asked question where you can begin to fill out information to start the cancellation process.
Packaging And Delivery
Both Purple Carrot and Sun Basket ship their food in recyclable cardboard boxes, and most of the packing material inside is recyclable, too, including the paper inserts and lining. The gel packs can be re-used, or you can cut them open, discard the gel inside them, and recycle the plastic.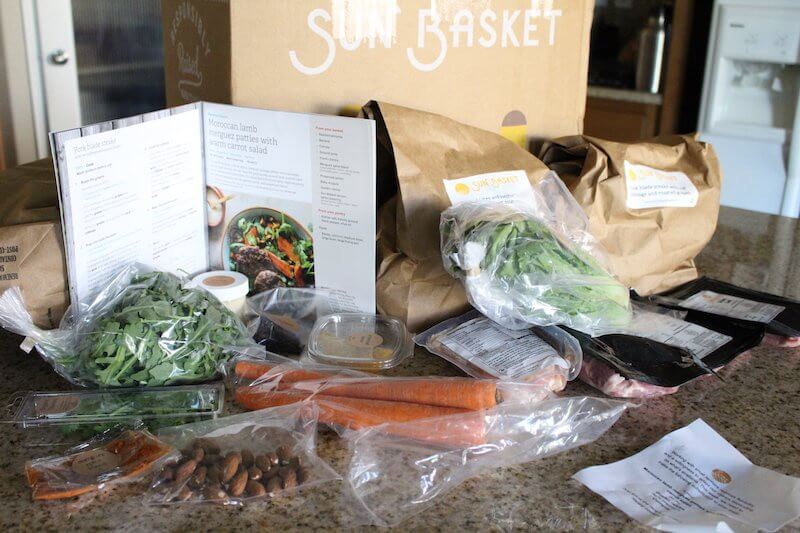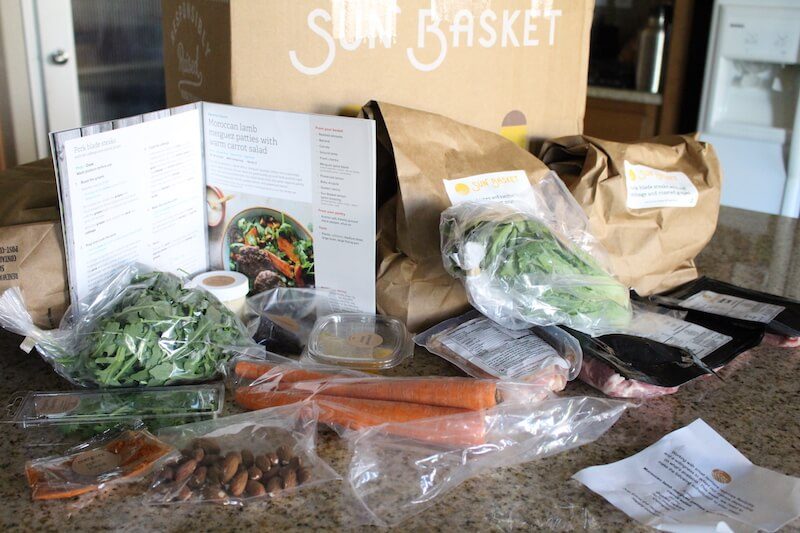 Purple Carrot delivers across the continental United States, and Sun Basket delivers everywhere but Hawaii, Alaska, Montana and parts of New Mexico.
There's a $6.99 shipping fee for Sun Basket orders, except for the first box. That one ships to you for free. Here, Purple Carrot is a clear winner, because shipping is always free.
Pricing
Pricing between Purple Carrot and Sun Basket is comparable for most meals. Meals on an of Purple Carrot's three basic plans are $12 per plate, and the TB12 plan costs $13 per plate. 72, 78
With Sun Basket, any of the meals for the classic plans cost $11.99 per serving, and meals on the family plan option cost $10.99 per serving.
If you're comparing box prices, the Sun Basket price for your first box on the classic-plan is $71.94 for enough ingredients to feed two people, and a first box that feeds four people costs $143.88. Purple Carrot's prices are close, with their basic plans costing $72 per box and the TB12 plan priced at $78 per week.
Customizable Options
With Purple Carrot, the only plan that can't be customized is the TB12 plan. All other meals can be mixed and matched within the weekly menu. It's the same with Sun Basket. Those on the classic plan are able to mix and match meals within the full 18 weekly options, while those on the family plan are limited to six meals to choose from.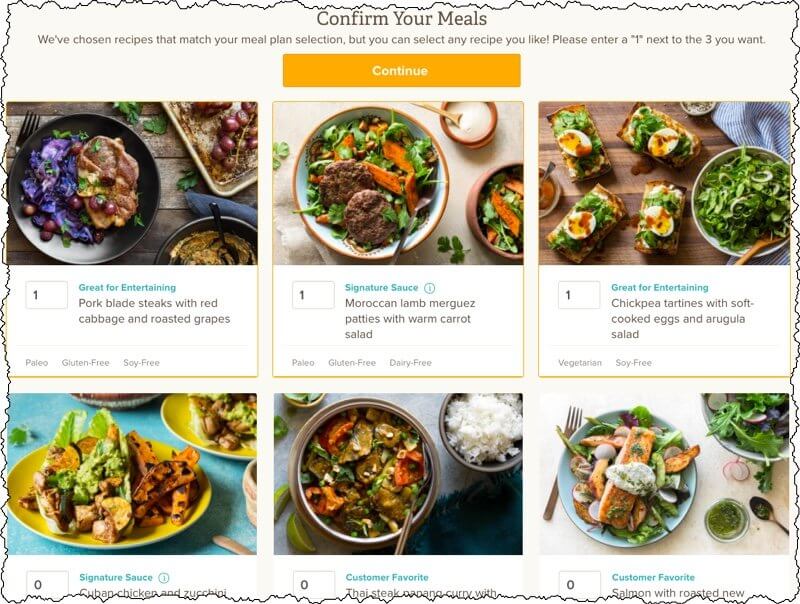 Sun Basket also allows subscribers to choose the number of meals they want to receive each week. You can get ingredients for two, three or four meals. Both companies allow you to skip orders or change plans when you need to.
What Makes These Companies Unique
Sun Basket is targeted to a wider variety of foodies, but Purple Carrot is doing well with its niche market, too. They both have a lot to offer, and there are also some things I don't like quite as well about them. Here is a quick run-down of my top thoughts:
Purple Carrot
Pros:
The food was delicious and I felt like I was being introduced to new flavorful combinations that I wouldn't have tried without this service.
This is a simple, straightforward service, which makes it a good option for people who are trying a meal kit service for the first time.
Cons:
I thought the cost per meal was a little high, especially for meals with no meat in them.
Sun Basket
Pros:
With the family plan, there are 'kids can' steps in the recipes to help children get involved in the cooking process.
The family plan is focused on providing meals like pasta and tacos that kids are familiar with and enjoy eating.
The recipe cards are delivered as a book and you get the recipes for the full week—not just for the meals you chose.
The food from Sun Basket is really tasty.
Cons:
I didn't like having to call customer service to cancel my subscription.
Alternatives
The meal kit service you go with should reflect the type of meals you want to eat, but even then, there's a wide range of companies to choose from.
If you want vegan meals like what Purple Carrot provides but in a different, more on-the-go form, you might try Daily Harvest. These meals are packed in cups that can be heated or blended to make meals within just a few minutes. You could also try Hungryroot.
If you like basic dinner kits like what Sun Basket provides, you could also try Blue Apron (the first meal kit service I ever tried) or Plated (another current favorite). Both offer tasty food, although Plated is a little more adventurous with its offerings.
Conclusion
When it comes to deciding which I like best between Sun Basket and Purple Carrot, I have to go with Sun Basket. Purple Carrot looks fun, but Sun Basket has much more customization options and fits my omnivore diet.