Slow Cooker Blueberry and Cinnamon Swirl Bread
Speed - 97%
Simplicity - 97%
Tastiness - 99%
Slow Cooker Blueberry and Cinnamon Swirl Bread is a delicious combination of blueberry and cinnamon. Each bite it sure to please your palate. This makes not only a great dessert, but can double up as a sweet breakfast with a glass of milk!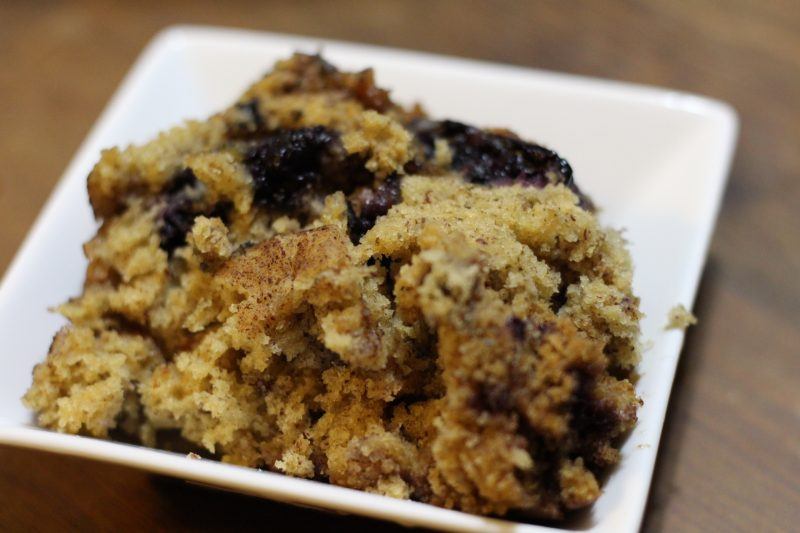 Ingredients
Bread
1

teaspoon

Baking Soda

2

cups

All Purpose Flour

1/2

cup

Butter

1

teaspoon

Salt

1

cup

White Sugar

4

Bananas

ripe and mashed

2

large

Eggs

2

tablespoons

Milk

2

teaspoons

Milk

1

cup

Fresh Blueberries

1 1/2

teaspoons

Vanilla Extract
Cinnamon Swirl
1

tablespoon

Ground Cinnamon

1/2

cup

White Sugar

1/4

teaspoon

Ground Nutmeg
Instructions
Lightly grease the inside of your slow cooker
Cinnamon Swirl
In a bowl, toss together the cinnamon, sugar, and nutmeg

Set aside
Bread
In a bowl, mix together the baking soda, flour, and salt

Set to the side

In another bowl, beat together the sugar and butter until soft and airy

Add in the eggs one by one and stir until they are mixed into the butter

Stir in the vanilla, milk, and mashed bananas

Slowly mix in the flour mixture and stir well to combine

Fold in the blueberries

Pour half of the cake batter into your slow cooker

Sprinkle in half of the cinnamon swirl mix

Pour the remaining batter on top and then top with the cinnamon swirl mix

Cover the slow cooker and cook on LOW for 2 hours

Remove the lid and allow the bread to cool for 1 hour

Remove the bread from the slow cooker

Slice and serve


Slow Cooker Blueberry and Cinnamon Swirl Bread is a great homemade slow cooker meal that is sure to please you and the whole family. This recipe is even great for those times when you need to take a dessert into work or to a gathering.
This bread is not just an average bread recipe as it has blueberries in it and a cinnamon swirl that twists and winds throughout the bread itself.
I absolutely love making this recipe because it is not too difficult at all. In fact, prior to this recipe, I always had a hard time making bread in the oven. It would either burn or not be cooked enough in the oven or it would just not taste the way it should.
I thought I would try to make this bread in the slow cooker because I had the ingredients on hand and I wanted to see how it did. Well, it came out amazing and my family loves this as a dessert. It is refreshing, delicious, and moist.
I want you to be able to make this recipe and have success too, so I will provide you with some of the different tips, tricks, and variations I learned along the way.
First and foremost, you can use either fresh or frozen blueberries. I find that I like the taste of the fresh blueberries better, but if only frozen blueberries are available, do not hesitate to use them.

In addition, you are able to substitute the blueberries for any fresh fruit you want. I have tried this bread with raspberries, strawberries, and even peaches. They are all good. If you have a specific fruit you like, try it in this recipe. I would recommend that you avoid soft fruits such as kiwi or banana because they will just simply mash and become soft.
Oh, I forgot to mention that you could avoid the fruit altogether and opt in for some chocolate chips, butterscotch chips, or even vanilla chips. Oh yeah, now you are thinking and brainstorming about what to do.
When you go to remove the bread from the slow cooker, it is important that you take your time so it does not stick. You should run a knife along the edges to loosen the cake first. Once it is loose, you can tip the insert over and the cake will fall out onto your cooling rack.


If you find that your cake sticks too much, you probably did not grease the slow cooker enough. To prevent this, you should grease it a bit more or you can use parchment paper inside of your slow cooker. This way, you can simply life the parchment paper out of the slow cooker and the cake will not stick.
As always, make sure you watch your slow cooker to ensure that the bottom of the cake does not burn. I am confident that you will love this recipe as much as I do and I welcome you to try out some of the variations.


The slow cooker I used for this recipe was the Crock Pot Cook N' Carry Manual 6-Quart Slow Cooker. It was easy to just dial in the time needed to "bake" the cake, and the size of the cooker was ideal for making a moist cake that didn't take too long to finish up. Be sure and read the full review to check out the pros, cons, and how it compares to other similar devices.