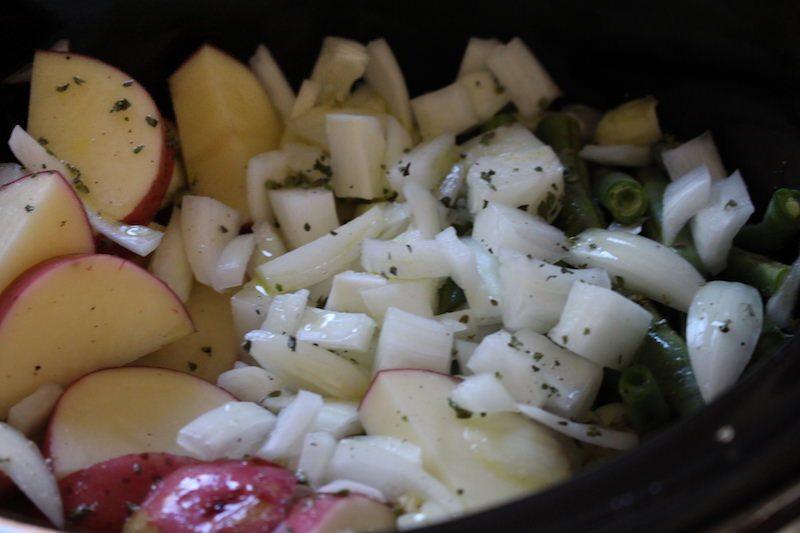 Slow Cooker Chicken, Green Beans, and Potatoes
Speed - 96%
Simplicity - 97%
Tastiness - 98%
Slow Cooker Chicken, Green Beans, and Potatoes is a simple, yet delicious meal to make. You and your family are sure to enjoy this hearty meal that will delight any night of the week!
[no_toc]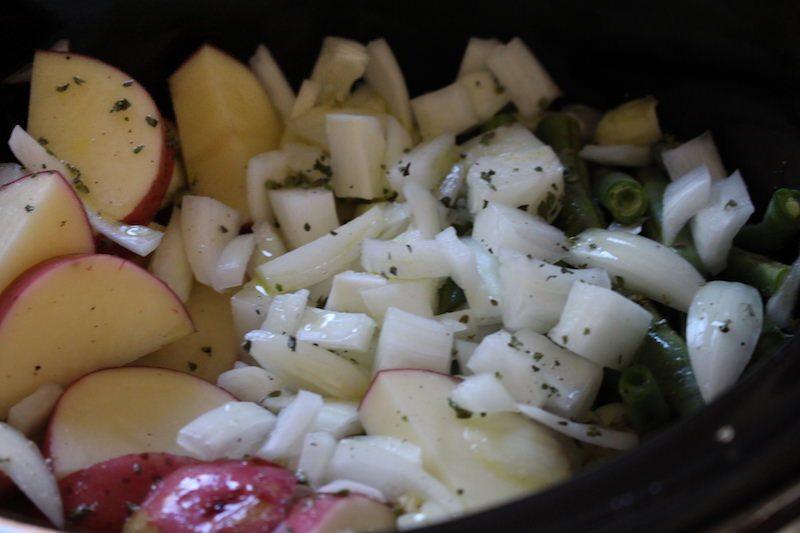 Ingredients
4

whole

Boneless, Skinless Chicken Breasts

4

cups

Red Potatoes

chopped

2.5

cups

Fresh Green Beans

trimmed and cut

1

cup

Yellow Onion

chopped

1/3

cup

olive oil

1/4

cup

lemon juice

fresh

1/4

cup

Pilsner

1

teaspoon

Salt

1

teaspoon

Oregano

dried

1/4

teaspoon

Black Pepper

1

tablespoon

garlic

minced
Instructions
Lightly grease the inside of your slow cooker

Place the chicken in the center of the slow cooker with room on both sides

Add the potatoes to the slow cooker on one side of the chicken

Add the onions and green beans on the other side of the chicken in the slow cooker

In a bowl, mix together the olive oil, lemon juice, water, salt, oregano, black pepper, and minced garlic

Pour over top of the contents in the slow cooker

Cover and cook on HIGH 4 to 6 hours

Serve

Slow Cooker Chicken, Green Beans, and Potatoes is an awesome family time meal and can be thrown together in just seconds. With minimal prep time needed, you can place the ingredients into the slow cooker and forget about it while you run your errands all day long.
This is a wonderful, healthy family slow cooker dinner and you and the kids are sure to love it. One tip that I think will help you the most is to tell you to use FRESH lemon juice in the recipe. If you do not have fresh, bottled will work, but there is just something about fresh lemon juice that is just amazing.
There are some variations that you can make to this recipe to create the perfect meal for your family. This recipe uses red potatoes, but if you prefer, you could use golden potatoes or even russet potatoes. Each type of potato will cook nicely in the slow cooker. I personally prefer red potatoes because they hold on to a bit of their crunch, even after being in the slow cooker all day.
Next, the recipe calls for water, but if you want to add another layer of flavor to your dinner, you can substitute it for fresh chicken broth. If it appears that there is not even liquid in the recipe, hold off for a bit and do not add any more. There is not supposed to be a lot of liquid, just enough to cook the food. Too much liquid will lead to a soupy dinner and this is not what you are going for.
Instead of broth or water, I used pilsner.

Pilsner is great for this type of recipe because it is light and crisp, without a strong hoppy influence. If you don't have a pilsner on hand, American wheat will work fine as long as it's not too hoppy. German wheats tend to have too much fruity banana flavor, while pale ales will be too hoppy. A blonde ale would be another great choice here.

When you chop your potatoes, the best advice I can give you is to make sure that you chop them evenly. If you do not, you may find that one potato is not cooked all of the way through while the others are. You also need to follow this when you trim and cut your green beans. Do make sure that you spend time looking at the green beans and trimming the ends off, as you do not want to bite into one of the stems.
If you wanted to, you could cut up the chicken before you place it in the slow cooker, so that the chicken is ready to serve immediately when it is done.

This is considered a complete meal, so you do not have to add any side dishes to finish it. However, if you did want to add anything, I would say some homemade biscuits with butter would be good, a side salad, or even garlic bread.
On a final note, this dinner is not designed to be spicy by any means and is mild. If you like some heat, I would suggest that you add some cayenne pepper or red pepper flakes to the dried seasoning mix that you pour into the slow cooker. Slow cooker chicken, green beans, and potatoes is a hearty meal that is sure to keep your growing family happy and satisfied.
The slow cooker used to make this recipe was the Hamilton Beach Stay or Go 4 Quart Slow Cooker [LINK]. This was a great, 4 quart slow cooker that cost under $30.It comes with clips on the side and a rubber seal so you can cook dinner and transport it easily without spilling in the car!
This was actually my third favorite slow cooker in this size and price range so be sure to check out the full review. It certainly got the job done as needed, but it was hard to compete with other similarly sized and priced models from other brands.

To be honest though, my favorite slow cookers are in the $60 range. They tend to have more features than the basic models, but not quite as excessive as some of the multi-cookers out there. Check out 4-quart and 6-quart models in that price range depending on what size you need for your kitchen.