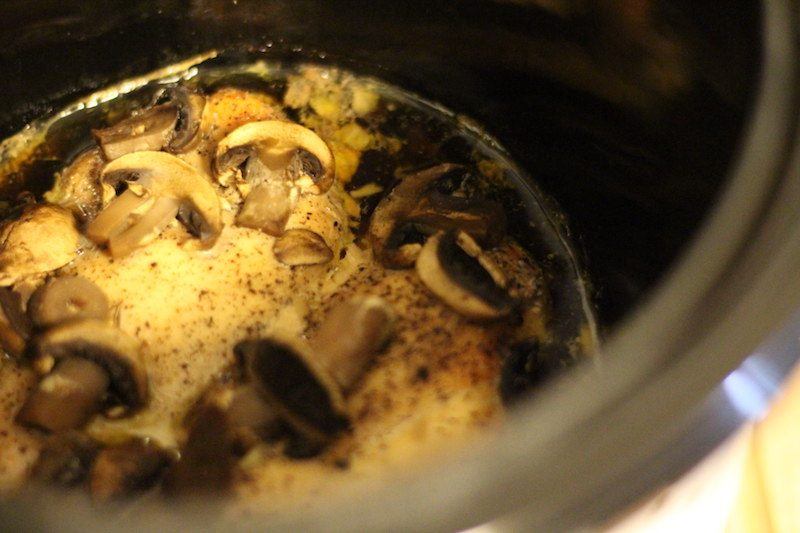 Slow Cooker Chicken Mushroom Marsala
Speed - 97%
Simplicity - 98%
Tastiness - 97%
Slow Cooker Chicken Mushroom Marsala is a delicious Italian recipe that is not only easy to make, but it has a sweet sauce that ties the whole dish together. We're going to substitute a sweet, light Belgian beer instead of Marsala wine this time and still get that tasty sauce to smother the chicken breasts.
[no_toc]

Ingredients
8

Boneless, Skinless Chicken Breasts

1

tablespoon

garlic

minced

1

cup

Mushrooms

diced

1/2

teaspoon

Black Pepper

1/2

teaspoon

Salt

1

tablespoon

Vegetable Oil

1

cup

Marsala Wine

sweet is preferred. Can substitute for light and sweet beer

1/4

cup

Cornstarch

1/2

cup

Water
Instructions
Grease your slow cooker

Place the vegetable oil and minced garlic on the bottom of the slow cooker

Add the chicken into the slow cooker and sprinkle with the salt and pepper

Add in the mushrooms and pour the wine or beer over top

Cover and cook on LOW for 6 hours

Remove the chicken from the slow cooker and place on a plate

Whisk together the cornstarch and water in a small bowl until well blended

Pour the cornstarch mixture into the liquid left in your slow cooker and stir

Allow to cook on HIGH for 15 minutes

Pour the sauce over the chicken and serve

Slow Cooker Chicken and Mushroom Marsala is the perfect Sunday dish. This dish is sure to warm the heart and transport you to Italy. You will think of yourself sitting out on a patio in Venice listening to the waves crash against the shore.
To complete this meal, serve the chicken and sauce over top of rice, pasta, or mashed potatoes. You can even serve it alongside of oven roasted baby red potatoes with some vegetables. This dish is great no matter the weather outside and you will love the aromas that fill your home while you are away.
This recipe is easy to make and only takes a few minutes to prep. You can add all of the ingredients to the slow cooker and let cook while you go about your day. This dish is low maintenance and does not require all of your attention.
While this dish is easy to make and quite simple enough, there are some tips and tricks I want to share with you because I think they can make this dish even better.
If you have never used Marsala wine before, then you may be confused when you head into the store to purchase it. Marsala wine comes in two variations – sweet and dry. You can use either for the recipe, but I prefer to work with sweet Marsala wine because it adds a layer of sweetness to your dish and creates a rich sauce.
But for this recipe, did some tweaking to make it a "beer recipe" which is a hobby of mine. I like taking some of my original recipes and tailoring them to use craft beer. For this recipe, I wanted to substitute the sweet marsala wine with a sweet and light beer.
This Leffe Belgian Blond was perfect. It maintains the sweet and fruity flavors of the marsala wine with subtle fruity esters created from Belgian yeast fermentation. This recipe also pairs well with the this style of beer, since lighter colored beers go well with white meats like chicken breast and lighter flavored veggies like mushrooms.

One thing I like to do is serve this dish over mash potatoes with fresh green beans. The sauce helps tie the dish together completely and the potatoes and green beans give the dish a rustic feel.
When you prep the chicken for this recipe, I recommend using boneless, skinless chicken breasts, but you can use any cut of chicken you like. I do recommend that you remove any skin and fat from the chicken before you place it in the slow cooker, as it is likely to become soft and mushy and not crispy.

If you like your chicken to be a bit crispier, you can brown it in a saute pan with vegetable oil before you place it into the slow cooker. The trick here is to simply brown the outside of the chicken and not cook it all the way through, so two minutes on each side is more than enough.
Below you can see that I made a smaller version of this recipe because that's just the amount of chicken I had on hand. I used a 4 quart slow cooker and made two chicken breasts. You can see the sauce after I thickened it with cornstarch (see instructions above).

You can switch out the protein in this recipe or you can leave it out altogether and use larger meaty mushrooms for a vegetarian style play on this meal. I do have to admit that I like to go all out and add some onions into the recipe with my mushrooms. I love the way they cook down and mix with the sauce, but you can use any vegetables you want or simply stick to the recipe.
I am excited for you to make this recipe because I know you will love it as much as I do. Serve this dish with some garlic bread and a side salad to complete it Italian style.

The slow cooker I used for this recipe was the Black & Decker 4 Quart Round Slow Cooker with Polka Dots. It's a really snazzy looking tool for a modern kitchen, or just if you like a bit more fun than the regular stainless steel/black/red/white options. The small size of 4 quarts and round design also mean that it's a great choice if you don't have a lot of kitchen space, and it's very affordable as well. I really enjoyed using it for this test recipe!
However, my favorite slow cooker form the 2-4 quart range with a price tag less than $30 was the Crock-Pot 4-Quart Manual. I prefer the oval design, and there are hundreds of positive reviews for this device to back me up.]
I also really like the Hamilton Beach brand for not just slow cookers. My coffee maker and blender are from the same maker!