Slow Cooker Cinnamon and Maple Apples
Speed - 98%
Simplicity - 99%
Tastiness - 99%
Slow Cooker cinnamon and maple apples is the perfect dessert to remind you of Fall! Every bite is packed with rich cinnamon and maple. This is a simple dessert that you can throw together in a few minutes. It's great reheated the next day, and can be served with ice cream or as-is.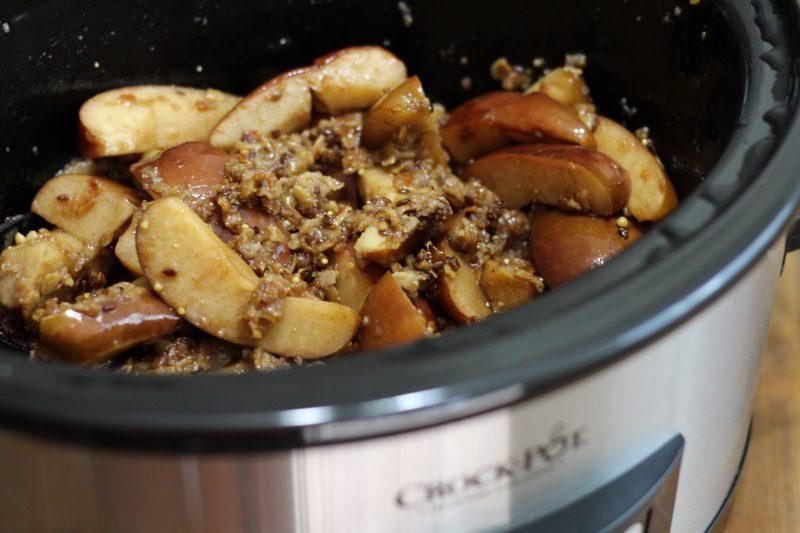 Ingredients
5

Red Apples

cores and seeds removed, chopped

5

teaspoons

Maple Syrup

3/4

cup

Granola

homemade

1

teaspoon

Ground Cinnamon

3

tablespoons

Butter

melted
Instructions
Lightly grease your slow cooker

In a small bowl, toss together the cinnamon and granola

Take the apples and evenly pack them with the granola

Place each of the apples into the slow cooker

Evenly drizzle the butter and then the maple syrup over the apples

Cover your slow cooker and cook on HIGH for 2 hours

Uncover and remove the apples from the slow cooker

Serve

Slow cooker cinnamon and maple apples are the perfect dessert any time of the year that you can find apples. I love to make this recipe in the Fall because I feel like it really brings out the holiday spirit in me and it makes my home smell so delicious and amazing.
Actually, come to think of it, I love when the windows are open and you can feel the breeze flow through your home. This is when I make this recipe because it just makes the day perfect. If you do plan to have your windows open, be prepared to hear the doorbell ring because no one can resist the delicious smell of apples and cinnamon.


This is the perfect dessert and the best part about it is, you do not have to hang around the oven for it to cook and you do not have to slave over the open flame. Simply pop the apples into the slow cooker and go about your business.
When it comes to the recipe, there are some tips, tricks, and variations that I want to tell you about because I feel like it could really elevate your dessert dish and you could put your own spin on it.
First, I always use red delicious apples, but you can use any that are in stock or you can choose your favorite. I have a friend who uses Granny Smith apples for this recipe. The choice is yours. In fact, you could even use pears for this recipe and stuff them with the granola.
Homemade granola is my favorite because you can personalize the granola the way you want at home. When it comes to my granola, I use oats, cinnamon, honey, and I even add in some nuts for fun. You can make your granola however you want, but make sure to save enough for this recipe.

The melted butter in this recipe helps to add some flavor to the apples, but you do not have to add it if you do not want to. The syrup alone will be enough for the apples.
Lastly, the slow cooker does not brown items and I am sure you know that by now. If you want a browned top to your granola, you can pop the apples into the oven and broil them for three to five minutes once they are done in the slow cooker.
This slow cooker cinnamon and maple apples is the perfect recipe for any day of year and will help remind you of fall every time you take a big bite.



The slow cooker used for this recipe was the Crock Pot programmable 6 quart slow cooker. It was a great size for making this recipe because was large enough to fit all those apples in there! A smaller slow cooker simply wouldn't have worked. This is one of my all time favorite slow cookers, so read the full review to see the pros, cons, and comparison to similar models by different brands.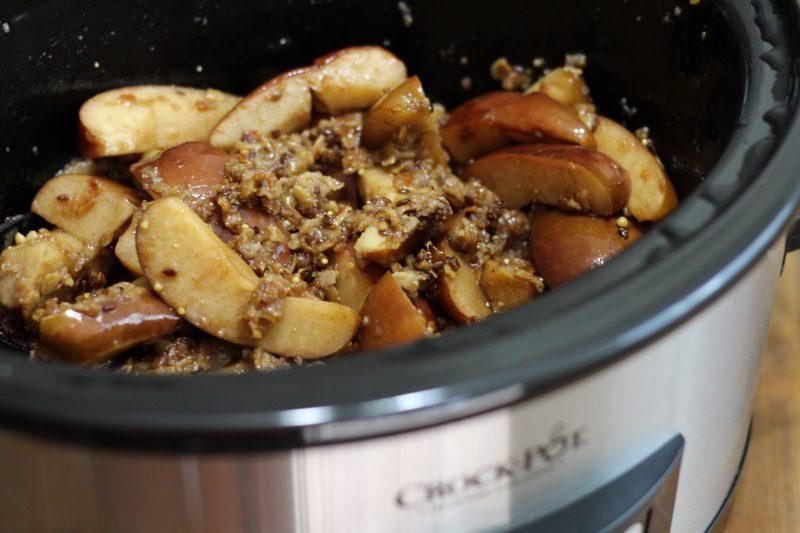 Ingredients
5

Red Apples

cores and seeds removed, chopped

5

teaspoons

Maple Syrup

3/4

cup

Granola

homemade

1

teaspoon

Ground Cinnamon

3

tablespoons

Butter

melted
Instructions
Lightly grease your slow cooker

In a small bowl, toss together the cinnamon and granola

Take the apples and evenly pack them with the granola

Place each of the apples into the slow cooker

Evenly drizzle the butter and then the maple syrup over the apples

Cover your slow cooker and cook on HIGH for 2 hours

Uncover and remove the apples from the slow cooker

Serve