Slow Cooker Gooey S'more Brownies
Speed - 91%
Simplicity - 95%
Tastiness - 100%
Slow Cooker Gooey S'more Brownies are the perfect dessert dish for any celebration. The gooey marshmallows melt in your mouth followed by a burst of chocolate and a buttery graham cracker crust. I really like to mix the marshmallows with the brownies!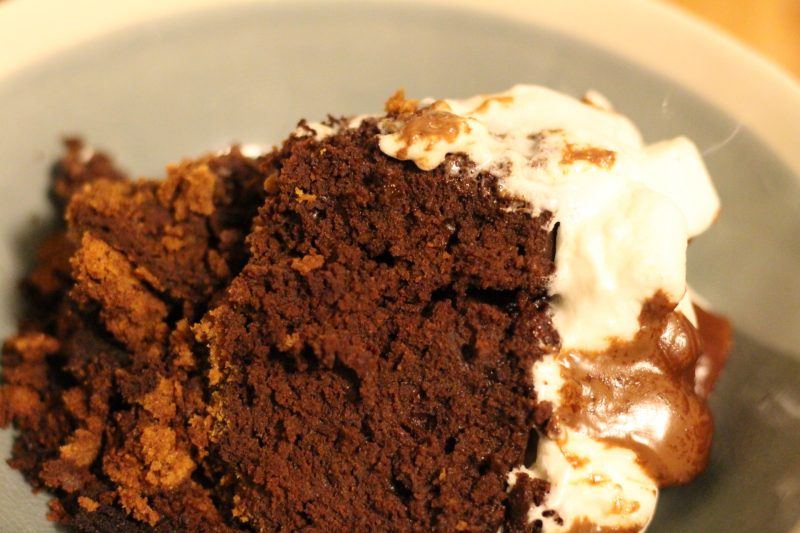 Ingredients
Crust
3

cups

Graham Crackers or Cookies

crushed

1/2

cup

White Sugar

3/4

cup

Butter

melted
Brownies
8

ounces

Bittersweet Chocolate

chopped

1/4

cup

Cocoa Powder

unsweetened

1

cup

Chocolate Chips

semisweet

1/2

cup

Butter

3

Eggs

large

1

cup

White Sugar

1/2

teaspoon

Salt

1 1/4

cups

All Purpose Flour

3/4

teaspoon

Baking Powder
Topping
10

ounces

Marshmallows

mini

4

large

Hershey's Chocolate Bars

chopped
Instructions
Place a piece of parchment paper into your slow cooker and lightly grease it
Crust
In a bowl, mix together the graham crackers, sugar, and butter

Mix until the graham crackers are wet

Place the graham crackers into the slow cooker and press firmly on them to form a crust
Brownies
In a saucepan, melt the bittersweet chocolate and butter

Stir well and remove from the heat

Stir in the sugar and combine well

Add in each egg one by one making sure to stir in between each egg

Stir in the cocoa powder, flour, salt, and baking powder

Fold in the chocolate chips

Evenly spread the brownie batter over the graham cracker crust

Cover your slow cooker and cook for 2 hours
Topping
Uncover the slow cooker and top with marshmallows and the chocolate bar pieces

Cover and cook an additional 10 minutes until the marshmallows are melted

Serve

If you are looking to use your slow cooker for dessert recipes, you are going to love these Slow Cooker Gooey S'more Brownies. OMG! Who doesn't love s'mores, chocolate, and a buttery graham cracker crust? I know I do.
When it comes down to desserts, you often do not have enough time to make them, especially since you have the hustle and bustle of your home life weighing you down. This is the perfect recipe to throw into the slow cooker and then let cook for a few hours while you help the kids do their homework.
Now, I do want to mention that this slow cooker recipe does take a little minor prep work, but it is worth the entire 15 minutes. In fact, you may even take a couple of licks of the spatula – if no one else beats you to it.

This recipe truly is a great one that is quick and easy on you. Oh, and I almost forgot to mention that this is an awesome dessert to make for those days when you have family over or when you need a dessert for a company pot luck. You never have to worry about hogging the oven and you can relax while the s'more brownies slow cook away.
If that wasn't simply good enough, the aroma of chocolate and marshmallow will fill the air in your home. Just beware. If you have the windows open, you may be inviting some neighbors in because once they smell the sweet sinful treat cooking in your kitchen, they are bound to want some.
Anyways, I do want to provide you with some tips and tricks for this recipe because I think that they will help you when it comes to making your dessert.
First and foremost, you do not have to use parchment paper in your slow cooker, but I find it the easiest because you can simply lift the brownies out of the slow cooker when they are done. If you do not have the parchment paper inside, you will have to try to cut the brownies out and move them around while keeping the crust intact.
As you can see from the photos, I didn't use parchment paper and cutting a slice was a mess. But isn't that the fun part?
Next, when you make the crust, if you find that you need some additional butter, do not be afraid to add it. Sometimes, depending on the size of your graham cracker crumbs, you may notice that they absorb a lot of the butter. Simply melt an additional 1/4 cup of butter and use it sparingly to wet the graham cracker crumbs.

I used an extra small slow cooker for this recipe because I was testing the Bella 2.5 Quart Connectible system. It was not perfect for this recipe because it made the brownie crust very thick, but with a little extra cooking time, everything still turned out tasty.
Next, I love a toasted marshmallow, but you will not get that in the slow cooker. You will get a gooey and heavenly marshmallow though. If you want to add a bit of brown to the top of your marshmallows, simply pop them in the oven and broil them for two to three minutes.
Probably the hardest part of making this recipe was seeing that the brownies were done, and still having to wait for the marshmallows to finish melting.
Lastly, always make sure you cook this recipe on low or else you run the risk of burning your brownies. Since every slow cooker cooks differently, keep an eye on your brownies the entire time and perform a quick toothpick test if needed.