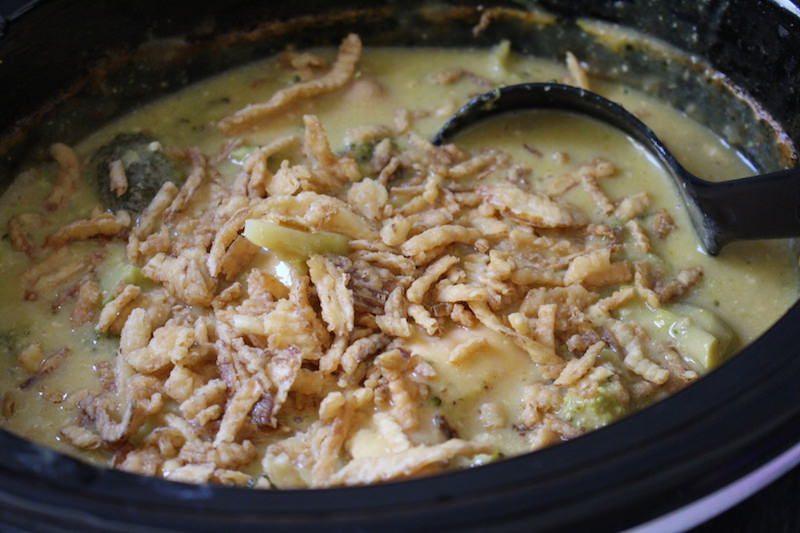 Slow Cooker Broccoli and Cheese Chicken
Speed - 94%
Simplicity - 97%
Tastiness - 100%
Slow Cooker Broccoli and Cheese Chicken is a heart warming dish that is not only easy to make, but delicious! Your whole family is sure to enjoy it.
[no_toc]

Ingredients
4

Boneless, Skinless Chicken Breasts

2

cans

Broccoli and Cheese Soup

1/4

cup

Milk

1/4

cup

Kolsh or wheat beer

1

cup

French Fried Onions

Salt and Pepper to taste
Instructions
Grease the inside of your slower cooker

Rinse off your chicken breasts and pat dry

Season chicken with salt and pepper and place into the slow cooker

In a bowl, mix together the broccoli and cheese soup, milk, and beer. Mix until well blended

Pour the broccoli and cheese mixture over top of the chicken

Place the lid on your slow cooker and cook on HIGH 4 to 6 hours

30 minutes before your chicken is done, sprinkle with the French fried onions and allow to finish cooking

Remove the lid from the slow cooker and serve

Who doesn't love a home cooked meal any day of the week? Broccoli and cheese chicken is a wonderful dish to make on any Sunday afternoon or throughout the week.
The creaminess of the broccoli and cheese soup serves as a sauce and this dish can be placed over top of mashed potatoes, egg noodles, or white rice. Serve this dish with a side salad and some bread to complete the meal and provide a hearty dinner for your family.
This dish is considered easy to make, but there are some tips and ways that you can adjust this recipe to help make it your own or fit in with your cooking style.
When making this dish, you should take some time to trim up the chicken to remove any excess fat. Using boneless, skinless chicken is preferred, but you could also adjust this meal and make it with another cut of chicken or even pork chops.
Though this recipe calls for a Kolsh style beer, I didn't have one in the fridge. Oops. My bad! So I just used an American Pale ale. Both styles are crisp and refreshing, with light malty flavors that will compliment the cheese. The beer I used was too hoppy though, and I could taste a bit of bitterness in the final product.
Kolsh beers use way less hops, and have more fruit esters, so would be a better match.


The chicken in this dish is left as a whole breast and placed directly into the slow cooker; however, there are some other cooking styles that can be used. For example, if you prefer a breaded chicken, before you place the chicken into the slow cooker, you can dip it in flour, egg, and then breadcrumbs. Panko breadcrumbs will provide you with a crunch, especially when browned first.
Another alternative is that you can brown the chicken in two tablespoons of vegetable oil before you place it in the slow cooker. I personally recommend that you do this, especially if you want the chicken breaded.
When browning the chicken, heat up the oil in a sauté pan and add the chicken once hot. Cook on each side, 2 to 3 minutes or until the chicken is golden brown on the outside. (The key here is you do not want to cook the inside of the chicken.)
Lastly, you can cut the chicken up into bite sized pieces and place them in the slow cooker and then pour the soup on top. This is often how I make it, simply because it is easier to serve this way and does not require any additional cutting once the dish is baked.
*Please note that your chicken will not require as much time in the slow cooker if you cut it up*

Now, I would like to cover the consistency with you when you mix together the soup and milk. You do NOT want the mixture to be watery or runny, but you also do not want the soup to be too thick. Start by whisking in the 1/4 cup of milk and see where you are. If you need to add more, simply drizzle in a little milk at a time and then mix. If you add too much milk, your recipe will not turn out correctly.
The French friend onions in this recipe are optional and can be left out. Please note that these onions are salty on their own, so you may not need to add extra salt to the dish as you make it.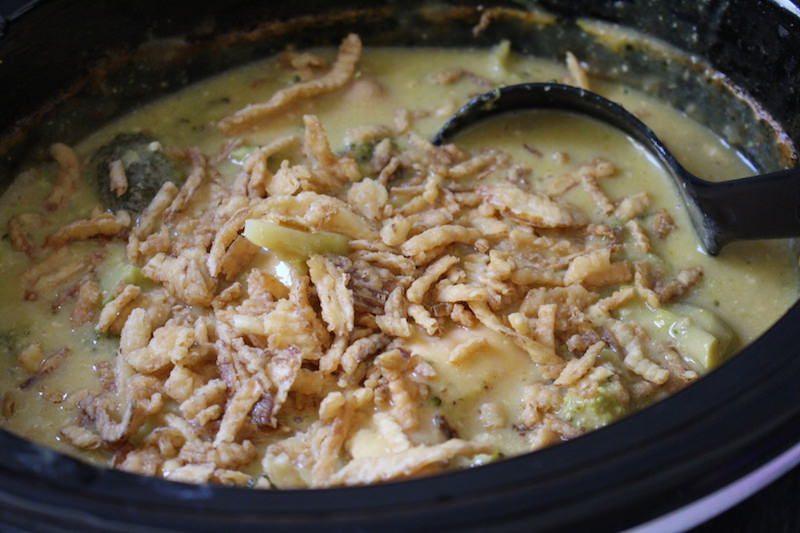 The slow cooker used in this recipe was the Crock-Pot Smart-Pot 4 quart slow sooker. This is without a doubt one of my all-time favorite, inexpensive slow cookers. Crock-Pot is a well know, loved brand. This model has a ton of good reviews on Amazon, and worked great for me. I love the feature that has two settings for each LOW or HIGH so I can tweak my recipes accordingly. It also has the traditional oval shape, no rubber gasket (which can wear out over time)
This 4 quart model is relatively inexpensive as well, and perfect for a single person or couple cooking for one or two people. To check out other models in this price rage, see our reviews of 4 quart slow cookers under 60.