Slow Cooker Lemon Herb Whole Chicken With Blonde Ale
Speed - 100%
Simplicity - 100%
Tastiness - 95%
You'll be surprised at how east it is to cook a whole chicken without much effort. Rub with herbs, add some beer, and set it cooking for a few hours. Add veggies in the cooker or make some 10 minutes before dinner's read. It couldn't be easier.

Ingredients
1

Whole

Chicken

1

Lemon

(Can use fresh Lemon Juice)

1

Teaspoon

Oregano

Dried

1

Teaspoon

Basil

Dried

1/2

Teaspoon

Rosemary

Dried, Minced

1/2

Teaspoon

Thyme

Dried

1/2

Cup

Strong Blond Ale

(search the Belgian section of your beer store)

2

Tablespoon

Lemon Zest

2

Sprigs

Fresh Rosemary
Instructions
Combine herbs in a bowl

Wash and place chicken in the slow cooker

Salt and pepper the chicken

Spread herbs and lemon rind on chicken skin

Pour beer on side of chicken

Set to cook for 4-8 hours depending on size of slow cooker and size of chicken. Internal temperature should be 160º

This recipe couldn't get any simpler. The basic idea is to throw a bunch of herbs together, add some lemon juice and rind, cover it in pepper, and soak in beer.  I really like cooking chicken in slow cookers because it means I can leave the chicken cooking for a few hours and run errands while it cooks. Otherwise, if you cook it in the over, you can't leave the house. Plus, if it's in summer time, the oven heats up the house.
To prepare this dish, I combined all herbs in a bowl, and squeezed the lemon juice into a second bowl. Then I used my grater to take the rind off of the lemon, being careful to not get too much pith (that stuff is bitter.
I put the raw, thawed chicken into my slow cooker. I used a 6 quart slow cooker and it was plenty large. I probably could have gotten a bigger bird! I'm still waiting for the day where I can test slow-cooking a whole turkey  in one of my 8.5 quart slow cookers. Salt and pepper the chicken generously.

Then I rubbed the chicken with the herb mixture and the lemon rind. I added extra pepper on the outside of the chicken. Fresh-cracked pepper would be better but I didn't have any on hand. You can also garnish with whole peppercorns after it's done cooking for extra spice for those that like it peppery. Mixed color peppercorns are particularly beautiful!
Before you start cooking, don't forget the beer! I add the beer to the side of chicken rather than pour on top so it doesn't wash the herbs away. You could also consider brining the chicken in the beer to bring out more flavor. Careful though – it'll really pick up whatever beer you choose to use.  I used a double-red ale one time and it was a little too malty! This time I used a strong Belgian blonde ale.

When the chicken is done, it'll be very, very soft. The skin will also have a "wet" look rather than be crispy like a baked chicken. It'll be ready to eat, of course, but it'll taste better and look better if you bake it in the oven for about 10-15 minutes to get it nice and crispy.

I didn't realize at the time, but you can actually stick the entire crock in the over to roast the chicken. Drain the juices first if you do that to get it crispy and golden all the way round. I chose to move the chicken to a baking pan to do the baking. It was difficult to do though, since the meat was falling off the bone and it was piping hot!
For this recipe I used the Hamilton Beach Right Size slow cooker. It's a cool slow cooker because you can change the way it cooks your meals, and toggle between 2, 4, and 6 quart options. For the chicken I used the 6 quart option, but I could also make a small dessert or dinner with the 2 or 4 quart option.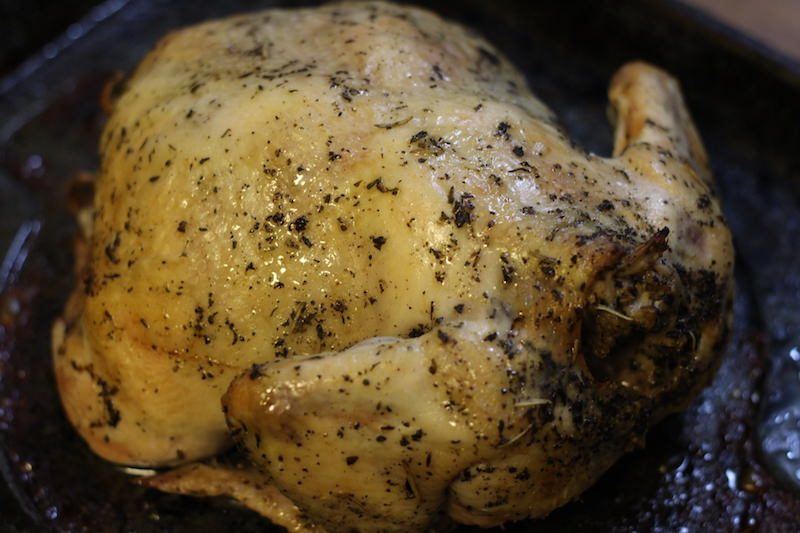 Ingredients
1

Whole

Chicken

1

Lemon

(Can use fresh Lemon Juice)

1

Teaspoon

Oregano

Dried

1

Teaspoon

Basil

Dried

1/2

Teaspoon

Rosemary

Dried, Minced

1/2

Teaspoon

Thyme

Dried

1/2

Cup

Strong Blond Ale

(search the Belgian section of your beer store)

2

Tablespoon

Lemon Zest

2

Sprigs

Fresh Rosemary
Instructions
Combine herbs in a bowl

Wash and place chicken in the slow cooker

Salt and pepper the chicken

Spread herbs and lemon rind on chicken skin

Pour beer on side of chicken

Set to cook for 4-8 hours depending on size of slow cooker and size of chicken. Internal temperature should be 160º