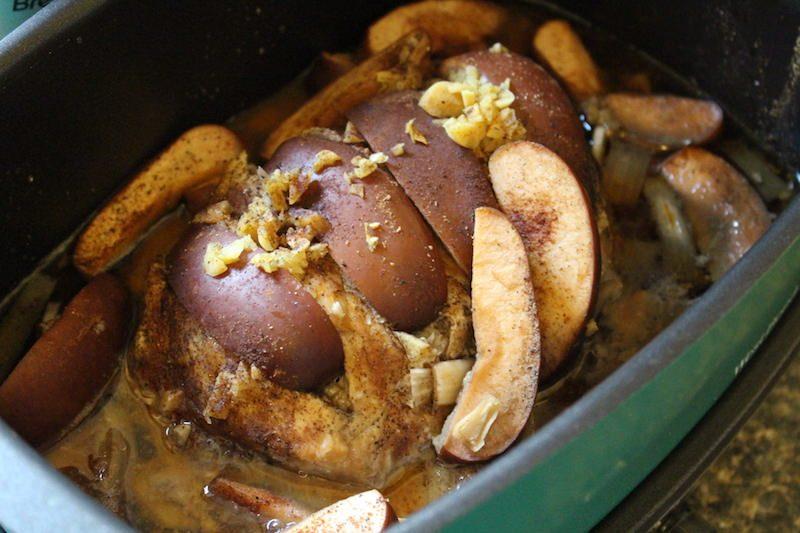 Slow Cooker Cinnamon Apple Pork Tenderloin
Speed - 95%
Simplicity - 94%
Tastiness - 96%
Slow Cooker Cinnamon Apple Pork Tenderloin is the perfect meal for any weeknight or weekend. The cinnamon, apples, and pork come together to satisfy both the sweet and savory buttons of your taste buds! You are definitely sure to love this recipe.
[no_toc]

Ingredients
3

pounds

Boneless Pork Loin

1/2

teaspoon

Black Pepper

1

teaspoon

Salt

1

tablespoon

Vegetable Oil

1/4

cup

Honey

2

whole

Red Apples

peeled and sliced

1

tablespoon

Cinnamon

ground

1

teaspoon

garlic

minced

1

whole

Yellow Onion

sliced

1/2

cup

Spiced Ale
Instructions
Lightly grease your slow cooker

Place the pork on a plate and sprinkle with the salt and pepper

In a saute pan, heat the vegetable oil until hot

Brown your pork loin roast on all sides and then remove from the pan

Allow the pork to cool until you can touch it without burning your fingers

Take a knife and make several slits along the top of your pork loin

Place an apple slice into each one of the slits

Place the pork in the slow cooker

Cover the pork with the apples and then add the honey, garlic, and onion

Sprinkle the cinnamon over the top

Cover your slow cooker and cook on LOW for 8 hours

Slow Cooker Cinnamon Apple Pork Tenderloin is the perfect family dish and marries together delicious flavors such as cinnamon, apple, and pork. These flavors naturally go well together, so it makes sense that this dish would be such a hit.
You can serve this dish at your local summer BBQ or you can add it to the list of must make once a week dinners. At least in my house, we make it once a week.
I love this recipe for a couple of reasons. First, it is easy to make and does not take a lot of time to prep. You can allow this pork to cook all day and the aroma in your home will leave you breathless as you walk in the door.
There are some tips and tricks that I want to tell you about though because I think they will help aid you when it comes to making this amazing slow cooker recipe.
First, let's talk beer…
This recipe is best cooked during the winter, and using a spiced ale. The flavors of spiced ales range immensely, so you'll need to find one that you prefer. I like 21st Amendments Fireside Chat, or Anchor Brewing's Christmas Ale. They're easy to find, and delicious!
The cloves, nutmeg, star anise, and other spices used typically to make mulled wine are perfect for the sweet apples and will compliment the cinnamon flavor we're adding. The resulting roast will be sweet, spicy, and warm.
But I'm cooking and photographing this recipe in the summer time, so there was no spiced ale to be found, even in the specialty beer store. Instead, I used a dry porter. Actually, I wanted a dry stout, but they didn't have it at my grocery store and I had already left the beer store Ugh.

Deschutes Black Butte Porter was stout-ish enough for me though! It's dry, roasty, and the dark coffee flavors do great created a wonderful background for the spiced apples.

The best meat to use with this recipe is a pork loin roast; however, you could also make this with a Boston butt roast. To do this, you would follow the same steps, just add a few more slits and add in apples all around the top of the butt.
You could also make this recipe using pork chops; however, if you choose to do this, you will not need to add slits to the chops, as they are likely too thin for this. You would skip the adding the apples to the slits and simple place the apples on the top and bottom of the slow cooker with your pork chops in the middle.
The sauce in the slow cooker will be quite soupy at the end of the cook time. If you enjoy it this way, then you do not need to do anything else to prep the sauce. However, if you do want a thicker sauce, I recommend that you mix together 1/4 cup of water with 1 tablespoon of cornstarch and then slowly pour it into the sauce while stirring. You do want to remove the pork loin BEFORE you add in the cornstarch.

This meal would be complete with a side of white rice or even roasted potatoes. You could even add a side salad to ensure your family gets its servings of vegetables for the day. If you do not want to cook outside of the slow cooker, you could add some potatoes to the slow cooker. To do this, simply chop about 2 cups of golden or red potatoes and add them into the slow cooker when you add all of the other ingredients.
It is important to pay attention to this slow cooker recipe when you can, so that it does not burn on the bottom. Since this meal cooks on low, it is not as much of a problem, but if your slow cooker is known to cook food quickly, stir your meal a couple of times to prevent burning.
I know you will love this recipe as much as I do! The slow cooker I used for this recipe was the Versatility Slow Cooker in Green [LINK]. You can see more cookers in this size and price range in my post about 6 quart slow cookers under $30. It worked well and was very cheap too! However, it wasn't my favorite of the bunch. I wasn't so hot on the idea of using non-stick instead of the typical stoneware used with slow cookers though.
Some of my favorite models of slow cookers are the 5-6 quart cookers in the $60 price range. Those are the best in my opinion! They are the standard 6 quart size, have more features than budget options, but don't include unnecessary options like some of the ones costing over $100.