Come summertime, slushies are a great way to ward off the humid heat. Nothing beats slurping down some ice-cold fruity goodness while lounging on a porch.
A slushie is basically a drink made from flavored ice. Commercially made ones, like those found in 7-Eleven and ICEE, are made from shaved ice and sugar water. Consumed regularly, they can be unhealthy because of all that sugar content.
Home-made slushies, however, are healthier. That's because one can choose what ingredients to use for the drink. The base recipe is really simple- just lots of crushed ice and flavored syrup. But when you're at home, you can add fresh fruit or pure juice which is better for you.
More than just a summertime refreshment, a slushie can be a party drink as well. Add your favorite alcoholic drink into the mix and voila, you'll have your own frozen alcoholic cocktail to enjoy sipping throughout the evening.
To make one though, you'll need to have a gadget to crush the ice with. Most modern kitchens make do with a standard blender. It's useful enough especially with making small batches. But when you're making a lot of slushies for a barbecue party or for your children's sleepovers, it can be a messy affair. Especially when the blender isn't really equipped to take on large quantities of ice.
That's why a slushie machine is useful at times like this. Unlike commercial slushie machines which are bulky and complicated, a home slushie machine is manageable and won't take up too much space on your kitchen counter.
The machine will also shorten the preparation time. Some models are equipped with ice chambers and easy-dispensing spouts. Others come with several openings to make adding ingredients easy for you.
The best slushie machines, however, are those that are efficient and effective in crushing ice and blending it into the right slush consistency. Some of them even include a variety of settings for ice consistency as well as the versatility to make different types of frozen drinks.
In this post, I've picked the best of the ones currently available on Amazon. Here are my top 4 slushie machines for 2021.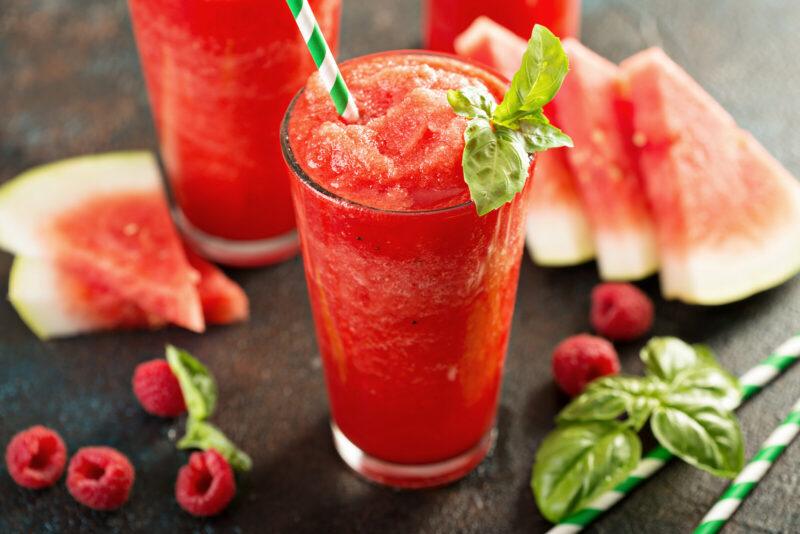 Best Slushie Machines
Nostalgia SM32RR Slush Drink Maker
Dash DSIM100GBAQ02 Shaved Ice Maker + Slushie Machine
Margaritaville DM0500 Bahamas 36-Ounce Frozen-Concoction Maker
Margarita Girl Single-Bowl Mini Size Margarita Slush Frozen Drink Machine
1. Nostalgia SM32RR Slush Drink Maker

This is a large capacity slushie drink machine that's convenient to use. Just put in crushed ice and salt and then turn the machine on to produce up to 32-ounces of slushies.
It has a simple three-way control switch for freezing and dispensing liquids and turning the machine off. Its freezing chamber is made from clear, food-grade plastic, with an easy-flow dispensing spout. Its plastic lid had two separate openings so that you can add ice and salt and beverages separately.
The tank easily detaches from the base along with the drip tray and cup rest for easy cleaning. It has cord storage under its base.
Pros
Large capacity
3-way control switch
Cons
California Proposition 65 label
No warranty stated
2. Dash DSIM100GBAQ02 Shaved Ice Maker + Slushie Machine

Great for small kitchens or apartments, this is a compact slushie machine that's great for making artisanal ice cocktails and mocktails. Just add regular-sized ice cubes, shave, and add your desired syrup or fruit juice.
It's lightweight and uses an 85W motor that's efficient for shaving ice. This, however, does not have an off-and-on switch. Just plug it into an outlet, turn the plastic lid on to the left so that it will start shaving ice.
All the non-electric parts are easily wiped clean. This product comes with a 1-year manufacturer's warranty.
Pros
Portable and lightweight
Easy to assemble
Cons
Relatively noisy
Blade is not adjustable for different coarse settings
3. Margaritaville DM0500 Bahamas 36-Ounce Frozen-Concoction Maker

This is a plug-in machine that uses dual 450W motors for shaving and blending frozen drinks. It has an ice reservoir and a blending jar that's dishwasher safe and shatterproof.
It has 4 pre-programmed drink settings, including an automatic shave 'n blend cycle and manual blend only/shave only cycles.
Other design features include a rear reservoir to catch melted ice water, an easy-grip handle, and a shot glass. The jar has measurements on the side to make it easy to add the exact amount of ingredients. The ice reservoir, meanwhile, holds enough ice to make a full pitcher of margaritas per automatic cycle.
This product comes with a 1-year limited warranty.
Pros
Dishwasher safe
Shatterproof mixing container
Cons
Doesn't have a built-in cooling system for chilling slushies
4. Margarita Girl Mini Size Margarita Slush Frozen Drink Machine

Made from high-impact plastic and stainless steel panels, this machine can make about 25 cups of margaritas, daiquiris, pina coladas, and more.
It's equipped with a 1/5 HP air-cooled compressor that enables it to keep the slushies at the perfect frozen consistency. One user reported that it takes less than an hour to freeze the slushie mixture. It also has freeze-up protection.
This machine will make any kind of slushie from any beverage as long as it contains at least 15% sugar. Some users reported being able to make homemade soft serve ice cream and wine slushies using this.
It comes with a 2-year warranty on parts that's backed by a U.S. service center.
Pros
Easy to set up and use
Reliable customer service
Cons
Buyers Guide to Picking A Slushie Machine
Size and Capacity
If you're looking to make the occasional cup of slushie, you could choose one of the smaller models. They're designed to be single-serve frozen cups. This type uses a core that's placed in the freezer overnight in order to create a cold base to add the ingredients. The added value here is that it can be used not only for making slushies but also other frozen drinks like milk or fruit shakes.
However, if you want to make large batches of slushies regularly, you should pick the large, blender-type machines. These have chambers to store ice cubes and steel blades to chop and shave them so that all you need to do is add flavor and ingredients. They're best for making snow cones, desserts, and frozen cocktails.
Motor
Pick one that uses a decent motor for crushing ice. Anything from 450-600W will do the job quite nicely. Of course, if you have some extra budget, you can get a larger powered motor. If it's 1000W or more, it will be able to handle a large volume of ice cubes easily.
Consider getting a blender that uses a copper motor. The metal is known for being energy-efficient and also because it doesn't generate too much heat. Your slushie maker will less likely overheat and should last longer.
Speed
The best one is one that has a variety of speed settings. This means that you will be able to choose the texture of your ice slushie. The more choices you have, the more control you have over the consistency of your slushie.
Refrigeration System
Some slushie makers come with a built-in cooling system. They're a bit more expensive than the ordinary ones but they're easier to use. Otherwise, you can settle for the more affordable ones that use ice and salt to cool the slushies for longer periods of time.
Food-safe Components
Check the quality of its manufacture. Is it made from high-quality food-safe components such as aluminum and stainless steel? If it's made from plastic, does it have a BPA-free label, and is the product FDA-approved?
Overall Design
Is it easy to clean and maintain? Some slushie machines have removable parts that are dishwasher safe. The more expensive ones come with self-cleaning features which make cleaning very easy.
Is it designed to be used safely? Some machines will come with overheating or lockdown protections. Some will have lids that prevent spilling, others will have a rubber grip base.
Is it designed for versatility? Can it also make adult beverages like a margarita? Some models come with recipe-specific accessories like measuring cups for snow cones or shot glasses for liquor.
Warranty
Check for motor and unit warranty. In some brands, they may have both. Others will only have one.
The standard duration for a warranty is 1 year but some brands will have more. While the longer warranties seem ideal, some brands will charge the shipping fees of the replacement item to the customer. Some might find this more of a hassle than it's worth. So, pick what's likely to work best for you.