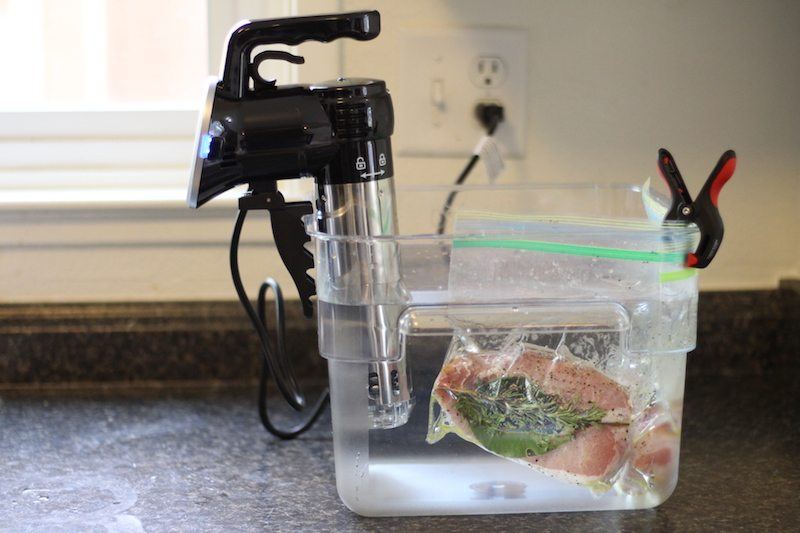 Sous Smart SSV2700 Review
Quality - 91%
Features - 90%
Price - 94%
Personal Experience - 83%
Value - 88%
This is a pretty inexpensive way to get started in sous vide, and the device works as expected. Plus, there's lots of happy people online that bought this model. However, there are cheaper and better options out there, so if you are serious about getting value for your money, I wouldn't recommend this one. You might like the style though, so don't rule it out completely. Read the full review and decide for yourself.
Introduction
After reviewing 13 other immersion circulators, one more popped up on my radar recently…the Sous Smart SSV2700. I was pretty excited to review this one because it was really cheap – in the sixty dollar range when I bought it. Since then, the price has gone up. Bummer! But the good news is that it makes my decision to NOT recommend this device very easy.
Though it's still cheap compared to some of the pricier immersion circulators I've reviewed over the past couple months, it's currently no the cheapest. Considering it has a number of design flaws that make it difficult to use, it's just not a great choice for most people. It does have some good reviews racking up on Amazon, as someone who's tried many sous vide circulators, I don't think this is the best one you can get for the price!

Standard Features
Though the look is quite unique, what the Sous Smart immersion circulator is able to do is pretty standard. You can switch between Cº and Fº, set a target temperature, and set an amount of time to cook. This is all pretty standard.
When the target temperature is reached, you'll get a set of beeps to alert you, then again when the cook time is over. When it's done cooking, the device shuts off. I suppose this could be useful, if you are primed and ready to remove the food from the bag and serve, but more often than not, I still need another 15 minutes to chop some garlic or prepare other things for the meal. I prefer if a device continues to cook after it's done like Gourmia devices.

Extra Features
The clamp on the front of immersion circulator certainly was unique, and the only other device that does this is the Gourmia GSV140. It's a little awkward, but it might work for your kitchen and how you plan to position the circulator.
One interesting thing I discovered is that the interface seems to be oddly similar to the Anova brand. This device is actually manufactured by Gourmia, or some kind of "sub brand" though! The similarities are just that – similarities…not quite enough to call it a ripoff, but they are hard to ignore. Check out the brushed aluminum outer casing, plus the "current temperature" and "set" labels on the face.

The actual body design and position of the face is much different, but I wonder why Gourmia went with the Anova look for this one? Maybe it's some kind of branding thing I don't understand, or maybe Gourmia is just handling customer support for this device and they don't actually manufacture it.
The carry handle is very similar to the Travellor, which was a big stinker on my list of immersion circulators. Opening and closing the clamp is a little awkward in my opinion.

Cooking Experience
One of my favorite things to cook sous vide is "kings cut" or "double thick" pork chops. Pork is one of those meats that I'm really dedicated to cooking all the way through. No one likes undercooked pork. But it's so easy to overcook because it's a white meat, like chicken breast. Sous vide solves that by getting the inside of the meat to a perfectly safe temperature. That also means you can get a thick chop full of tasty juices and a nice ring of fat around the outside.

I still gotta find a local shop that supplies heirloom pork, which sounds absolutely delicious!
Anyway, the Sous Smart is very quiet, but it's not the most quiet device. I usually work on my website in my office while I cook, so can judge a machine's loudness by how well I can hear it from here. I could hear it for sure, but would forget about it frequently because it was quiet enough to become white noise. Some others definitely have a buzz or hum to them that's hard to ignore!
Technical Stuff
Unit Size Size: 14 x 8 x 4.6 inches, 3 pounds
Temperature Range & Precision: Unknown
Power (Watts): 850 Watts
Pump Circulation: Unknown
This is a very short, stubby device! IT's only 14 inches tall, when most devices are about 18 inches. That's 20% shorter! I thought this would be an advantage and that I could use it in smaller pots, but with the way the clip is set up, it didn't work out that way. If you want something that's adjustable for different sized pots, Anova is a better choice, or Joule has a magnetic bottom and a minimum depth of 1.5 inches which is tiny compared to most other devices!
They are more expensive though. If you want to save money, get a cheaper appliance and a deeper pot to go with it.
850 watts isn't much, but it's to be expected for a more inexpensive immersion circulator. But if you can stand to wait a bit longer for your water to heat, why settle for this device? You can pick up a Kitchen Gizmo for just a bit more and it's got a beautiful design.
Comparing The Sous Smart SSV2700 To Other Immersion Circulators
What's better than the Sous Smart immersion circulator? A lot of devices. Honestly, my favorite is the circulator from ChefSteps, but that'll cost you two hundred dollars. Most sous vide devices with bluetooth connectivity are going to cost about as much. There's a reason it's that much more expensive than the Sous Smart, namely quality, function, and power! However, I know that not everyone wants to spend that much money, especially if you're just getting started with sous vide.
For the novice, I'd recommend trying out the NutriChef Prime because it is so cheap, and packs a lot of power for such a low price. Just remember that price varies based on color, so for example, silver might cost more than black. Oh yeah – you have color choices with this brand!

If you don't want to spend in the $200 range like the better immersion circulators on the market are going to cost, you could check out the AdirChef immersion circulator too. It's got about the same power as the Sous Smart, but looks a heck of a lot better!

Who Is Sous Smart Best For?
If you like the compact size, the carry handle, and the general design of the Sous Smart SSV2700 then this is a good device to get. If you want to get something I recommend, this is not the device to spend your money on. It's not bad, but there are just better options out there.
Conclusion
Unfortunately, this appliance didn't live up to my expectations of being an outside, unknown winner, AKA a diamond in the rough. It's just another "just okay" device among a bunch of awesome other brands. This will definitely be a Christmas present next year or part of a giveaway some time! LOL.

Pros/Cons
Pros
Smaller Than Other Immersion Circualtors
Inexpensive
Generally Good Reviews So Far
Quiet Operation
Cons
Difficult To Remove Casing For Cleaning
Awkward Clamp Grip And Position
Not Good For All Styles Of Pots And Containers
Only 850 Watts Of Heating Power