I recently had the please to try out the SpiraLife Pro Vegetable Spiralizer. I received the item for free, but you can be sure that this will be a 100% honest review!
How To Use The Spiralife Pro
I'm a man, so I hate reading instructions. As soon as I opened the box, the instructions were tossed somewhere out of my way so I could start using my new spiralizer. What should I make? Well, let's see what I had in my fridge!
Actually, the spiralizer was very intuitive to use. All you need to do is cut the bottoms flat for each side, so it sits between the spikes (back end), and the catch blade (front end).

One feature I was really happy about was the suction cup bottom, with a lock that ensures a stable slicing area. For some veggies, you have to push against the green handle so that they push into the blade. When you do this, the device naturally wants to slide forward as you push forward.
But by using the suction cup and locking it down, you can get a stable surface and push with a decent amount of force to keep the slicer going. This is an improvement on other models I've seen before.
There's also a blade storage area at the bottom of the device, so you can store the two extra blades when not in use. The blade you're using slides into the cartridge, much like the old console video game systems like Nintendo and Sega.

What Did I Make With My Spiralife Pro?
I didn't have any spiralizer recipe books so I just kind of winged it, and made up some recipes just based on what I normally make, except in spiral slices. I started off with a an Asian-inspired zucchini stir fry. I used peanut oil with a bit of sesame oil to fry up the spirals, and added some soy sauce with rice vinegar. Basically, a sweet and sour vegetarian stir fry. It was delicious with rice! I didn't take any pictures of the finished product though.
The zucchini turned out very tender, and I was able to cook it in less oil before it became soft enough to eat.

I did take a picture of my cucumber cranberry salad though! It was very simple. Spiralize your cucumber, add iceberg lettuce, almond slices, cranberries, and a vinaigrette, then toss. This salad went great with a standard meat sauce marinara with pasta. Nothing too crazy, but still delicious.


There many free recipes you can find online for interesting, unique spiralizer recipes. The two best sites I found so far are Inspiralized, a site dedicated solely to a product called "Inspiralizer" which looks exactly like "Spiralizer", shown below. I'm not quite sure if they are different products.
Another great website to browse is Cooking Light, which will surely inspire you to buy a spiralizer with their amazing recipes photos! I'll definitely update this section as I try out more recipes. I'd like to do some stuff with sweet potatoes, eggplant, and a few other larger vegetables to see how this kitchen tool performs.
Is It Worth The Price?
Though I received my product for free, I think twenty bucks is a relatively cheap price for what Spiralife offers. Here are some specific reasons to buy Spiralife:
make unique recipes only for spiralizer
cut carbs by eating less pasta
cut calories with inspiration to eat more salads
make common veggies more exciting with new textures
fun for kids
mix up your kitchen routine
Let's be honest, the spiralizer is not a vital kitchen product, like a blender, a can opener, or a cheese grater. However, it is a fun way to breath life into old recipes, or inspire new ones for a relatively cheap cost.
Other Interesting Products From LifeStyle Dynamics
I've been reviewing the "pro" version of Spiralife, but Lifestyle Dynamics also has a basic version which is turned by hand, and it's a lot cheaper. If you want to save yourself 40% off the cost of the "pro" version, and don't mind working the veggies by hand, then you can opt for this cheaper version: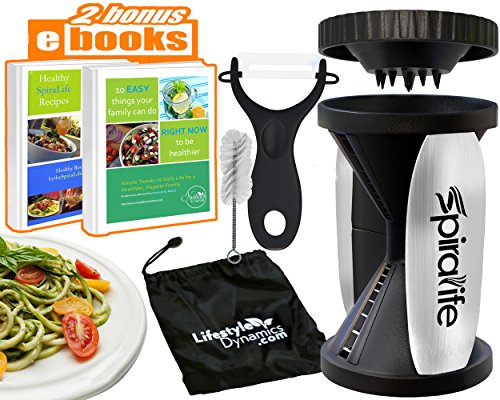 Another product I had my eye on was their Mandolin Slicer. Nothing too crazy about it, but it does come with some blade variations, which could be great for slicing veggies to cook and making salads. I tried to spiralize some organic carrots to make brown sugar glazed carrots as a side dish, but it turns out they were too thin! I tried to use the flat blade of my spiralizer and ended up cutting myself when it slipped. A mandolin slicer would have been helpful.

Alternatives To Spiralife Pro
Spiralife isn't the only brand making spiral slicers out there. Specifically, there are two other brands which have racked up thousands of positive reviews on Amazon.
Spiralizer
You may have thought this device was called a "spiralizer", because this brand is synonymous with the product. Like Q-Tips and Kleenex, the Spiralizer brand vegetable slicer one of the most popular items sold on Amazon. With an almost perfect star rating after over 1,000 reviews, clearly, a lot of people love this product.
This version comes with five different blades, namely varying the size of the spirals you make. One cool blade looks like it's specially made to create curly fries.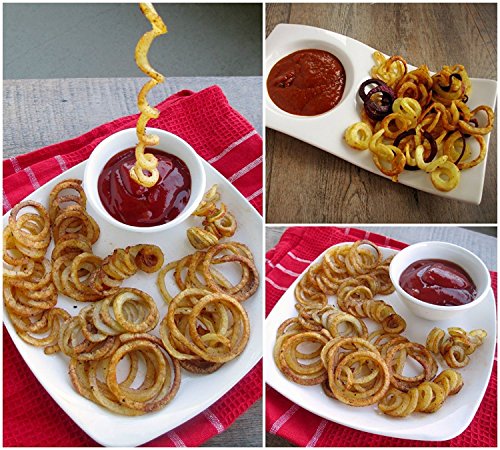 Looks delicious right? That might be reason enough to opt for the original Spiralizer brand instead of any other.
However, many people buy this style of vegetable slicer because they want to eat healthier. It's a vegetable slicer, not a french fry maker! Fried potatoes certainly doesn't fit into the paleo or raw diet, though perhaps you'd enjoy some homemade curly fries as a vegan 🙂
Don't forget, you're paying a bit extra for the brand name and extra blades here!
Also one key feature missing here is the suctioned bottom lock. You get four suction cup style legs, but you don't get the intense, locked grip like with the Spiralife Pro. When sliding up harder veggies like sweet potatoes, you'll need that extra grip as you push on the handle.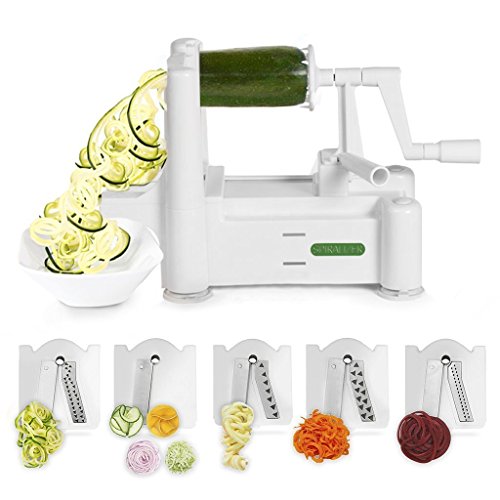 Also, take notice that the handles of the Spiralizer look smaller and more cheaply made. I haven't used it myself, so can't say for sure, but the handles of the Spiralife brand definitely do look more sturdy. However, Spiralize does come with a lifetime warranty, so keep that in mind!
Paderno World Cuisine
Another option for spiral vegetable slicer is going to the be the Paderno. Slightly cheaper than Spiralizer, it's racked up even more purchases and reviews on Amazon, with an equally good stack of reviews. Right off the bat though, I have one big complaint: there's no pushing handle! I found this to be an extremely useful feature of Spiralife, since it helps you push the vegetables against the blades.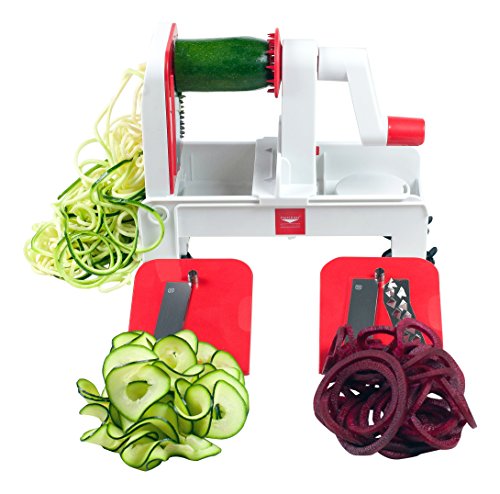 Sometimes, veggies start slipping on the blade and need to be forced with a little bit of pressure to keep slicing. Also, it is missing the locked-suction bottom, as with Spiralizer. Both of these are important features for me, and would make me reconsider getting the Paderno brand.
However, there are two positives I wanted to mention about Paderno!
One, is that there is a 3-blade or 4-blade option you can choose from. The 3-blade pricing is on par with Spiralife, though still a few dollars more expensive.
There is also a folding option, where you can fold the your blades down into a small compartment in the device. This also comes in a 3 or 4 blade option, though the 4-blade folding option is about 50% more expensive than Spiralife, and getting into "not really worth it" territory. In fact, Spiralife's pro model already has storage built in!
---
What's your reason for wanting a spiralizer?
Will you end up buying Spiralife Pro or another brand? Why?