Sriracha Shrimp with Noodles
Time Accuracy - 100%
Ease Of Cooking - 94%
Tastiness - 86%
Would Cook Again - 78%
A great flavor mixture that goes well with the shrimp. It's spicy, and fast, and with a bit of lime it's a tasty Thai-themed dish anyone can make. The cucumbers and bell peppers would not be my choice of veggies to include though.
Estimated Cooking Time According to Recipe: X
Actual Cooking Time (Including Prep): 21 Minutes
In my recent series of quick shrimp recipes I've been testing, this one is the spiciest! But if you know and love Sriracha, then this definitely one for you to try. But to be honest, I was not too hot on including cucumbers and bell peppers in as the main veggies for this meal. The cucumbers absorbed too much spice, and the bell peppers were just not…flavorful enough to really catch my interest.
Worst of all, it certainly didn't keep well for lunch the next day. If I were to make this recipe again, I'd probably do something like snow peas, broccoli, and/or green beans. Maybe some shredded carrots. Or just do noodles and shrimp, with veggies on the side.

I thought the udon noodles came in a pretty cool package! They are rice noodles, so I got them in the Asian section of Save Mart.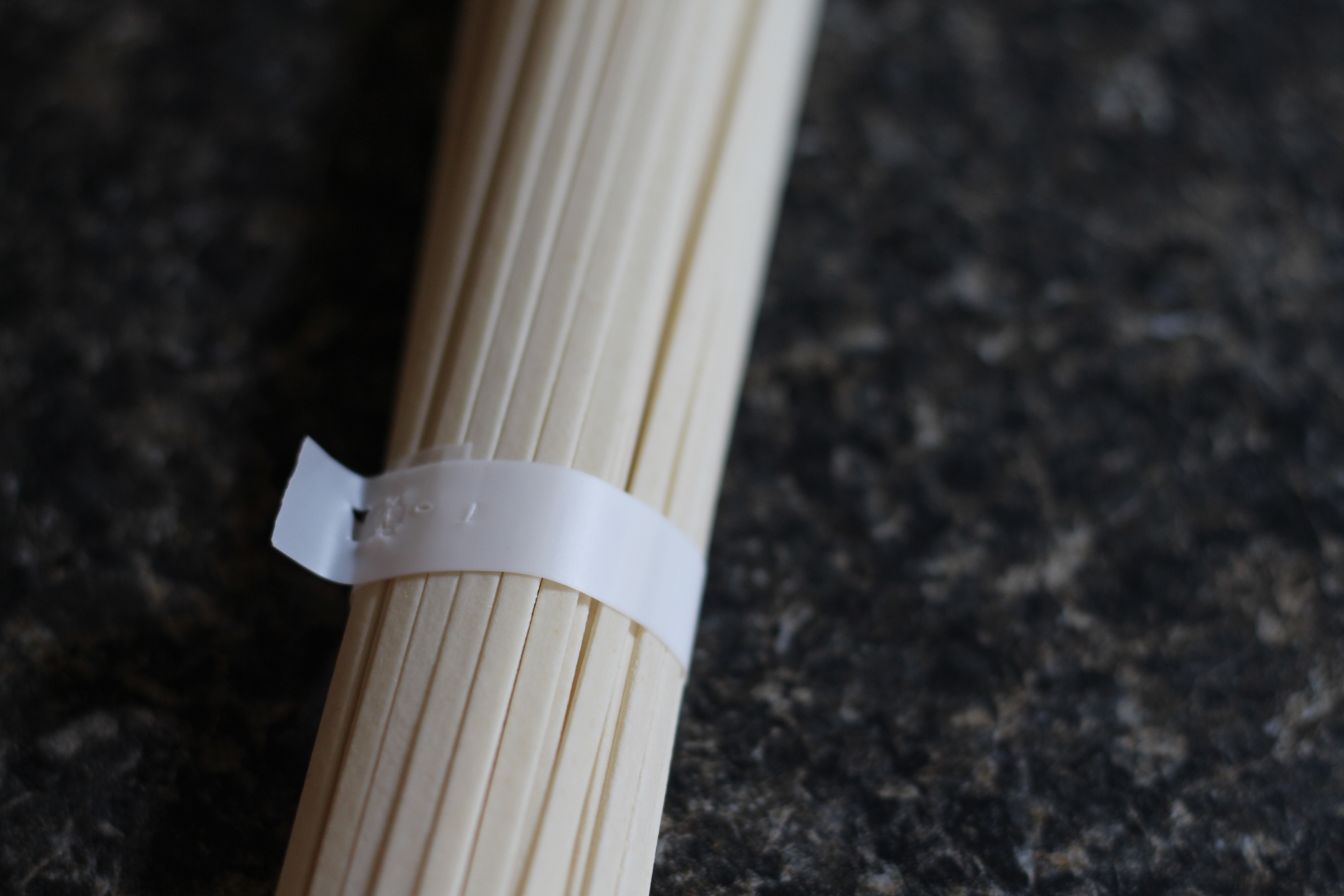 Here they are cooking. They only need to be in the water for a few minutes. Don't overcook them! They'll cook for a bit with the Sriracha sauce. I have a bad habit of overcooking my pasta.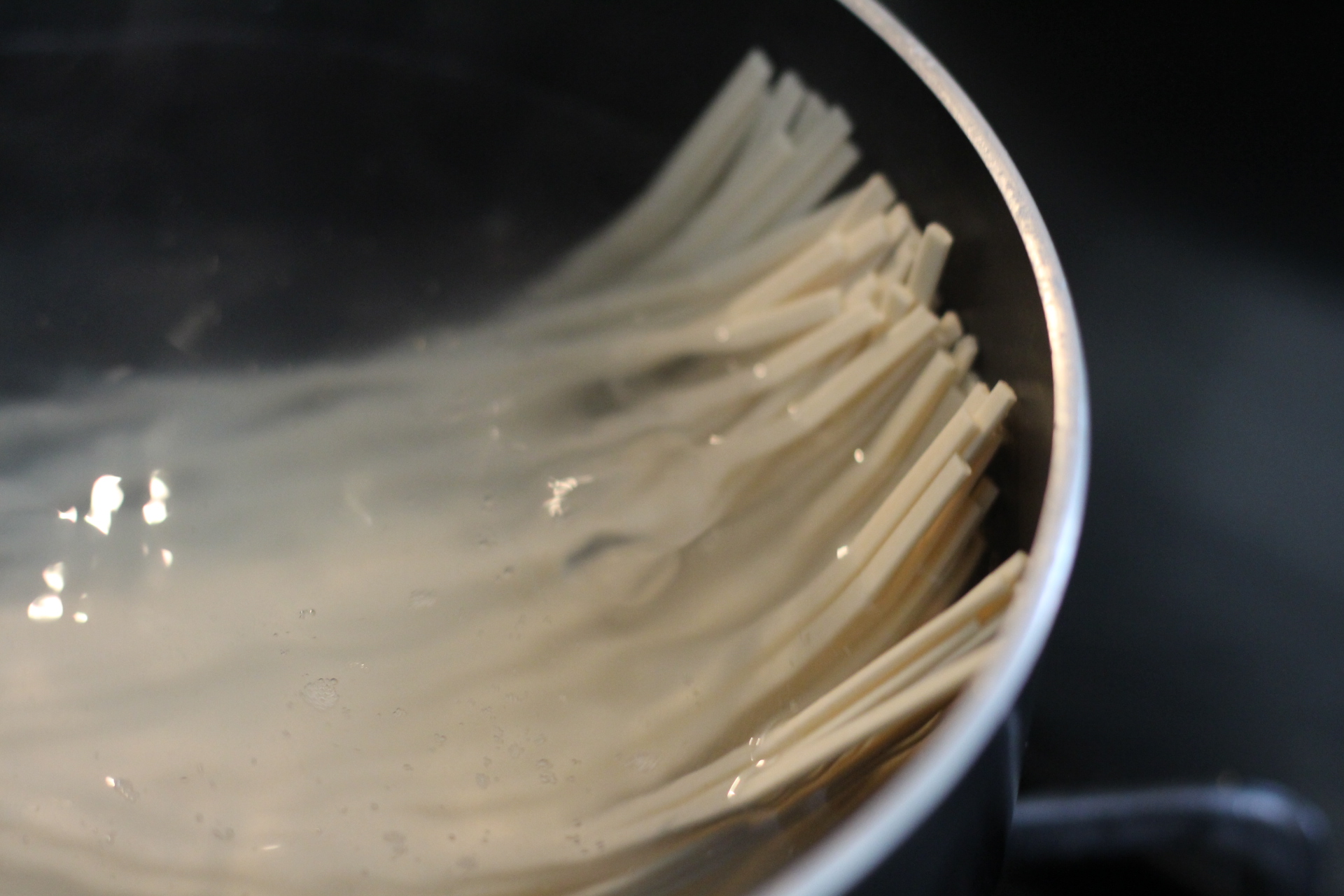 Pretty simple veggie setup for this recipe. Not much to report except to cut everything very thin, as described in the recipe from Delish.com.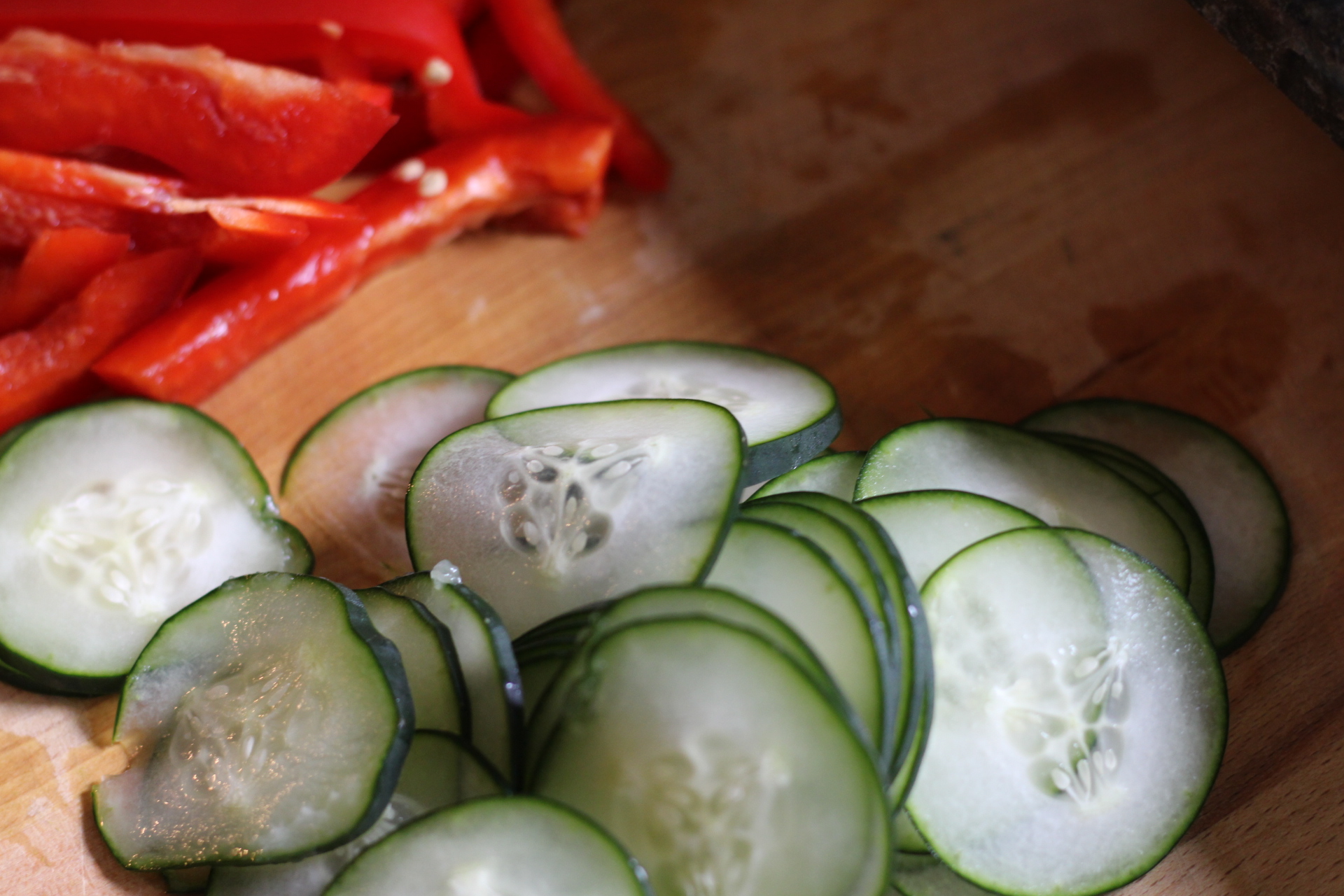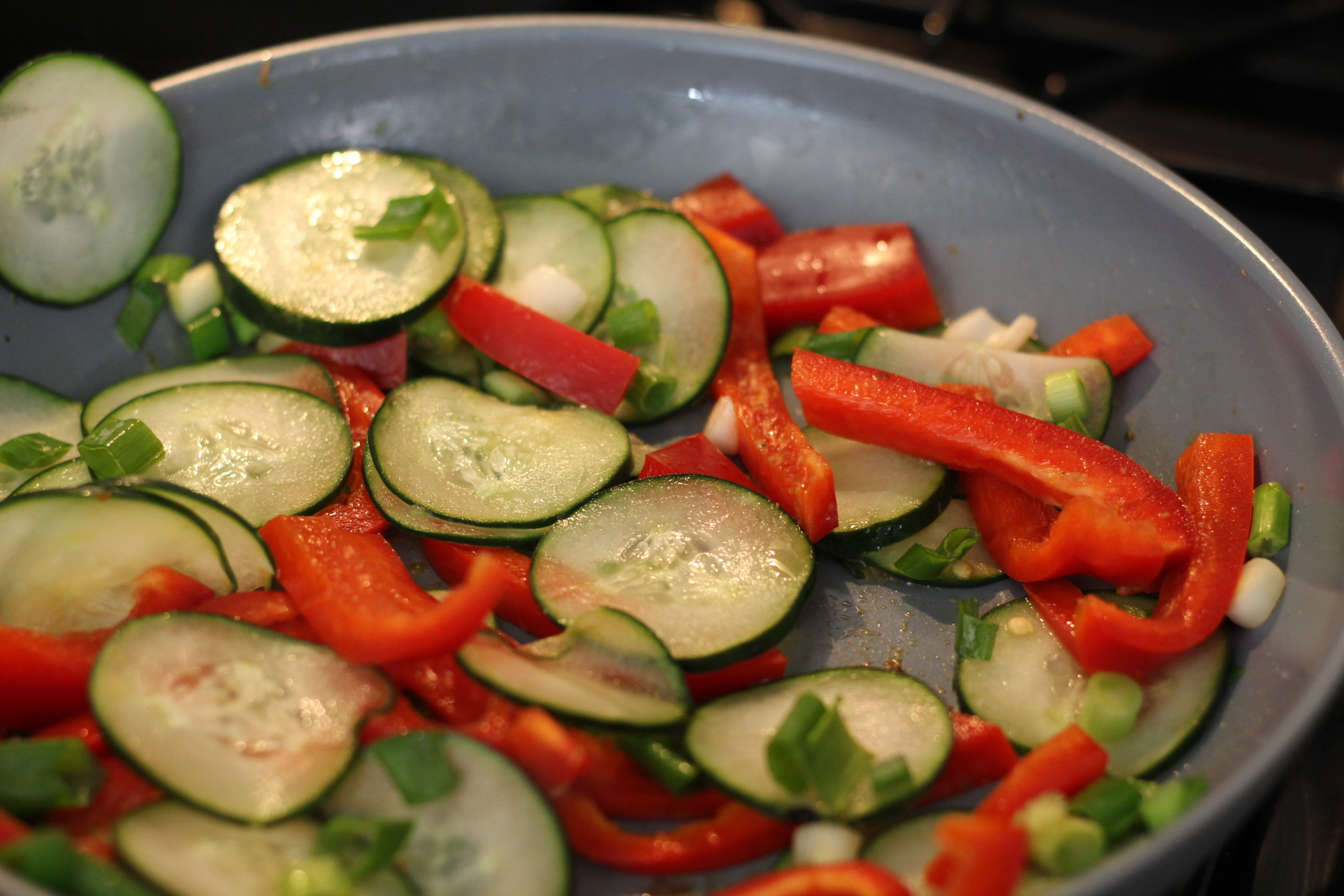 Fry things up. I think the thing that really gave this away as kind of a bland recipe was that the cucumbers and peppers frying didn't entice me to eat the dish! They are both very watery vegetables, and I didn't add any spices here. Meh.
Next we have a shot of the Sriracha sauce. Simple, but pretty tasty. Let's hope you like the flavor of Sriracha though, as it dominates this dish.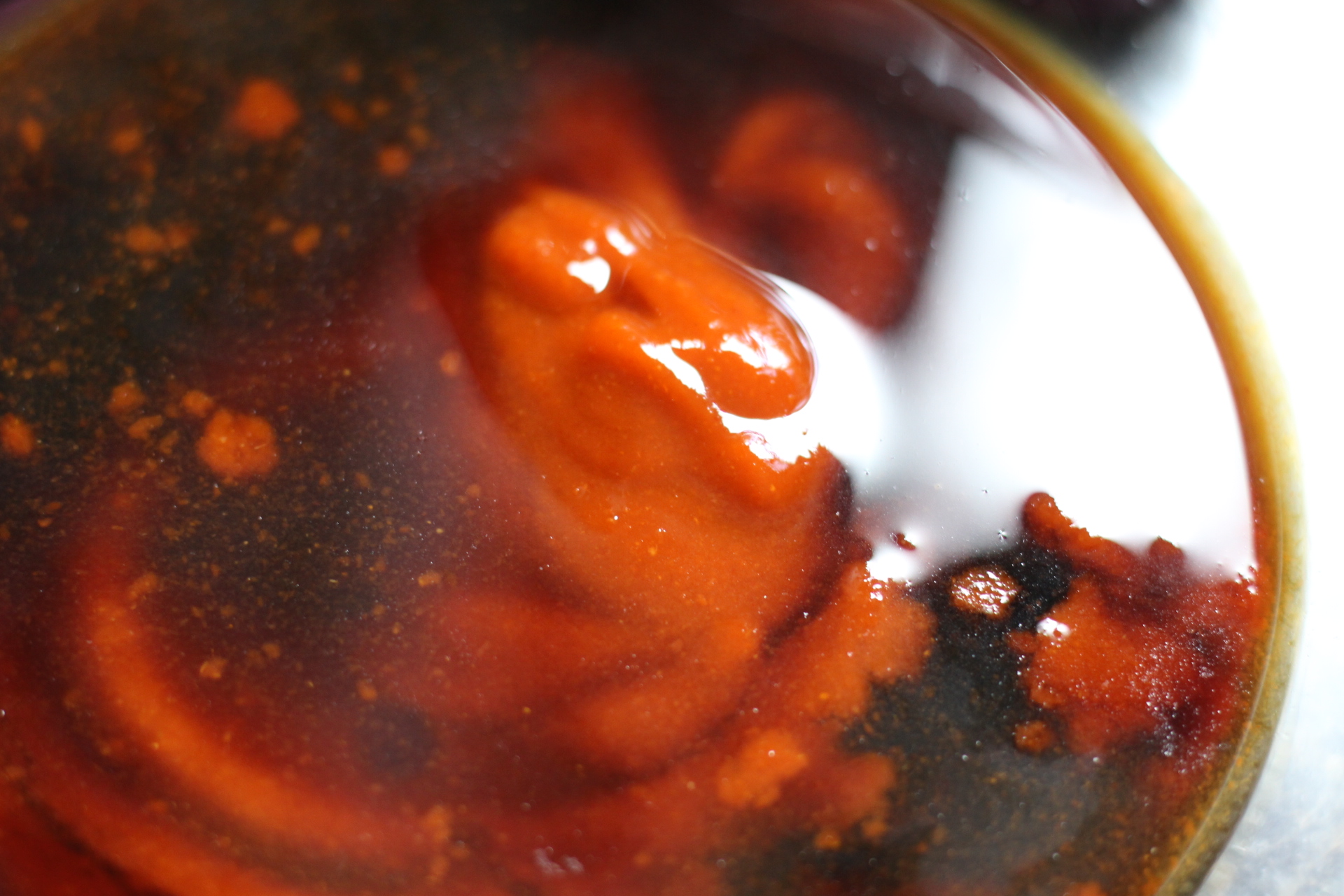 Now just mix everything together, including the veggies, noodles, shrimp, and sauce.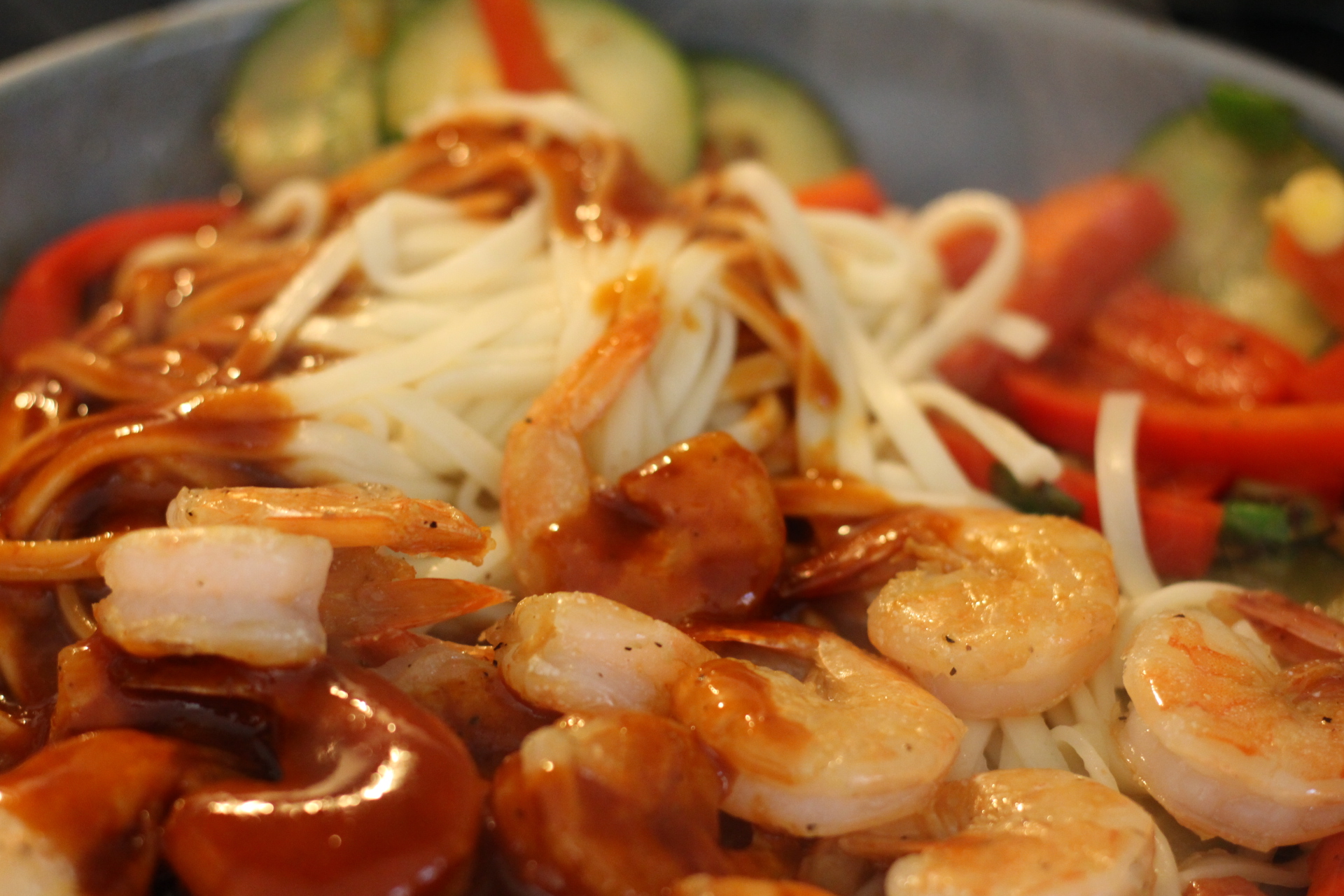 Overall, it was a pretty one dimensional dish. No flavors really popped, it was very Sriracha dominated, and the veggies were pretty bland. Yeah, it'll do for a quick dinner, but it's nothing to write home about. Do you have any suggestions for making this recipe tastier?
I think next time I'll substitute the veggies and cook the shrimp in some kind of spices to add some flavor, then cook the veggies in the shrimp pan to add some flavor to them as well.